Packaged Zhug Market
Packaged Zhug Market Analysis By Type (Red Zhug, Green Zhug), By End Use (Commercial, Home) & By Region - Global Market Insights 2023 to 2033
Analysis of Packaged Zhug Market Covering 30+ Countries Including Analysis of US, Canada, UK, Germany, France, Nordics, GCC countries, Japan, Korea and many more
Packaged Zhug Market Outlook (2023 to 2033)
The global packaged zhug market reached a size of US$ 52.6 million in 2022. According to Fact.MR's latest research report, worldwide demand for packaged zhug is estimated at a market value of US$ 54.97 million in 2023 and is projected to expand at a CAGR of 4.5% to reach US$ 85.37 million by the end of 2033.
The Middle East and Asian regional markets are at the forefront of innovating dips, and zhug dips are widely popular in these regions.
Zhug is a spicy dip that has deep roots in Yemen, Israel, and across the Middle East. It is made from a blend of various ingredients such as peppercorns, coriander, garlic, and more. Alternative names for zhug are Harif, ma'booj, sahawiq, sahowqa, and skhug. The taste and texture of Yemen zhug and Israel zhug can vary depending on the ingredients used as per their traditional recipes.
Packaged zhug is made through various stages such as the collection of ingredients, preparation, bottling, and labelling. Zhug is gaining popularity due to its bold taste and is widely used as a dipping sauce or flavour enhancer in dishes such as shawarma, sandwiches, falafel, and others. Rising demand for spicy flavour dips in several international cuisines is driving the sales of packaged zhug sauce.
Red zhug and green zhug are two types of zhug. Red zhug is made from red peppers and tomatoes and used as a base and other ingredients as per choice. It is quite spicy and has a hot flavour with smokiness. Red zhug is also called hot sauce or stew glue. Green zhug is made using green peppers and cilantro as a base, which gives it a vibrant green colour. It has a bright flavour and is slightly milder than red zhug. Green zhug is widely popular in Middle Eastern and Mediterranean cuisines.
Demand for both red zhug and green zhug is increasing steadily across the globe. This is due to the rising trend of exploring new food dishes and increasing popularity of zhug condiments. Growing popularity of Middle Eastern and Mediterranean dishes is also driving up authentic zhug demand.
Zhug sauces contain fresh ingredients such as peppers, garlic, and other herbs, which attract consumers seeking healthier and fresher dip options. Easy availability of packaged red zhug and green zhug in retail stores and online platforms is attracting consumers to try and incorporate these sauces into their cooking.
Report Attributes
Details
Packaged Zhug Market Size (2023E)
US$ 54.97 Million
Forecasted Market Value (2033F)
US$ 85.37 Million
Global Market Growth Rate (2023 to 2033)
4.5% CAGR
United States Market Value (2022)
US$ 14.2 Million
Canada Market Growth Rate (2023 to 2033)
4% CAGR
Germany Market Growth Rate (2023 to 2033)
3.5% CAGR
Japan Market Growth Rate (2023 to 2033)
3% CAGR
China Market Growth Rate (2023 to 2033)
6.5% CAGR
Key Companies Profiled

Chili Food
Grecian Delight Foods
Steenbergs
Whole Spice, Inc.
Zahavi Hakerem
Don't Need a Global Report?
save 40%! on Country & Region specific reports
What are the Key Trends in the Market for Packaged Zhug?
"Authentic and Flavourful Zhug Gaining Attention of Consumers across Regions"
Zhug, also called 'zhoug' or 'skhug', is gaining widespread attention for use in various cuisines due to its bright flavour. Increased willingness of consumers to experiment with their cuisines is increasing the use of packaged zhug. Social media platforms are having a major influence on the import and export of packaged zhug. Easy availability of content related to food is attracting foodies to explore new diets. Chefs are experimenting with traditional dishes due to zhug's distinctive taste with herbal freshness and spicy kick.
Middle Eastern cuisines such as falafel, shawarma, and hummus are gaining popularity across the globe. Due to their flavourful taste and fresh ingredients, they are opted for by a majority of foodies. Packaged zhug complements these dishes well and catches the eye of food lovers. This flavourful plant-based sauce is also gaining popularity among vegan consumers.
"Convenient and Ready-to-use Packaged Zhug Popular Condiment among Busy Individuals"
Packaged zhug is a convenient and ready-to-eat product for consumers who may not have the time or ingredients to prepare it from scratch. Ready-to-use zhug products are becoming widely popular among individuals with busy lifestyles. In today's fast-paced world, people are so engaged with their routines that they are lacking in time for meal preparation.
Packaged zhug are easy and quick flavourful dips that enhance the taste of the dish and reduce lengthy preparation time. Packaged zhug products have a consistent flavour profile, which aids consumers in enjoying the same aromatic taste, unlike homemade zhug versions.
The convenience of packaged zhug extends beyond the kitchen. These products come in portable and resealable containers which makes them suitable for on-the-go use. For sandwiches, wraps, or takeaway meals zhug enhances the flavour of food and is the best on-to-go flavour enhancer.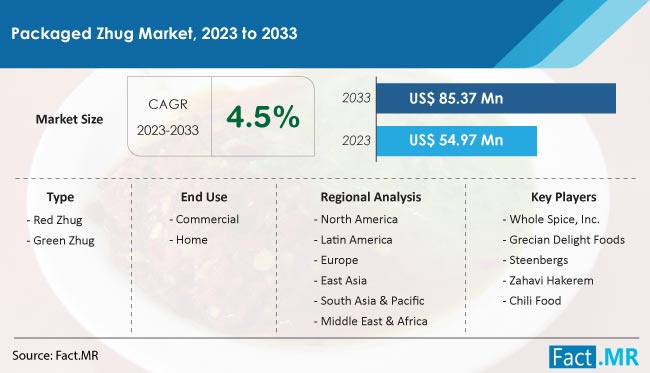 What is Hurting the Profit Margins of Packaged Zhug Suppliers?
"Limited Spotlight and Tremendous Competition from Established Sauces"
One significant challenge before the key producers of packaged zhug is the limited awareness of zhug among the majority of consumers, especially in regions where Middle Eastern cuisine is not well-established. Thus, a lack of awareness is hampering the packaged zhug market size.
Packaged zhug suppliers are facing stiff competition from other well-established hot sauces and condiments such as sriracha, Tabasco, and harissa. These sauces have a more prominent presence in the global spicy food market thus, challenging the revenue growth of the packaged zhug market players.
High-quality zhug ingredients, such as fresh herbs and spices, can be expensive. This can result in a higher price point for packaged zhug products potentially limiting packaged zhug sales growth in some regions.
More Insights, Lesser Cost (-50% off)
Insights on import/export production,
pricing analysis, and more – Only @ Fact.MR
What Can Open Up Opportunities for Start-ups in the Packed Zhug Business?
"Innovation in Packaging and Product Differentiation Success Keys for New Manufacturers"
To gain a competitive edge in this space, new companies in the packaged zhug market should focus on variations in flavours. Instead of sticking to regular hot flavours, new producers can introduce different spice levels such as mild, medium, and hot. Product differentiation is expected to attract wider consumers.
Start-ups should also focus on product packaging. Innovations in packaging such as resealable or portion-controlled packaging can be convenient for working individuals to carry and eat zhug whenever needed.
New market entrants should maintain the quality of packaged zhug by using the highest quality ingredients and production processes. Highlighting certifications such as organic or non-GMO helps to build trust with health-conscious consumers. Also, clean-labelling packaging methods attract eco-conscious consumers.
Collaborations with restaurants, food trucks, or other food businesses can help to increase brand visibility and introduce products to a wider audience. Implementing these strategies and remaining adaptable to market changes can help newcomers gain high shares and market positions.
Country-wise Analysis
As per this analysis by Fact.MR, a market research and competitive intelligence provider, demand for packaged zhug is gaining traction in Western countries due to the growing consumption of Mediterranean food such as wraps and rolls.
Will Packaged Zhug Gain Popularity in the United States?
"Growing Popularity of Authentic Middle Eastern and Mediterranean Cuisines"
The United States market for packaged zhug was valued at US$ 14.2 million in 2022.
The country is experiencing significant growth in the demand for packaged zhug, due to the rising popularity of Middle Eastern and Mediterranean cuisines. American consumers are appreciating medium spicy condiments with natural and healthy ingredients. Packaged zhug, known for its fresh herbs and spices mixture, is going well with this trend.
Authentic zhug producers are gaining traction in the United States market. These brands are focusing on high-quality, authentic ingredients and unique flavour profiles. Many restaurants and food trucks in the country are widely consuming packaged zhug.
How are Sales of Packaged Zhug Faring in Germany?
"Zhug Gradually Gaining Popularity in Several German Cuisines"
Demand for packaged zhug in Germany is forecasted to rise at a CAGR of 3.5% during the next 10 years.
Zhug is a relatively new sauce to Germans, but it is gaining popularity among consumers who enjoy spicy and flavourful condiments. The growing acceptance of North African dishes such as zhug is generating potential opportunities for zhug-packaged market players in the country. The growing focus on sustainability and organic food products is also driving the sales of packaged zhug in Germany.
Why is Japan a Key Market for Suppliers of Packaged Zhug?
"Modern Japanese Consumers Enhancing Traditional Dishes with Vibrant Zhug Flavours"
The Japanese market for packaged zhug is forecasted to expand at a CAGR of 3% through 2033.
Even though demand for packaged zhug in Japan is relatively low there is still a dedicated consumer base, primarily consisting of food enthusiasts and those interested in international flavours.
Japanese consumers generally have a lower tolerance for spicy foods but some population is adapting to zhug's spiciness and are combining it with local cuisines. Also, there is potential room for innovation in zhug products for the Japanese market, such as the introduction of milder versions or fusion blends that combine zhug with traditional Japanese flavours.
Know thy Competitors
Competitive landscape highlights only certain players
Complete list available upon request
Category-wise Analysis
Packaged zhug is widely used in commercial units such as hotels, food trucks, restaurants, and the like. Demand for home use is also increasing steadily. Growing popularity of Middle Eastern food across the globe is influencing the sales of packaged zhug. Demand for packaged zhug for commercial use is forecasted to expand at a CAGR of 4% through 2033.
Why is the Use of Packaged Zhug Increasing in Home Meals?
"Growing Interest in Global Cuisines Driving Use of Packaged Zhug in Homes"
Packaged zhug consumption for home use is projected to increase at a CAGR of 5% during the decade.
Consumers are becoming more experimental with their cooking and are eager to explore flavours from around the world. Zhug, with its Middle Eastern and North African origins, offers a strong and flavourful touch to home-cooked meals.
Made from natural ingredients such as fresh herbs, spices, and olive oil, zhug is widely demanded by health-conscious consumers compared to other condiments with artificial additives.
Competitive Landscape
Top companies in the packaged zhug market are expanding their product folio by offering a wide variety of packaged herbs in zhug. This move is aiding them in reaching wider consumers, thereby boosting revenue shares.
Sustainability is a growing concern in the food industry. Several producers are adopting sustainable food production and packaging practices by working with local farmers and using eco-friendly packaging technologies. This is helping them minimize production waste.
Grecian Delight Foods is known for its authentic flavours and high-quality products. It specializes in Mediterranean and Middle Eastern cuisine products, and its 'Four Pepper Cilantro Sauce' is widely popular among American consumers.
Key Segments of Packaged Zhug Industry Research
By Type :

By End Use :

By Region :

North America
Latin America
Europe
East Asia
South Asia & Oceania
MEA
- FAQs -
The global packaged zhug market is valued at US$ 54.97 million in 2023.
The market for packaged zhug is projected to reach US$ 85.37 million by 2033.
From 2023 to 2033, global demand for packaged zhug is projected to expand at a CAGR of 4.5%.
The market for packaged zhug in China is forecasted to expand at a CAGR of 6.5% during the next 10 years.
Grecian Delight Foods, Steenbergs, and Whole Spice, Inc. are some of the leading companies manufacturing packaged zhug.