Packaged Sprouts Market
Packaged Sprouts Market Analysis By Type (Bean Sprouts, Brussels Sprouts, Alfalfa Sprouts), By Category (Organic, Conventional), By Distribution Channel (Supermarkets/Hypermarkets, Convenience Stores, Specialty Stores, Online) & By Region - Global Market Insights 2023 to 2033
Analysis of Packaged Sprouts Market Covering 30+ Countries Including Analysis of US, Canada, UK, Germany, France, Nordics, GCC countries, Japan, Korea and many more
Packaged Sprouts Market Outlook (2023 to 2033)
Expanding at a high-value CAGR of 10.4%, the global packaged sprouts market is projected to increase from a value of US$ 5.63 billion in 2023 to US$ 15.14 billion by the end of 2033.
Packaged sprouts are sprouted seeds that have gone through several processes such as cleaning, sorting, and packaging, before consumption. These sprouts are packaged in small shell containers of high quality. Advancements in sprout packaging are aiding in increasing the life of the product. Sprout packaging solutions vary from plastic containers and bags to boxes.
Key Market Trends
Busy lifestyles have driven up the consumption of on-the-go eatables, and ready-to-eat sprouts align with this need.
Growing trend of fitness is pushing the demand for organic sprout products among vegan bodybuilders.
Fresh sprouted greens are widely used by foodservice businesses such as cafes, restaurants, and others due to their high use in salads, wraps, and various other dishes.
Sustainable packaging solutions are aiding in reducing waste and lowering carbon footprints.
Rising awareness about food and its ingredients is compelling stakeholders to adopt clean-label packaging methods in their units.
Packaged sprouts can be of various seeds such as bean sprouts, Brussels sprouts, packaged alfalfa sprouts, and others. Demand for packaged bean sprouts is predicted to rise substantially at a CAGR of 11.5% from 2023 to 2033.
Rise in Packaged Bean Sprouts Consumption
High in nutrients such as vitamins, fibers, minerals, and antioxidants, bean sprouts are considered a healthy addition to salads, stir-fries, and sandwiches.
Rapidly increasing popularity of veganism and plant-based protein foods is making bean sprouts a popular staple diet option.
Sprouting beans at home can be a lengthy process but packaged nutrient-rich sprouts are reducing the time of consumers and are offering them a healthy diet option.
Popularity of bean sprouts in Asian cuisines such as rolls and noodles is uplifting the sprouts market size.
High-fiber packaged bean sprouts are becoming a prime choice for people looking to reduce their weight by managing low-fat and calorie intake.
Modern packaging technologies are increasing the quality and life of bean sprouts.
Increasing awareness of fat-free and high-protein foods such as sprouts is driving the market for packaged sprouts.
Jonathan's Sprouts is a key producer of high-quality sprouts, including alfalfa, broccoli, and bean sprouts.
Report Attributes
Details
Packaged Sprouts Market Size (2023E)
US$ 5.63 Billion
Forecasted Market Value (2033F)
US$ 15.14 Billion
Global Market Growth Rate (2023 to 2033)
10.4% CAGR
United States Market Value (2022)
US$ 1.4 Billion
Canada Market Growth Rate (2023 to 2033)
8.5% CAGR
Germany Market Growth Rate (2023 to 2033)
8% CAGR
Japan Market Growth Rate (2023 to 2033)
8% CAGR
China Market Growth Rate (2023 to 2033)
14.5% CAGR
Key Companies Profiled

Fuji Natural Foods
Jonathan Sprouts, Inc.
Narita Foods Co., Ltd.
Sprouts Farmers Market
Van der Plas Sprouts BV
Ocean Mist Farms
Don't Need a Global Report?
save 40%! on Country & Region specific reports
Why is Consumption of Packaged Sprouts Rising at a Fast Rate?
"Health Benefits of Sprouted Foods Attracting Health-conscious Consumers"
Individuals are actively seeking a diet, which is low in fat and calories, and this is mainly due to the rising concerns about obesity. The growing need for weight management is increasing demand for a high-fiber diet, further influencing the growth of the packaged sprouts market.
Improper diet can result in several chronic diseases such as cardiovascular diseases, diabetes, cancer, and more. People are focusing on a nutrient-rich diet to be healthy. Sprouts are high in vitamins, antioxidants, and proteins aiding in reducing the risk of chronic disorders. Thus, rising health consciousness is driving the intake of sprouts in the daily diet of the majority of individuals. The benefits of packaged sprouts are unlimited, due to their high-fiber content they aid in regular bowel movement promoting a healthy digestive system.
"Advanced Packaging Technologies Driving Up Increasing Import & Export of Fresh Packaged Sprouts"
Innovations in packaging technology are increasing the quality and life of sprouts. Traditional packaging has a high chance to hamper sprouts due to excess moisture and poor packaging. Innovative packaging solutions with advanced materials and designs help in preserving the freshness of sprouts for longer periods. This quality is also aiding suppliers of packaged sprouts in delivering fresh sprouts.
Resealable bags are a prime example of packaging innovation. This packaging method helps consumers to consume sprouts as per their needs and reseal them again for later use. The convenience of resealable packaging is benefitting modern consumers for portion control and preservation.
Packaging films with breathable properties helps in the exchange of gases such as oxygen and carbon dioxide. This respiration process through breathable films maintains the right balance of gases, slowing down the deterioration process and maintaining the crispness and flavour of the sprouts.
Packaging innovations often include transparent films or panels that allow consumers to see the product inside. This transparency enhances trust and allows consumers to visually inspect the quality of the sprouts before buying. The clean-label trend due to rising awareness of consuming healthy foods is also driving the sales of packaged sprouts.
"Sustainability in Food Production Practices Boosting Quality of Organic Packaged Sprouts"
Sustainability is gaining traction in food production and consumption practices. Several sustainable growing methods such as hydroponics and vertical farming are being adopted by producers of packaged sprouts.
It is well known that in the hydroponic system, plants are grown without using soil but by using nutrient-rich water solutions. This method when used in the production of sprouts boosts the nutrient level in them. Vertical farming optimizes water use by recirculating it within the system, it also helps in minimizing wastage. These practices address water scarcity concerns and align with sustainable water management goals.
Sustainable sprout production methods utilize integrated pest management (IPM) practices this helps in monitoring and managing pests, by reducing the need for chemical pesticides. This is beneficial for the environment as well as produces cleaner, safer products for consumers.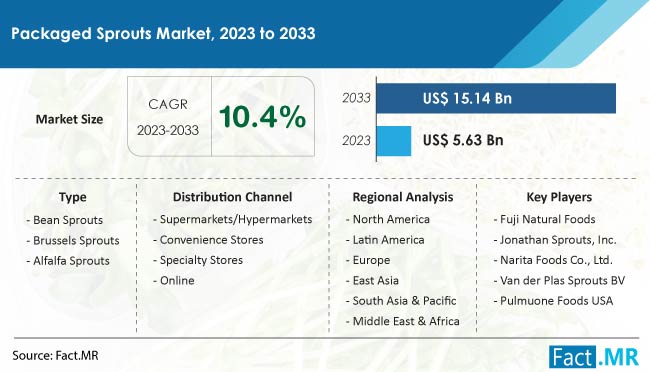 What Do Suppliers of Packaged Sprouts Need to Keep in Mind?
"Improper Production Practices Can Lead to Microbial Risks"
Despite innovation in food production, there are several challenges faced by packaged sprout producers. Warm and moist conditions are required for the sprouting of seeds but improper temperature can give rise to the production of harmful bacteria such as E. coli, Salmonella, and Listeria. These pathogens can be present on the seeds themselves or introduced during the sprouting process. If these pathogens are not eliminated during the sprouting process, they can grow and multiply, posing a health risk to consumers.
Poor water quality can also result in bad outcomes. Contaminated water can introduce pathogens to the sprouting process and lead to contamination of the sprouts. Hygiene practices during sprout production are also crucial. Any surfaces, equipment, or tools that come into contact with sprouts can lead to cross-contamination.
Distribution of packaged sprouts can be complex, involving various stages of transportation and storage. Maintaining proper temperature and hygiene controls throughout the supply chain is challenging but crucial for food safety.
Food safety regulations, such as the Food Safety Modernization Act (FSMA) in the United States, impose strict requirements on sprout producers to prevent contamination.
Compliance with such regulations can be resource-intensive and may require significant investments in monitoring, testing, and documentation. Thus, ensuring food safety in the sprouts industry is a major challenge.
More Insights, Lesser Cost (-50% off)
Insights on import/export production,
pricing analysis, and more – Only @ Fact.MR
What Strategies Should Be Adopted By New Manufacturers of Packaged Sprouts?
"Sustainability & Innovation in Production & Packaging to Increase Goodwill and Trust"
New packaged sprout companies should focus on introducing unique sprout varieties or blends, this can help them to stand out from the competition. This move can also attract consumers looking for nutritional sprouts.
New market entrants should also focus more on food safety by implementing rigorous quality control measures, adhering to food safety regulations, and conducting regular testing for pathogens. Assurance of safe and hygienic products can build trust among consumers.
Investing in sustainable and innovative packaging materials can also attract eco-friendly consumers. Start-ups should also adopt clean-label practices, revealing the sprout source, growing methods, and any certification that can attract more consumers.
Country-wise Analysis
As per the latest packaged sprouts consumption analysis by Fact.MR, a market research and competitive intelligence provider, Asians are the leading consumers of sprouts. Popularity of fitness, sustainability, and organic foods is also driving the sales of packaged sprouts in North America and Europe.
Why is Popularity of Packaged Sprouts Growing in the United States?
"Packaged Sprouts Producers Benefitting from Rising Number of Gym Goers"
Sales of packaged sprouts in the United States reached US$ 1.4 billion in 2022.
Increasing trend of fitness and growing awareness of health benefits associated with packaged sprouts such as their high nutritional level is driving product sales growth. Sprouts such as alfalfa, broccoli, and beans are widely popular in the United States due to their higher health benefits.
Innovations in production and packaging are benefitting revenue growth of the United States producer of packaged sprouts. They are primarily focusing on clean labelling due to growing health awareness among Americans.
How Fast are the Sales of Packaged Sprouts Increasing in Germany?
"Organic Healthy Sprouts Preferred by German Population"
Demand for packaged sprouts in Germany is forecasted to rise at a CAGR of 8% through 2033.
German consumers strongly focus on health and sustainability. This is making packaged sprouts a popular choice among them due to their nutrient-rich content and eco-friendly cultivation. There is a strong preference for organic food products in Germany, and consumers are willing to pay a premium for certified organic packaged sprout products.
Will Japan a Profitable Market for Suppliers of Packaged Sprouts?
"Busy Japanese Population's Healthier Option – Packaged Sprouts"
The market for packaged sprouts in Japan is predicted to expand at a CAGR of 8% from 2023 to 2033.
In most Asian countries, including Japan, packaged sprouts are considered as a part of a healthy diet. Thus, packaged sprouts are gaining high demand in Japan.
Japanese have busy schedules and widely prefer on the way snacks or food products. Packaged sprouts play a healthy and convenient role in ready-to-eat salads, sushi, and sandwiches, increasing packaging sprout consumption rates in Japan. Sprouts such as daikon radish sprouts (kaiware) are commonly used in traditional Japanese cuisine, further boosting their popularity and sales in the country.
Know thy Competitors
Competitive landscape highlights only certain players
Complete list available upon request
Category-wise Analysis
Supermarkets/hypermarkets, convenience stores, specialty stores, and online are the distribution channels for packaged microgreens. According to Fact.MR, a majority of consumers prefer buying packaged sprouts from supermarkets or hypermarkets due to the convenience and surety of getting fresh products.
Where are Sales of Packaged Sprouts Higher?
"Supermarkets Popular for Fresh Packaged Sprouts"
Hypermarkets and supermarkets are one-stop shopping destinations for consumers. This is due to the availability of a wide range of products. Consumers can easily buy freshly packaged sprouts from supermarkets/hypermarkets at their convenience. The availability of discounts, surety of freshness, and various combinations of sprouts make supermarkets/hypermarkets a prime place for shopping for fresh food products.
Supermarkets and hypermarkets have established themselves as reliable sources of fresh as well as packed products. Consumers tend to trust the quality and safety of the products available in these stores, including packaged sprouts. Their efficient distribution networks are ensuring that such products are regularly restocked and available for consumers.
Competitive Landscape
Top companies in the packaged sprouts industry are focusing on innovations in food production and packaging. This move is aiding them to attract eco-friendly consumers and reduce green waste. Partnerships and collaborations with others are aiding them to increase their market reach and revenue shares.
Green Valley Food Corp, founded in Dallas, Texas, is a key supplier of packaged sprouts and holds a significant position in the sprouts industry. It is offering a wide range of packaged sprout products, including alfalfa sprouts, broccoli sprouts, and bean sprouts. The company is also focusing on the production of organic and non-GMO sprout varieties to meet the growing demand for healthier food options.
Key Segments of Packaged Sprouts Industry Research
By Type :

Bean Sprouts
Brussels Sprouts
Alfalfa Sprouts

By Category :

By Distribution Channel :

Supermarkets/Hypermarkets
Convenience Stores
Specialty Stores
Online

By Region :

North America
Latin America
Europe
East Asia
South Asia & Oceania
MEA
- FAQs -
The global packaged sprouts market is valued at US$ 5.63 billion in 2023.
Sales of packaged sprouts are projected to reach US$ 15.14 billion by 2033.
Global demand for packaged sprouts is forecasted to rise at a CAGR of 10.4% from 2023 to 2033.
The market for packaged sprouts in China is set to expand at a CAGR of 14.5% through 2033.
The Germany packaged sprouts market is projected to rise at a CAGR of 8% during the next 10 years.