Partner Relationship Management Software Market
Partner Relationship Management Software Market Analysis By Deployment (On-Premise Partner Relationship Management Software & Cloud-based Partner Relationship Management Software) By Enterprise (Large Enterprises & SMEs) By Region – Forecast 2022 to 2032
Analysis of Partner Relationship Management Software market covering 30 + countries including analysis of US, Canada, UK, Germany, France, Nordics, GCC countries, Japan, Korea and many more
Partner Relationship Management Software Market Overview (2022-2032)
Global partner relationship management (PRM) software industry revenue stood at US$ 521 Million in FY 2021, and is forecast to reach US$ 595 Million, registering a Y-o-Y expansion rate worth 14.2% in 2022.
The PRM software market is poised to embark on a positive trajectory, documenting a 12.2% value CAGR from 2022-2032. By the end of the said period of assessment, the market is poised to be valued at US$ 1.9 Billion.
Report Attributes
Details

Anticipated Base Year Value (2021)

US$ 521 Million

Expected Current Market Value (2022)

US$ 595 Million

Projected Forecast Value (2032)

US$ 1.9 Billion

Global Growth Rate (2022-2032)

12.2% CAGR

Growth Rate of the U.S Market (2022-2032)

11.9% CAGR

Anticipated Market Value of China (2032)

US$ 138.9 Million

Dollar Opportunity in the U.K Market (2022-2032)

US$ 50.9 Million

Key Companies Profiled in the Global Partner relationship management software Market

Affise Inc.
Crossbeam
Everflow
Impact Tech Inc.
LeadMethod Inc.
Magentrix Corporation
PartnerStack Inc.
PartnerTap
Zift Solutions Inc.
ZINFI Technologies Inc.
An absolute dollar growth worth US$ 1.3 Billion has been projected for the upcoming decade. By enterprise size, partner relationship management software for large enterprises registered high growth, documenting a CAGR of 14.1% from 2015-2021.
Market demand for partner relationship management software is expected to remain the highest in the U.S, reaching a value of US$ 665.6 Million in 2032. Furthermore, demand for cloud based partner relationship management software will continue to remain elevated, expected to register a CAGR worth 12.2%.
Don't Need a Global Report?
save 40%! on Country & Region specific reports
2015-2021 Partner relationship management software Demand Analysis vs. Market Outlook 2022-2032
Increased need for controlling functional relationships between organizations and external partner clients and emphasis on enhancing partner communications as well as reduction in channel management costs have all collectively augmented demand for partner relationship management software solutions from 2015 to 2021. As per market research and competitive intelligence provider Fact.MR, the industry flourished at a value CAGR worth 14.6% during the said historical period.
With rapid advancements in business intelligence, organizations are integrating artificial intelligence and other technological breakthroughs to optimize partner engagement. This development has boded well for partner relationship management software providers. In April 2021, ZINFI Technologies Inc. announced the enhancement of its partner onboarding automation capabilities, by introducing enhanced program & level segmentation capabilities, introducing flexible program requirements, and more robust tools for reassigning permissions.
During the past two years, the global economy faced massive shortfalls, thanks to the COVID-19 pandemic. As businesses reoriented their approaches in the wake of the pandemic, the need for partner relationship management software became even more pronounced. With the prevalence of remote working cultures, enterprises leveraged these solutions to effectively maintain client relationships and improve business outcomes. During the 2022-2032 forecast period, the market is projected to flourish 3.2x.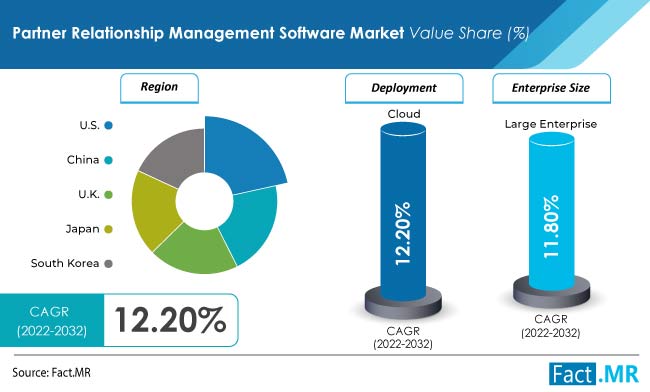 Prominent Partner Relationship Management Software Market Growth Accelerators
Effective Management of Functional Relationships between Organizations and External Client Partners
Given the fact that the business landscape is highly competitive, organizations are striving to differentiate service offerings in a more effective manner. The mind-boggling rate at which technological revolution is taking place, it is no surprise that enterprises are constantly under pressure to revamp existing product or service offerings, compelling them to provide highly effective and reliable post-sales services. Moreover, as new markets emerge, the need to establish strong client relationships also becomes important.
To stay ahead of the competition, PRM companies are reaching out to sales partners in order to facilitate faster growth. To improve loyalty and outreach, channel managers are announcing new market opportunities and providing branded solution offerings to their partners. A majority of technologically oriented companies are dependent on indirect sales channels to promote their business. For instance, Cisco would generate one-third of its sales through indirect channels and 80% of revenue through channel partners.
Providing Enhanced Business Intelligence to Generate Tremendous Growth Prospects
Given the highly competitive nature of the business landscape, companies are attempting to stay ahead of the curve by investing in sound business intelligence capabilities. Business intelligence tools have helped companies with valuable data resources which can be used to achieve business goals by taking strategic decisions. Various interactions in the form of a voice call, chat support or email support can be analyzed & measured by BI tools to understand customer preferences, purchasing habits or market trends.
Ultimately, all of this data can be used to increase conversion ratio. Business intelligence turns data into actionable insights that help organizations in strategic and tactical business decision-making. It quickly provides channel visibility, tracks partner performance, and helps partners uncover opportunities to grow their business. Based on this extensive reliance, the scope for partner relationship management software is bound to accelerate in the forthcoming decade.
More Insights, Lesser Cost (-50% off)
Insights on import/export production,
pricing analysis, and more – Only @ Fact.MR
Key Challenges posed to Partner Relationship Management Software Industry Growth
Heightened Data Security and Breaches Concerns may restrain adoption
Partner relationship management software solutions accumulate and process copious amounts of data- both customer centric and business critical. With the intention of utilizing this data to further business prospects, malicious entities may seek to capture this information for undesirable objectives. Furthermore, customers may be unwilling to divulge details amid concerns about privacy breaches, thereby restraining uptake of partner relationship management software .
Furthermore, regulations such as the General Data Protection Regulation (GDPR) have made it mandatory for enterprises to regulate the amount of data collected via partner management platforms. This compels organizations to enforce the strictest privacy and security measures, which may lead them to incur additional overhead costs. However, the biggest concern is that of increased cyberattack frequencies, with research indicating an increase of 600% in total incidences in the past few years.
Comparative View of Adjacent Partner Relationship Management Software Markets
| | | | |
| --- | --- | --- | --- |
| Attributes | Partner Relationship Management Software Market | Business Intelligence Market | Marketing Operations Management Market |
| CAGR (2022-2032) | 12.2% | 7% | 7.9% |
| Market Value (2032) | US$ 1.9 Billion | US$ 53 Billion | US$ 9.6 Billion |
| Growth Factor | Increased need for controlling functional relationships between organizations and external partner clients and emphasis on enhancing partner communications as well as reduction in channel management costs have all collectively augmented demand for partner relationship management software solutions. | Rising need to integrate various business models for a more streamlined approach to business decision making is heightening prospects for business intelligence. Technologies such as ML, IoT and AI are expected to play important roles in integrating different business models. | The quest for minimizing content duplication, repetition and brand devaluation of key businesses is an important factor influencing uptake of marketing operations management solutions in the long-run. |
| Opportunity | Growing adoption of business intelligence to streamline customer and client relationships to ensure faster decision making processes is expected to augment deployment of partner relationship management software and solutions. | COVID-19 has generated immense possibilities about the true potential of business intelligence. By helping visualize data, companies were able to navigate through the worst of the pandemic, helping preserve revenue margins and enhancing profitability. Likewise, BI software are likely to provide a similar level of assistance for future crises. | Marketing operations management solutions are incorporating mechanisms aiding in experimentation with sophisticated marketing technologies to create tailored experiences using AI. |
Country-wise Analysis
How will Partner Relationship Management Software Uptake be in the U.S Market?
Implementing Best Business Practices to Streamline Operations
According to Fact.MR, the partner relationship management software market in the U.S is slated to experience a CAGR of 11.9% from 2022 to 2032. As per the report, the region is expected to yield US$ 665.6 Million worth of revenue in 2032, while generating a dollar opportunity worth US$ 450.1 Million during the said period of assessment. Increasing emphasis on improving partner and client relationships by key enterprises is leading to enhanced growth of the market.
Throughout the U.S, business enterprises have realized that customer or client experience is the most critical differentiator which sets apart key industries. It is estimated that client/customer experience lists among the top-five list of priorities for 65% of executives over the next three years. It is common knowledge that clients drift towards those consulting and market research services which provide the best experiences. Hence, enterprises are making it a point to enforce some best practices required to increase partner engagement.
The fundamental step taken by business entities in the U.S is to ascertain the nature of their business partners, how they expand revenue pools, their key market differentiators and the thing which keeps them up and running. Besides these core drivers, they also attempt to understand how products fit into their product portfolio. Once this is achieved, companies implement tools which help them understand the mathematics of reach and calculate training and incentive requirements. Also, managing partner loyalty and eliminating under-performers are also part and parcel of these best practices.
What are the Expansion Prospects for Partner Relationship Management Software in the U.K?
Deployment across the Service Sector to Yield Significant Growth Opportunities
The service sector is perhaps the most opportunistic industry across the U.K, contributing 80% of total economic output. The U.K service industry includes such sectors as retail, finance, business administration, public services and leisure & cultural activities. In order to provide a seamless and hassle-free customer experience, service providers in the country are leveraging advanced partner relationship management software platforms.
Several prominent software solution providers have ventured their way into the U.K market. For instance, CEIPAL- a prominent customer and client engagement platform provider- has proven to be highly effective in the services domain. The solution has helped increase candidate submissions by 400%, with 97% customer satisfaction and enabling 50% cost savings. The interface offers a broad range of services- from applicant tracking to workforce management.
For companies involved in the U.K service industry, such platforms have greatly helped attain a high degree of automation with regards to recruitment, human resources and other operations. As per Fact.MR's report, the U.K market is expected to reach US$ 78.1 Million in 2032, generating a dollar opportunity worth US$ 50.9 Million, reflecting a CAGR of 11.1% throughout the 2022-2032 period of forecast.
Will China Provide adequate expansion Opportunities in the Future?
Extensive Digitization of Business Networks encouraging Partner Relationship Management Software Adoption
Over the years, the Chinese business landscape has experienced extensive digitization, with major business powerhouses playing a pivotal role in providing value added solutions and services which simplify business process. When it comes to digital transformation, China is a force to be reckoned with- both domestically and internationally. As a major investor in digital technologies, it is already shaping the global digital landscape- supporting and inspiring entrepreneurship far beyond its own borders.
Given this rapid pace of digitization, enterprises are seeking out solutions enabling them to focus more effectively on establishing extensive relationships with prospects clients. With regard to partner relationship management software , Fact.MR anticipates the East Asian giant to flourish at a value CAGR of 11.6% from 2022-2032, accumulating a market value of US$ 138.9 Million. Furthermore, it will likely yield a dollar opportunity worth US$ 92.5 Million. Hence, various players are establishing base in the region.
Players such as Oracle Corporation have found significant grounding within the Chinese landscape. The company currently offers its Partner Relationship Management platform. Through this interface, channel managers and partners can collaborate, share and manage leads, register deals and create quotes. The solutions offers a complete, concerted partner experience and helps businesses grow their channels to increase revenue.
Know thy Competitors
Competitive landscape highlights only certain players
Complete list available upon request
Category-wise Insights
Which Enterprise is expected to be the Frontrunner in the Global Market?
Partner Relationship Management Software for Large Enterprises to reign Supreme
By enterprise size, Fact.MR forecasts the large enterprises segment to hold maximum sway in the global partner relationship management software landscape, registering a CAGR worth 11.8% from 2022 to 2032. Since large enterprises have highly diffused business requirements, the need to effectively management partner and client relationships becomes all the more important. This ensures that business operations continue unabated.
Large enterprises have a varied corporate network and revenue stream, which helps in the adoption of new technologies and solutions in their existing systems. Furthermore, these organizations prefer to implement their service and solutions on-premise.
Based on Deployment, which Category is likely to Accrue Maximum Gains?
Cloud-based Partner Relationship Management Software to be Most Widely Deployed
Cloud-based partner relationship management software is expected to experience noteworthy expansion, documenting a 12.2% value CAGR from 2022-2032, concludes Fact.MR's report. Deployment of partner relationship management software on the cloud helps organizations maintain authenticity and consistency throughout their client management routine.
Given the fact that a majority of businesses are reducing investments in IT infrastructure to curtail costs, they are looking to shift all their operations on a convenient and easy to access virtual platform, thus augmenting investments in cloud systems.
Partner Relationship Management Software Market- Competitive Landscape
Prominent partner relationship management software service providers are reliant on offering new and enhanced services to potential clients, as well as forging partnership agreements, acquiring small to medium-sized players, and filing of patents or other regulatory approvals to remain afloat in the market. Some prominent developments in this field are as follows:
Affise Inc. introduced its latest partnership marketing tech support system titled Affise Reach in March 2022. The platform allows brands to directly organize, implement and measure partnership marketing campaigns without support from a third party. Using Affise Reach, marketing teams can search a database of vetted partners which includes everything from web, social, and mobile app advertising.
In March 2022, Everflow partner marketing platform announced the acquisition of SOC 2 Type II compliance, in accordance with the American Institute of Certified Public Accountants (AICPA) standards for SOC for Service Organizations. This cements Everflow's validation of its enterprise-level security for customer's data secured in the system's database.
In February 2022, Dentsu Singapore announced an alliance with Impact Tech Inc. to enable and accelerate partnership opportunities for clients globally. The alliance will help the former leverage Impact's purpose-built performance platform to manage its client partnership activity at a considerable scale. Impact seeks to transform the ways businesses create, manage, scale and optimize an ecosystem of partnerships, including traditional rewards affiliates, influencers, commerce content publishers, and B2B brands.
Key Segments Covered in the Partner relationship management software Market Report
Partner Relationship Management Software by Deployment :

On-Premise Partner Relationship Management Software
Cloud-based Partner Relationship Management Software

Partner Relationship Management Software by Enterprise Size :

Partner Relationship Management Software for Large Enterprises
Partner Relationship Management Software for SMEs

Partner Relationship Management Software by Region :

North America Partner Relationship Management Software Market
Europe Partner Relationship Management Software Market
Asia Pacific Partner Relationship Management Software Market
Middle East & Africa Partner Relationship Management Software Market
Latin America Partner Relationship Management Software Market
- FAQs -
The partner relationship management software market is expected to flourish at a 12.2% CAGR from 2022-2032
Fact.MR expects the market for partner relationship management software to reach US$ 1.9 Billion by 2032
From 2015-2021, partner relationship management software uptake surged at over 14% CAGR
As of 2021, partner relationship management software market value reached US$ 521 Million
According to Fact.MR, the U.S is expected to experience a CAGR of 11.9% until 2032
The U.K market for partner relationship management software is forecast to reach US$ 78.1 Million by 2032
China is anticipated to generate dollar growth opportunity worth US$ 92.5 Million, with respect to partner relationship management software
Cloud-based partner relationship management software will experience maximum growth, at a CAGR of 12.2%
Partner relationship management software for large enterprises will likely dominate, registering an 11.8% CAGR
As of 2022, the partner relationship management software market is forecast to reach a valuation of US$ 595 Million