Personal Finance Mobile App Market
Personal Finance Mobile App Market By O.S. (Android, iOS), By Subscription (Free / Premium, Paid), By Service (Tracking Expenses & Budgeting, Investments, Universal), By Region - Global Insights to 2031
Analysis of Personal Finance Mobile App market covering 30 + countries including analysis of US, Canada, UK, Germany, France, Nordics, GCC countries, Japan, Korea and many more
Personal Finance Mobile App Market Outlook
Nowadays, data is the new oil, and is often available but not refined and segregated, which makes it highly unreliable. It further needs to be funneled down and analyzed to gain valuable insights. At Fact.MR, a market research and competitive intelligence provider, we believe that data is the new oil and analysis is the combustion engine.
High penetration of an average of 2.5 personal finance mobile apps in smartphones allows the gathering of a lot of personal details, including bank accounts, spending patterns, and others. This data enables organizations to further analyze consumer archetype and provide personalized financial advice and related services.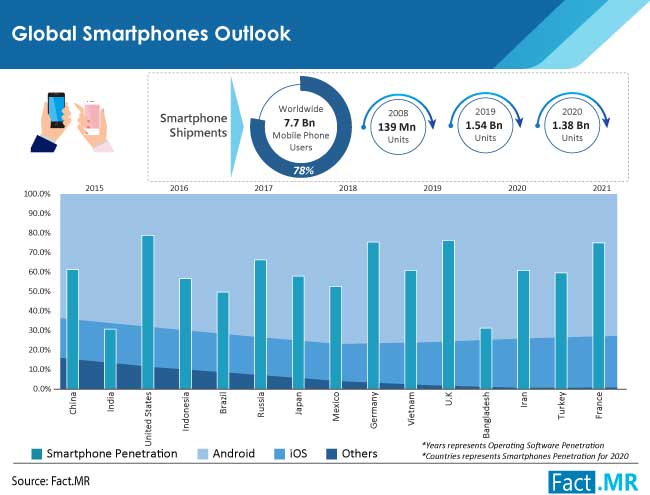 In the past years, Fintech companies have witnessed revolutionary changes and attained objectives that could have taken decade. The Fintech sector has identified the opportunity and analyzed data in order to provide tailored services that might drastically change the whole operational process
Personal finance mobile apps have a vast horizon of quality data that can be further employed to analytics and artificial intelligence. Integration of artificial intelligence will lead to improvisation in services and further streamline the process.
Know thy Competitors
Competitive landscape highlights only certain players
Complete list available upon request
How are Start-ups Investing in AI and Banking Having an Impact on Personal Finance Mobile Apps?
Prominent personal finance apps have raised significant amounts of funding to enhance their technology by integrating artificial intelligence. Many app developing companies are inclining towards the financial sector, person finance apps, and proactive money management apps, which were never the subject of interest. However, companies have analyzed the strength of artificial intelligence and entered into this space to provide better platforms for managing personal finance.
Chime, in August 2021, raised nearly US$ 750 Mn and further buckled up for initial public offering by next year (2022). The company is set employ funds in the growth and expansion of services and products, wherein, prime focus is becoming a market frontrunner in developing the most reliable application.
U.S. fintech start-up company Albert raised nearly US$ 100 Mn in January 2021, whereas, the company, in the initial stage, had a total funding of US$ 173 Mn from multiple companies, including Alphabet Inc., QED, Portag3, and CapitalG.
In April 2021, Splitwise received a funding of US$ 20 Mn from a private equity firm insight partners. Higher investments and key market players receiving capital funding reveals the growth prospective that the market upholds.
Balancing between Subscription and Features – a Sweet Tale of Personal Finance Mobile Apps
Synergy between subscription and features brings a midway for both, paid and unpaid users. Primarily, there are two types of subscriptions - free/premium and paid. Numerous companies, including Mint, Personal Capital, Chime, Prism, and others, work on advertisement models to enable a free interface that a can be accessed by anyone.
Whereas, some apps such as Spendee and Splitwise include a premium offering to provide advertisement-free and additional services in order to provide a seamless experience. However, a few personal finance apps such as Digit, Albert, and others have only paid services.
Depending on the revenue model of the players operating in the market, and consumer willingness to pay for subscriptions, paid and free personal finance apps make their way out targeting a defined customer base.
More Insights, Lesser Cost (-50% off)
Insights on import/export production,
pricing analysis, and more – Only @ Fact.MR
Why is Personal Finance Mobile Making a Mark among End Users?
The prime aim of personal finance mobile apps is to track spending and pull out a budget in accordance, peer payments, and investments that ultimately manage private money rather than institutional funds.
Keeping personal finance robust is always a crucial factor for each individual, wherein, having discipline and diligence is often hard to stick with. Personal finance mobile apps ease out this task effectively and efficiently by managing income, bills, spending, investments, and others. Accessibility through mobile phones provides an upper edge to the market and may lead to brisk penetration.
Everything about personal finance at the tip of the finger makes it more convenient and handy for users to have an uninterrupted and seamless experience. As mobile and Internet users are on the rise, with millions of devices adding on each year, personal finance mobile apps will be the game changer during the future course of time.
Which Factors Outline the Growth Patterns for Personal Finance Mobile Apps?
Personal finance mobile apps hit downloads of 1.3 Bn in the second quarter of 2020, and an exponential surge in app usage frequency has been registered. Increasing penetration of smartphones across developing economies will paint a decent picture of growth for the personal finance mobile app adoption rate.
In 2020, the United States had the highest penetration of smartphones accounting nearly 81.6%, whereas most smartphone users were registered in China, which were around 911.9 Mn. India secured the second position with more than 439.4 Mn users.
Globally more than 75% of smartphone users surveyed have used at least one app in order to manage their finances.
During our extensive consumer survey, it is been analyzed that users are more inclined towards mobile apps rather than websites. Personal finance apps bring an ease of usage by offering all personal finance needs at one place at the fingertips of users. 6 out of 10 users have shown preference towards personal finance apps, whereas, 4 users are comfortable with websites.
Developing economies are foreseen to impetus demand due to gradually swelling disposable income coupled with elevated financial awareness. A large chunk of the user base in developing economies across the globe is still untapped, which may unfold ample opportunities in the near future.
Countries such as China, India, Indonesia, Australia, Germany, the U.K, Brazil, Russia, and a few others will expand at an exponential growth rate. Whereas, matured economies such as the United States may account for a high market share owing to already developed infrastructure and high consumer awareness about managing personal finance.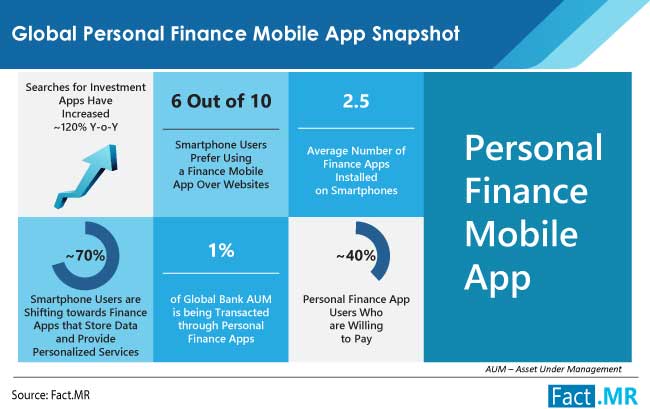 Why Have Personal Finance Mobile Apps become the Talk of the Town?
Multiple factors such as personal budgeting, pay-off reminders, savings, and investments are some of the most hectic things to do at an individual level. Handling multiple financial tasks at ease through a mobile app is the key driving factor for this market.
Personal finance apps aid in tracking spending behavior and provide personalized advice in order to tackle upcoming financial needs. Due to this reason, a significant number of users will shift towards such apps, especially the millennial group that is expected to be the prime contributor for revenue generation.
Incorporating services such as investments, banking, and cash transfer are key elements that tend to dynamically shift users over to personal finance application. Investment and trading applications are prominent areas of personal finance apps, which have witnessed exponential growth in the past two years.
It is been observed that overall time spent on investment and trading apps has soared with a Y-o-Y growth of more than 50% last year.
Significant rise in the user base of investment apps was registered across three prominent economies - the Americas, Canada, and Mexico. Whereas, APAC showcased exponential growth, specifically in South Korea.
In January 2021, it was reported that more than 4.5 Bn of active Internet users were across the globe, which is almost 60% of the total world's population. Among these active Internet users, there are more than 92% who access the Internet through mobile phones, which is roughly 4.3 Bn, acting as an external element of growth for personal finance applications.
Growth of Internet users will remain in the similar trajectory over the coming years, which may push the global market and increase demand. With such a huge number of users accessing the Internet through mobile phones, it will surely drive demand for personal finance mobile apps.
Revolutionary change of digitalization across multitude avenues is another prominent driving factor creating the stage for the market to flourish during the assessment period
Globally, penetration of smartphones has reached a milestone of 78%, wherein, Switzerland is leading the way with more than 88% penetration. At present, worldwide, there are more than 6 Bn smartphone users, which showcases the promising scenario for the market to sustain over a long period of time.
In the past decade, the smartphone market has registered exponential growth of 27.2% CAGR (2008-2019). In 2008, global sales of smartphones were 139 Mn, and in 2010, the smartphone industry was revolutionized by screen touch technology, which made the smartphone market see exponential growth and boom in demand.
Further, in 2019, smartphone sales hit a high of 1.54 Mn; although sales were down to 1.38 Mn in 2020 due to COVID-19. Increasing smartphone users will positively impact the number of personal finance app downloads and significantly elevate the annual value curve of the global market.
Don't Need a Global Report?
save 40%! on Country & Region specific reports
How is Rising Per Capita Income Steering the Growth of Personal Finance Apps?
Personal finance apps are not only confined to budgeting or keep track of spending but used across a diverse horizon, including payments and investments, covering all prominent aspects of personal finance. The targeted audience for personal finance apps is individuals and the general population, and the focused channel of revenue is business to customer (B2C)
The objective is to cater to personal finance services and not establish business goals. However, gradually, rising bars of global per capita income is one of the key factor that is presumed to uphold the growth curve of the market over a long span.
Global GDP per capita in 2020 was US$ 10,925.7, which registered a CAGR of 1.3% over the past decade, where, global GDP surpassed a value of over US$ 84 trillion, which exhibits a CAGR of 2.5% in the same timeframe.
Personal finance mobile apps have been operational from a long time, but exponential growth has been witnessed only during the past half-decade Surging Fintech start-ups have become the guiding light for eliminating irregularities of savings and lack of consistency in investments, further translating it into an opportunity.
Currently, personal finance apps have hit roughly 1% of transaction value with respect to global banks' AUM (asset under management), but the growth perspective remains high and is expected to increase the transaction frequency during the assessment period.
Will Data Breaches Adversely Affect Users and Create Insecurities?
Data breach is a primary concern of users that potentially restricts the shift over to a personal finance app. Exploitation of personal details may lead to some severe issues and can have a massive impact. Profoundly, it is been observed that old age group users restrict themselves from online financial platforms owing to safety concerns and constraint themselves to conventional ways. However, millennials are moreover flexible in terms to adoption of digital platforms.
Talking about capital endeavor, often, old age groups have comparatively more capital than millennials but a large chunk of them is yet to shift to financial assistance apps. As such, high contribution is still left remaining, which might have a massive impact over the coming years.
Although, integration of additional security layers such as fingerprint identification, encryption, iris scanning, or two factor authentication is likely to mitigate data breach risks.
Whole data security models work like they store only required amounts of data that needs to be kept on a mobile phone, and further, the required data is accessed from the server while working on the application and gets deleted from the device after completion of the task. Inclusion of such factors may wipe off data security concerns and subsequently surge the penetration rate.
How Will Integration of AI and Blockchain Technology Drive Market Expansion?
Prominent players across the globe are deploying their resources to leverage technological advancements to incorporate various updates in applications. While considering technological updates, things such as blockchain and artificial intelligence are the most preferable advancements opted for by tier-1 players.
Blockchain can be utilized for keeping records and data, whereas, artificial intelligence can help with data analysis, personalized recommendations, and customer interactions. For instance, AI-powered financial assistance can look after spending patterns and suggest various tips on how to save money. It is been observed that integrating such technological advancements aids in gaining millions in investments, which will further uplift the growth curve of companies.
Machine learning will enable app developers to provide more customized applications and interfaces that dynamically change and provide real-time assistance in personal finance apps, showing trends, recommendations, and flagging any risk in terms of the particular account or portfolio of the customer
When Will Shifting Consumer Preference towards Unconventional Asset Class Attain Maturity?
It is been scrutinized that consumer preference has dynamically shifted over unconventional financial tools across developing economies. Severely increased inflation rates and suppressed ROI (return on investment) from the conventional asset class such as bank F.D.s has eventually diminished return on capital.
Furthermore, in the view to beat inflation, the generated rate of return should be more than the rate of inflation, which can only be achieved by deploying capital in unconventional financial tools such as the money market, cryptocurrency, bonds, mutual funds, and stocks.
However, participation of investors is likely to increase in the near future, which may stimulate demand. Increasing cash inflow in the aforementioned unconventional asset class will particularly emphasize on personal finance apps offering various investment options.
Over the next decade, transaction value of personal finance apps is presumed to grow 3X on the back of investing services.
At What Magnitude Has COVID-19 Impacted the Personal Finance Mobile App Space?
Despite a fall across multiple industries and bottlenecked demand across conventional industries, personal finance apps witnessed a growth of roughly 90% in terms of downloads. During the COVID-19 era, more people avoided exchanging physical money, which has led to a shift of substantial number of users to such platforms.
COVID-19 introduced a severe financial crisis and layoffs, and due to this, a large number of consumers shifted to fast money lending apps, which eventually benefitted the personal finance mobile app market.
During the unprecedented event of COVID-19, banking services were muted, and in order to have real-time transactions and other banking services, personal finance apps were used in high numbers.
Post COVID-19 effect is expected to garner the market in terms of revenue generation, as there has been a shift towards digital payments, online bookings, and heavy reliance on platforms to virtually transfer funds.
Which Region Offers Lucrative Opportunities for Personal Finance App Providers?
During the comprehensive analysis, Fact.MR has surveyed six prominent regions - North America, Latin America, Europe, East Asia, South Asia, and the Middle-East & Africa, in order to project a 360-degree regional view.
In the present scenario, North America accounts for substantial market share owing to high employment rate with a blend of elevated per capita income. Further, the United States is at the forefront and holds dominance with more than 80% of the North America market share due to a mature and stable economy. Canada is expected to exhibit a moderate growth rate over the coming years.
Asia Pacific is presumed to be the most lucrative region owing to a huge untapped consumer base. Further, Asia Pacific has been split into two promising regions - East Asia (China, Japan, and South Korea) and South Asia & Oceania (India, Indonesia, Malaysia, Thailand, Vietnam, Singapore, Australia & New Zealand, and the Rest of South Asia & Oceania), in order to illuminate key driving factors, consumer preferences, and market trends.
In the present scenario, South Asia & Oceania is likely to illustrate the highest growth rate owing to an evolving consumer base and increasing per capita income. East Asia is expected follow the same trajectory over the decade as adoption of new technologies and platforms is high in the region.
The Middle East & Africa accounts for a minimal market share and lower growth rate due to groundless conventional industries. Per capita income in the Middle East has witnessed a severe fall from 2012 and not yet recovered to its normal growth trajectory. This might potentially restrict use of personal finance mobile apps in near the future.
Android Vs iOS: Who is Leading the Race?
Android and iOS are basically operating software primarily used in smartphones and tablets. Android is a Linux-based OS (operating software) marking its dominance with a market share of more than 73%, owing to partly open source.
iOS accounts for 27% market share, deploying across only Apple products. Android is one of the most commonly used OS that is being used by most prominent smartphone and tablet manufacturers.
Pricing of personal finance mobile apps on Android (Google Play) is way less in comparison to iOS (Apple Store). Increasing penetration of Android OS coupled with affordable pricing will lead to fuel the growth curve of the personal finance mobile app industry. Although, iOS is gradually gaining pace and presumed to contribute subsequently to the growth trajectory of the market.
How Does Demography Change Affect the Personal Finance Mobile App Market Scenario?
Each demographic has a different mindset and approach towards wealth management, which can be precisely observed through preferences. More than 78% of people are equipped with smartphones, in which, average smartphone users have 2.5 financial apps. Millennials (25-40 years old) have an average 3.6 and it further drops to 2.3 for Gen X (41-56 Years old) and 1.4 for baby boomers (57-75 years old).
Players operating in the market are striving to develop and customize their platforms and interfaces to felicitate vivid demographic groups. The prime target group is millennials, as they rely heavily on applications to manage their day-to-day activities.
Which are the Prominent Personal Finance Mobile Apps?
1. Intuit
Intuit Mint is a personal finance management company formally established in 2006 by Aaron Patzer. The company operates in the U.S. and Canada with more than 20 Mn users. It offers the application for two of the most widespread operating systems - Android and iOS, which led to increase the flexibility of its services.
2. Chime
Chime is a San Francisco-based Fintech company established back in 2013 by Chris Bitt and Ryan King. The company provides a connected approach through mobile apps to banking services that gives it complete control on finances. Its mobile app is available for iPhones and Android devices, and more than 10 Mn downloads have been recorded at the Google App Store.
3. Digit
Digit is a wealth management app company based in San Francisco U.S. The company uses machine learning and numerous financial practices to save and invest the money of users. Digit is available on both Play Store and Apple Store.
4. Albert
Albert is a wealth management application firm based in California, United States. The company offers diverse services, from budgeting, saving, investing, and financial advisory. Albert can be used on iOS and Android-based devices.
5. Prism
Prism is a bill management and bill payment platform that offers to pay bills on multiple platforms and delivers financial well-being. The company has more than 30 Mn users and thousands of financial institutions. Prism also offers personal budgeting to its users and is available for iOS and Android devices
6. Spendee
Spendee was established back in 2013, offering services related to personal finance, including, alerts and reminders of payments, tracking multiple currencies, connecting banks to cater to a hassle-free banking experience. Spendee works on iOS and Android platforms to target all customers.
7. Personal Capital
Personal Capital is an online financial advisory and wealth management company established back in 2009. The company has "A" rated encryption technology to minimize risk. It offers a wide range of services, including retirement planners, free analyzers, and track all your wealth in one place, which smoothens customer experience.
8. Splitwise
Splitwise is a Providence-based personal finance company offering personal finance services, including track expenses, tracking balance, bill split, and many more. Splitwise offers an ad-free experience on its application and can be operated though Android and iOS operating software.
9. IND Money
IND Money is an India-based wealth management application that enables to track, save, and invest. It offers diverse services across the horizon, including different investment options with zero commission. IND Money is backed by many foreign institutional investors.
10. DollarBird
Dollarbird is an unpaid cloud-based personal finance app that can be accessed through Android, iPhone, or a desktop. Dollarbird utilizes a calendar format that allows you to track expenses and split them up into categories such as groceries, utilities, and rent.
Types of Personal Finance Apps and Their Basic Features:
Personal finance apps can be classified into four types-
1. Expense Track and Budgeting
Expense tracking and budgeting apps monitors spending of an individual across particular segments and provides personalized financial advice that helps attain short-term and long-term financial goals along with a detailed budget.
Basic Features of an Expense Tracking App
Monitor income, expense, and allowance
Tracks multiple accounts
Taxation assistance
Tracks EMIs, loans, and credit cards
Export income and expense report
Alerts on frequent expenses
Organizes bills
Schedules payments
Manages budget
2. Investment Apps
Investment apps enable to experience a wide horizon of asset class and help allocate money. Investment apps also provide basic information about publicly traded companies.
Basic Features of an Investment App
Provides platform for investment in stocks, commodities, mutual funds, bonds, crypto currencies, and others
Gives basic information about companies
Provides collaterals against multiple assets
Currency conversion
Loan calculator
Credit card payoff calculator
Interest calculator
3. Universal Apps
Under this segment, expense tracking, budgeting, and investment apps are being considered. There are a few players offering all the aforementioned segments in one app in order to gain market share.
4. Payment Apps
Payment apps offer to pay bills and peer-to-peer payment thorough multiple payment interfaces, including UPI, net banking, and others. In addition to this, payment apps also enable to look after transaction history and account balance.
Peer-to-peer payments
Receive payments
Balance enquiry
Transaction history
Split bills
Digital wallets
Messaging
Concluding Statement
Fact.MR scrutinized an extensive range of data and further triangulated and simplified it into insights for better understanding of market penetration and key trends. We hope that this study would help you to better understand about the crucial factors related to personal finance mobile apps.
Key Segments :
By O.S. (Operating Software) :

By Subscription :

By Service :

Tracking Expenses & Budgeting
Investments
Universal
Payment Apps

By Region :

North America
Latin America
Europe
East Asia
South Asia & Oceania
MEA
- FAQs -
Personal finance mobile apps hit downloads of 1.3 Bn in the second quarter of 2020, and an exponential surge in app usage frequency has been registered.
North America accounts for substantial market share owing to high employment rate with a blend of elevated per capita income.