Reduced Fat Meat Market Outlook (2023-2033)
The valuation of the global reduced fat meat market is US$ 9.5 billion in 2023. Looking further, worldwide sales of reduced-fat meat are estimated to reach a value of US$ 15 billion by 2033-end, increasing at a CAGR of 4.6%.
In recent years, there has been a noticeable increase in health issues due to the high intake of fat. Various food industries around the world are taking efforts to develop new food products that have positive health benefits. Cancer, heart disease, and obesity are implicated with high fat intake.
Health organizations are promoting the reduction of cholesterol and fat in diets as means to control obesity and reduce cardiovascular heart disease rates. Diets that contain less than 30% of calories from fat are recommended by experts. People are giving preference to these products due to palatability and cost considerations.
Reduction in the content of fat from meat products is advantageous as well as viable. Furthermore, it reduces the level of saturated fat and calorie content. These factors can result in the development of new products with high nutritional values and provides people with alternative options to conventional meat products.
People reduce the content of high-fat meat in their diet due to the viability and advantageous nature of low-fat products. In addition, they also reduce the level of saturated fat and calorie content. These factors are projected to result in the development of new high-nutritional meat products.
Manufacturers are developing extra lean or lean ground products while giving surety about the required palatability demands by the global population. The active approach to replace fat is to include fat replacers which either modify the interactions or replace fat from the eatables.
The products used as replacements for high-fat meat contribute a minimum of calories to formulated meats. Further, these substitutes of fat can alter viscosity, mouth feel, tenderness, flavor, and other processing and sensory properties of different food items.
These changes in the parameters of food products can have certain adverse impacts on market growth as people are very much inclined to consume traditional meat products. However, the development of new products without bringing any change to taste, mouthfeel, and flavor can bring new growth opportunities for market players.
Report Attributes

Details

Market Size (2023)

US$ 9.5 Billion

Estimated Market Value (2033)

US$ 15 Billion

Projected Growth Rate of Market (2023-2033)

4.6% CAGR

Canada Market Growth Rate (2023-2033)

3.8% CAGR

Key Companies Profiled

Amy's Kitchen
The Vegetarian Butcher
Beyond Meat Inc.
Taifun-Tofu GmbH
DuPont
Sweet Earth Foods
Gold & Green Foods
Maple Leaf Foods
Don't Need a Global Report?
Save 40% on Country & Region specific reports
Which are the Key Growth Drivers for Reduced Fat Meat Producers?
"Health Benefits of Meat-based Products to Stimulate Sales of Low-Fat Sausages"
Similar to conventional meat, reduced-fat meat products come with nutritional benefits. Moreover, the manufacturers are also trying to prepare meat that is similar to traditional meat based on taste, flavor, color, and texture.
In recent years, there is a significant increase in the trend to consume reduced-fat meat products. In addition, people are becoming aware of different health benefits that are related to the consumption of reduced-fat meat products. These factors are likely to propel the demand for reduced-fat products.
On the flip side, the majority of consumers are not satisfied with the taste of animal-based meat products. But, constant innovations in the products are projected to stimulate demand for these newly developed products.
"Availability of Various Nutrients in Low-Fat Meat Products Likely to Proliferate their Demand"
Excessive consumption of a wide variety of high-fat meat products is estimated to result in different diseases such as heart disease, type-2 diabetes, obesity, and certain cancers. But, on the other hand, the adoption of no-fat snacks is predicted to limit the spread of these diseases. In addition, the nutrients available in these products are also helpful to aid in better immunity along with matching the nutritional requirements of the human body.
Thus, the nutritional benefits of no-fat meat products have been estimated to serve as one of the crucial factors to contribute to market growth in the coming years.
Why is Demand Growth for Food Products with Low Fat being Hit?
"High Price of Reduced Fat Meat Expected to Limit Adoption"
The high price of reduced-fat meat is anticipated to limit the adoption of industry products. These products are uneconomical compared to meat which is based on animals and this factor is likely to impact market growth across price-sensitive markets including South Africa, China, and India.
However, the companies from the industry are trying to offer reduced-fat meat at economical prices as their high price compared to traditional meat is expected to hamper the market growth.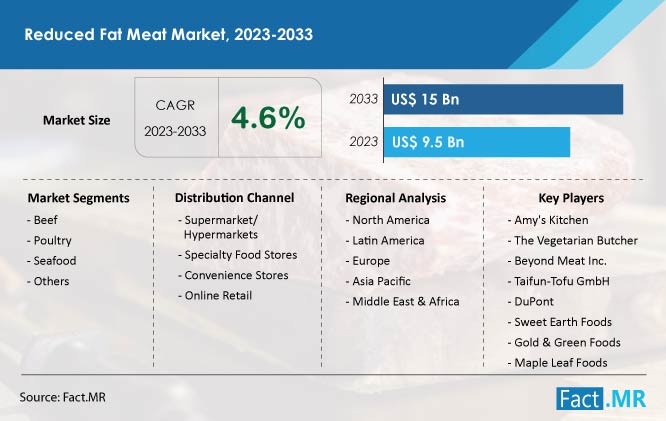 What Opportunities Can New Suppliers of Reduced Fat Meat Explore?
"Development of e-Commerce Websites for Product Delivery to Open Up New Avenues"
People around the world are gaining awareness related to the adverse effects of meat-based products if consumed on daily basis. The excessive consumption of these fat-based products can result in certain cancer, obesity, and some other diseases. These factors can stimulate manufacturers to innovate in reduced-fat meat products that further propel market growth.
For instance :
Beyond Meat, in August 2020, launched an e-Commerce website for reduced-fat meat products for people around the world. This website will ensure easy access to consumers for the vast portfolio of products that are based on reduced-fat meat.
More Insights, Lesser Cost (-50% off)
Insights on import/export production,
pricing analysis, and more – Only @ Fact.MR
Why is the North American Market Likely to Grow Rapidly?
"Increased Health Consciousness about Meat Products in the Region"
The market in the North American region, among other regional areas is projected to hold a dominating position in the global market owing to increased consumption of reduced-fat foods. In addition, growing health awareness among people is also predicted to contribute to market growth. Rising consumption of ready-to-eat food products, increasing health issues, and changing lifestyles might bolster the adoption of the industry products.
The Europe market is also expected to grow at a significant speed due to growing awareness about the health benefits of reduced-fat meat products. Further, it is considered one of the healthy alternatives compared to other market-available options.
Wide awareness about health and rapid urbanization are expected to serve as vital factors to push sales of low-fat meat products in the Asia Pacific market. Furthermore, the export of industrial products is possible with the presence of key food processing industries in the Asia Pacific region that create lucrative opportunities in the regional market.
Country-wise Insights
Which is the Leading Country in the European Market for Reduced Fat Meat Products?
"Rising Awareness about Health Benefits of Low Fat Sausages in Germany"
The market in Germany is anticipated to expand at a CAGR of 3.6% through 2033 due to rising awareness among people about the health benefits of food that are low in saturated fat. Moreover, these low-fat meat products are accepted as healthy alternatives instead of conventional options there.
Why is the U.S. the Largest Provider of Low Fat Red Meat?
"Growing Consumption of Fat-Free Meat by U.S. Population"
The market in the U.S. was valued at more than US$ 2.4 billion in the year 2022. The significant growth in the market is owing to increased consumption of low-fat meats. Furthermore, rising health awareness about fat-free meat is also predicted to bolster their sales.
The Canada market is projected to advance at a CAGR of 3.8% through 2033.
Why is the Market in Japan Projected to Expand at a Significant Rate?
"Growing Consumption of Ready-to-Eat Products Expected to Boost Demand for Reduced Fat Meat"
The market in Japan is likely to progress at a CAGR of 3% through 2033 through rapid urbanization that leads to rising consumption of ready-to-eat foods products. Furthermore, increased health concerns among people are also expected to stimulate the consumption of low-fat beef.
Category-wise Insights
Why are Beef-based Products Gaining Traction in the Global Market?
"Abundance Supply of Beef Anticipated to Contribute to Their Sales Growth"
The global market is segmented into poultry, beef, seafood, and others based on product type. Among these, beef is estimated to hold a dominating position in the global market due to its abundance of supply. Moreover, convenience, taste, and faster production are some pivotal factors that are estimated to contribute to sales of low-fat meats. Increased shelf life of these products is also expected to push their demand.
Why Do Supermarkets/Hypermarkets Dominate Product Distribution?
"Easy Availability of Various Food with Low-Fat in Supermarkets/Hypermarkets"
The industry is bifurcated into supermarkets/hypermarkets, specialty stores, convenience stores, and online retail based on the distribution channel. The supermarkets/hypermarkets are predicted to lead in the global industry owing to the availability of a wide variety of products of different brands. In addition, these products are also available across these stores in different price ranges.
Online retail is also gaining popularity in recent years owing to the ongoing digitalization of the world. Various manufacturers of low-fat products ensure the availability of their products at online distribution channels.
Competitive Landscape
Reduced fat meat suppliers are investing at an increased rate to develop new products for the wider availability of products across the world.
For instance :
Kellog Co. made an investment of US$ 45 million for the expansion of its manufacturing plant at Morningstar Farm in Ohio.
Key players in the reduced fat meat market are Amy's Kitchen, The Vegetarian Butcher, Beyond Meat Inc., Taifun-Tofu GmbH, DuPont, Sweet Earth Foods, Gold & Green Foods, and Maple Leaf Foods.
Segmentation of Reduced Fat Meat Industry Research
By Type :

Beef
Poultry
Seafood
Others

By Distribution Channel :

Supermarkets/Hypermarkets
Specialty Food Stores
Convenience Stores
Online Retail

By Region :

North America
Europe
Asia Pacific
Latin America
Middle East & Africa