Shoe Dryer Market
Shoe Dryer Market Analysis By Type (Stationary, Portable, Wall-mounted), By Power Source (Electric, Battery-operated, Solar-powered), By Distribution Channel (Online, Offline), By Application (Commercial, Individual), By End User (Residential Consumers, Sports & Athletic Facilities, Commercial Establishments, Military & Law Enforcement) & By Region – Global Market Insights 2023 to 2033
Analysis of Shoe Dryer Market Covering 30+ Countries Including Analysis of US, Canada, UK, Germany, France, Nordics, GCC countries, Japan, Korea and many more
Shoe Dryer Market Outlook (2023 to 2033)
The global shoe dryer market is valued at US$ 26.2 million in 2023 and is projected to expand at a CAGR of 5.2% to reach US$ 42.9 million by 2033-end, according to this latest market study by skilled analysts at Fact.MR.
A shoe dryer serves as a device designed to effectively dry damp boots and shoes, effectively removing excess moisture and eliminating any unpleasant odors. Typically, this apparatus comprises a fan that facilitates the circulation of heated air throughout the footwear, while a heating element generates the warmth required. The device can be powered through either an electrical outlet or batteries, ensuring its safe applicability across various footwear types.
Shoe dryer machines have garnered significant attention in recent years as indispensable tools for maintaining footwear hygiene and extending the lifespan of shoes. The rise in demand for shoe dryer machines is a testament to their significance in modern footwear care. As individuals seek effective solutions that align with their hygiene concerns, busy lifestyles, and overall comfort, the market is expected to experience steady growth.
Electric shoe dryers utilize a combination of gentle heat and airflow to effectively evaporate moisture from footwear. This mechanism accelerates the drying process, ensuring that shoes are ready for use in a shorter period compared to traditional methods.
Sales of electric shoe dryers are expected to rise at a CAGR of 3.2% from 2023 to 2033.
Intelligent shoe dryers mark a leap forward in the art of drying and maintaining footwear. These advanced devices go beyond conventional drying methods by incorporating smart technology to deliver a seamless and customized experience. Snowboard boot dryers are specialized devices designed to address the unique challenges posed by damp snowboarding boots. These devices offer efficient drying solutions that not only enhance comfort but also contribute to prolonging the lifespan of the boots.
Report Attributes
Details
Shoe Dryer Market Size (2022)
US$ 24.7 Million
Estimated Market Value (2023)
US$ 26 Million
Forecasted Market Value (2033)
US$ 43 Million
Global Market Growth Rate (2023 to 2033)
5.2% CAGR
Individual Segment Growth Rate (2023 to 2033)
2.5% CAGR
Commercial Segment Growth Rate (2023 to 2033)
3.2% CAGR
China Market Growth Rate (2023 to 2033)
4.3% CAGR
Germany Market Growth Rate (2023 to 2033)
2% CAGR
Key Companies Profiled

Drysure
DryGuy
PEET Shoe Dryer
Shoe Care Innovations
Bluebase Japan
StinkBOSS
Williams Direct Dryers
Meson Global Company
Hygitec
MaxxDry
Don't Need a Global Report?
save 40%! on Country & Region specific reports
What are the Reasons behind the Rising Demand for Shoe Dryers?
"Extensive Utilization of Shoe Dryers in Hospitality and Sports Sectors"
The global boot dryer market is being driven by product demand within the hospitality and sports sectors. The growing popularity of these devices is attributed to their ability to efficiently dry footwear without causing any harm.
Footwear drying solutions encompass a range of methods and technologies designed to address the challenge of damp shoes. From traditional methods to advanced devices, these solutions cater to various needs and preferences. Furthermore, the rise in demand for lightweight and portable options suitable for travel- and sports-related activities is anticipated to act as a catalyst for the expansion of the shoe dryer market.
"Rising Awareness of Significance of Footwear Care"
Key factors driving market growth include heightened demand from households, sports teams, and commercial entities like hotels and spas. The market's trajectory gains momentum through cutting-edge technologies, such as infrared and ultraviolet lamps, alongside a diverse range of shoe dryers. Moreover, growing awareness of health benefits linked to shoe dryer usage contributes to market expansion.
Emergence of footwear dryers showcases seamless technology integration into daily routines, offering efficient, gentle, and effective drying solutions. Ensuring dry, comfortable, and well-maintained footwear, these devices epitomize modern convenience and efficiency in footwear care. As the market advances, the future of footwear care promises increased convenience, efficiency, and alignment with contemporary lifestyles.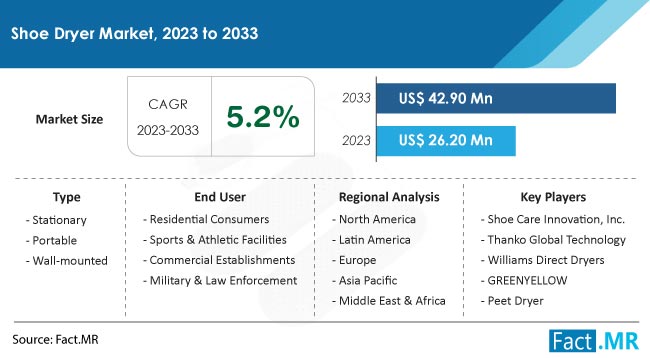 What's Inhibiting the Sales Growth of Shoe Dryers?
"High Cost of Shoe Dryers and Lack of Awareness about Their Benefits and Functionalities"
Cost Considerations
Affordability: Some advanced shoe dryer models with cutting-edge technologies can be relatively expensive, deterring budget-conscious consumers from making a purchase.
Technological Awareness and Complexity
User Familiarity: Adoption of certain advanced technologies such as UV-C light sterilization and smart features requires a learning curve, making potential buyers hesitant to invest in unfamiliar systems.
Space and Portability Constraints
Storage: Some households or individuals with limited storage space find it challenging to accommodate larger shoe dryer models.
Compatibility and Adaptability
Footwear Variety: Certain shoe dryers are designed with specific footwear types in mind, limiting their usability for consumers with diverse footwear collections.
Energy Consumption Concerns
Energy Efficiency: While most shoe dryers are designed to be energy-efficient, concerns about increased energy consumption can deter environmentally conscious consumers.
Market Awareness and Education
Lack of Information: A lack of awareness about the benefits of shoe dryers and their various functionalities might lead potential buyers to stick with traditional drying methods.
More Insights, Lesser Cost (-50% off)
Insights on import/export production,
pricing analysis, and more – Only @ Fact.MR
Country-wise Insights
The following segment provides a summary of revenue from major markets. At the forefront are the United States and Germany, acknowledged as key market leaders. These statistical insights, as assessed by Fact.MR, underscore a significant regional potential encompassing the comprehensive range of countries analyzed in the report.
Why is the United States a Significant Market for Shoe Dryer Manufacturers?
"Increase in Outdoor Pursuits and Rising Awareness of Foot Health"
The North American market for shoe dryers is witnessing robust growth, attributed to a confluence of factors. These factors include the growing appeal of outdoor pursuits such as hiking, camping, and skiing, coupled with the necessity of maintaining warm and dry feet in colder climates. Moreover, the surge of e-Commerce in the United States has facilitated convenient online access to these products, further fueling the market's growth momentum. A compelling driver is the mounting demand for comfort and ease, as consumers seek swift and efficient solutions for drying their footwear.
The market is gaining impetus from the heightened awareness surrounding foot health. Consumers are increasingly attuned to the significance of keeping their feet dry and snug, and the shoe dryer market in the United States emerges as a tailor-made remedy. In essence, the market is undergoing robust expansion, due to a combination of factors like people enjoying outdoor activities, online shopping becoming popular, and more awareness about the importance of foot health.
Why is Adoption of Shoe Dryers High in Germany?
"High Demand for Shoe Dryers in Humid Areas and Cultural Emphasis on Hygiene"
The German market is projected to advance at a CAGR of 2% from 2023 to 2033. Europe stands as a significant market for shoe dryers, showcasing substantial demand for these products. Furthermore, the European populace's strong focus on hygiene and holistic well-being acts as a driving force for the widespread adoption of shoe dryers.
Germany's climate, particularly in areas with humid conditions, creates a natural demand for effective shoe-drying solutions. Dampness and moisture in footwear, especially during wet seasons, necessitate reliable methods to ensure the longevity and comfort of shoes. This climatic aspect significantly contributes to the consistent demand for shoe dryers in the country.
The German population places considerable importance on hygiene and cleanliness, extending to various aspects of daily life, including footwear care. Shoe dryers align with this cultural emphasis by offering a practical means to maintain dry and sanitized shoes. This focus on hygiene not only enhances foot health but also extends the lifespan of footwear.
Category-wise Insights
This segment offers an overview of market revenue segmented by crucial sectors. The prominent segments include portable and commercial shoe dryers. Fact.MR foresees these categories as holding significant potential for promising opportunities over the coming years.
What's Contributing to Higher Sales of Portable Shoe Dryer Sales?
"Portable Shoe Dryers Popular Die to Their Compact and Lightweight Design"
Portable boot dryers are meticulously crafted to offer lightweight and user-friendly solutions for effectively drying wet or moist boots, shoes, and even folded garments within the comfort of one's own home. These devices cater exceptionally well to individuals with busy lifestyles who require quick and convenient drying options, especially when a fixed boot dryer is unavailable. By delivering rapid drying outcomes in contrast to conventional approaches, these dryers also excel in energy efficiency, thus ensuring economical usage.
Portable boot dryers are carefully engineered to be compact and lightweight, ensuring ease of use and transportation. Their design caters to individuals who seek a solution for drying footwear on the go, without the need for a fixed drying setup.
Electric shoe dryers have emerged as a practical and versatile solution for efficiently drying footwear while on the move.
In 2023, portable electric shoe dryers hold the leading position with a market share of 60%.
These dryers are versatile in their applications, catering not only to boots but also to shoes and even folded clothing. This versatility makes them an essential tool for outdoor enthusiasts, travelers, and those who engage in activities where moisture-prone footwear is a concern.
Will the Use of Commercial Shoe Dryers Increase Significantly?
"Rapid and Efficient Drying Capability and Durability of Commercial Shoe Dryers"
Use of commercial shoe dryers is anticipated to progress at a CAGR of 3.2% through 2033. Commercial shoe dryers are meticulously designed to meet the demands of businesses, organizations, and public spaces where the efficient drying of footwear is a priority. They are crafted with durability and high-capacity drying in mind, making them well-suited for heavy usage.
One of the key attributes of commercial shoe dryers is their ability to handle a significant volume of footwear. This makes them ideal for establishments with a high turnover of visitors or customers, ensuring that everyone has access to dry and comfortable footwear.
Commercial shoe dryers deliver efficient and rapid drying, ensuring that footwear is ready for use in a short period. This efficiency translates to enhanced customer satisfaction and convenience in various environments.
Know thy Competitors
Competitive landscape highlights only certain players
Complete list available upon request
Competitive Landscape
The competitive landscape of the market is characterized by a wide range of commercial shoe dryers designed to cater to various industries and settings. From compact wall-mounted units suitable for fitness centers to larger floor-standing models for hotels and resorts, manufacturers are focusing on innovation to create solutions that seamlessly integrate with different environments.
Leading manufacturers in this sector are continually enhancing their product offerings to meet the diverse needs of businesses. These players strive to deliver commercial shoe dryers that not only offer high-capacity drying but also prioritize energy efficiency, durability, and user-friendliness.
In June 2020, DRYSURE introduced a shoe dryer that seamlessly accommodates various boot and shoe styles, effectively eliminating moisture without the use of heat. Remarkably, this innovation operates without the need for batteries or a power source.
Key Segments of Shoe Dryer Industry Research
By Type :

Stationary
Portable
Wall-mounted

By Power Source :

Electric
Battery-operated
Solar-powered

By Distribution Channel :

By Application :

By End User :

Residential Consumers
Sports and Athletic Facilities
Commercial Establishments
Military and Law Enforcement

By Region :

North America
Latin America
Europe
Asia Pacific
Middle East & Africa
- FAQs -
The global shoe dryer market stands at US$ 26 million in 2023.
Worldwide demand for shoe dryers is predicted to rise at a CAGR of 5.2% from 2023 to 2033.
Portable shoe dryers are anticipated to account for higher sales through 2033.
Worldwide sales of shoe dryers are set to reach US$ 42.9 million by 2033.
The United States is poised to hold a leading position in the global market through 2033.
The market for boot dryers in China is forecasted to expand at a CAGR of 4.3% through 2033.