Superconducting Magnets Market
Superconducting Magnets Market Analysis, By Material (Low-temperature Superconducting Materials (LTS), High-temperature Superconducting Materials (HTS)), By Application (Medical Devices & Equipment, Mass Spectrometers, Transportation), & By Region - Global Market Insights 2023-2033
Analysis of Superconducting Magnets Market Covering 30+ Countries Including Analysis of US, Canada, UK, Germany, France, Nordics, GCC countries, Japan, Korea and many more
Superconducting Magnets Market Outlook (2023 to 2033)
The global superconducting magnets market has reached a valuation of US$ 3.3 billion in 2023 and is forecasted to expand at a CAGR of 3.5% to end up at US$ 4.6 billion by 2033. Market growth can be mainly attributed to the rapidly developing electronic industry and the high demand for superconducting materials for the production of medical devices.
An electromagnet constructed from superconducting wire coils is known as a superconducting magnet. During operation, they must be cooled to cryogenic temperatures. These wires can conduct significantly larger magnitudes of electric currents than regular wires because they have no electrical resistance in their superconducting state, which produces powerful magnetic fields.
Large superconducting magnets can operate more affordably since no energy is lost as heat in windings, thus generating stronger magnetic fields. They are employed in scientific machinery including mass spectrometers, nuclear magnetic resonance (NMR) spectrometers, fusion reactors, particle accelerators, and magnetic resonance imaging (MRI) machines in hospitals.
A substance that shows zero electrical resistance when cooled below a specific threshold temperature is referred to as a superconducting material. A metalloid, non-metal, or metal can all be superconducting materials. Mercury, zinc, vanadium, titanium, tungsten, zirconium, lithium, barium, silicon, etc., are a few examples of these materials.
Low-temperature superconducting materials (LTS) and high-temperature superconducting materials (HTS) are some of the material types. Superconducting materials are mostly used in the fields of electronics, medicine, and research & development. These components are utilized in sensors, communication networks, analog and digital converters, and other electronic components.
The low-temperature superconducting (LTS) materials are produced using niobium-tin alloys, magnesium and boron powders, and NbSn3. Its critical temperature is under 50 K (-223.15ºC). The temperature at which material must be chilled to display superconducting qualities is referred to as the critical temperature in LTS. The strong demand for LTS can be attributed to its extensive application in MRI, NMR, and high-energy physics research fields to meet future energy demands throughout the world.
Report Attributes

Details

Superconducting Magnets Market Size (2023E)

US$ 3.3 Billion

Forecasted Market Value (2033F)

US$ 4.6 Billion

Global Market Growth Rate (2023 to 2033)

3.5% CAGR

China Market Growth Rate (2023 to 2033)

4% CAGR

Japan Market Growth Rate (2023 to 2033)

3% CAGR

Germany Market Growth Rate (2023 to 2033)

3% CAGR

Canada Market Growth Rate (2023 to 2033)

2.5% CAGR

Key Companies Profiled

Agilent Technologies, Inc.
Bruker Corporation
Fujikura Ltd.
American Magnetics, Inc.
ASG Superconductors SpA
Cryomagnetics, Inc.
Elytt Energy
Cryogenic Ltd.
Advanced Magnet Lab, Inc.
Bilfinger SE
Bruker Energy & Supercon Technologies (BEST)
CRYO Industries of America, Inc.
Custom Coils
Commonwealth Fusion
CAEN ELS
Don't Need a Global Report?
save 40%! on Country & Region specific reports
Which Market Trends are Generating Potential Opportunities for Superconducting Magnet Manufacturers?
"Rapid Developments in Energy Sector"
Electricity needs have been rapidly increasing due to the growing population and rapid globalization. As of now, the world's energy sources include nuclear fusion, coal, oil, natural gas, and various renewable sources. Due to its efficiency and low cost, fusion energy has a significant potential to eventually replace conventional energy. The magnetic field is employed to contain the plasma and balance the pressure within it.
Since the introduction of high-temperature superconductors (HTS), numerous economies and high-tech businesses have worked hard to increase their investments in superconductivity research, and HTS applications have grown quickly since 1986. Currently, HTS electric motors, transformers, cables, and current limiters are in the demonstration stage, and HTS magnetic energy storage systems have already seen the appearance of experimental prototypes.
With almost zero energy loss, superconducting magnetic energy storage (SMES), a revolutionary technique, can store electricity from the grid inside the magnetic field of a coil made of superconducting wires. Large amounts of power are stored and released almost instantly using SMES, a grid-enabling device.
These kinds of technologies are becoming more and more popular around the world. The system can release high power levels in a fraction of a round to restore a rapid loss or dip inline power. The demand for superconducting magnets is increasing as a result of the expanding energy sector.
"Rising Use of Nuclear Magnetic Resonance Spectrometers"
Since the creation of the first nuclear magnetic resonance (NMR) spectrometer magnet system in 1950, NMR has been highly employed as the most crucial analytical tool in contemporary biomedicine, chemistry, and materials science. It is a highly effective tool for materials research and is used in top laboratories around the globe.
Instead of using a resistive coil, the NMR system uses a superconducting coil because it uses less energy, has a compact coil structure, excellent field uniformity, a stable current, and a high magnetic field.
Nuclear magnetic resonance spectrometers are used in quality control and research to analyze a sample's molecular structure and determine its composition and purity.
Several businesses, including food and beverage, oil and gas, healthcare, chemical, etc., use nuclear magnetic resonance spectrometers. The prevalence of chronic diseases including diabetes, cancer, and cardiovascular disorders (CVDs) is rising, which is putting more focus on drug discovery and development of pharmaceutical and biotechnology businesses. This is boosting the need for nuclear magnetic resonance spectrometers.
The interaction of different molecules and their dynamics/kinetics and the composition of mixes of synthetic or biological composites of solutions are all studied using nuclear magnetic resonance spectrometers. Thus, the increasing demand for nuclear magnetic resonance spectrometers is expected to boost sales of superconducting magnets.
"Advancements in MRI Systems"
Magnetic resonance imaging system (MRI) magnet technology has advanced steadily in the field of medical diagnostics since 1980. MRI has evolved over the past 30 years into one of the most crucial diagnostic devices in the healthcare sector.
Clear soft tissue imaging ensures that MRI technology continues to hold the top spot in medical uses. The main challenge in developing and building an MRI superconducting magnet is to create a magnetic field that is incredibly stable and uniform across an imaging volume.
As a result, the development of MRI is moving in the direction of short coil lengths, strong magnetic fields, and completely open structures as opposed to tunnel-like ones. Permanent or superconducting magnets are used in open-style MRI machine designs. Several advancements in MRI superconductor magnets are boosting their sales growth.
Since the MRI procedure is non-invasive, safe, and generates in-depth images of abnormalities in the human body, it is regarded as a significant advancement in medical imaging. As the rate of cancer and trauma cases increases worldwide, so does the use of imaging systems for diagnosis. Thus, the increasing demand for MRI systems is driving the market for superconducting magnets.
"Growing Demand for Magnetic Surgery Systems"
A special medical tool called a magnetic surgery system (MSS) is intended to deliver medications and other treatments straight into deep brain tissues. In this method, a tiny permanent magnet pellet connected to a catheter is moved through the brain cells using superconducting coils.
An imaging system for fluoroscopy is used to show the movement of the tiny pellet, which is moved by a remote computer. The rising use of magnetic surgical systems in the healthcare sector is boosting sales of superconducting magnets.
More Insights, Lesser Cost (-50% off)
Insights on import/export production,
pricing analysis, and more – Only @ Fact.MR
Which Factor is Restraining the Sales of Superconducting Magnets?
"Low Availability of Raw Materials"
The scarcity of raw materials may hamper the sales of superconducting magnets. Rare earth elements are used to produce superconducting materials.
The mining and supply of raw materials are difficult due to their limited earth resources. The extraction of some commodities is also challenging due to several concerns, such as trade disputes, supply-chain interruptions, and the conflict between Russia and Ukraine.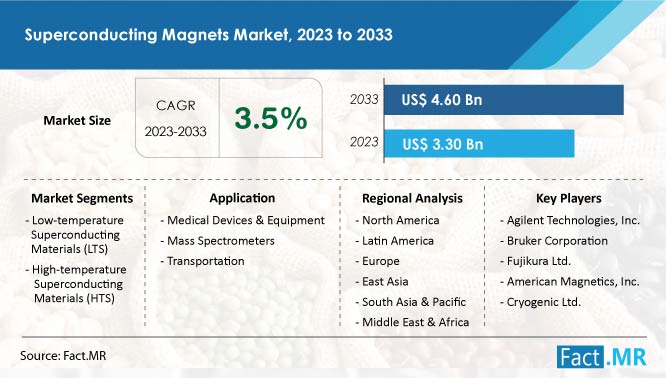 Country-wise Analysis
Why is Japan Considered a Lucrative Market for Superconducting Magnets?
"Rapid Technological Advancements in Railway Systems"
Rapid industrialization and urbanization in Japan are boosting the utilization of superconducting magnets. Sales of superconducting magnets in Japan are expected to progress at a CAGR of 3% from 2023 to 2033.
The magnetic levitation (maglev) train system built in Japan uses superconducting magnets for levitation, guiding, and propulsion. The Chuo Shinkansen, which connects Tokyo to Nagoya and ultimately to Osaka, was built in Japan after years of R&D on superconducting magnets by Japanese National Railways and subsequently Central Japan Railway Company (JR Central).
An electrodynamic suspension (EDS) system is employed by SCMaglev. Superconducting magnets are mounted on bogies of trains, and there are two sets of metal coils in guideways.
Which Factor is Boosting the Sales of Superconducting Magnets in Germany & the United Kingdom?
"Presence of Advanced Healthcare Systems in These Countries"
Germany and the United Kingdom are some of the European countries with advanced medical healthcare infrastructure. This factor is rapidly developing medical tourism in nations, which is increasing the demand for advanced medical devices such as MRIs. Thus, all such factors are boosting sales of superconducting magnets.
The development of hybrid MRI systems, the availability of universal healthcare policies, and the growing emphasis on early identification of medical ailments are the main reasons contributing to the sales of superconducting magnets in Germany.
The National Health Services (NHS) in the United Kingdom, a highly developed healthcare system, the rising geriatric population, and the rising prevalence of chronic diseases including cancer, cardiovascular diseases, and musculoskeletal ailments are all contributing to the growing demand for magnetic resonance imaging systems.
How is Demand for Superconducting Magnets Progressing in the United States?
"Rising Prevalence of Chronic Disorders Fueling Demand for Nuclear Imaging Systems"
The United States dominates the North American market for superconducting magnets due to the quick development of medical technologies, such as hybrid imaging, new radiopharmaceuticals for diagnosis, and the creation of molecular imaging. The demand for nuclear imaging is increasing as cancer incidence rates are rising along with the need for early detection.
The Centers for Disease Control and Prevention (CDC) estimated that 6.5 million Americans aged 40 and older suffered from peripheral arterial disease in 2021.
As a result, increasing prevalence of cardiovascular disorders is predicted to drive the demand for diagnostic tools such as nuclear imaging, which in turn is boosting sales of superconducting magnets.
Category-wise Analysis
Why Does the Healthcare Sector Account for High Sales of Semiconducting Magnets?
"Semiconducting Magnets Widely Used in the Manufacturing of Medical Devices & Equipment"
Demand for superconducting magnets in the development of medical devices and equipment is expected to increase at a CAGR of 4% over the next 10 years.
Today, high-field magnets and low-temperature superconducting (LTS) materials are used in nuclear magnetic resonance (NMR) and magnetic resonance imaging (MRI) for medical purposes.
To investigate the structure, interactions, and dynamics of complex compounds, NMR spectrometers are employed in the fields of biology, chemistry, and pharmacy. One of the current forces behind the advancement of high-temperature superconductor (HTS) technology is the explicit need for research spectrometers with the highest resolution achievable.
HTS materials also have significantly enhanced magnetic field capabilities in addition to their improved qualities at relatively higher temperatures. To attain the resolution, accuracy, and speed needed for clinical imaging in MRI systems, superconducting magnets' field homogeneity and stability are crucial.
Competitive Landscape
According to Fact.MR, a market research and competitive intelligence provider, Siemens AG, Nexans, and American Superconductors are some of the leading companies in the superconducting magnets market.
Key players in the superconducting magnets market are increasing their profits by growing their production capabilities and global presence. They are also investing heavily in the development of alloys that can perform as superconducting materials below the threshold temperature.
Key Segments of Superconducting Magnets Industry Research
By Material :

Low-temperature Superconducting Materials (LTS)
High-temperature Superconducting Materials (HTS)

By Application :

Medical Devices & Equipment
Mass Spectrometers
Transportation

By Region :

North America
Latin America
Europe
East Asia
South Asia & Oceania
MEA
- FAQs -
The global superconducting magnets market stands at US$ 3.3 billion in 2023.
The market for superconducting magnets is expected to reach US$ 4.6 billion by 2033.
Global demand for superconducting magnets is predicted to expand at a CAGR of 3.5% from 2023 to 2033.
Siemens AG, Nexans, and American Superconductors are some of the leading market players.
Japan holds a significant position in the Asia Pacific market for superconducting magnets.