Veterinary Endoscopy Market
Veterinary Endoscopy Market Size, Share, Forecast & Growth Analysis By Product (Flexible, Videoscope, Fibreoptic, Rigid), By Animal Type (Companion Animals, Large Animals), By End User (Hospitals, Academic Institutes, Clinics), & By Region - Global Market Insights 2022-2027
Analysis of Veterinary Endoscopy market covering 30 + countries including analysis of US, Canada, UK, Germany, France, Nordics, GCC countries, Japan, Korea and many more
Veterinary Endoscopy Market Outlook (2022-2027)
The global veterinary endoscopy market is currently valued at US$ 184 million. Global sales of veterinary endoscopy machines are expected to rise at a CAGR of 5.5% from 2022 to 2027 and will reach US$ 240.4 million by 2027.
Sales of flexible endoscopes are predicted to increase at a CAGR of 6% from 2022 to 2027. This rise is related to their expanding use in a variety of applications due to their flexible and easy-to-operate nature.
Report Attributes

Details

Veterinary Endoscopy Market Size (2022E)

US$ 184 Million

Forecasted Market Value (2027F)

US$ 240.4 Million

Global Market Growth Rate (2022-2027)

5.5% CAGR

China Market Value (2027F)

US$ 50 Million

Share in Veterinary Equipment and Supplies Market

9.2%

Key Companies Profiled

Fujifilm Holdings Corporation
Biovision Veterinary Endoscopy, LLC.
Olympus Corporation
DRE Veterinary (Avante Animal Health)
Karl Storz SE & Co. KG
STERIS
Dr. Fritz GmbH
Pentax Medical
Welch Allyn
Infiniti Medical
Know thy Competitors
Competitive landscape highlights only certain players
Complete list available upon request
Revenue Analysis of Veterinary Endoscopes (2017-2021) Vs. Market Estimations (2022-2027)
Veterinary endoscopy devices are used to look into an animal's body. A majority of endoscopes are flexible, videoscope, fibreoptic, rigid, and robot-assisted. To increase the precision of disease therapy, veterinary endoscopes are utilized to help with disease recognition, symptom analysis, and internal body navigation.
These endoscopes are most frequently used for otoscopy, bronchoscopy, esophagoscopy, tracheoscopy, and thoracoscopy. Though they were created to treat humans, they are now frequently utilized in veterinary medicine to lessen pain, recuperation times, and issues in animals. Based on animal type there are large animal endoscopes and small animal endoscopes.
There are numerous variations of endoscopes. Depending on the site in the body and the type of treatment, an endoscopist—typically either a doctor or a surgeon—performs an endoscopy. An animal may be completely aware or sedated during the process.
Esophagogastroduodenoscopy, another name for an examination of the upper gastrointestinal tract, is the most prevalent use of the term "endoscopy."
Flexible endoscopes, as opposed to rigid endoscopes, are used to perform colonoscopies and esophagogastroduodenoscopies (EGD). The most popular flexible endoscopic methods for direct examination and biopsy of certain GI tract sections in both specialised and general clinics are upper and lower GI endoscopies.
The endoscopist can work more comfortably and communicate during surgery when the endoscopic picture is shown on a video monitor. In the coming years, veterinary endoscopes and videoscope endoscopes are anticipated to grow in popularity because of characteristics such as real-time image projection on a digital screen and use in challenging procedures.
When there is a suspicion of erratic breathing or nasal discharge, video endoscopy is frequently performed to examine the upper respiratory system. The urethra, the bladder, and the sinuses in the head can all be examined with video endoscopes.
Endoscopes from Advanced Monitors Corporation that are plug-and-play are called Tele-View USB Video Endoscopes/Gastroscopes. These are compatible with Android mobile devices and Windows desktops, laptops, and tablets.
The prevalence of gastrointestinal diseases such as diarrhoea, coccidiosis, melena, indigestion, and bowel obstruction in animals is on the rise, which is driving the global veterinary endoscopes market's expansion.
Demand for minimally-invasive operations for animals, an increase in the number of pet adoption, technological advancements, and increased knowledge of animal illnesses and available therapies are the main factors driving the market growth.
Rigid endoscopy and laparoscopy were shown to have clinical and financial viability with no significant side effects in a study that was published in the Journal of the American Veterinary Medical Association for small animal general practice. Thus, by broadening the practice's range of services, adding endoscopic services aids in raising revenue.
According to the veterinary endoscopy market report by Fact.MR, a market research and competitive intelligence provider, global sales of veterinary endoscopes are predicted to increase at a CAGR of 5.5% from 2022 to 2027.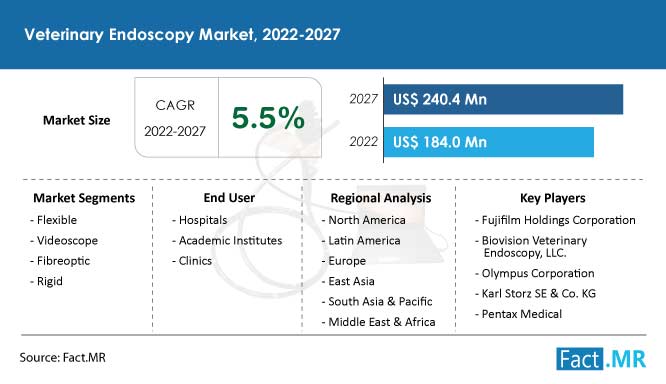 What Opportunities in the Veterinary Endoscopy Market are Expected to Influence its Sales Graph?
"Rising Demand for Minimally-invasive Surgeries for Animals"
Endoscopy equipment has changed over time as a result of product improvements and the use of video imaging technologies. Manufacturers in this sector are advancing animal care through the incorporation of improved surgical and diagnostic procedures. This has made it possible for veterinarians to practice and provide patients with individualized care (animal).
The development of endoscopic technologies enables veterinarians to perform minimally-invasive surgeries. Additionally, the increasing awareness of pain caused by standard surgical procedures among pet owners globally encourages veterinarians to utilize a minimally-invasive technique that is less traumatic for the animals and allows for a speedy recovery.
"Increased Spending on Animal Health & Better Insurance Policies"
Pet owners usually spend a significant amount of money on their animals and treat them as members of the family. As a result, they are spending more on their health, which has significantly contributed to the global veterinary endoscopes market size.
Spending on pets has dramatically grown as a result of the surge in pet adoption, according to the 2019 study "Pets in Australia: A National Survey of Pets and People". The poll found that owners expend over AUD 13 billion annually on the upkeep of their dogs, with vet bills and food expenditures continuing to account for over half of all recurring costs. The country spent over US$ 2.6 billion of this on veterinary services.
According to the North American Pet Health Insurance Association (NAPHIA), adoption rates for pet health insurance in the U.S. increased from 0.3% in 2017 to 0.4% in 2019 for cats and 2.3% for dogs.
This illustrates rising consumer interest in pet health insurance, which is expected to have a positive impact on the market. The veterinary endoscopy market share is predicted to grow significantly during the forecast period as a consequence of the aforementioned considerations.
"Advancement in Technologies in Veterinary Endoscopy Market Increasing Overall Costs"
Animals suffering from digestive disorders, respiratory issues, etc. frequently employ endoscope equipment for medical purposes. A doctor must perform an endoscopic procedure using an endoscope to examine the medical status.
The exorbitant expense of these procedures, however, continues to be a significant problem, particularly in emerging economies. Therefore, a key obstacle to the widespread use of endoscopic equipment is its high price.
Depending on the treatment site, the animal's condition, and the type of anaesthetic utilized, endoscopic procedures are currently routinely priced between US$ 800 and US$ 2,000 and otoscopy is approximately US$ 2,500 by veterinarians.
Furthermore, as technological breakthroughs get more complex, prices are anticipated to rise. Greater veterinary endoscopy equipment costs ultimately result in higher procedure costs.
For instance, the EVIS EXERA III PCF-PH190L from Olympus Corporation, which retailed for about US$ 26,000, offered HDTV image quality and Narrow Band Imaging (NBI) for improved visualisation.
During the projected period, the high cost of endoscopic operations will likely continue to be a major barrier to market expansion.
More Insights, Lesser Cost (-50% off)
Insights on import/export production,
pricing analysis, and more – Only @ Fact.MR
Which is the Dominating Region in the Veterinary Equipment Market?
"North America Profitable Regional Market Due to High Rate of Pet Adoption & Presence of Advance Veterinary Healthcare Infrastructure"
The largest shareholder in the worldwide veterinary endoscopy market is North America. The market for veterinary endoscopy systems is expanding because more people are adopting companion animals, diseases such as zoonosis are more common, presence of modern veterinary healthcare facilities in the region, and major industry players are creating advanced veterinary endoscopes.
The demand for diagnostic imaging procedures using endoscopes for a variety of disorders that can afflict these animals is increased with the rise in companion animal adoption rates and animal healthcare costs. Thus, the growth of the veterinary endoscopy market is flourishing as a result of rising pet and livestock ownership as well as public awareness of their health.
Followed by North America, the Europe market is also expected to grow at a high CAGR due to rapid technological advancements in the field of veterinary endoscopy devices.
During the projection period, Asia Pacific veterinary endoscopes market demand is anticipated to increase rapidly. The rising number of pets, increased knowledge of animal ailments, and the existence of market participants are all responsible for this growth.
For instance, the Chinese company Zhuhai Seesheen Medical Technology Co., Ltd. creates, develops, produces, and sells medical endoscopes all over the world. The company offers endoscopes for ureteroscopy, rhinolaryngoscopy, and bronchoscopy in veterinary medicine.
Country-wise Analysis
Why is Germany a Profitable Market for Veterinary Endoscopes?
"Supportive Government Initiatives & Technological Developments in Veterinary Endoscopes"
Europe's highest level of pet humanization is found in Germany. Technology-driven developments in veterinary endoscopes and an increase in government initiatives are both responsible for the expansion of the German market.
Destatis estimates that there were 20,500 farms in Germany as of November 2020, with the majority of sheep residing in Bavaria (250,600), Baden-Württemberg (207,600), and Schleswig-Holstein (190,000).
Therefore, the abundance of livestock is anticipated to have a favourable effect on the market, driving up demand for imaging treatments that use endoscopes to manage diseases.
Endoscopes use for research has increased in Germany, which has a favourable effect on the market.
In accordance with a study by Alexandros O. Konstantinidis et al., which appeared in the February 2020 print of BMC Veterinary Research, dogs had colonoscopies while under general anaesthesia following the suggested pre-operative care. This shows the use of endoscopes in research.
As a result, the market for veterinary endoscopy is anticipated to expand throughout the forecast period due to an increase in animal adoption and spending on healthcare & research.
How is the Market for Veterinary Endoscopes Growing in China?
"Prevalence of Gastrointestinal Disorders in Animals & Development of Animal Welfare Programmes"
Sales of veterinary endoscopes are expected to rise at an impressive CAGR of 8.5% from 2022 to 2027 and will reach US$ 50 million.
The increased prevalence of gastrointestinal illnesses in animals and the expansion of animal welfare programs are two major drivers propelling China's veterinary endoscopy market. Due to the huge increase in disease prevalence, businesses have begun to engage in R&D for veterinary treatments and procedures.
Additionally, by offering top-notch services, reputable veterinary hospitals such as the International Center for Veterinary Services (ICVS) are fostering the expansion of the China market. The ICVS provides a range of services including immunizations, dentistry, radiology, ultrasonography, laboratory diagnostics, preventative healthcare, nutrition counseling, and alternative/complementary medicine.
In 2019, AO VET expanded its market reach in China with a new strategic partnership with a renowned veterinary medical academy there, furthering AO's goal of improving patient outcomes. It offers a qualified setting for in-depth research, study, and the advancement of China's small animal veterinarians.
Therefore, it is anticipated that China's veterinary endoscopy market will expand in light of the aforementioned causes.
Category-wise Analysis
Why are Flexible Endoscopes Highly Demanded?
"User-friendly, Easy-to-Operate, & Flexibility Aspects Make Flexible Endoscopes Prime Choice of End Users"
Based on product, the market is segmented into flexible endoscopes, videoscope endoscopes, fibreoptic endoscopes, rigid endoscopes, and others.
The flexible endoscopes are primarily used for tracheoscopy, colonoscopy, bronchoscopy, and upper gastrointestinal endoscopy. Viewing the interior of the stomach and colon is simply because of the endoscopes' manual rotation capabilities, which improve access and maneuverability.
To avoid damage, the flexible endoscopes need to be repaired frequently. Endo-i Veterinary Endoscope repairs, one of the major investments for veterinary practices, are something that businesses such as STERIS have experience with. The aforementioned elements will probably trigger the market to increase significantly during the anticipated time frame.
Don't Need a Global Report?
save 40%! on Country & Region specific reports
Competitive Landscape
Key players in the veterinary endoscopes market are focusing on obtaining regulatory clearances, developing advanced cutting-edge devices, introducing new technologies, and partnering with and acquiring other businesses. These tactics are probably going to help the global market for veterinary endoscopy services flourish.
The EickViewHD video endoscope system, a modular device that offers optimal illumination and enhanced vessel display, was introduced by Eickemeyer Veterinary Equipment in September 2020.
For instance, Infiniti Medical sponsored the Virtual 2021 ACVIM Forum in June 2021, which featured four training sessions led by well-known veterinary experts from around the world. The sponsorship demonstrates the company's ongoing support for both the organisation and the veterinary industry. During the projection period, similar initiatives are anticipated to accelerate market expansion.
Key Segments in Veterinary Endoscopy Industry Research
By Product :

Flexible
Videoscope
Fibreoptic
Rigid
Others

By Animal Type :

Companion Animals
Large Animals
Others

By End User :

Hospitals
Academic Institutes
Clinics
Others

By Region :

North America
Latin America
Europe
East Asia
South Asia & Oceania
MEA
- FAQs -
Global sales of veterinary endoscopes are predicted to rise at a CAGR of 5.5% from 2022 to 2027.
The global market for veterinary endoscopes is currently valued at US$ 184 million and is set to reach US$ 240.4 million by 2027.
China's market for veterinary endoscopes is expected to surge at 8.5% CAGR from 2022 to 2027.
Sales of flexible endoscopes are expected to expand at a CAGR of 6% during the next 5 years.
The global market for veterinary endoscopes is currently valued at US$ 184 million and is set to reach US$ 240.4 million by 2027.