Veterinary Surgical Instruments Market
Veterinary Surgical Instruments Market By Product (Handheld Devices, Sutures, Staplers & Accessories, Electro-surgical Instruments, Forceps, Scalpels, Others), By Animal Type (Large Animals, Medium Animals, Small Animals), By Application (Dental Surgeries, Orthopedic Surgeries, Others), By End User & By Region - Global Market Insights 2023-2033
Analysis of Veterinary Surgical Instruments Market Covering 30+ Countries Including Analysis of US, Canada, UK, Germany, France, Nordics, GCC countries, Japan, Korea and many more
Veterinary Surgical Instruments Market Overview (2023-2033)
The global veterinary surgical instruments market size was valued at US$ 1.09 Billion in 2023, and is projected to reach US$ 1.86 Billion by 2033, growing at a Compound Annual Growth Rate (CAGR) of 5.5% during the forecast period from 2023 to 2033.
Veterinary surgical instruments are classified into handheld devices, sutures, staplers & accessories, electro-surgical instruments, and others. Sales of sutures, staplers & accessories are expected to increase at a CAGR of 6% from 2023-2033. On the other hand demand for handheld devices such as forceps, scalpels, veterinary surgical scissors, hooks & retractors, trocars & cannulas, and others is projected to rise at a CAGR of 5% during the next 10 years.
Demand for electrosurgery instruments is expected to evolve at the fastest pace during the forecast period. This can be due to the rising demand for electrode pencils, which provide benefits including accuracy, ease of handling, great sensitivity, and quick healing.
The usual, established methods of veterinary surgeries are no longer used. Both basic and complex veterinary operations are increasingly using electrosurgical instruments. Modern energy-based surgical techniques, such as electrosurgery, have made it possible to perform surgeries more quickly and effectively.
Additionally, 80% of surgical procedures, including those performed on animals, involve electrosurgical equipment. The growing use of bipolar electrosurgical instruments is also expected to drive sales growth.
Instruments used in veterinary surgeries are specially designed for the treatment purpose of animals. The selection of animal surgical instruments is based primarily on their functions such as holding, pulling, crushing, clamping, cutting, and closing a wound.
Surgical equipment is divided into various sorts based on its design and use. Stainless steel, either austenitic or martensitic, is commonly used to manufacture them. Retractors and suction tips are the two main products made from austenitic stainless steel. Pitting, rust, and corrosion must be looked for in all surgical equipment.
The adoption rate of pets is increasing rapidly worldwide, which is fuelling the sales of veterinary surgical instruments. The demand for livestock is growing along with the increasing rate of the human population. The likelihood of animals contracting infectious diseases rises when there are more livestock and companion animals. Some of these illnesses are classified as zoonotic illnesses because they can spread to humans.
Report Attributes

Details

Market Size (2023E)

US$ 1.09 Billion

Forecasted Market Value (2033F)

US$ 1.86 Billion

Global Market Growth Rate (2023-2033)

5.5% CAGR

China Market Growth Rate (2023-2033)

9% CAGR

Japan Market Growth Rate (2023-2033)

2% CAGR

Germany Market Growth Rate (2023-2033)

6% CAGR

Key Companies Profiled

Antibe Therapeutics, Inc.
B. Braun Vet Care GmbH
Dre Veterinary, Inc.
Ethicon US LLC
Germed USA, Inc.
Im3 Inc.
Integra Life Sciences Corporation
Jorgen Kruuse A/S
Jorgensen Laboratories
Medtronic PLC
Neogen Corporation
Sklar Instruments
Smiths Group PLC
Steris Corporation
Surgical Direct
Surgical Holdings
World Precision Instruments
How is Veterinary Surgical Instrument Demand Evolving?
"Rising Pet Adoption and Introduction of Advanced Surgical Tools & Procedures"
Currently, developed countries are observing a high rate of pet adoption due to favourable economic conditions and several other factors. Along with this, the veterinary surgical instruments market growth is increasing due to the rising technological advancements in surgical products and procedures.
According to the American Pet Products Association's (APPA) 2021-2022 National Pet Owners Survey, almost 70% of American households-or 90.5 million homes-own a pet, including 45.3 million cats and 69 million dogs.
According to the same data, dogs in the country cost USD 242 per year for a normal vet visit, compared to cats, which cost USD 178.
"Increasing Cases of Obesity in Pet Animals"
Demand for veterinary orthopedic surgical instruments is being driven by an increasing number of medical developments for aiding animals with orthopedic procedures and the popularity of small animals for veterinary therapeutic approaches.
According to the 2020 report on Veterinary Emerging Topics from Banfield Pet Hospital, pet obesity is common in the United States. Banfield Pet Hospital examined 1.9 million pets and found that 51% of them were overweight. Obesity in pets is rising, according to Banfield Pet Hospital. Since 2007, there have been reports of one in three American animals being overweight.
Orthopedic problems that necessitate surgery are commonly seen in obese pets.
Developmental dysplasia was the most prevalent orthopedic ailment in dogs and cats in 2017, according to Banfield Pet Hospital.
Thus, this is increasing the need for surgical procedures among canine species.
"Rising Awareness of Dental Health among Pet Owners"
Rising prevalence of oral disorders among companion and livestock animals is increasing the demand for veterinary surgeries. One of the best things an animal owner can do to keep their pet's overall health and prevent medical issues is to get them veterinary dental care on a timely basis. One of the most crucial aspects of animal comfort and hygiene is veterinary dental care, which even stops the spread of infectious diseases to other animals.
Broken or loose teeth, foul breath, additional or retained teeth, discoloured teeth, pain, and gum bleeding are some signs of dental issues in animals. Malocclusion, damaged or shattered jaws, periodontal disease, infected teeth or abscesses, and palate deformities including cleft palates are some of the main causes of animal dental care issues. Periodontal infections are the most common dental or oral health issue for several canine and feline pets.
Over the age of three, periodontal disorders afflict 87% of dogs and 70% of cats, according to the Royal Veterinary College (RVC).
Demand for veterinary dentistry instruments and equipment is increasing due to rising oral health problems in animals and the growing need for efficient dental devices to treat such dental problems. Also, growing cases of complicated dental problems are fuelling the need for advanced oral surgeries.
Don't Need a Global Report?
save 40%! on Country & Region specific reports
Which Factors are Hindering the Sales Growth of Veterinary Surgical Instruments?
"High Cost of Treatment Procedures"
The high price of veterinary surgeries may eventually restrain sales growth of veterinary instruments and equipment used in surgery for animals. The demand for surgical intervention is increasing from pets and other large animals for various reasons such as spaying and neutering, oral problems, hip dysplasia issues, etc., and this automatically increases the cost of treatment.
For instance, veterinary treatment for hip dysplasia costs about US$ 8,000, cataract surgery costs between US$1,000 and US$ 3,000, and chemotherapy costs over US$5,000 in the U.S. However, several additional elements, including the type of operation, the pet's age, breed, and size, the cost of the veterinary surgical equipment used, and whether the procedure is carried out by a specialist veterinarian, can influence the amount of treatment.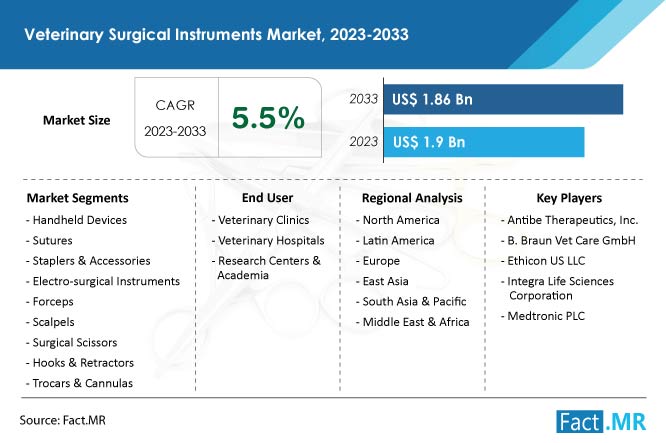 Country-wise Analysis
Why is Production of Veterinary Surgical Instruments High in the U.S.?
"Presence of Key Players and Increasing Cases of Chronic Disorders"
North America is currently dominating the global sales of veterinary medical equipment. Due to factors such as expanding rate of pet adoption and rising per capita animal healthcare costs, the United States is predicted to keep a sizeable market share in the region. Additionally, it has been determined that the primary factors driving the sales of veterinary products are the increasing occurrence of various animal chronic diseases and injuries.
The Animal Cancer Foundation estimated that 65 million dogs and 32 million cats in the U.S. received cancer diagnoses in 2022. Furthermore, every year, almost 6 million new cases of cancer in pets are identified.
Americans currently own more pets and livestock than ever before, and they are also more aware of the welfare of these animals. The introduction of advanced veterinary surgical tools by key market players that make surgical procedures easier in the nation and the use of crucial methods such as alliances, partnerships, and globalization, among others, will also help the industry to develop.
For instance, Veterinary Instrumentation (Vi) entered the U.S. market in June 2021. Thus, veterinarians in the US are currently accessing Vi's broad selection of surgical tools of the highest quality.
What is the Demand Outlook for Veterinary Surgical Instruments in Europe?
"Rising Rate of Pet Adoption and Rapidly Increasing Pet Humanization"
Germany has the highest level of pet humanization in all of Europe. The growth of the German market is attributed to both technological advancements in animal surgery tools and rising government initiatives.
As of November 2020, according to Destatis, there are 20,500 farms in Germany, with the majority of sheep living in Bavaria (250,600), Baden-Württemberg (207,600), and Schleswig-Holstein (190,000).
Therefore, the abundance of livestock is benefitting the market and increasing the demand for veterinary surgeries that employ veterinary nursing surgical instruments to address a variety of associated problems.
Pet adoptions skyrocketed as a result of the COVID-19 pandemic situation. For instance, 2 million people in the U.K. adopted pets between March 2020 and May 2021, according to the People's Dispensary for Sick Animals (PDSA) PDSA Animal Wellbeing (PAW) report published in June 2021. Dogs make up 10% of these pets, cats 8%, and bunnies 13%.
Increasing emphasis on animal welfare and the need for advanced surgical care for animals brought on by the growing pet adoption rate is boosting sales growth.
Which Factors are Supporting the Sales of Veterinary Surgical Instruments in Asia Pacific?
"High Pet Breeding Causing Adverse Effects on Animal Health"
China and India are the dominating marketplaces in the Asia Pacific region, whereas, South Korea and Japan are expected to be emerging markets for veterinary surgical instruments due to the increasing trend towards pet adoption.
The rapidly growing trade of pet breeding and adoption is creating negative health effects on animals. Excessive breeding of pet animals is hampering their health such as eye disorders, respiratory problems, and more, which in turn is boosting the demand for veterinary ophthalmic surgical instruments. Thus, such aspects are driving the veterinary ophthalmic equipment market growth in the region.
More Insights, Lesser Cost (-50% off)
Insights on import/export production,
pricing analysis, and more – Only @ Fact.MR
Category-wise Analysis
Which Type of Vet Surgical Equipment is Highly Demanded?
"High Usage of Large Animal Surgical Instruments"
Based on animal type, the demand for large animal surgical instruments is rising quickly due to the growing incidences of equine chronic diseases, increasing awareness among governmental animal healthcare organizations, and rising healthcare facilities for veterinary care in emerging nations.
To address health issues at the human-animal-ecosystem interface, such as antibiotic resistance, food-borne zoonosis, and food safety, the World Health Organization (WHO) is involved in several programs. This is boosting the demand for better medical facilities outfitted with surgical tools for companion animals.
Due to rising small animal ownership and the need for effective animal care, small animal surgical tool sales are also expected to expand at the fastest rate during the forecast period.
Don't Need a Global Report?
save 40%! on Country & Region specific reports
Competitive Landscape
Devices and tools are improving and becoming safer and more precise due to increasing technological breakthroughs and rising spending on animal healthcare systems by the key players in veterinary surgical instruments. The industry is also expected to grow rapidly as more advanced solutions such as single-use surgical instruments for improving surgical care for animals are being adopted.
To deliver RoVR surgical training to the animal health business, for instance, Orthomed and Osso VR partnered in April 2022. Using this ground-breaking training technology, veterinarians can practice procedures anywhere and at any time.
Segments of Veterinary Surgical Instruments Industry Research
By Product :

Handheld Devices
Sutures
Staplers & Accessories
Electro-surgical Instruments
Forceps
Scalpels
Surgical Scissors
Hooks & Retractors
Trocars & Cannulas

By Animal Type :

Large Animals
Medium Animals
Small Animals

By Application :

Dental Surgeries
Orthopedic Surgeries
Cardiovascular Surgeries
Ophthalmic Surgeries
Neurological Surgeries
Gynecology
Soft-tissue Surgeries

By End User :

Veterinary Clinics
Veterinary Hospitals
Research Centers & Academia

By Region :

North America
Latin America
Europe
East Asia
South Asia & Oceania
MEA
- FAQs -
The global veterinary surgical instruments market is valued at US$ 1.09 billion in 2023.
Global demand for veterinary surgical instruments is expected to increase at 5.5% CAGR through 2033.
Veterinary surgical instrument sales are projected to reach US$ 1.86 billion by 2033.
Rising prevalence of infectious diseases, growing cases of orthopedic disorders, and technological advancements are driving market growth.
B. Braun Vet Care GmbH, Medtronic, and Jorgen Kruuse A/S are leading manufacturers of veterinary surgical instruments.