Will Gas Fueled & Alternative Power Driven Generators Emerge as the New Normal in the Global Landscape?
Published : 18 Aug 2021 Industry: Industrial Goods
Electricity has been at the forefront of ensuring uninterrupted workflow. Its usage is not only limited to industrial sectors but has also extended to commercial and residential sectors. Electricity no longer serves the only purpose of diminishing darkness but has given livelihood to work activities and has helped countries prosper economically.
Thus, power outages can be a hindrance to the growth of numerous work place activities. To avoid the same, companies are relying on the usage of generators that ensure uninterrupted power supply. In addition, manufacturers of generators are constantly redesigning generators. Thus, the sales of generators are expected to observe stupendous growth.
Furthermore, natural calamities such as lightning, strong winds and heavy rainfall lead to power outages. This, in turn, affects the productivity rate at factories. Furthermore, mining activities at remote locations need electricity for work efficiency and human safety. These factors have increased the demand for generators over time.
Research and development along with innovation and technology is helping manufacturers satisfy consumer demand. Stringent regulations regarding sustainable energy consumptions have prompted manufacturers to introduce eco-friendly generators, driven by electric or hybrid power.
According to Fact.MR, the sales of generators are expected to exceed in the upcoming years as manufacturers focus on providing compact, modular and efficient and multifunctional equipment.
Historical Developments of the Generator Industry
Generator designs have undergone a paradigm shift over time, influenced by the dynamics unfurling across various industries and business verticals. The first generator was invented in 1831 by Michael Faraday. Back then, the generator was known as Faraday Disk. The horse shoes shaped disk in the Faraday disk created a magnetic field. This generator was inefficient as it would cancel current flows that would in turn produce low voltage of power. Thus, modulations were needed for the same.
In 1832, Hippolyte Pixii created the first dynamo by converting alternative current (AC) into direct current (DC). This dynamo had the capacity of supplying power to industries. Further research & development paved way for the modern dynamo motor in the year 1866. Sir Charles Wheatstone, Werner Von Siemens and Samuel Alfred Varley invented this modern dynamo independently. The design consisted of stator electromagnets, parallel to each other whereas Siemen's design had the stator electromagnets in series with the rotor. Later, in the 1870's Siemens used modern dynamos for the production of metals.
With continuous improvement by studying the effect and efficiency of current flows, alternating current came into the picture. Thus, direct current dynamos were replaced with the latter, as it has the ability to transfer power efficiently without wasting energy. Especially for large scale industries and factories, alternating current is being used.
What Role are Natural Calamities Playing in the Demand for Generators?
The world is experiencing dramatic climate changes. This includes extreme rainfalls which cause floods to drought like situations. Concerned by this, governments of various regions are diverting electricity supply to essential services, prompting them to strike a reasonable balance between the residential and public sectors.
Thus, dependence on generators has increased over time. Manufacturers of generators are eyeing on all possible problems faced due to electricity shortage and providing solutions. Thus, portable generators and solar generators have penetrated the industry, attributed to their durability and usability factor.
For instance, in February 2021, Texas witnessed extreme snowfall which brought the region to a complete standstill. The region underwent a power shortage for several days. This hindered the economic growth of the region and also made it difficult for people to survive as there were no alternatives to fight this natural calamity and keep themselves warmer. Hence, the Federal Government authorized aid for the state, calling for tightening the noose on energy sector regulations by promoting judicious use of conventional fossil fuel driven power plants and deployment of electric generators.
How are Multiple End-Use Industries Deploying Generators?
Demand and supply for electricity has been a major concern, owing to inequity in its distribution, particularly across the developing world. Rapid urbanization has led to the construction of smart cities, hospitals, colleges and IT sectors.
The healthcare sector is majorly dependent on diesel-based generators, as sudden power shortages might jeopardize patient lives and hinder hospital or clinical workflows. Generators are being deployed for myriad purposes, ranging from emergency rooms to pathology labs, prompting manufacturers to introduce product lines with appropriate customizations.
Furthermore, the IT industry has propelled the demand for generators on a large scale. As IT industries mainly depend on electronic gadgets such as computers and laptops, the need for uninterrupted work flow has pushed the industry to install generators that would ensure continuous power supply. Also, in certain cases, chances of electronic devices getting damaged due to sudden power cuts are high, thereby prioritizing the dependence on generators.
How are Oil & Mining Industries Boosting the Sales?
Oil and mining industries constantly require digging and drilling. In addition, activities like pumping and deep earth digging demand continuous power supply. Along with this, oil and mining industries are mostly present in remote locations, where power distribution is generally inadequate. Due to this, the industry largely depend on diesel-based generators that save money and time.
As per the International Energy Agency (IEA), overall demand for oil is forecast to reach 96.6 million barrels per day in 2021. This is against the 8.8 million barrels per day decline in demand, as experienced in 2020. The agency expects global oil supply to rise by 1 million barrels per day in 2021, as opposed to a 6.6 million barrels per day in 2020, attributed to cessation of oil rig operations across the U.S and supply cuts by OPEC members.
Naturally, this increase in demand and supply is expected to bode well for generator suppliers. In June 2021, for instance, Yanmar-owned Himoinsa introduced a new line of 1 MW gas generator set HGS-1030 NG/LPG which is mobile, silent and incurs low operational expenditure. The engine significantly reduces emissions, compliant with Stage V regulations, making it suitable to be deployed across various industries, including oil & gas exploration.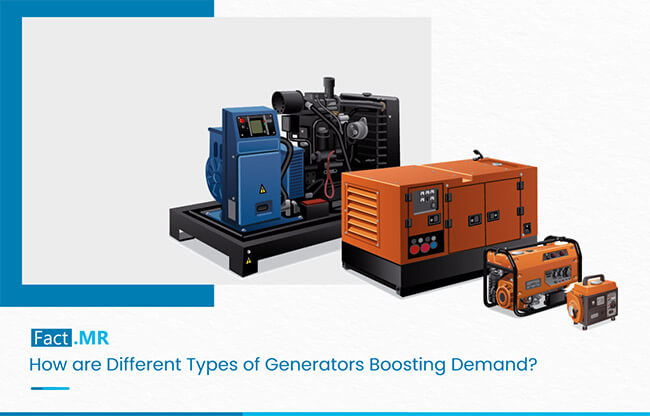 How are Different Types of Generators Boosting Demand?
The use of generators has extended to residential and private sectors as well. Generators which are portable and solar-power driven are gaining traction due to their usability factor. Portable generators are compact and easy to carry. In addition, they efficiently work on fuels such as gasoline and propane which are easily available. The travel and tourism industry has mainly benefited from the usage of portable generators. This is due to generators being used for outdoor activities like camping, trips and concerts.
The upsurge of retail sectors in urban areas has multiplied. Thus, cities have observed staggering growth in the number of supermarkets and shopping malls. These sectors require electricity for keeping the food warm or cold on a daily basis. With the use of generators, the demand for maintaining the shelf life of products is met.
Manufacturers of standby generators have integrated Wi-Fi connectivity. This helps consumers to check the power storage through a mobile phone application. Standby generators have gained prominence in the residential sector as they provide good work efficiency. Also, the large fuel tank ensures an uninterrupted power supply.
Thus, the aforementioned factors are driving the sales of the generator market. As the demand for power supply is expected to grow with the rise in businesses, entrepreneurship and entertainment industry, the desire for unhindered power supply will ultimately upscale the sales of generators.
What are the Opportunities for the Generators Industry?
The construction and public sectors require generators for a particular period of time. Thus, renting out generators is driving the market for generators. Manufacturers are focusing on producing generators that would create less noise or would be noise free. The end users demand for noise free generators has increased as they have the potential to create disturbance.
Stringent rules and regulations by governments across the globe for reducing carbon emission has been a challenging aspect for generator manufacturing companies. Thus, companies are developing and designing generators that consume less fuel, work efficiently and emit less carbons. As awareness regarding sustainability is increasing among the end users, these generators are expected to gain traction.
Global climate crisis is affecting the world on different levels. As generators work on fuel, they emit carbon of different grades. This has pushed the generator manufacturers to design and invent alternative options that would not affect the air quality and keep the air cleaner without compromising on efficiency.
In 2019, Scotland became the first country in the world to declare a climate emergency. Similarly, many countries around the world are facing climate threats due to different types of pollution. Thus, to reduce environmental crisis, every sector is taking steps to reduce the effect of carbon print. Generator manufactures are using natural gas and solar panels.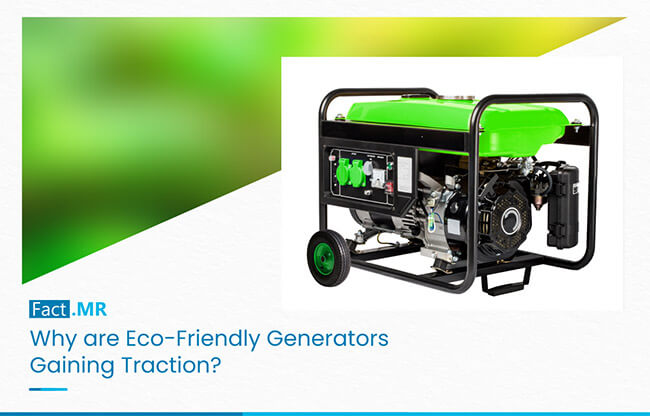 Why are Eco-Friendly Generators Gaining Traction?
Generators that work on natural gas emit lesser carbon. In addition, natural gas is safer to transport and does not spill as it is transmitted through pipes. Also, the availability of pipeline connections is accelerating the growth of generators that work on natural gas.
Generators that work on solar panels are gaining popularity. As solar panels store energy attained by sunrays, the chances of emitting any kind of harmful pollutants are completely diminished. In addition, solar batteries store energy for a longer period of time. This helps the generator to work efficiently. Thus, solar generators are anticipated to upsurge the sales for the generator industry.
Emerging Hotspots for Generators – Top 4 Geographies
U.S. to Experience Heightened Generator Sales
According to the U.S. Energy Information Administration, Americans consumed 3.8 trillion kWh of electricity in 2020. This represents an increase in consumption has increased by thirteen times since 1950.
In addition, the IT sector has emerged as a successful business model in the region. With the presence of the Silicon Valley in the region, the U.S. is expected to observe a surge in the demand for generators.
As per PBS News Hour, in February 2021, U.S recorded extremely low temperatures. This, in turn, increased the demand for power supply to keep the houses and pipelines warm. Thus, the demand for electricity propelled from the residential and commercial sectors.
Also, the Central U.S. faces weather conditions like windstorms, freezes and heat waves. These weather conditions are severely affecting electric grids and waterways. The demand for electric power has not only arisen to keep businesses functioning but has also increased for the basic functioning of the house.
For example, around 60% of houses depend on electric heat and air conditioning according to the weather. Due to the aforementioned factors, the reliability on diesel based and standby generators has increased in the region. Thus, North America is expected to surpass a CAGR of 7% in the forecast period.
China to Boost Growth for Generators in Asia?
China is one of the world's largest manufacturing unit for heavy equipment and power machinery. Thus, the demand for electricity is high in the region. In addition, as China is emerging as an economically strong nation, migration has increased to the country.
Increasing population and rapid urbanization have been a concern for China. Not only is China the powerhouse for manufacturing units, but also a hub for education. Students from South Asian countries have shown an inclination towards studying in the country. This adds to the ever-increasing demand for electricity.
The increasing growth of industrial sectors is another reason the country demands electric power. Also, in recent years, China has recorded the lowest temperatures in winters. This trend has pushed the country to save electricity by switching off street lights. In addition, pollution problems faced by the country are propelling the demand for sustainable generators in the forecast period. Thus, the Asia Pacific region is expected to surpass a CAGR of 6% in the assessment period.
How will the United Kingdom Enhance Generator Sales in Europe?
United Kingdom has emerged as a hotspot for agriculture. Nearly 60% of land in the U.K is occupied by agriculture. Thus, the farmers in the region largely depend on generators as a backup option. This, in turn, is propelling the demand in the U.K.
Diesel generators have gained popularity, owing to the rapidly growing infrastructure industry. In addition, the country is developing its economic capacities by focusing on building commercial spaces for offices.
Not only have diesel generators gained traction in the region but environmentally friendly generators have also gained prominence due to their usability factor.
U.K is a hub for 45% of data centers in Europe. Thus, data centers are driving the economic growth of the country. This ultimately has surged the need for generators for data centers as a backup option in times of power cuts. Thus, due to the aforementioned reasons, Europe is expected to exceed a CAGR of 2% from 2021-2031.
Nigeria to Account for Highest Sales of Generators in Africa
Increasing population and overall development of infrastructure, lifestyle, health care and education has increased the demand for electric power. In addition, improper power grids, connectivity issues and uneven supply of electric power has inevitably demanded electric supply.
Thus, the dependence on generators in the region has increased. In addition, the abundance of fossil fuel in the region has made it easier to rely on diesel based generators for work purposes. Thus, in the upcoming years, Nigeria is expected to be a hotspot for generator sales.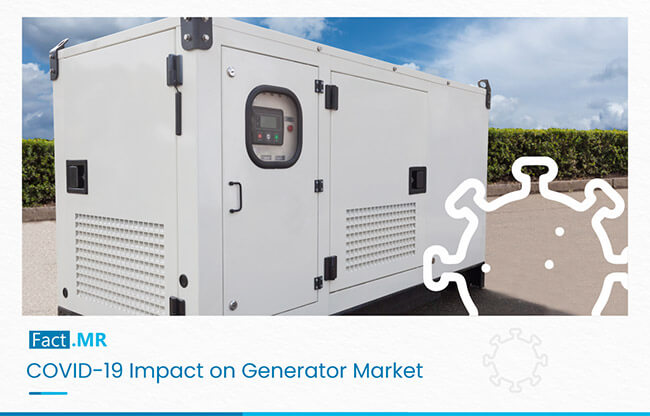 COVID-19 Impact on Generator Market
The novel coronavirus pandemic put the world in a state of complete lockdown. This has hampered various industrial sectors at all levels. As human movement was restricted, industries were shut down and did not need electric power.
As electricity is at the forefront of making businesses function, the lockdown hindered the growth of the generator industry. Manufacturing and production units were largely closed as most of them did not fall under the essential services category. This left an indelible mark on the generator industry in the initial months of 2020.
Also, the closure of commercial spaces and IT sectors hampered the growth of generator sales. As work from home became the new normal, generators running on diesel were not needed by companies across the globe.
On the other hand, portable generators and stand by generators observed a surge in sales due to the increasing demand from the residential sector. Most people preferred using generators at home in order to maintain workflow.
As COVID-19 cases are declining worldwide, the industrial sectors are reponing. This shows a positive sign for use of big scale generators. Also, the buoyant nature of the global oil, mining and agricultural industries kept demand for generators sustained throughout the pandemic crisis. This has ultimately affected the sales and demand for generators positively.
Demand received substantial impetus from the healthcare sector. As more number of cases were registered each day, the need for intensive care units also increased. The healthcare industry has shown an inclination towards noiseless diesel generators due to their high and reliable work efficiency.
Most people and companies preferred renting generators for a certain period of time due to the unpredictability of COVID-19. Along with this, the compactness, easy accessibility and usage of portable generators also escalated the sales of generators during the COVID-19 outbreak.
As most businesses have taken the online route, the need for electric power has multiplied by leaps and bounds. The demand and supply for electricity aren't met and productivity cannot be compromised either. Thus, companies are largely relying on generators as they reduce the loss of time and money.
Why are Natural Gas Generators Gaining Popularity Worldwide?
Stringent rules and regulations by governments from various countries have pushed generator manufacturers to invent sustainable generators. Thus, generators working on natural gas are gaining popularity.
The easy availability of natural gas such as gasoline and liquified petroleum gas have successfully changed the face of the generator industry. The affordability factor with regard to natural gas generators is driving the market for the same as renewable fuels are expensive.
Abundant supply and reduction in emissions of harmful toxins has created a niche for natural gas generators in the market. Gas pipelines are another factor that are pushing the growth of natural gas generators. In addition, natural gas generators do not create noise. Thus, they are being preferred by many people and industries. These factors are paving ways for the popularity of natural gas generators in the forecast period.
Why is the Industrial Sector Demanding Generators?
With the ease of restrictions post COVID-19, the industrial sector has gained momentum. Demand for generators will increase by 30% in industrial sectors owing to the rise in new businesses and work patterns.
The industrial sectors consists of agriculture, mining, construction and production units. In order to keep the productivity rate unaffected, generators are used on a large scale as a back up plan.
The construction industry is playing an important role in shaping future sales of generators due to rapid urbanization. In addition, as most of the construction sites are mainly designed as smart cities, the availability of electric power in these regions is rare. Thus, the reliability factor is imposing a positive outlook on the generator industry.
In 2020, China was accountable for nearly 50% of steel production. Manufacturing units are at an all-time high rate in the region. In addition, India too is emerging as a hotspot for healthcare, construction and production units in the world. These factors are expanding the requirement and sales for generators. Moreover, initiatives by governments, collaborations of companies and inventions are fueling the growth of generators in the industrial sector.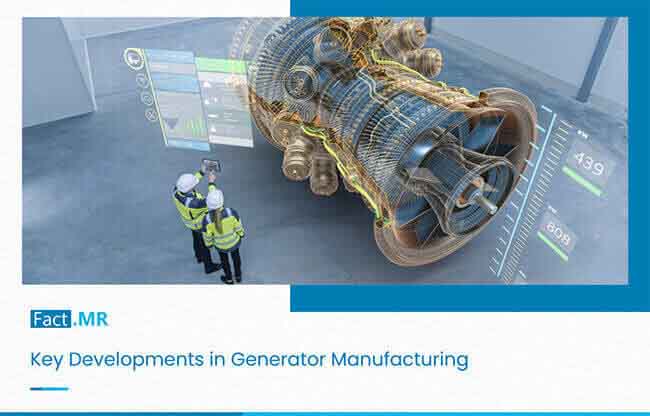 Key Developments in Generator Manufacturing
Caterpillar Inc. Works towards Sustainability through Partnerships
In April 2021, Caterpillar Inc., the world's biggest manufacturers of generators, joined hands with Certarus to enter a Memorandum of Understanding. The companies have come together to reduce carbon emissions and lower the carbon footprint on the environment collectively. In addition, the companies are focusing on providing hydrogen energy solutions.
In April 2021, Caterpillar Foundation invested US$ 1 million in One Tree Planted. The foundation is focusing on restoring ecosystems and sustainability. With this partnership, the company will engage in reforestation activities in 95 communities across the globe. A significant part of these green initiatives is likely to be contributed by the introduction of environmentally friendly generators.
Cummins Launches Noiseless Generators
In January 2021, Cummins released a new 60% quieter generator. The generator named Onan QG 2800i and 2500i functions on gasoline and liquified propane. Thus, the company is adhering to the norms of sustainability.
Also, in comparison to other generators, the newly released generator by Cummins provides 60.6% lesser vibrations and is 62.7% quieter. In addition, these new generators need less maintenance. Thus, the affordability and noiseless factors are expected to increase the demand for the same.
SDMO gets Certified for Grid Codes
In June 2021, SDMO Industries, announced their grid codes have been certified for applications where gensets run parallel with grid. These grid codes have been tested, assessed and verified by an independent third party based in Germany.
The company has been offering power product generators, certified for VDE-AR-N 4110 grid code applications. These certifications help end users meet the requirements of the European Union Requirements for Generators (RfG). The numerical simulation has also been certified and can be integrated in the global simulation model of any electrical installation.
Mitsubishi Heavy Industries Ltd Develops Heavy Duty Generators
In March 2021, Mitsubishi Heavy Industries Ltd., developed a 2000 kVA diesel-based generator with the highest output rate in Japan. The company has designed this generator for facilities like data centres, hospitals and factories.
This new generator is 20% lighter in comparison to the previous models. In addition, the sound insulation and weatherproofing quality of the generators are making it extremely useful for outdoor locations. Additionally, this generator delivers continuous operation for over 168 hours per week, and a quick start up time of 10 seconds in the event of a power failure.
Revisions to the package design and other quality improvements have reduced its weight by 20% compared to previous models. Furthermore, the generator is a cubicle certified product, compliant with the Fire Safety Act, availing a more simple approval process during installation.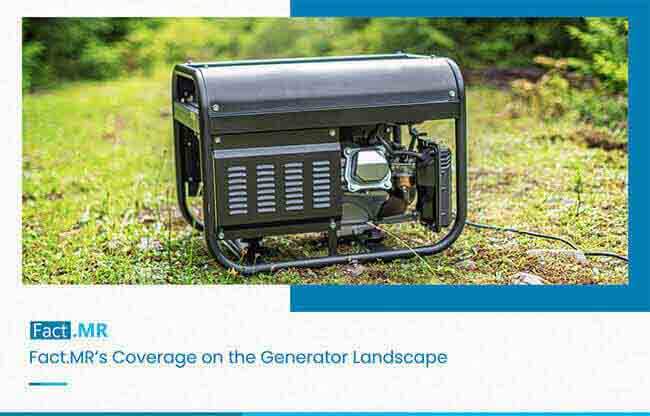 Fact.MR's Coverage on the Generator Landscape
Residential Sector Uplifting Electric Generator Market
Supply and demand for electric power in urban areas is affecting work life and productivity rate. Thus, the demand for electricity has multiplied due to the increasing population.
In addition, certain rural areas are yet untouched by electric power by means of power grids. Thus, the reliance on generators has increased. Also, aging power grids are creating problems for power supply and are turning into power disruptions.
Furthermore, the residential sector in urban and rural areas is expected to boost the sales of generators in the forecast period for electric generators .
Blackouts in Developed Nations Propelling Growth of Portable Generators
Unusual weather conditions like heavy winds, storms and freezing temperatures are a major driver for the growth of portable generators. Developed nations like U.S face power outages for more than an hour. This, in turn, is affecting the economic stability of the country.
In addition, manufacturers of portable generators are offering dual fuel generators that can work on diesel and gas both. Thus, the market for portable generators is expected to grow due to their convenience factor.
COVID-19 Creates Obstacles for Trace Moisture Generator Market
The onset of the novel coronavirus impacted nearly all the industries in its initial phase of lockdown. Chemical industries and laboratory equipment industries were amongst the worst hit ones due to the pandemic.
By product, the stationary trace moisture generators will uplift the sales of trace moisture generators due to their ability of generating moisture as low as 14 nano mol. With the decline in number of cases of coronavirus and allowance of transportation, the trace moisture generator market will retrieve sales by the end of forecast period.
Zero Toxic Emission to Fuel Growth for Electric Vehicle Sound Generator
The end users demand for conventional vehicles has multiplied over time. Also, governments of various regions are focusing on providing sustainable options for transportation.
In addition, advantages of electric vehicle sound generators are more in comparison to other generators. These generators reduce the noise of the vehicles, completely delete emissions of toxic gases and improve the efficiency of the fuel. In addition, companies like Audi and Tesla are integrating and heavily depending on electric vehicle sound generator. Thus, the sales of the same are expected to propel in the assessment period.
Industrial Sector Positively Influencing Large Generator Market
The supply and demand for consumer goods has been on a rise owing to the increase in population. Production and manufacturing units are largely relying on large generators as they start quickly without wasting any time. Also, companies are constantly redesigning components such as engines and output powers.
Thus, the large generators industry is expected to surpass a CAGR of 5% between 2021-2031.
Harmonic Generator to Regain Value Post COVID-19
Harmonic Generators are expected to grow by value and volume. But, the effect of coronavirus has affected the harmonic generator market negatively. Although, the demand from construction and automobiles is high, the restriction of movement is playing a spoilsport for the market.
As the world is gaining back to normalcy, the market for harmonic generators is also expected to recover owing to movements at work places.
Environmentally Friendly Wind Turbine Generator Market to Gain Traction
Energy created with the help of wind turbines is gaining popularity due to its ability of creating clean energy. As the focus is now largely laid on environment conservation, wind turbines have gained traction.
In addition, energy gained by wind turbines is highly renewable. Also, this energy is toxin free and does not harm the environment. Along with this, the wind turbines efficiency to create power has made them a reliable source for various industries. Due to the aforementioned factors, the wind turbine generator market is anticipated to recover sales in the assessment period.
- Request for
More Information

-
Generator Market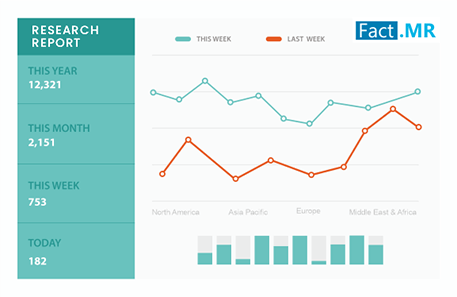 Generator Market, Forecast, Trend, Analysis & Competition Tracking – Global Market Insights 2020 to 2030