What Are Aided Awareness and Unaided Awareness? Market Research Tips You Need To Know
Published : 07 Oct 2021 Industry: Food & Beverage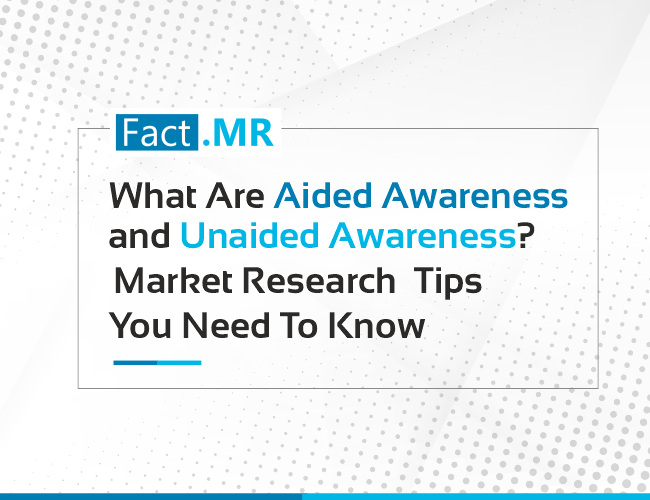 Aided awareness is when people can talk about a brand when given a visual.
Unaided awareness is when people are able to speak about a brand even though they are not given any visual or prompting at all.
Total awareness is a complete picture of the audience's awareness level. It's often measured in percentages. For example, 36% of the audience requires aid to be aware of a brand, while the remaining 64% do not.
Marketers and brands of all sizes can use a combination of aided and unaided awareness to build quality market research reports that clearly uncover demand, trends, and valuable insights into target markets, laying the foundation for product launch success.
Examples of Aided and Unaided Awareness in Market Research
One of the best ways to understand how aided and unaided awareness play is to look at the consumer goods industry. If you're building a focus group around exploring brands within the consumer goods market, for example, you'll want to deploy a mix of questions so you have a quality research report to present.
You could show a few logos and ask the audience about their shopping frequency, which would be an example of aided awareness. They know exactly what you're speaking about and can discuss it in greater detail.
Unaided awareness, often called "top of mind," would be what people discuss based on what's on their initial thoughts or response to a prompt.
To gauge unaided awareness, you would open-endedly ask what their three favorite places to shop are. They are going to tell you where they go based on their real-world frequency and preferences.
Which Market Survey Strategy Is Better?
Market surveys are a strong part of market research, and brands need to survey multiple audiences to get a clear picture of what strategies should be implemented next.
Facilitating responses for unaided awareness helps provide a better peek into a consumer's mind; however, there is a place for aided awareness as well. Being able to prompt the audience to speak on specific brands gives you a clear view of what they think about them. If you are building a report around brand leaders in a specific vertical, this data becomes very insightful.
Some tactics may be considered more ethical than others, such as leading with a mood board or giving more open-ended questions without prompting. It's your responsibility to be as ethical as possible when surveying an audience, keeping in mind both subtle and overt biases.
Recognizing Consumer Biases
While some people see bias as a negative, the reality is that all consumers have biases; it is simply part of the human experience. When you're conducting market research, you have to recognize consumer biases. When you mention a brand, you can't control a person's previous experiences with that brand or a similar product.
When you're asking questions, it is important to listen for biased statements, even if they align with the brand that you are currently performing research for.
Such biases may include confirmation and expectancy biases, wherein participants disclose statements that are not truly reflective of their honest opinions due to either incorrect understanding of the study or a desire to please the moderator.
If you're concerned that there will be too much bias in your study, you might consider blind surveys instead.
Perks of Blind Surveys
For a survey to truly be considered "blind," the survey participants cannot know who is sponsoring the survey or what brands will be discussed.
A blind survey can have multiple benefits. The data collected from the blind survey is free from overt bias, giving the researcher more insight into what the audience really thinks instead of what they think the researcher wants to hear.
Another benefit is that, with brand identification removed, consumers tend to give a more genuine opinion. Blind surveys can work well because the survey participant doesn't have extra information to influence their thoughts.
Instances in Which Aided Awareness Is Useful
There is a time and place in which aided awareness becomes very useful: qualitative interviews. A focus group that is small enough and warrants plenty of time with each recipient means that you can focus your questions around a particular brand. When paired with different demographic as well as psychographic segments, this leads to very insightful research.
Interviewing is more time-consuming than giving your sample audience a survey to fill out on their own time, but there are insights received during the interview process that you may miss when conducting surveys.
When you give interview participants a chance to speak, they get to tell the story in their own words, leading to more honest engagement than that provided by a survey. It is also easier to explain lengthier concepts by talking about them instead of having to type things out.
Alternative Market Research Strategies
Market research is here to stay, and brands of all sizes benefit from getting insights into what consumers think of the product; however, there are multiple alternative research strategies to consider.
Instead of trusting aided awareness, you can shift to top-of-mind awareness instead. This is a great shift when combined with one-on-one interviews in focus groups, where you have additional time to get what the consumer is thinking. If you go this route, be sure to give all participants the same amount of time so they don't feel rushed.
If the brand supports this research style, virtual or in-person product observation can be a valuable alternative research tool. With the lessons learned from the COVID-19 pandemic, it might be difficult to schedule in-person observation tests; however, virtual observation is still an option.
You can always turn your camera off if it makes the observation participant feel more comfortable while they're testing the product directly.
Building quality market research reports requires clear expectations about both aided and unaided awareness. Use both to build robust reports that reveal overlooked trends and demands.
- Request for
More Information

-