Microparticulated Whey Protein Market
Microparticulated Whey Protein Market By Form (Liquid, Powder), By Application (Ready-to-drink Beverages, Functional Beverages, Baked Goods, Confectionery, Snacks and Cereals, Dairy, Coffee Creamer, Nutritional Products) - Global Market Insights 2021 to 2031
FACT7064MR
Oct-2021

List of Tables : 71

List of Figures : 72

170 Pages
Microparticulated Whey Protein Market Outlook
Most recent released report on the global microparticulated whey protein market by Fact.MR evaluates that the market accounted for US$ 302.3 Mn in 2021, and is expected to witness noticeable growth at a CAGR of 8.3% to touch a valuation of US$ 670.4 Mn by 2031.
Increasing consumption of microparticulated whey protein due to emerging customer consciousness on nutritive and functional characteristics of it has been driving demand. Many top manufacturers of microparticulated protein have sustained to signify their products in the international marketplace, which has amplified demand for microparticulated whey protein across regions.
| | |
| --- | --- |
| Market Size Value in 2020 | US$ 283.7 Mn |
| Market Forecast Value for 2031 | US$ 670.4 Mn |
| Global Growth Rate (2021 to 2031) | 8.3 CAGR |
| Share of Top 5 Manufacturers | 60% to 70% |
Consumption Analysis of Microparticulated Whey Protein from 2016 to 2020 Vs Market Outlook for 2021 to 2031     
As per Fact.MR, a market research and competitive intelligence provider, over the past half-decade, global market value for microparticulated whey protein increased at a CAGR of around 6.4%. Demand for technological advanced whey protein such as acidified whey protein and microparticulated whey protein has increased from various regions such as North America and Europe.
Sales of microparticulated whey protein are expected to rise at a significant CAGR of around 8.3% over the forecast period, owing to the adaptability provided by the product.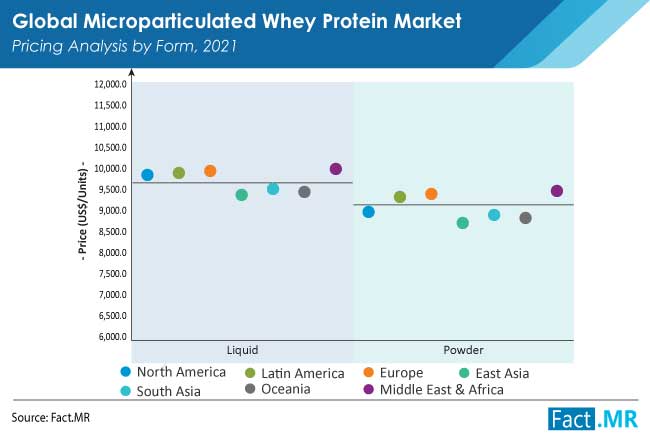 Microparticulated whey protein not only replaces fat in food with nutritious microprotein but it also reduces waste generated during industrial whey production treatment.
Because whey protein is a key component in a majority of energy-boosting beverages and supplements, microparticulated protein is highly valued in such products. Rising intake of whey protein due to growing customer awareness of its nutritive and functional properties have been propelling market growth.
Avail customized purchase options for your needs
How are Advanced Technologies Providing a Thrust to Market Expansion?
High protein beverages are exposed to a great level of heat actions throughout processing, such as ultra-high temperature (UHT) as well as retorting, to guarantee the safety of food product and long shelf-life.
Thermal treatments used to provide microbial control in fluid preparations cause whey protein to denature irrevocably and polymerize into mixtures or gels. As a result, products exhibit undesirable sensorial qualities such as chalky texture, sandiness, blockiness, and more viscidness, as well as a limited shelf-life due to sedimentation or gelation shortly after production.
These issues are more pervasive in preparations with high whey protein content, resulting in products with undesired aggregates as well as a threat of extended fouling and blocking of production plant components, such as UHT heating equipment.
This is where advanced microparticulation technology in whey proteins comes into play, assisting in the manufacturing of micro-aggregates that enhances heat solidity; this new technology is positively impacting market expansion.
How are Shifting Consumer Preference towards Low-Fat Food and Fat-Free Products Aiding Demand for Microparticulated Whey Protein?
Fluctuating customer inclination in the direction of low-fat and fat-free foods owing to rising fitness-associated concerns have fueled sales of microparticulated whey protein. Microparticulated whey protein is definite as the protein that is treated in order to lessen fats and substitute it with nourishing value. Microparticulated whey proteins are treated using automated and thermal practices to break down the macro towards microprotein constituents.
The encapsulation technique is used in the microparticulation procedure. Even though the size of the microparticulated whey proteins changes, chemical characteristics and texture of the food remain unchanged. Microparticulated proteins are used as a fat substitute in many fermented dairy products, which are in high demand by many health-conscious customers.
Besides enhancing the diet of health-conscious customers, microparticulated protein also benefits patients with high cholesterol levels by providing them with a healthful and fat-free diet.
Customers are more aware of the importance of nutritional food products and a healthy lifestyle, and they prefer high-quality, natural, and organic food products. Furthermore, consumers are concerned about the quality of food additives and prefer nutritionally balanced foods. Even though customers are willing to pay a premium for high-quality premium foods, there is greater demand for microparticulated whey protein.
An Adaptive Approach to Modern-day Research Needs
Country-wise Analysis
What's Driving Sales of Microparticulated Whey Protein across the U.S.?
The United States market is expected to observe a beneficial growth rate at a CAGR of 7% over the forecast period, owing to increased demand for microparticulated whey protein from restaurants.
The U.S. microparticulated whey protein market is dominating the North American region with a market share of more than 85.4% in 2021, but demand for microparticulated whey protein in Canada is likely to witness a higher growth rate of 7.3% during the forecast period.
Sports nutrition has gained tremendous momentum in the United States over the last few years as the customer base for sports nutrition has developed. General interest in sports nutrition has expanded from its distinct vital users, such as performance athletes, to a broader range of fitness and healthy living consumers.
Demand for microparticulated whey protein has skyrocketed as a result of increased use of sports-related nutritional supplements. There are many commercialized sports nutrition products in the market today that use microparticulated whey protein as a major protein source. Majority of other food products made with microparticulated whey protein are used as a nutritional supplement, which is likely to boost growth of the U.S. market.
Why is China Dominating the East Asia Market for Microparticulated Whey Protein?
Market size of microparticulated whey protein in China is valued at US$ 23.2 Mn in 2021, but consumption of microparticulated whey protein in Japan is likely to be higher at 10.9% CAGR over the projection period.
Functional foods and ready-to-drink beverages have sparked widespread interest among health-conscious consumers in China. Products containing microparticulated whey protein, in particular, have grown in popularity as a result of the health benefits they provide.
In China, demand for frozen treats featuring microparticulated whey protein has risen. Because young people in emerging countries are more concerned about their health, demand for microparticulated whey protein among gym enthusiasts is increasing, which is accelerating demand for microparticulated whey protein in China.
Why is Germany a Lucrative Market for Microparticulated Whey Protein?
In 2021, Germany had a market share of 19.7% in Europe with an expected CAGR of 9.6% over the assessment period.
Rapid advancements in the manufacture ring of whey protein is driving researchers to accomplish new whey protein applications for multiple industries. Scientists and researchers have been keen on finding optimum alternatives with least side-effects.
In, addition research & development of heat-stable whey protein requires substantial investments in technology. Products have to be developed and produced according to international food and feed regulations. Such advancements by manufacturers is leading the sales of microparticulated whey protein in Germany.
How is the Microparticulated Whey Protein Industry Faring in the U.K.?
According to Fact.MR, sales of microparticulated whey protein in the U.K. are assessed at around 15.4% of the overall Europe market in 2021, expected to rise at a CAGR of 11.5%.
Considering microparticulated whey protein is a rich source of protein, and vital vitamins and nutrients that may be used to provide a variety of biological attributes and physiological activities, it is widely used in pharmaceutical and nutraceutical applications.
It has many capabilities, such as fat replacer, texture, and emulsification, by replacing modified ingredients in clean label beverages and ready-to-drink products. However, in the United Kingdom, rising demand for RTD and on-the-go food & beverages is benefiting microparticulated whey protein suppliers.
Which Factors are Driving Sales of Microparticulated Whey Protein in India?
According to the most recent assessment by Fact.MR, the India microparticulated whey protein market size in 2021 was US$ 10.4 Mn.
Numerous technological improvements are relentlessly taking place in the market, as a result of which, the ingredient has discovered many properties such as binding agent, texture, consistency, solubility, thermal stability, emulsifying agent, and many others, opening many opportunities for microparticulated whey protein products in areas such as bakery, RTD beverages.
Increased use of microparticulated whey protein products in this new field has boosted the Indian market for microparticulated whey protein.
Category-wise Insights
Why is Powder Microparticulated Whey Protein Gaining Traction in the Global Market?
According to Fact.MR, powder microparticulated whey protein is anticipated to witness lucrative growth at a CAGR 9.2% over the forecast period, owing to increased awareness about the beneficial properties of powder microparticulated whey protein. Demand for liquid microparticulated whey protein is set to witness growth rate at a CAGR 7%
Whey proteins are an advisable substance in the formulation of a variety of food items due to their solubility, capacity to produce emulsions, foams, and gels, as well as their favourable nutritional profile and numerous functional capabilities. As a result, whey has been frequently employed as an ingredient in healthy customised dairy drinks in recent times, usually in combination with fruits or other functional components that have prebiotic qualities or are fermented with probiotic bacteria.
Furthermore, the industry is being fuelled by increased demand for ready-to-drink beverages.
Which Application of Microparticulated Whey Protein is Dominating the Landscape?
In 2021, ready to drink beverages accounted for approximately 33.3% of the global market.
For today's busy consumers, ready-to-drink beverages offer convenience and mobility. They also provide the chance to experiment with new packaging and ingredients, such as carbonation. While both, refrigerated and shelf-stable beverages are included in this category, shelf-stable items are in higher demand due to their ease of storage and distribution.
Because of its high nutritional properties, bland flavour, ease of digestion, heat stability, and special usefulness in beverage systems, microparticulated whey protein is typically a favored source for RTD protein beverages.
Competition Landscape: Top Microparticulated Whey Protein Companies
Leading microparticulated whey protein suppliers are working on providing goods with a variety of claims. Consumers today are more inclined to know where their products are made. As a result of rapid urbanization and literacy, today's consumers are better informed than ever before.
The requirement to comprehend each product processing stage and every addition utilized to deliver the promised quality is a direct outcome of the rising rate of disease prevalence among consumers and how they are seeking to prevent it. Modern customers' need for traceability in the foods they eat is driving this trend, thereby shaping the strategies of manufacturers.
Interested to Procure The Data
Microparticulated Whey Protein Industry Report Scope
Attribute
Details
Forecast Period
2021-2031
Historical Data Available for
2016-2020
Market Analysis
MT for Volume and US$ Million for Value
Key Regions Covered

North America
Latin America
Europe
East Asia
South Asia
Oceania
MEA

Key Countries Covered

United States
Canada
Brazil
Mexico
Rest of LATAM
Germany
U.K
France
Spain
Italy
BENELUX
Russia
Rest of Europe
China
Japan
South Korea
India
Indonesia
Malaysia
Singapore
Rest of South Asia
Australia
New Zealand
South Africa
GCC Countries
Rest of South Africa

Key Market Segments Covered
Key Companies Profiled

CPKelco- SIMPLESSE®
Arla Foods Ingredients
Sure Protein WPC550 (NZMP)
MILEI GmbH
Carbery
Leprino Foods
Others

Pricing
Available upon Request
Segments Covered in Microparticulated Whey Protein Industry Analysis
By Form

By Application

Ready-to-drink Beverages
Functional Beverages
Baked Goods
Confectionery
Snacks and Cereals
Dairy

Cheese/Processed Cheese
Yogurt

Coffee Creamer
Nutritional Products

Sports Nutrition
Medical Nutrition
Infant Nutrition

Frozen Desserts
Spreads
Margarine
Fat-based Condiments