Hair Fixative Polymers Market on a Steady Course, Growth Sustained by Natural Hair Styling Products, Reveals Fact.MR
Hair Fixative Polymers Market
Published : 26 Mar 2020 Industry: Consumer Goods
Hair care formulations have found wide acceptance as conditioning agents in hair styling products. The global market for hair fixative polymers is gaining traction by the evolving trend of natural hair styling products that offer surface resilience, film forming, and cost performance benefits. Increased emphasis on hair fixative polymers to cater to a wide range of hair styling needs and growing awareness among millennials will provide significant momentum to the hair fixative polymers market and is expected to bolster their demand. Fact.MR opines that collectively, these factors will help the market to grow at a CAGR of ~4% through the forecast period from 2019-2027, and reach a valuation of over US$ 650 Mn by 2027.
Key Takeaways of Global Hair Fixative Polymer Market:
Non-ionic polymers accounted for over 2/5th of the total demand in global hair fixative polymers market in 2018. High demand of non-ionic polymers is attributed to its extensive health benefits in numerous hair care products on the premise of strong demand for water soluble solutions in hair treatment.
A highly matured hair fixative polymers industry is still awakening to the possibility of future investments owing to high success rate with small investments
The manufacturers of hair fixative polymers are highly focused on strengthening their sales footprint in matured countries of North America and Europe owing to high purchasing power and large consumer base for premium hair styling products. However, increasing presence of hairstyling product companies in Asia Pacific, Latin America, and the MEA regions have pushed hair fixative polymer manufacturers to expand their presence in these regions.
Asia Pacific is anticipated to create an incremental opportunity of ~US$ 65 Mn over the long-term forecast period (2019-2027) for leading manufacturers and new entrants
"The shift towards new cationic polymers as active hair formulations for conditioning, coloring, hair styling applications and absolute hair repairing is estimated to amplify the growth of hair fixative polymers across the globe" says the Fact.MR analyst.
Asian Countries to Be Hubs of Profitable Growth
Collectively, North America and Europe accounted for more than 2/3rd of the market share in global hair fixative polymers market in 2018 followed by Asia Pacific. Over the last 2-3 years, per capita spending on hair styling products in North America and Europe accounted for more than double as compared to other regions, which also supports the high growth of these two regions in the global hair fixative polymers market. However, shifting behavioral trend and per capita spending of consumers on hair care in emerging economies of Asia Pacific such as India, China and ASEAN Countries will make these regions hubs of profitable growth. This is expected to further drive the hair fixative polymers market in Asia Pacific at a strong growth rate of ~7% over the forecast period.
Shift of Focus on Enhancing Sustainability of Hair Fixative Polymers
The global hair fixative polymers industry is moderately consolidated with significant presence of both global and regional manufacturers. Key manufacturers such as Dow Chemicals, Ashland, Lubrizol, and BASF SE among others are concentrating on the advancements in technology to introduce new polymers such as "Polyquaternium-69". The demand for these polymers is rising on the back of hair styling products, mainly in Asia. Furthermore, manufacturers are focusing on introducing a combination of both natural and synthetic polymers to attain sustainability and organic growth in global hair fixative polymers market owing to a growing preference for chemical-free hair styling products among customers.
Find More Valuable Insights on Hair Fixative Polymers Market
Fact.MR, in its new offering, brings to fore an unbiased analysis of the global hair fixative polymers market, presenting historical demand data (2013-2018) and forecast statistics for the period, 2019-2027. The study divulges compelling insights on the hair fixative polymers market on the basis of product type (non-ionic polymer, cationic polymer, anionic polymer, and amphoteric polymer), nature (natural and synthetic), and application (hair wax, hair mousse, hair gel, hair spray and hair creams) across five major regions.
About the Retail and Consumer Goods Division at Fact.MR
Retail and consumer goods analysts at Fact.MR meticulously track broader sub-industries to keep clients abreast with recent developments in the market. Our practical approach to product design and pricing strategy provides vital inputs to businesses that are struggling to hit the 'move-the-needle' bottom line. The team at Fact.MR helps organizations design product differentiation strategies and introduce exclusive product(s) to their existing portfolio along with historical, current and future market size. For more retail domain insights, visit here.
- Request for
More Information

-
Hair Fixative Polymers Market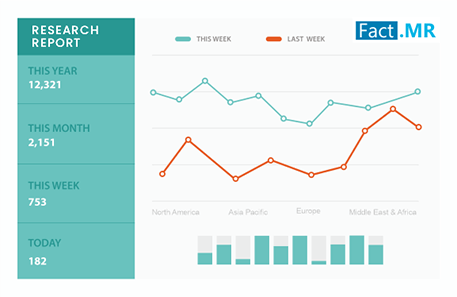 Hair Fixative Polymers Market By Product Type (Non-ionic Polymer, Anionic Polymer, Cationic Polymer), By Application (Hair Wax, Hair Mousse, Hair Gel, Hair Spray, Hair Creams), By Nature (Natural, Synthetic) & Region - Forecast to 2019 to 2027