Global Wearable Exoskeletons Market Demand to Flourish at a CAGR of over 30% through 2032, Projects Fact.MR
Wearable Exoskeleton Market
Published : 25 Jan 2022 Industry: Technology
The global wearable exoskeleton market is expected to embark on a positive expansion trajectory, with long-term prospects appearing extremely lucrative, concludes award winning market research company Fact.MR. The market is slated to expand at a stellar CAGR exceeding 30.3%, reaching more than US$ 3,991 billion in value by 2032.
As per Fact.MR's analysis, the market experienced credible gains in the past, topping US$ 100 Mn in 2021. Extensive application in the healthcare and military domains is cited as the key growth catalyst for market growth. As per W.H.O's estimates, annual global incidence of spinal cord injuries (SCI) is 40 to 80 cases per million population, with 90% of them being traumatic cases, thereby stimulating demand.
For the military domain, countries such as the U.S. are actively deploying exoskeletons to improve specific soldier capabilities. Lockheed Martin's OnyxTM and Dephy's ExoBoot are testimonies to such extensive applications. Recently, in 2019, the Indian government announced deployment of exoskeleton technology within its army, an initiative part and parcel of the ambitious Make in India campaign.
Key Takeaways from the Market Study
Global wearable exoskeletons demand to be valued at US$ 282.88 Mn in 2022
Wearable exoskeletons for lower extremities to accumulate a revenue share of 60%
Demand for rehabilitation wearable exoskeletons to surge at a CAGR of 20% through 2032
U.S to be the fastest growing market for wearable exoskeletons, clocking a CAGR of 25%
U.K to experience a CAGR of 20% with respect to wearable exoskeleton sales
Germany to flourish at a CAGR o 22% across the 2022-2032 assessment period
"Rising physical fatigue levels due to muscle wear and tear is prompting all labor-intensive industries to invest in advanced wearable exoskeletons to provide enhanced comfort to employees, heightening market growth prospects," says a Fact.MR analyst.
Competitive Landscape
Manufacturing collaboration allows manufacturers to increase production and meet consumer demand, thereby increasing revenues and market share. Introducing new products and technological innovations enable end-users to benefit from the products. By developing a strategic partnership, the company can expand its productive capacity.
In March 2021, Astrek Innovations, a startup from Kerala created an exoskeleton for patients with walking difficulties. With the vision of bridging the gap between the common man and quality healthcare, the company strives to build a portfolio of advanced technology enabled devices in the assistive technologies sector.
In June 2021, DRDO announced plans to develop an exoskeleton for Indian soldiers stationed at high altitudes. As part of the announcement, DRDO will upgrade Indian soldiers' performance in various military scenarios, including lower and upper extremities.
More Valuable Insights
Fact.MR, in its new offering, presents an unbiased analysis of the wearable exoskeleton market, presenting historical demand data (2017-2021) and forecast statistics for the period of 2022-2032.
The study divulges essential insights on the market on the basis of product (rigid smart exoskeletons and smooth smart exoskeletons), extremity (lower extremity, upper extremity, and full-body extremity), application (rehabilitation, pick & carry, and others) and end user (industrial, healthcare, military, and others), across five major regions of the world (North America, Latin America, Europe, Asia Pacific, and the Middle East & Africa).
Fact.MR's Domain Knowledge in Technology
Our ICT consulting team guides organizations at each step of their business strategy by helping you understand how the latest influencers account for operational and strategic transformation in the ICT sector. Our expertise in recognizing the challenges and trends impacting the global ICT industry provides indispensable insights and support – encasing a strategic perspective that helps you identify critical issues and devise appropriate solutions.
For more information, refer to our market research report or contact the PR author.
Santosh Kumar
Fact.MR
Sr. Consultant – ICT
E-mail: santosh@factmr.com
- Request for
More Information

-
Wearable Exoskeletons Market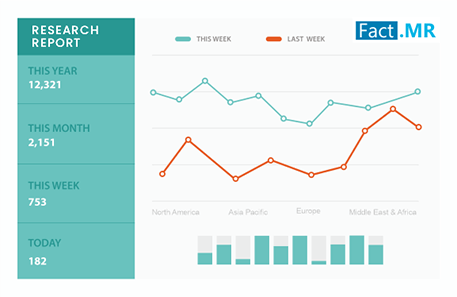 Wearable Exoskeletons Market Analysis by Product (Rigid Smart Exoskeletons, Soft Smart Exoskeletons), by Extremity (Lower, Upper, Full-body Extremity Exoskeletons), by Application, by End User, by Region - Global Forecast 2022-2032