Key Findings
FDA Defines BFSL Ingredients for its Use in Poultry Feed
Regulatory authorities have been stressing upon ingredient definition for insect feed protein used in poultry feed. The United States Food and Drug Administration (FDA), on September 11, 2018, proposed that AFFCO (Association of American Feed Control Officials) has allowed the use of protein meal produced from insect larvae and whole dried insects in poultry feed. AFFCO and the FDA have been working in the poultry feed regulation space, especially in setting definitions that describe new ingredients in poultry feed. FDA stresses on the fact that production of insect feed can provide a sustainable source of proteins. It has recommended amendment of ingredient definition for BSFL (Black Soldier Fly Larvae) in a bid to include it in the poultry feed.
Antibiotic-Free Poultry Production goes Mainstream; Creates New Opportunities for Stakeholders
Ban on use of antibiotics in poultry feed that promotes faster poultry growth is likely to open new avenues for stakeholders in the poultry feed market. According to World Health Organization (WHO) and other health authorities, antibiotic use in poultry feed poses significant health risks to humans. Against this backdrop, governments across various countries have imposed legislative bans on antibiotic formulations in poultry feed and production. FDA's Guidance #213 issues removal of antibiotics in poultry feed production. It has also proposed Guidance for Industry #152 that evaluates the safety new antimicrobial drugs and their effects on human health. This is expected to influence the uptake of various feed enzymes and additives that facilitate enhanced poultry feed quality. This has resulted in identifying new ways that stimulate poultry production and deliver enhanced results similar to antibiotic health promoters. Feed additives such as amino acids, prebiotics, probiotics, proprietary blends and enzymes are emerging as potential poultry feed additives.
Conditioning to Gain High Significance in Pelleting of Poultry Feed
Conditioning of poultry feed is gaining traction on the back of increasing demand for high pellet quality and bird performance. High pressure steam during the conditioning process provides moisture and heat essential for gelatinization of starch, pathogen removal and particle adhesion in the poultry feed. Conditioning steam temperature and retention time are defined by PDI (Pellet Durability Index), effective control over which results in enhanced nutrient digestibility. Conditioning of poultry feed before pelleting, particularly for young birds, has gained high significance as young poultry has underdeveloped enzymatic system that requires highly digestible nutrients.
Synergistic Use of Organic Acids and Copper Hydroxychloride in Poultry Feed – An Upcoming Trend in the Market
Use of organic acids in drinking water has resulted in a substantial increase in bird weight as compared to birds receiving AGPs (Antimicrobial Growth Promoters). Moreover, organic acid in poultry feed has enhanced the footpad quality along with reduction in mortality rates compared to poultry receiving antimicrobial growth promoters. Stakeholders in the poultry feed market are also focusing on using organic acids and copper hydroxychloride in poultry feed in a bid to improve performance along with FCR (Feed Conversion Ratios) without additional costs.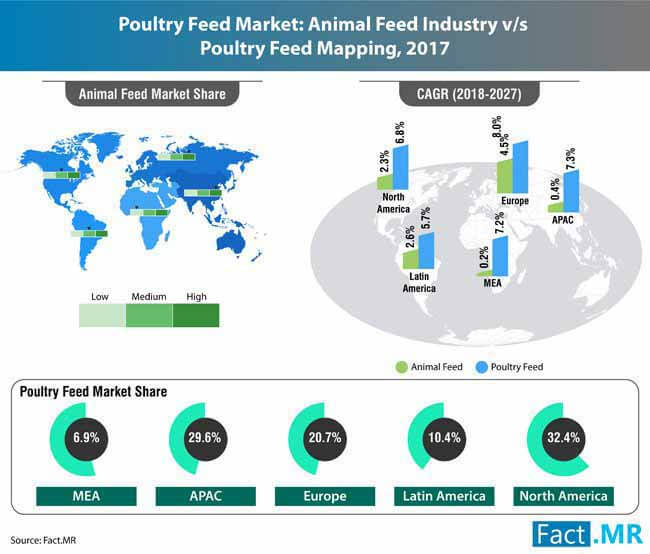 Dynamic Predictive Software Tools to Gain Significant Traction in Poultry Feed Management
Use of dynamic predictive software tools in poultry feed management space has brought remarkable transformation and led to lessening the pressure faced by producers of poultry feed. Stakeholders in the poultry feed market have been focusing on enhancing the profitability by gaining knowledge associated with interactions between farm conditions and nutrient levels. Based on analysis provided by software tools regarding poultry feed data and nutrient levels, it has been possible to alter key production factors that can result in profitability improvement. The tool can be used to develop feed programs and plan effective management strategy based on analysis of current feed data, production data and poultry feed form. The predictive tool technology has been gaining ground owing to its suitability across the entire poultry feed spectrum and is being adopted by small, medium and large-scale industries.
Growing Importance of Clean Labels Impacting Poultry Feed Market Growth
Food safety concerns and clean labelling are closely associated topics that are gaining importance worldwide. Rising demand for clean labelling in a bid to mitigate consumer mistrust owing to the increasing scandals related to poultry production, which has been observed since the past few years. In addition, ban on antibiotics in poultry feed has made it imperative for producers to use clean labels. Increasing consumer inclination towards clean labelling on the back of growing demand for GMO-free and organic poultry products is likely to impact the poultry feed space.
Poultry Consumption on the Rise Influencing Poultry Feed Demand
Poultry feed market is likely to witness a steady growth as poultry producers strive to meet increasing demand for poultry across the globe. Growing consumption of poultry meat has pushed the poultry production, in turn triggering an imbalance between supply and demand for poultry. For instance, according to the National Chicken Council (NCC), per capita poultry consumption in United States in 2016 was 107.6 pounds, which touched 108.6 pounds in 2017. NCC estimates that the consumption of poultry is expected to reach 109.2 pounds by 2018-end and further increase by 2019. Likewise, OECD and FAO estimated that per capita consumption of poultry meat in EU rose from 20.5 Kg in 2010 to 22.7 Kg in 2016 and are likely to showcase a 0.5% increase during 2017-2026. In a bid to balance the equation, poultry and livestock producers are relying on using advanced poultry feed, consequently fueling the growth of the poultry feed market.
For detailed analysis on poultry feed market dynamics, request a sample
Competitive Landscape
The poultry feed market report includes a dashboard view of the competition landscape providing detailed assessment on major companies involved in poultry feed production. The report has profiled key players including but not limited to Cargill Inc., ForFarmers N.V., BASF SE and Associated British Foods Plc.
Manufacturers and stakeholders in the poultry feed space are focusing on acquisitions and joint ventures to strengthen their position. For example, ForFarmers N.V has strengthened its position in poultry sector by acquiring Maatman that is involved in compound poultry feed. Further, ForFarmers is also focusing on extending its leadership position in Europe by initiating strategic joint venture with Tasomix, a Polish company. By signing a purchase agreement with the Polish player to acquire 60 percent shares, ForFarmers adds Poland as the fifth country of operation, consequently reinforcing its position as a leading feed company in the European land.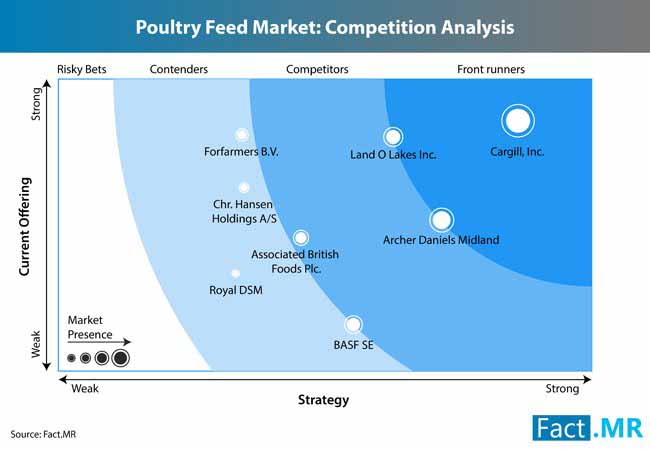 Cargill Inc., has recently acquired a feed mill in Thailand that is a joint venture between Thai-Denmark Swine Breeding Co. Ltd and Sri Thai Foods and Beverages Co. Ltd. With this acquisition, the plant would produce poultry feed for Cargill's customer base in Thailand. Moreover, this can be considered as a significant step toward CSR (Corporate Social Responsibility) initiated by Cargill Inc. as the large land footprint has resulted in increasing job opportunities for Thai people in poultry feed production.
Collaboration between poultry feed manufacturers and ERP suppliers to regulate poultry feed management is another prevailing trend in the market. For instance, on 12th July 2018, PoultryPlus – a ForFarmers N.V. Subsidiary – signed a collaboration with PoultryPlan. This collaboration is intended towards improving poultry feed productivity, particularly broiler stock, in turn facilitating enhanced profitability and reduced downtime.
For full coverage on poultry feed market competitive landscape, get in touch with our experts
Definition
Poultry feed is nutritional food for various poultry including chicken, domestic fowls, ducks and geese. Poultry feed comes in various forms such as powder, granules, briquettes and pellets. Either conventional or organic, poultry feed is produced using corn, wheat, blended grains or soybean to provide a high level of proteins facilitating poultry health.
About the Report
The report on poultry feed market provides incisive insights on the supply and demand of poultry feed across key regions in the globe. It includes assessment on several aspects influencing the growth of the poultry feed market, by covering trends, growth drivers, opportunities for stakeholders and restraints confining sales. In addition, historical data, current poultry feed market scenario and future highlights have also been included in the poultry feed market report.
Segmentation
The report includes detailed segmentation of the poultry feed market. It is segmented on the basis of product type (broiler, layer and other), source (corn, wheat, soybean, blend grains and other), form (powder, granules/particles, pellets and briquettes), nature (conventional and organic), sales channel (direct sourcing and indirect sourcing) and region (North America, Latin America, Europe, Asia Pacific excluding Japan, Japan, and Middle East and Africa).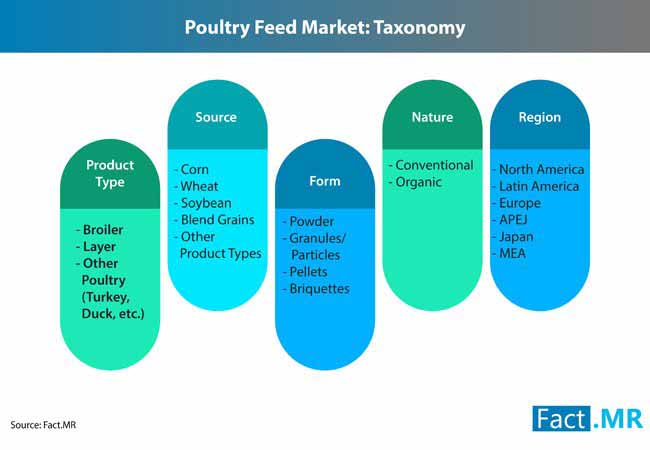 Additional Questions Answered
Besides above-mentioned findings, the poultry feed market report also answers additional questions providing a holistic scenario. For instance:
What trends are influencing sales of poultry feed and how can poultry feed producers leverage them in the coming years?
Which region offers the highest market potential for poultry feed manufacturers?
Which government regulations are likely to impact poultry feed production?
Which type of poultry feed is likely to witness increasing demand during the assessment period?
Which is the most preferred form of poultry feed?
Research Methodology
Statistics and data on poultry feed market included in the report is garnered using a robust research methodology. Secondary and primary research coupled with intelligence on demand for poultry feed from external sources have been compiled and triangulated to obtain accurate data on consumption and demand statistics of poultry feed.
"Poultry Feed Market Forecast, Trend Analysis and Competition Tracking – Global Market Insights 2018-2027" is an extensive analysis providing vital acumen on poultry feed sales and demand worldwide. The poultry feed market offers forecast highlights for a period of nine years, from 2018 till 2027. The report also covers several dynamics impacting the use of poultry feed along with detailed opportunity analysis. Poultry feed market report is a compilation of several key aspects and is systematically structured with a chapter wise presentation.
Chapter 1 – Executive Summary
This chapter in the poultry feed market report focuses on key trends prevailing in the poultry feed marketplace. In-depth opportunity assessment is covered in this section along with segmental growth analysis in poultry feed market.
Chapter 2 – Market Overview
The overview section includes a brief introduction to the poultry feed market. It also covers market definition and taxonomy. Furthermore, market dynamics such as trends, drivers and restrains are sketched in this section. The chapter also provides parent market overview, supply chain analysis, cost structure, pricing analysis, raw material sourcing and key participant market presence.
Chapter 3 – Poultry Feed Market Analysis and Forecast 2013-2027
This chapter provides information regarding revenue generation, sales volume, market share comparison, year-on-year growth rate and market attractiveness of every segment of the poultry feed market including product type, source, form and nature. These segments of the poultry feed market are analyzed across key regions globally.
Chapter 4 – North America Poultry Feed Market Size and Forecast 2013-2027
This chapter in the poultry feed market report includes sales assessment of poultry feed across key regions of United States and Canada in North America. Analysis on various segments of the poultry feed market across these countries are also covered in the chapter.
Chapter 5 – Latin America Poultry Feed Market Size and Forecast 2013-2027
This section includes analysis on demand of poultry feed across major countries of Brazil, Argentina, Mexico, Chile, and Peru. Detailed segmental snapshot across these key countries in the region is provided.
Chapter 6 – Europe Poultry Feed Market Size and Forecast 2013-2027
The European market for poultry feed is analyzed in this section providing key insights on the purchasing rate of poultry feed by producers. Additionally, assessment of various macroeconomic and industry specific aspects influencing sales and demand of poultry feed in the region are also included here.
Chapter 7 – Japan Poultry Feed Market Size and Forecast 2013-2027
Value and volume share, demand assessment and sales of poultry feed across Japan is provided in this chapter. Demand projections of poultry feed market along with year-on-year growth is covered here.
Chapter 8 – Asia Pacific Excluding Japan (APEJ) Poultry Feed Market Size and Forecast 2013-2027
This comprehensive chapter includes intense assessment on demand and sales of poultry feed across vital emerging economies such as China, India, South Korea, ASEAN, Australia and New Zealand. Moreover, attractiveness of the entire region based on the sales projections of poultry feed during 2018-2027 have been slated in the chapter.
Chapter 9 – Middle East and Africa (MEA) Poultry Feed Market Size and Forecast 2013-2027
This section of the poultry feed market report provides key insights on demand for poultry feed across MEA with market volume and value analysis. Poultry feed sales forecasts in MEA are also provided here.
Chapter 10 – Company Share, Competition Landscape and Company Profiles
This chapter gives a dashboard view of the poultry feed market with company share analysis. It also provides revenue analysis of top 10 producers in the poultry feed market. It also covers an in-depth analysis on various companies along with their key facets such as product portfolio, SWOT analysis and key financials.
Chapter 11 – Research Methodology
The report on poultry feed market is drafted using a robust research methodology using secondary and primary research. This research process ensures a higher degree of accuracy, which enhances the credibility of the poultry feed market report.
Chapter 12 – Secondary and Primary Sources
The process begins with secondary research using sources such as company press releases, CEO interviews, filings, financial statements and agriculture magazines. In primary research interviews with market observers, opinion leaders, stakeholders and suppliers of poultry feed are conducted to obtain holistic picture.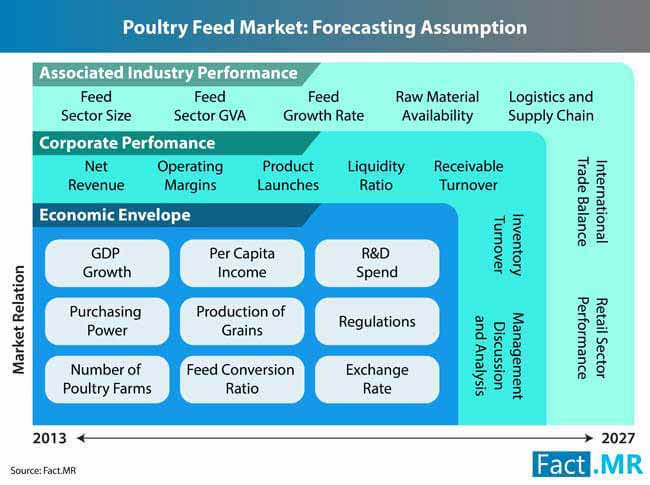 Fact.MR offers custom research services that help clients to get specific research solutions
We are committed towards customer satisfaction and quality service.
---
Our Clients

Poultry Feed Market Forecast, Trend Analysis & Competition Tracking - Global Market Insights 2018 to 2027