Poultry Processing Equipment Market Outlook (2022-2032)
The valuation of the global poultry processing equipment market is US$ 3.8 billion in 2022 and is estimated to reach US$ 5.8 billion by 2032-end. Worldwide demand for commercial poultry processing equipment is anticipated to increase at a CAGR of 4.3% through 2032.
Live poultry is processed with the use of poultry processing machinery into many raw poultry products. These raw materials are deemed safe for the consumption of human beings. Demand for equipment that is used for poultry processing is growing subsequently and plays a vital role in the manufacturing process.
The raising of various domestic birds, including ducks, turkeys, and chickens, is generally known as poultry farming. Further, chicken coops shelter chickens from the weather, which sometimes can be inclement. An egg incubator is used for the production of an ideal environment for egg incubation.
Government backing for the safety of different processed foods, rising consumption of processed food, and growing health concerns among people around the world are some vital factors that are predicted to contribute to growth opportunities in the global market. Consumers in recent years are giving preference for packaged and protein diets. Moreover, constant changes in lifestyles are also estimated to increase the demand for processed food.
Rising demand for poultry processing equipment is attributed to various health benefits that are related to poultry meat products. Omega-3 fatty acids, vitamins, minerals, and proteins are some key nutrients that are possessed in poultry meat products. Eicosapentaenoic Acid (EPA) and Docosahexaenoic Acid (DHA) are present in poultry meat products that are helpful for weight management. These acids are also used to prevent Alzheimer's disease and in cognitive function. Moreover, some other nutrients that are available in poultry meat products also boost reproductive health and brain development.
The presence of various medium and small enterprises across developing nations is projected to boost growth avenues in the global market. In addition, the growing cost of raw materials is further predicted to increase demand for processed food items and thus drive sales opportunities in the market.
Report Attributes

Details

Poultry Processing Equipment Market Size (2022)

US$ 3.8 Billion

Estimated Market Value (2032)

US$ 5.8 Billion

Global Market Growth Rate (2022-2032)

4.3% CAGR

Projected CAGR of Killing & Defeathering Segment (2032)

5%

Estimated CAGR of Chicken Segment (2032)

4.6%

Key Companies Profiled

Baader Group
Meyn Food Processing Technology B.V.
Cantrell Gainco Group, Inc.
Brower Equipment
JBT Corporation
CTB Inc.
John Bean Technologies Corporation
Know thy Competitors
Competitive landscape highlights only certain players
Complete list available upon request
Why are Sales Opportunities in the Poultry Processing Equipment Market Increasing?
"Rising Consumption of Poultry Meat across the World"
In recent years, there is a noteworthy increase in the production and consumption of poultry meat around the world. The nutritional value of different feed products increases the production of meat products and is thus likely to bolster growth opportunities in the global market.
Poultry concentrate is one of the popular formulations that is used commonly as feed materials for many poultry and other livestock. These concentrates are generally available in crumble form. Further, the same is formulated for various poultry rations.
The nutritional value of poultry feed products can be improved with the use of poultry concentrate. Additive concentrates, vitamins, minerals, protein concentrate, and energy concentrate are different types of poultry concentrate that can easily be found in the global market. Moreover, as per the requirement of consumers, these poultry concentrates are available with variations.
"Increasing Focus on Nutrition Needs by Poultry Industry"
There is a comparatively high requirement for nutrients in the poultry industry because of the conversion of feed into different food products, for instance, eggs and meat. Further, the shortage of some essential aminoalkanoic acids is likely to result in retarded growth and occurrences of anomalous behavior that include feather pecking, and reduced egg production.
In addition to poultry health, a diet that has deficient nutritional value can put adverse effects on the environment, such as increased production of laughing gas emissions that are linked with manure. It can cause negative impacts on our environment. Consequently, to ensure environmental sustainability and productivity, it is essential to maintain a balance of protein requirements.
There is a growing demand for poultry concentrate as it is enriched with some essential elements. Poultry concentrate generally contains minerals and multi-vitamin that include phosphorus, vitamins, salt, protein, methionine, calcium, lysine, and some other minerals. Further, these components are mixed with many grains like soybean flour and corn to prepare feed products.
"Designing of Innovative Processing Equipment"
The manufacturers serving in the poultry processing equipment market are concentrating to design innovative processing equipment. These newly designed equipment work effectively to increase the shelf-life of numerous poultry meat products. Further, the market innovations are also helpful to retain the maximum nutrients of the products with a negotiable loss of quality and avoiding disease contamination.
Thus, these novel innovations in the industry are likely to generate demand for industry products.
"Growing Demand for Convenient & Packaged Food Products"
Rising demand for packaged and convenience food products owing to the growing number of working women and hectic schedules has created novel demand opportunities for poultry production equipment. These products are gaining popularity in various regions in comparison with home-cooked food as they make the poultry processing task easier.
So, increasing demand for convenient poultry products and meat is likely to bolster lucrative opportunities in the global market.
Which Factors Can Limit the Adoption of Poultry Processing Equipment?
"High Capital Investment to Limit New Market Entrants"
The manufacturers of poultry processing equipment need to invest high capital at the initial level. So, it becomes difficult for new startups or small businesses to manage finance which can further limit the count of new entrants in the market.
"Reduced Awareness about Technological Developments Restrict Adoption of Processing Equipment"
Manufacturers serving in the global market have limited knowledge about technological developments that are taking place around the world. The lack of knowledge among players can put a direct impact on their productivity.
In addition, cross-contamination of bird carcasses might cause serious health problems that are further expected to hinder growth avenues in the global market.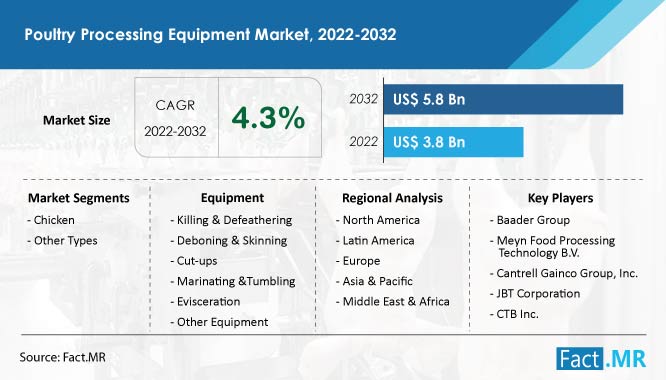 How Can Start-ups Penetrate the Poultry Processing Equipment Landscape?
"New Entrants Should Concentrate on Product Innovations"
People around the world are giving preference for the consumption of meat and related products which is likely to bolster demand for machinery which is used in processing methods. The industry players are establishing partnerships with other manufacturers to open up new avenues in the market.
For instance,
John Bean Technologies Corporation, in 2019 acquired Proseal UK Limited and Prime Equipment Group, Inc. This acquisition is helpful for John Bean Corporation to expand its full-line solutions for the consumers of the poultry industry.
Heat and Control, Inc. and Key Technology Inc., in the year 2018 entered into a partnership. Through this, Heat and Control, Inc. can extend its solutions to manufacturers serving seafood, meat, poultry, and other processed and fresh food products in Australia, India, and New Zealand.
More Insights, Lesser Cost (-50% off)
Insights on import/export production,
pricing analysis, and more – Only @ Fact.MR
Which Regional Market Accounts for Most Sales of Poultry Processing Equipment?
"Supportive Government Initiatives for Poultry Processing in North America"
The global market of poultry processing equipment is bifurcated into North America, Asia Pacific, Europe, Latin America, and the Middle East & Africa based on geographical locations. Among these, North American region is likely to hold a dominating position in the global market owing to rising government support to expand the poultry processing industry in the region.
Stringent government regulations across the regional market ensure the quality of food products. Further, rising consumer shifts towards value-added food products that have zero fat and are enriched with high protein are also predicted to increase the demand for poultry processing equipment in the regional market.
The market of Asia Pacific is also estimated to expand at a significant pace due to the growing consumption of various high-protein food that includes poultry products and meat. Regional countries such as Japan, Thailand, Vietnam, India, and China are witnessing a noteworthy increase in the demand for meat. So, these factors are projected to increase the sales of commercial poultry processing equipment in the region.
Country-wise Insights
Which European Country is a Leading Market for Poultry Processing Systems?
"High Consumption of Meat in Germany"
Denmark, Turkey, Netherlands, Switzerland, Sweden, Russia, Italy, Spain, Germany, France, the UK, and others are some key countries from the European region where the market of poultry processing equipment is spread. Among these, Germany is expected to grow at a noticeable speed owing to the rising consumption of meat. In addition, consumer shifts towards value-added food and accelerated per capita income are also serving as pivotal factors to bolster sales opportunities in the market.
The market of Germany is forecasted to extend at a CAGR of 3.5% through 2032.
How is the Japan Poultry Processing Equipment Industry Faring?
"Increasing Popularity of Poultry Processing Equipment in Japan"
The Asia Pacific market is projected to grow at a noteworthy speed because of the increasing consumption of high-protein diets by the regional population, such as poultry products and meat. China, Japan, India, Thailand, and Vietnam are some popular regional countries that are likely to experience significant demand for meat.
The sales of poultry processing equipment in Japan are expected to progress at a CAGR of 3.5% over the forecast period.
The market of South Korea is also predicted to experience novel growth avenues in the coming years.
Category-wise Insights
Why is Demand for Chicken Processing Equipment High?
"Growing Consumer Preference for Healthy Meat Over Red Meat"
Based on the product, the global market is classified into chicken and other types. Between these two, the chicken segment is estimated to hold the largest share of the market in the coming years. This dominance is attributed to an increasing customer preference for healthy meat instead of red meat.
The chicken segment is estimated to reach a valuation of US$ 3 billion by the end of 2032. The sales opportunities in this market segment are likely to expand at a CAGR of 4.6% through 2032.
Low fat and low concentration of cholesterol in chicken and related products are estimated to increase its adoption owing to rising health consciousness among consumers that is further likely to propel the demand for chicken processing equipment.
Why are Killing & Defeathering Equipment Being Used at an Increased Rate?
"Rising Automation Driving Usage of Killing & Defeathering Equipment"
Based on equipment, the global market is divided into killing & defeathering, cut-ups, deboning & skinning, evisceration, marinating & tumbling, and other equipment. The killing & defeathering is anticipated to serve as the fastest-growing segment in the global industry. The market segment is expected to progress at a CAGR of 5% through 2032.
The rapid growth in the market segment is attributed to the rising automation around the world. Moreover, the high cost of industrial equipment is also predicted to put a positive impact on the growth of this industry segment.
Don't Need a Global Report?
Save 40% on Country & Region specific reports
Competitive Landscape
Poultry processing equipment manufacturers are adopting many strategies such as mergers & acquisitions, partnerships, collaborations, portfolio expansion, novel product launches, and many more for the generation of growth opportunities.
For instance,
TARGAN in May 2022 secures around US$ 35.1 million for the launching of novel technologies for the poultry industry.
Marel, Lincoln Premium Poultry, and Costco on October 19, 2019, established a partnership. This partnership will help Marel with the installation of a novel plant to give efficient poultry products of suitable quality and at an economical price.
Key suppliers of poultry processing equipment include Baader Group, Meyn Food Processing Technology B.V., Cantrell Gainco Group, Inc., Brower Equipment, JBT Corporation, CTB Inc., and John Bean Technologies Corporation, as per the latest study by Fact.MR, a provider of market research and competitive intelligence.
Segmentation of Poultry Processing Equipment Industry Research
By Product:

By Equipment:

Killing & Defeathering
Deboning & Skinning
Cut-ups
Marinating & Tumbling
Evisceration
Other Equipment

By Region:

North America
Europe
Asia Pacific
Latin America
Middle East & Africa