Heightened Demand for Passenger Cars Spurs Growth of Automotive Switches Market
Automotive industry has witnessed significant transformation in past couple of years. Growing demand for the passenger safety and comfort is forcing auto manufacturers to continuously focus on creating new design experiences by effective integration of latest technology, and workflow. The paradigm shift from the mechanical components to the electronic components is foreseen to strengthen the demand for automotive switches up to a great extent.
The automotive switches for passenger cars segment is foreseen to grow ~1.4 times to cross the US$ 19 Bn mark by the end of the forecast duration (2019-2028). Further, the LCV and HCV segment are estimated to account for one fifth of the overall value opportunity created over the forecast period.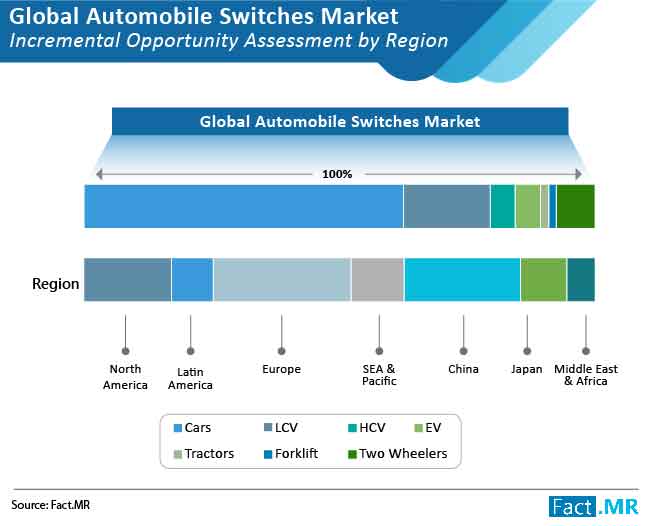 Get our analytical and cutting-edge market insights on automotive switches by asking an analyst here
Digital Cockpit Displays to Restrict Demand for Automotive Switches
With rising capitalization in connected and electric cars, the automotive switches market is expected to face challenges in terms of decreasing demand for automotive switches. Technologies based on driver assistance are thriving in the automotive sector such as automatic emergency braking and voice command which are highly in demand. Furthermore, the digital touchpad infotainment system is experiencing an upward demand trend among tech-savvy consumers. Growing preference for digitalization and touch-based displays have encouraged automotive technology manufacturers to enter into digital-driven business models. For instance, HARMAN and Samsung have lately revealed the first automotive electronics collaboration by opening the digital cockpit platform with IOT and 5G integration. As auto makers enters digitalization, upcoming digital cockpit displays could dampen the lucrativeness of the automotive switches in the global market over the course of forecast period.
Access top-notch insights on automotive switches market by requesting for a report sample here
Europe is foreseen to Witness ~1.5X Faster Growth than North America
Europe remains frontrunner in global automotive switches market owing to the ever expanding automobile sector and is foreseen to cross US$ 7 Bn mark by the end of 2028. In addition, the region is foreseen to account for 1/4th of the overall absolute dollar opportunity created during the assessment period. China is the second major contributor and is likely to account for a significant value share by 2028 end.
The automotive switches market is prominently influenced by consumer buying power. Following this trend, tier 1 and tier 2 companies in the automotive switches market have a strong presence in the developed economies with their preference for OEMs for supply agreements. Customer preference for budget-friendly prices has led to the consolidation of tier 3 companies of automotive switches in the developing nations. Countries with growing automobile manufacturing industries such as India and China have a stronger presence of tier 3 players of automotive switches. Also, as per the International Energy Agency (IEA), China dominated the sales of electric cars in 2019. Along with the stronghold on auto parts manufacturing, continuing electrification of the automotive industry in developing economies presents lucrative opportunities for automotive switches market players during the assessment period.
Steady Rise in Two Wheeler Demand to Unlock Growth Prospects for Automotive Switch Manufacturers
In the past decade, two-wheelers witnessed significant rise in demand. As stated by the U.S. International Trade Commission (USITC), demographic changes led by baby boomers and millennials are one of the prime factors strengthening the overall motorcycle demand in U.S. Furthermore, the growing motorcycle demand in developing economies such as India, Brazil and ASEAN are further foreseen to bolster the automotive switches market for two-wheelers. A significantly higher demand for original equipment and parts for two wheelers are foreseen to offer lucrative growth avenues for the automotive switches market players.
Automotive Switches Market - Scope of the Report
Fact.MR recently published a market study on the global market for automotive switches. The study provides detailed assessment on key market dynamics, including drivers, trends, opportunities restraints, and detailed information about the automotive switches market structure. The market study presents exclusive information about how the market will grow during the forecast period of 2019-2028.
Key indicators of market growth, which include Year-on-Year (Y-o-Y) growth of the market, value chain, supply chain analysis, and Compounded Annual Growth Rate (CAGR) are explained in Fact.MR study in a comprehensive manner. This information can help readers understand the quantitative growth prospects of the automotive switches market during the forecast period.
The study is relevant for stakeholders in the automotive switches market, including manufacturers and investors, and can help them in developing appropriate strategies to grow in the market. Stakeholders in the automotive switches market, investors, industry experts, researchers, and journalists, as well as business researchers can leverage the information and data presented in the Fact.MR study.
The study also includes statistics as well as facts related to the macro as well as microeconomic factors that are impacting developments in the automotive switches market. It also offers actionable insights based on future trends in the automotive switches market. Moreover, small businesses and new entrants in the market too can make use of the information presented in this study, based on which, they can make appropriate business decisions in order to gain momentum in the market.
Key Segments of the Automotive switches Market
Fact.MR's study on the automotive switches market offers information classified into four important segments: switch, vehicle, sales channel, and region. This market report proposes comprehensive data and information about the important market changing aspects and evolution structures related with these categories.
Vehicle

Switch

Sales Channel

Region

Passenger Cars

Compact
Mid-size
Luxury
SUV

Interior Control Switches

AC Switch Assembly
Light Module/Switches
Multifunctional Switches
Overhead console switch
Multimedia Switch assembly
Steering Switch Assembly
Seat Control Switches
Seat Heater Switches

OEM

North America

Light Commercial vehicles

Access Management Switches

Power Window Switch Assembly
Side Window Switches
Door light Switches
Ignition Switches
Powerlift gate Switches
Sun Roof Switches
Back Carrier Switches

Aftermarket

Latin America

Heavy Commercial Vehicles

Powertrain & others Switches

Reverse light switches
Brake light Switches
Automatic gear control switches
Automatic Reverse Parking Brake Switches
Hand Brake Switches
Fork lifting Switch Module

Europe

Electric Vehicles

SEA & Pacific

Tractors

China

Forklifts

Japan

Two Wheelers

Middle East & Africa
Key Questions Answered in Fact.MR Automotive switches Market Report
Which regions will continue to remain the most profitable regional markets for automotive switches market players?
Which factors will induce a change in the demand for automotive switches during the assessment period?
How will changing trends impact the automotive switches market?
How can market players capture the low-hanging opportunities in the automotive switches market in developed regions?
Which companies are leading the automotive switches market?
What are the winning strategies of stakeholders in the automotive switches market to upscale their position in this landscape?
Which Vehicle type will hold the largest value share in the automotive switches market?
Automotive switches Market: Research Methodology
In Fact.MR's study, a unique research methodology is utilized to conduct extensive research on the growth of the automotive switches market, and reach conclusions on the foreseeable growth parameters of the market. This research methodology is a combination of primary and secondary research, which helps analysts ensure the accuracy and reliability of conclusions.
Secondary resources referred to analysts in the automotive switches market study include statistics from governmental organizations, trade journals, white papers, and internal and external proprietary databases. Analysts have interviewed senior managers, product portfolio managers, CEOs, VPs, marketing/product managers, and market intelligence managers, who contributed to the development of this report as a primary resource.
Comprehensive information acquired from primary resources and secondary resources act as a validation from companies in the automotive switches market, and makes Fact.MR's projection on growth prospects of the Automotive switches market more accurate and reliable.
Fact.MR offers custom research services that help clients to get specific research solutions
We are committed towards customer satisfaction and quality service.
---
Our Clients

Automotive Switches Market Forecast, Trend Analysis & Competition Tracking - Global Market Insights 2019 to 2028