Spherical Automotive Radars to Disrupt Self-Driving
The right automotive radar technology needs a significant breakthrough if it is to overcome hideously difficult, onerous and time consuming limitations of self-driving. Cutting-edge and specialized automotive radars that can sense and seamlessly adapt to an automobile's surroundings to navigate notorious traffic congestions could be the key that gives leading automotive radar stakeholders an edge in the market.
Modern day automotive radar systems have already crossed the hurdle of limits in field of view and range, with multiple antennas, thus giving way to adaptive cruise control. Self-driven vehicles however, need something that not only overcomes weather interferences but also an automotive radar that is more compact. With innovations abound, start-ups are promising automotive radars with infinite possibilities. These radars are smaller, spherical and akin to radars used in fighter aircrafts. When these radars are placed on self-driven vehicles, they offer a 360-degree view of the landscape with an astonishingly consistent performance. With a fully functioning autonomous car ready to enter the market in the next 3 to 8 years, the right automotive radar technology would not only covet the important aspect of safety in all self-driven vehicles but also commercialize automotive radars based on spherical antenna technology.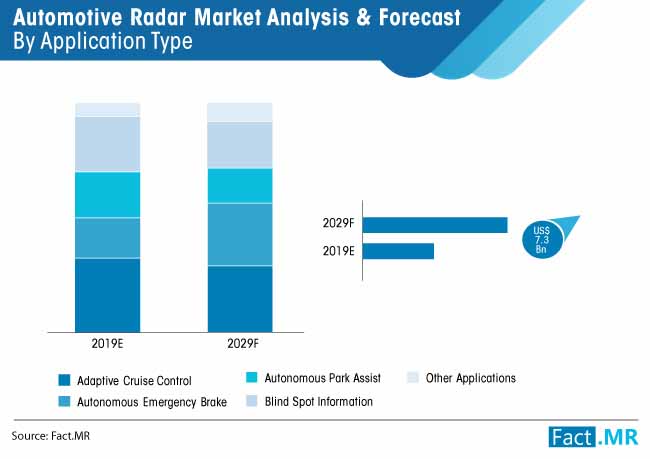 4D Imaging Radars to Plug Loopholes in Automotive Radar Technology
Most autonomous vehicles have sensing suites that have three types of sensors namely – Lidar, Radar and Camera. Each of these systems have their own unique functionalities and limitations. For instance, both Lidar and Camera lose their potency in overcoming stark environmental conditions like darkness, pollution, snow, rain and fog. Radar on the other hand has immense potential in maintaining its functionality in sub-par weather and lighting conditions. However, its low resolution puts it at a significant disadvantage making it unable to identify small objects and also enhancing its susceptibility to false alarms. By innovating and introducing an ultra-high resolution technology such as 4D imaging, the missing link can be overcome thus revolutionizing autonomous vehicle development. These high resolution 4D automotive radars can sense the environment in all four directions i.e. distance, speed height and depth. With the promulgation of this technology, the 4D automotive radar will be the backbone of the sensor suite thus bringing about a paradigm shift in the automotive radar market. Alternatively, it will also ramp up the production of level 3 autonomous vehicles, with an automotive radar that encompasses all safety features like risk assessment, path planning and a frictionless driving experience for the driver and passengers. Competitors in the market could gain an edge on affordability by developing sensors that have proprietary chipset technology and research capabilities for optimal automotive radar performance.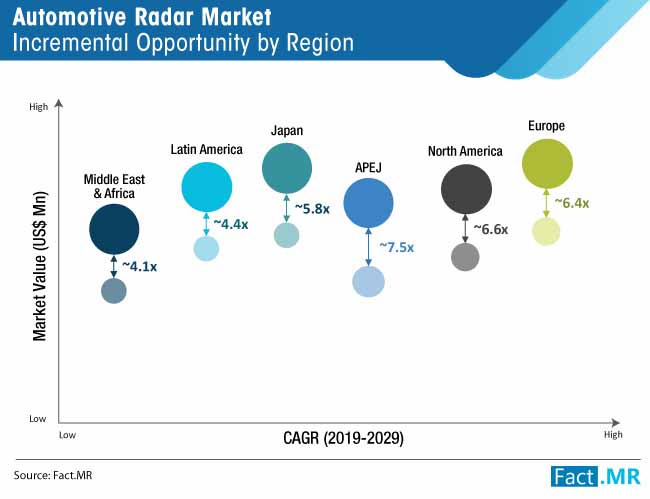 Automotive Radar Market – Road Fatality Reduction Will be a Key Opportunity
It is important to note that automotive radars are being chiefly deployed to give the driver a safe navigational experience and also to mitigate risk associated with road fatalities, casualties and accidents. Towards this, a plethora of regulatory initiatives have come to the fore, stringently imposed by governments. Europe has recently championed and prompted a staunch regulatory framework that empowers its roads to become the safest in the world. As European governments popularize the utilization of autonomous vehicles, the automotive radar market will gain immense traction over the forecast period. The advent of automotive radar technology will fulfill the prime objective of zero-fatalities on the roads. Proliferation of Advanced Driver Assistance Systems (ADAS) has been possible due to improvements in radar technology. ADAS systems are also likely to become government mandated in the near future with recently introduced legislations such as emergency brake assist and the increased adoption of rear view facing cameras.
Automotive radar based safety systems are paving the way for blind spot and side impact detection along with radars which have mid-range and long-range features for adaptive cruise control. This has been made possible with the help of embedded technology. For instance, new and improved embedded MCUs and 77 GHz mm wave integrated circuits that are specifically designed for radar uses and applications. Thus embedded technology is acting as a force multiplier to the already existing arsenal of intriguing ADAS solutions.
Leading Players Make Massive Inroads with Research Initiatives and Collaborative Strategies
Robert Bosch GmbH, headquartered in Stuttgart, Germany and Continental AG with its headquarters in Hanover, Germany are two of the leading players in the automotive radar market. Robert Bosch has made massive inroads in the automotive radar market space with critically timed acquisitions, mergers and takeovers. In the year 2017, Robert Bosch entered into a collaboration with Tom Tom to launch a unique HD map with an integrated radar road signature layer for the localization of vehicles in autonomous driving. It has also showcased its prowess in research and development that has enabled it to come out with innovative products and solutions. Bosch has partnerships with myriad universities and research institutes with a keen focus on information technology and sensors. It has also procured proprietary patent rights for all its products thus giving it an edge. It is said that the company has employed nearly 60,000 individuals who are purely focused on the company's R&D activities. The company also leverages its growth with its profoundly strong operational network that efficiently serves its humungous customer base.
The meteoric rise of Continental AG has been its single minded focus on providing scalable and innovative protection systems for vehicle occupants as well as ADAS that uses automotive radars to fulfill safety and comfort functions. The company has smartly strategized its expansion by entering into agreements with other players in the market. Continental signed an agreement with Nexteer automotive in the year 2017 in a joint venture focused on the development of motion control systems and actuator components for automated driving. It also entered into a partnership with AND to enrich map and location data with the requisite sensor data collected from vehicles. Its biggest strength has been its ability to multiply by leaps and bounds in all the major markets of the world thus mitigating the risk associated with overdependence on only one region. It provides automotive parts with operations in about 46 different countries of the world with Europe accounting for a major chunk of the company's total revenue.
Automotive Radar Market - Scope of the Report
Fact.MR recently published a market study on the global market for automotive radar. The study provides detailed assessment on key market dynamics, including drivers, trends, opportunities restraints, and detailed information about the automotive radar market structure. The market study presents exclusive information about how the market will grow during the forecast period of 2019-2029.
Key indicators of market growth, which include Year-on-Year (Y-o-Y) growth of the market, value chain, supply chain analysis, and Compounded Annual Growth Rate (CAGR) are explained in Fact.MR study in a comprehensive manner. This information can help readers understand the quantitative growth prospects of the Automotive Radar market during the forecast period.
The study is relevant for stakeholders in the automotive radar market, including manufacturers and investors, and can help them in developing appropriate strategies to grow in the market. Stakeholders in the automotive radar market, investors, industry experts, researchers, and journalists, as well as business researchers can leverage the information and data presented in Fact.MR study.
The study also includes statistics as well as facts related to the macro as well as microeconomic factors that are impacting developments in the automotive radar market. It also offers actionable insights based on future trends in the automotive radar market. Moreover, small businesses and new entrants in the market too can make use of the information presented in this study, based on which, they can make appropriate business decisions in order to gain momentum in the market.
Key Segments of the Automotive Radar Market
Fact.MR study on the automotive radar market offers information classified into four important segments: range, sales channel, application, and region. This market report proposes comprehensive data and information about the important market changing aspects and evolution structures related with these categories.
| | | | |
| --- | --- | --- | --- |
| Range | Sales Channel | Application | Region |
| Long Range | OEM | Adaptive Cruise Control | North America |
| Mid-Range | Aftermarket | Autonomous Emergency Brake | Latin America |
| Short Range | | Autonomous Park Assist | Europe |
| | | Blind Spot Information | Japan |
| | | Other Applications | APEJ |
| | | | MEA |
Key Questions Answered in Fact.MR Automotive Radar Market Report
What will be the growth effect of electric vehicle on the Automotive Radar market?
How many units of standard Automotive Radar will be sold by 2029 end?
Which application will hold the largest value share in the Automotive Radar market?
What will be the growth rate of automotive radar market in Asia Pacific excluding Japan?
Automotive Radar Market: Research Methodology
In Fact.MRs study, a unique research methodology is utilized to conduct extensive research on the growth of the automotive radar market, and reach conclusions on the foreseeable growth parameters of the market. This research methodology is a combination of primary and secondary research, which helps analysts ensure the accuracy and reliability of conclusions.
Secondary resources referred to analysts in the automotive radar market study include statistics from governmental organizations, trade journals, white papers, and internal and external proprietary databases. Analysts have interviewed senior managers, product portfolio managers, CEOs, VPs, marketing/product managers, and market intelligence managers, who contributed to the development of this report as a primary resource.
Comprehensive information acquired from primary resources and secondary resources act as a validation from companies in the automotive radar market, and makes Fact.MR projection on growth prospects of the automotive radar market more accurate and reliable.
Fact.MR offers custom research services that help clients to get specific research solutions
We are committed towards customer satisfaction and quality service.
---
Our Clients

Automotive Radar Market Forecast, Trend Analysis & Competition Tracking - Global Market Insights 2019 to 2029