Fiber Optic Gyroscope Market
Fiber Optic Gyroscope Market By Sensing Axis (1-Axis, 2-Axis, 3-Axis), By Device Type (Gyrocompass, Inertial Measurement Unit), By Vertical (Automotive, Robotics, Mining, Healthcare)- Global Market Insights 2021 to 2031
FACT2187MR
Dec-2021

List of Tables : 84

List of Figures : 126

170 Pages
Fiber Optic Gyroscope Market Outlook
Since its inception in 1975, fiber optic gyroscope (FOG) has steadily improved in performance and manufacturing capacities.
Now a mainstream, high-volume manufactured product with performance approaching Ring Laser Gyros (RLG), FOGs offer many advantages over competing technologies in terms of reliability, cost, and complexity.
Widespread use of fiber optic gyroscopes in military applications such as missiles flight control, ground detection, and dynamic GPS tracking has made the defense industry one of the biggest end users of fiber optic gyroscopes.
Miniaturization is an ongoing trend in this space, with researchers from organizations such as Micro-Satellite Research Center, School of Aeronautics and Astronautics, and Zhejiang University focused on the same.
Fact.MR's report comprises extensive primary research with detailed analysis of the qualitative as well as quantitative aspects by various industry experts and key opinion leaders to gain deeper insights into the market and industry performance.
With that, it also provides in-depth analysis of parent market trends, macro-economic indicators, and governing factors, along with market attractiveness as per segment.
The report tracks market performance in 20+ high-growth countries, along with detailed analysis of the impact of COVID-19 on this space.
Interested to Procure The Data
Historical and Future Outlook
The fiber optic gyroscope market continues to witness significant opportunities across the globe on the backdrop of increasing demand for reliable machinery for military purposes.
Global defense spending saw its biggest jump in a decade in 2019, driven by the U.S. and China, as rivalries and conflicts stoke military investments.
Across the globe, demand for remotely-operated vehicle products such as an unmanned underwater vehicles, unmanned aerial vehicles, and unmanned ground vehicles is increasing at a high rate.
Remotely-operated vehicle manufacturing companies are rapidly adopting fiber optics gyroscope technology in their products.
Owing to all of these reasons, the market is estimated to have a valuation of around US$ 935 Mn in 2021, and is expected to expand at a CAGR of over 4% during the projected years of 2021-2031.
What is the Impact of Covid-19 on the Fibre Optics Gyroscope Market?
Many nations imposed nationwide lockdowns to curb the deadly coronavirus, which caused disruptions in supply chains and shortage of resources, therefore, as such affecting various sectors. Delayed manufacturing has significantly affected this market as well.
USA, Russia, Spain, France, the U.K., Italy, and Germany are some of the worst-affected countries due to the COVID-19 outbreak. These are major manufacturing hubs for sectors such as automobiles, transportation, aviation, construction, energy, and power.
However, due to the COVID-19 outbreak, businesses in these region are facing financial challenges, as they either had to suspend their operations or substantially minimize their activities, owing to restrictions imposed by governments as well as the lack of human resources.
American and European countries witness high fiber optic gyroscope demand, owing to the presence of a strong civil and military aviation sector, and stringent safety regulations across various industries.
However, pandemic-related lockdowns have affected new industrial projects and investments in various countries, thus impacting the demand for fiber optic gyroscope systems. The market is set to get back to its normal growth trajectory in 2021-2022.
An Adaptive Approach to Modern-day Research Needs
What are the Challenges Faced by Fiber Optic Gyroscope Manufacturers?
Like all other gyroscope technologies, and depending on detailed design, FOGs require initial calibration (determining which indication corresponds to zero angular velocity).
Higher decibels of measurement noise associated with fiber optic gyroscopes continue to lessen their efficiency in high-end applications.
They are associated with high relative intensity noise (RIN), and exhibit poor operational efficiency, thereby failing to make a strong mark in the industry.
As noise level has become one of the most important performance parameters of fiber optic gyroscopes for its users, it is forcing manufacturers to include noise reduction systems for eliminating noise from various sources in fiber optic gyroscopes.
Use of fiber ring resonators (FRR) to reduce relative intensity noise is one such advancement in the fiber optic cable market. But this addition is making it costlier and more complex, and therefore not a favourable choice for many.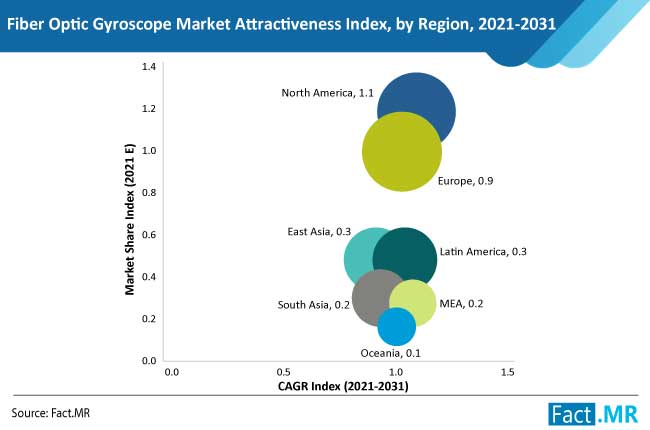 Country-wise Analysis
The global fibre optic gyroscope market can be broadly classified into six geographical regions, namely, North America, Latin America, Europe, Asia Pacific, Japan, and the Middle East and Africa. The market is expected to witness a high growth rate in North America, due high military expenditure, especially by the U.S.
What Makes the U.S. the Biggest Fibre Optic Gyroscope Market?
North America is expected to reach more than US$ 550 Mn by 2031, from US$ 339.04 Mn in 2019. The market is estimated to expand at a CAGR of around 5% from 2021 to 2031.
The main reason for it being the biggest market is due to high investments in the defense sector by the U.S. Estimated U.S. military spending is US$ 950 Bn for 2021, which is the second-largest in the federal budget after social security.
Out of this, a huge part of the budget goes into the aerospace and aviation part of defense. Constant need for latest technology compasses and turn coordinators is driving demand for fiber optic gyroscopes.
Growth of the market in the region is also driven by the presence of leading market players such as Honeywell International Inc., EMCORE Corporation, and KVH Industries, Inc. Fact MR. predicts this regional market to expand at an estimated CAGR of around 5% through 2031.
Rapidly rising adoption of drones and unmanned aerial vehicles (UAVs) in the defense and commercial sectors has been recognized as a main driver for the market.
The number of small non-commercial drones in the United States amounted to more than 1.15 million units in 2020, according to the Federal Aviation Administration (FAA). Commercial drone registrations amounted to about 450 K. This rapid increase in aerial vehicles is causing the market to grow further.
What Makes the U.K. the Largest Fiber Optic Gyroscope Market in Europe?
The European Commission allocated over €90 Mn for the European Defense Fund from the EU budget for 2017-19, which increased up to €13 Bn for the span of 2021. With a budget of US$ 50 Bn, the U.K. is the largest military spender in Europe.
In 2020, the British government approved the largest rise in its defense budget since the end of the Cold War, with £16.5 billion (US$ 21.9 billion) over four years.
This will create the need for latest aerospace technologies, which will drive the market for fibre optic gyroscopes, estimated to expand at the rate of close to 5% CAGR over the next ten years.
High adoption of automation in industries and homes is also predicted to drive demand for fiber optic gyroscopes over the forecast period of 2021 to 2031.
Why is Demand for Fiber Optic Gyroscopes High in Germany?
Germany, along with the U.K., dominates the European fiber optic gyroscope market, due to increasing number of automobile manufacturing facilities in the country. The automobile industry in Germany is likely to expand at a CAGR of around 4% during the forecast period 2021-2031.
Fiber optic gyroscopes are extensively used in cars for automatic motion control and GPS. Increasing sales of automobiles in Germany will be a large contributor to the growth of the fiber optic gyroscope industry, estimated to expand at a CAGR of close to 5% during the forecasted years of 2021-2031.
Why are Asian Countries Such as China and India are Expected to Hold a Major Market Share?
The military sensors market in the Asia Pacific region is projected to progress at the highest CAGR among any region from 2021 to 2031. Growth can be attributed to increased procurement of defense systems by countries such as China and India.
Ongoing military modernization programs in countries such as Japan and Australia are also fuelling market growth in Asia Pacific. Countries in this region are continuously increasing their defense capabilities by procuring advanced systems.
Increase in political tensions between countries is putting governments on high alert, and they are increasing their defense budgets to prepare for any kind of emergency. China, followed by India, has the highest military budget in the Asian continent.
In 2021, the Chinese government reported an estimated official defense budget of around US$ 200 Bn, which will be an increase of more than 5.5% as compared to the previous year, while the Indian military budget is estimated to grow by 6.8% to US$ 80 Bn.
Tremendous increase in the military budgets of both these countries is enabling them to invest in the latest aerospace and aviation technologies, which involve the extensive usage of fiber optic gyroscopes for motion control.
Why is Japan Emerging as an Important Market for Fiber Optic Gyroscopes?
The value of motor vehicles produced by the automotive industry in Japan amounted to almost 22 trillion Japanese yen in 2020, which makes it the biggest automobile sector in the world.
Japan is well known as the automobile industry's manufacturing hub; driverless vehicles are giving rise to increased adoption of fiber optic-gyroscopes..
End-user companies are willing to invest in the measurement of orientation in several device monitoring systems for their safety, which use fiber optic gyroscopes, thereby aiding market growth in the country.
Avail customized purchase options for your needs
Category-wise Insights
Why is There High Demand for Fiber Optic Gyroscopes from the Defense and Automotive Sector?
Fiber optic gyroscopes are mainly used to stabilize aiming lines on remotely-controlled gun turrets and images, and also for avionics, integrated into the artificial horizons of military or civilian aircraft. Gyroscopes equipped with sensor are extremely robust.
Global military expenditure is estimated to be more than US$ 2 trillion in 2021. The total is around 4 percent higher in real terms than in 2018, and 7.2 percent higher than in 2010. Despite tight defense budgets, worldwide demand for UAVs is projected to increase.
Military leaders say the growing capabilities of unmanned aircraft will revolutionize the conduct of warfare. The UAV market is estimated at more than US$ 20 Bn in 2021, and is projected to reach US$ 50 Bn by 2031, at a CAGR of around 15.5% from 2021 to 2031.
Rise in the procurement of military UAVs by defense forces worldwide is one of the most significant factors projected to drive market growth.
There is increasing use of UAVs in various commercial applications such as monitoring, surveying & mapping, precision agriculture, aerial remote sensing, and product delivery. For a UAV to function properly, fibre optic gyroscopes are extensively used to monitor its movements, which is driving market growth in the defense sector.
What is Contributing to the Sales of Fiber Optic Gyroscopes in Navigation Systems?
GPS tracking devices help in monitoring commercial vehicles such as trucks, buses, heavy commercial vehicles, and construction vehicles.
The GPS tracking device market is expected to reach more than US$ 4.5 Bn by 2031, at a CAGR of 11.4%. Factors that are driving growth of the market include increasing sales of commercial vehicles, small farm factors, affordable prices, and high ROI.
This is one of the fasted-growing industries in the world. The use of fiber optic gyroscopes is huge in GPS technology.
Fiber optic gyroscopes have many important applications in navigation and positioning systems, angular velocity sensors, stabilization equipment, and recently, in autonomous vehicle guidance backup systems for GPS-inaccessible area vibration.
Gyroscope sensors are used in car navigation systems, electronic stability control systems of vehicles, motion sensing for mobile games, camera-shake detection systems in digital cameras, radio-controlled helicopters, robotic systems, etc. Extensive usage of gyroscopes as the primary product is driving the market in the field of navigation systems.
What is the Scope of Fiber Optic Gyroscopes in the Robotics Industry?
Robotics is a fast-growing industry in today's world. Because robots can sharply improve productivity and offset regional differences in labour costs and availability, they are likely have a major impact on the competitiveness of companies and countries alike.
From 2021 to 2031, there is likely to be around 15% increase in shipments of robots, worldwide, and its market valuation is set to reach more than US$ 17.5 Bn by 2031.
For robotic applications, gyro output can be used to determine rotation rates, altitude, or heading, and can be combined with other sensor inputs to determine position. A wide range of robots and autonomous vehicles are currently used in fiber gyros, and many more are likely to be used in the future.
What Factors are Driving Growth of Gyrocompass in Ship Navigation?
Gyrocompasses are widely used for navigation on ships because they have two significant advantages over magnetic compasses.
They find true northas determined by the axis of the Earth's rotation, which is different from, and navigationally more useful than, magnetic north.
They are unaffected by ferromagnetic materials, such as in a ship's steel hull, which distort the magnetic field.
Owing to vast and extensive usage in the seas, the global gyro compass market is estimated to be valued at more than US$ 210 million in 2021, and is expected to expand at a CAGR of more than 4% through 2031.
Why is Popularity of Inertial Measurement Units Rising in Humanoid Robots?
Robots measure and report a body's specific force, angular rate, and sometimes the orientation of the body, using a combination of accelerometers, gyroscopes, and magnetometers.
As a recently developed multi-axis sensor, the inertial measurement unit (IMU) is an ideal sensor for measuring the attitude of a robot. Thus, IMUs play an extremely important role in humanoid robots.
Robotics has become a rapidly growing industry in a short period of time. Over the past decade, global sales volume of industrial robots tripled.
The International Federation of Robotics (IFR) released its annual World Robotics Report, which showed an estimated annual global sales value of US$ 18 billion in 2020.
IMUs are extensively used in robotics, which will drive the market. Owing to its huge demand, the inertial measurement unit market is estimated to be valued at over US$ 20 billion in 2021, and is expected to reach more than US$ 31 billion by 2031, at a CAGR of 6.5% over the forecast period, thereby driving the need for fiber optic gyroscopes.
Competitive Landscape
The fiber optic gyroscope market has major players such as Honeywell International, Inc., Nedaero Components, Northrop Grumman Litef GmbH, and Optolink LLC, focusing on supplying fiber optic gyroscopes that are suitable for the aerospace and defense industry.
Growth dynamics of the aerospace and defense industry are likely to have a significant impact on the manufacturing strategies of market players and the competitive environment in the fiber optic gyroscope market over the coming years.
EMCORE Corporation introduced its EN-150 Inertial Measurement/Navigation Unit, which is highly suitable for dismounted soldiers and weaponry, platform stabilization, and unmanned aerial vehicles where is GPS is not available. It replaces Ring Laser Inertial Measurement Units (IMU) with smaller size and high-performance fiber optic gyroscope-based inertial measurement.
Another player in the fiber optic gyroscope market, KVH Industries, Inc., recently launched its new fiber-optic gyroscope-based IMU with a 25g accelerometer. This new IMU is designed for dynamic applications with high levels of shock, vibration, and acceleration. Furthermore, the company collaborated with VectorNav Technologies LLC, a provider of embedded navigation solution, to combine the reliability and precision of KVH's fiber optic gyroscope-based IMUs with high-performance navigation systems by VectorNav to capitalize on a wide range of its industrial applications.
Report Scope
Attribute

Details

Forecast Period

2021-2031

Historical Data Available for

2016-2020

Key Areas Covered

North America
Latin America
Western Europe
Eastern Europe
APEJ
Japan
MEA

Key Segments Covered

Sensing Axis
Device
Vertical
Region

Key Companies Profiled

EMCORE
KVH Industries
Honeywell International
Inc., Nedaero Components
Northrop Grumman Litef GmbH
Optolink LLC

Report Coverage

Competitive Landscape
Country-wise
Category-wise Insights
Key Trends
Key Challenges

Customization & Pricing

Available upon Request
Fiber Optic Gyroscope Market by Category
Sensing Axis
Device
Gyrocompasses
Inertial Measurement Units
Inertial Navigation Systems
Others
Vertical
Aerospace and Defense
Automotive
Robotics
Mining
Healthcare
Transportation & Logistics
Other Industrial
Region
North America
Latin America
Western Europe
Eastern Europe
Asia Pacific Excl. Japan (APEJ)
Japan
Middle East and Africa (MEA)
Need an Exclusive Report for your Unique Requirement?
- Our Clients -

- Evaluate How Fact.MR's Report Can Help. -
Is the market research conducted by Fact.MR?
Yes, the report has been compiled by expert analysts of Fact.MR, through a combination of primary and secondary research. To know more about how the research was conducted, you can speak to a research analyst.
What research methodology is followed by Fact.MR?
Fact.MR follows a methodology that encompasses the demand-side assessment of the market, and triangulates the same through a supply-side analysis. This methodology is based on the use of standard market structure, methods, and definitions.
What are the sources of secondary research?
Fact.MR conducts extensive secondary research through proprietary databases, paid databases, and information available in the public domain. We refer to industry associations, company press releases, annual reports, investor presentations, and research papers. More information about desk research is available upon request.
Who are the respondents for primary research?
Fact.MR speaks to stakeholders across the spectrum, including C-level executives, distributors, product manufacturers, and industry experts. For a full list of primary respondents, please reach out to us.
Is a sample of this report available for evaluation?
Yes, you can request a sample, and it will be sent to you through an email.