Large Gynecological Disease Patient Pool Pointing to Robust Growth Opportunities
According to the Centers for Disease Control and Prevention (CDC), U.S., women are at risk for developing uterine cancers and the probability increases with age. Furthermore, uterine fibroids (leiomyomas or myomas) are the most common benign pelvic tumours in women. It is estimated that 80% of women develop uterine fibroids during their lifetime. Similarly, unhealthy lifestyles are increasing the prevalence of polycystic ovary disease (PCOD) in adolescent women. The aforementioned factors along with increased risk of postmenopausal complications in older women is expected to propel the hysteroscopy systems market growth during the forecast period.
Awareness for Hysteroscopy Procedures to Spike, on the Back of Increasing Reimbursement Policies
Gradual shift in reimbursement policies has pumped up the prevalence of hysteroscopy in office-based set-ups. As per the report of national payment amounts, consumer spending on hysteroscopy procedures performed in office has increased threefold, accounting for an average of US$ 1,382.1 in 2017 as compared to US$ 409.6 in 2016.
Furthermore, increasing awareness among people is playing an important role in the overall growth of the market. Several awareness programs such as "My hysteroscope is my Stethoscope" are encouraging gynecologists to use hysteroscopy as a diagnostic tool. In recent years, office-based hysteroscopes are gaining popularity, thus creating new and robust opportunities for growth of the hysteroscopy systems market.
North America and Europe to Maintain Hegemony as FDA Amps up Regulations
North America along with Europe together accounted for nearly half of the market share in the hysteroscopy systems market. The increased adoption of hysteroscopy systems in the North America is attributable to the replacement of traditional methods with hysteroscopy and encouragement of office based hysteroscopy procedures. This offers lucrative opportunities for growth of the market in these regions. Furthermore, initiatives by the regulatory authorities will further heighten the demand for hysteroscopy systems. For instance, in April 2018, the FDA ordered restrictions on the sale and distribution of Essure, a device for female sterilization. This was done to ensure that all women are provided with adequate risk information to make informed decisions. Such directives will propel the market growth in these regions.
Hysteroscopy Systems Market Poised for Consolidation, Top Players Capture 80% Market Share
The hysteroscopy systems market is a consolidated market with top five companies holding a market share of nearly 80%. Most of the top players already have a strong foothold in the endoscopy market, as compared to newer participants. Although, these companies offer strong competition for new entrants. Some companies such as Meditrina Inc. have been able to develop advanced products that will be launched into the market by the end of 2019. The hysteroscopy systems market currently holds ~6% of the endoscopy systems market. This trend is expected to change with hysteroscopy taking over 10% of the endoscopy market primarily due to the rapid adoption of hysteroscopy systems and replacement of traditional procedures with hysteroscopic procedures.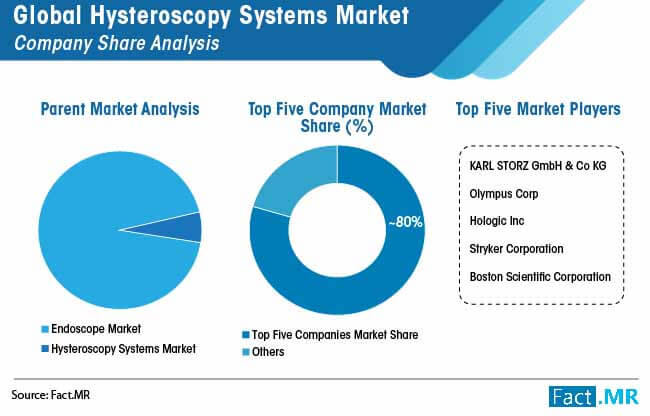 Acquisitions, a Key Trend Burgeoning Hysteroscopy System Market Growth
Most manufacturers are focusing on acquiring technology developed by competitors to enhance their product portfolio. Although the hysteroscopy systems market is consolidated, new players are working in the market by launching number of hysteroscopy systems and accessories
In 2016, Medtronic plc acquired Smith & Nephew's gynecology business for approximately US$350 million. Medtronic acquired TRUCLEAR System, Smith & Nephew's key GYN solution, through this agreement
Meditrina Inc. founded in 2016, expects Aveta™ System to be launched by the end of 2019. After the FDA approval for Aveta, the company received US$ 13 Mn equity financing led by ShangBay Capital LLC and Aethan Capital, Inc. This reflects the growth potential the hysteroscopy systems market holds during the forecast period.
Hysteroscopy Systems Market - Scope of the Report
Fact.MR recently published a market study on the global market for hysteroscopy systems. The study provides detailed assessment on the key market dynamics, including drivers, trends, opportunities restraints, and detailed information about the hysteroscopy systems market structure. The market study presents exclusive information about how the hysteroscopy systems market will grow during the forecast period of 2019-2029.
Key indicators of market growth, which include Year-on-Year (Y-o-Y) growth of the market, and compounded annual growth rate (CAGR) are explained in Fact.MR's study in a comprehensive manner. This information can help readers understand the quantitative growth prospects of the hysteroscopy systems market during the forecast period.
The study is relevant for stakeholders in the hysteroscopy systems market, including hysteroscopy systems manufacturers, suppliers, distributors, and investors, and can help them in developing appropriate strategies to grow in the market. Stakeholders in the hysteroscopy systems market, investors, industry experts, researchers, and journalists, as well as business researchers can leverage the information and data presented in Fact.MR's study.
The study also includes statistics as well as facts related to macro as well as microeconomic factors that are impacting developments in the market. It also offers actionable insights based on the future trends in the hysteroscopy systems market. Furthermore, small businesses and new entrants in the Hysteroscopy Systems Market too can make use of the information presented in this study, based on which, they can make appropriate business decisions to gain momentum in the market.
Key Segments of the Hysteroscopy Systems Market
Fact.MR's study on the hysteroscopy systems market offers information divided into four important segments - Product, Modality, End User, and region. This report offers comprehensive data and information about the important market dynamics and growth parameters associated with these categories.
Product

Hysteroscopes

Flexible Video Hysteroscopes
Non-Video Hysteroscopes

Rigid Non-Video Hysteroscopes
Flexible Non-Video (Fiber) Hysteroscopes

Hysteroscopy Fluid Management Systems
Hysteroscopic Tissue Removal Systems

Modality

Benchtop Systems
Stand-Alone Systems
Handheld Systems

End User

Hospitals
Diagnostic Laboratories
Office-Based Setting
Ambulatory Surgical Centres

Region

North America
Latin America
Europe
South Asia
East Asia
Oceania
Middle East & Africa
Key Questions Answered in Fact.MR 's Hysteroscopy Systems Market Report
Which regions will continue to remain the most profitable regional markets for hysteroscopy systems market players?
Which factors will induce a change in the demand for hysteroscopy systems manufacturers during the assessment period?
How will changing trends impact the hysteroscopy systems market?
How can market players capture the low-hanging opportunities in the hysteroscopy systems market in developed regions?
Which companies are leading the hysteroscopy systems market?
What are the winning strategies of stakeholders in the hysteroscopy systems market to upscale their position in this landscape?
Hysteroscopy Systems Market: Research Methodology
In Fact.MR's study, a unique research methodology is utilized to conduct extensive research on the growth of the hysteroscopy systems market, and reach conclusions on the future growth parameters of the market. This research methodology is a combination of primary and secondary research, which helps analysts ensure accuracy and reliability of conclusions.
Secondary resources referred to analysts during the production of the Hysteroscopy Systems Market study include statistics from government organizations, trade journals, white papers, and internal and external proprietary databases. Analysts have interviewed senior managers, product portfolio managers, CEOs, VPs, marketing/product managers, and market intelligence managers, who contributed to the development of this report as a primary resource.
Comprehensive information acquired from primary resources and secondary resources acts as a validation from companies in the hysteroscopy systems market, and makes Fact.MR's projection on the growth prospects of the hysteroscopy systems market more accurate and reliable.
Fact.MR offers custom research services that help clients to get specific research solutions
We are committed towards customer satisfaction and quality service.
---
Our Clients

Hysteroscopy Systems Market Forecast, Trend Analysis & Competition Tracking - Global Market Insights 2019 to 2029