Blotting Systems Market
Blotting Systems Market Analysis By Product (Gel Electrophoresis Blotting Systems, Imagers, Consumables), By Type (Southern, Western, Northern, Eastern), By End User (Pharma & Biotech Companies, Academic & Research Institutes, Others), & By Region - Global Market Insights 2023-2033
Analysis of Blotting Systems Market Covering 30+ Countries Including Analysis of US, Canada, UK, Germany, France, Nordics, GCC countries, Japan, Korea and many more
Blotting Systems Market Outlook (2023-2033)
The global blotting systems market is valued at US$ 1.14 billion in 2023, and demand for blotting systems is predicted to expand at a CAGR of 5% from 2023 to 2033 and will reach US$ 1.86 billion by the end of the forecast period.
Some of the major end users of blotting systems are pharma & biotech companies, academic & research institutes, and hospitals & diagnostic laboratories.
The most use of blotting systems is done by pharma & biotech companies, and this demand for blotting systems from pharma & biotech companies is expected to increase at a CAGR of 6% during the next 10 years. Rising research and development activities & technological breakthroughs are boosting the demand for blotting systems from pharma & biotech companies.
A blot is a technique used to transfer proteins, DNA, or RNA onto a carrier in molecular biology and genetics (for example, a polyvinylidene fluoride or nylon membrane, nitrocellulose). This is frequently carried out following gel electrophoresis, with the samples sometimes being added directly to the membrane and the molecules from the gel being transferred to it.
The transported proteins, RNA, or DNA are then observed after blotting using colourant staining (for instance, silver staining of proteins), autoradiographic observation of radiolabelled molecules (done before the blot), or specific labelling of particular proteins or nucleic acids. The latter is carried out using antibodies or hybridization probes, which only bind to specific blot molecules and are attached to an enzyme.
Various types of blotting systems available are southern, western, northern, and eastern. Western blotting systems are quite more popular than others due to their widespread use in cell and molecular biology.
Protein separation and identification in research often involve the use of western blot. Using gel electrophoresis, a mixture of proteins is separated in this method according to molecular weight and subsequently by kind. These findings are then applied to a membrane, which creates a band for every protein. After that, the membrane is treated with labels and antibodies targeted at the desired protein.
The important variable driving the demand for western blotting systems is the rising demand for tailored medicine and the increasing choice for a healthy lifestyle. The advent of cutting-edge diagnostic tools, as well as widespread knowledge of diseases such as HIV and more and their growing prevalence, all is fuelling the demand for blotting systems.
Report Attributes

Details

Market Size (2023E)

US$ 1.14 Billion

Forecasted Market Value (2033F)

US$ 1.86 Billion

Global Market Growth Rate (2023-2033)

5% CAGR

China Market Growth Rate (2023-2033)

8% CAGR

Japan Market Growth Rate (2023-2033)

3% CAGR

Germany Market Growth Rate (2023-2033)

4% CAGR

Key Companies Profiled

Advansta Inc
Bio-Rad Laboratories, Inc.
Bio-Techne Corporation
Cell Signaling Technology, Inc.
F. Hoffmann-La Roche AG
GE Healthcare
LI-COR, Inc. (LI-COR Biosciences)
Merck KgaA
PerkinElmer, Inc.
Thermo Fisher Scientific, Inc.
Know thy Competitors
Competitive landscape highlights only certain players
Complete list available upon request
Why is Demand for Blotting Systems So High?
"Ever-rising Prevalence of HIV"
Increasing cases of HIV and other transmitted diseases are boosting the growth of the market for blotting systems. Testing on serum, saliva, or urine samples is used in HIV diagnoses. Sales of blotting system procedures are expected to increase as these methods help with the detection of RNA, antigens, and antibodies.
According to WHO, more than 38 million people worldwide are living with HIV and this number is expected to increase quickly.
A few other significant factors boosting the growth of the global blotting systems market are the fast-expanding proteomics applications of western blotting and the increased efforts and investments made in research and development by various pharmaceutical and biotechnology businesses.
"COVID-19 Outbreak Opened New Market Opportunities"
Research activities are increasing in response to the COVID-19 pandemic as a consequence of attempts to understand the mechanisms of the virus. Businesses have expanded their procedures for testing and tracking the illness as a result of the outbreak.
For firms that are involved in the NGS and PCR markets, this generates beneficial opportunities to boost revenues. The rise in the need for COVID-19, oncology research, and neurobiology has opened up a wide range of testing opportunities for researchers and laboratories for products including western blotting, flow cytometry, ELISA, and medicines.
Major market players are shifting their demand for pertinent technologies to plan their manufacturing capacities, concentrating on product innovation, and offering the best supply chain strategies targeted at COVID-19 necessities. Here are a few instances to illustrate this point:
A SARS-CoV-2 multi-antigen serology module for the automated western blotting systems Jess and Simple Western was introduced by Bio-Techne Corporation (US) in October 2020. The novel serology assay hastens the study of COVID-19 and the creation of a vaccine by quickly identifying human immune responses to several SARS-CoV-2 antigens.
To help virology researchers understand better SARS-CoV-2 and other infections in July 2020, LI-COR Biosciences (US) provided goods, techniques, and services. The business's near-infrared (NIR) western blots and in-cell western assays offer a high-quality, dependable way to gather data for several assays that are essential for the investigation of viruses such as SARS-CoV-2.
Additionally, Simple Western, a brand of Bio-Techne Corporation, was used to create a SARS-CoV-2 vaccine candidate according to a recent Nature publication (December 2020). After transducing BHK-21 cells with various YF-S vaccine candidates, straightforward Western tests were carried out for the immunoblot examination of SARS-CoV-2 spike (S1/2, S0, and S1) expressions. In addition, during the study, researchers used a variety of western blotting consumables provided by Thermo Fisher Scientific Inc. (US), including lysed in radio-immunoprecipitation assay buffers, phosphate-buffered saline, and phosphatase inhibitor cocktails, among others.
What Factors are Hampering Sales of Blotting Systems?
"Presence of Alternative Systems"
One of the most popular protein analysis techniques on the market for blotting systems is western blotting. Researchers in the biotech, pharma, and diagnostics companies utilise it a lot.
However, there has been a move toward alternative technologies as a result of the growing demand for improvements in terms of usability, speed, efficiency, uniformity, sensitivity, and the capability to quantify results and process more samples. The main alternatives to western blotting are antibody-based techniques such as ELISA and lateral flow immunoassays (LFIA).
Blotting system demand may also be impacted by array-based methods such as Meso Scale Discovery, multiplexed bead assays such as Luminex, and line immunoassays, particularly in lucrative industries such as diagnostics.
In addition, the large-scale, high-throughput investigations that are possible with the current proteomics techniques make it possible to find, identify, and analyse the functions of proteomes. Protein identification has been enhanced to cover the least abundant proteins due to developments in protein fractionation and labelling techniques.
Mass spectrometry's improved resolution is one example of a technological improvement that helps researchers get more information from small amounts of samples. The development of dual-mass analyzers such as LC/MS, FT-MS, GC/MS, and MALDI-TOF/TOF has also made it easier to collect specific information about the structure and composition of proteins.
Proteomics technology advances with high throughput, improved sensitivity, and high resolution pique the interest of research labs, pharmaceutical corporations, and biotechnology firms. Blotting system demand is anticipated to be somewhat constrained in the coming years due to pharmaceutical companies' migration toward technologically enhanced proteomics procedures as a result of these developments.
The development of alpha technology, a platform based on homogeneous beads that are extremely sensitive and used for biomolecule detection is also hindering sales growth. Since the alpha technique doesn't require time-consuming wash processes and can identify any molecule of interest, most often from protein complexes, it has several advantages over other methods such as western blotting.
A variety of serum, cell lysate, plasma, and cell supernatant samples can be used with the alpha approach. Thus, unlike the several changes that are usual in the western blotting technique, alpha technology is a one-well procedure. The dominance of the growth of the global western blotting market is likely to be challenged by the introduction of such innovative technologies.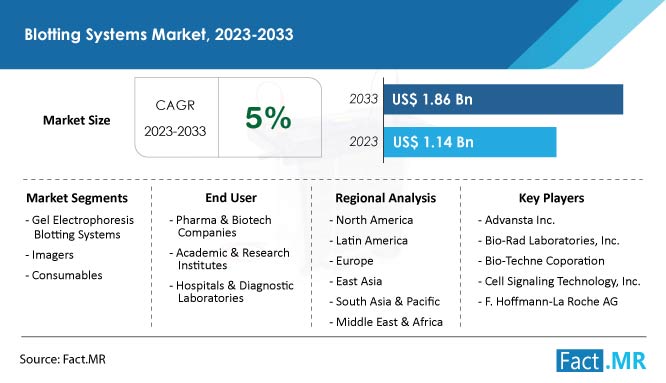 Country-wise Analysis
Why is Blotting System Demand Growing at a Rapid Pace in the U.S.?
"Adoption of Biotechnology in Agriculture by Farmers"
The United States is the most significant marketplace in North America. In the coming years, it is anticipated that the sales of blotting systems would be fueled by the highly developed biotechnology and medical diagnostics sectors.
The adoption of agricultural biotechnology by farmers is providing the commercialization of this sector with a new outlook, according to a report released by the United States Department of Agriculture (USDA).
The biotechnology business in the United States is reportedly quite strong.
Agricultural biotechnology has the potential to increase food production and related R&D operations in the United States, according to the USDA. This is a subliminal sign of the rising U.S. demand for blotting systems.
Which Industries are Supporting Sales of Blotting Systems in Europe?
"Rapidly Growing Research, Diagnostic, & Pharma Sector"
The U.K., Germany, Italy, and France are some of the dominating nations in the Europe blotting systems market. Demand for blotting systems in Germany is predicted to progress at a CAGR of 4% during the forecast period.
Germany is a major marketplace for those players involved in this industry because it is the centre of the largest blotting systems market in Europe. Leading players are aiming for Germany, because of its rapidly expanding medical diagnostics, research, and pharmaceutical industries.
The research business in Germany is anticipated to be further strengthened by the EU-funded CANCERSCREEN project, which has established a comprehensive worldwide data set of over 800 businesses in this field.
The announcement by Sweden at the 47th meeting of the UNAIDS Programme Coordinating Board to renew its annual funding commitment to UNAIDS of SEK300 million in core funding for 2021, equivalent to 36 million USD, demonstrated the country's continued leadership in the global AIDS response, according to the report released by the UNAIDS Organization on December 18, 2020.
In the coming years, this will have a favorable effect on the companies in the blotting systems industry.
What's Driving the Sales of Blotting Systems in Asian Countries?
"Swiftly Growing Medical Industry in Asia"
In Asia Pacific, the region of the world with the fastest rate of economic growth, China, India, Japan, and South Korea are emerging as highly progressive nations. The growth of companies in the market in Asia Pacific is being supported by the region's rapidly expanding pharmaceutical sector and rising demand from the medical diagnostics business.
Furthermore, the medical equipment and diagnostics sector is one of China's fastest-growing businesses, with double-digit growth maintained for more than ten years, according to the report named "Healthcare Resource Guide" issued by the Export Government of China on 30th October 2019.
The medical equipment and diagnostics business is estimated to be worth more than US$ 10 billion and is expected to expand to US$ 65 billion by 2024, according to research released by Invest India, the National Investment Promotion & Facilitation Agency of India. According to the analysis, the market for medical equipment, which includes diagnostic gadgets, has the potential to develop at a rate of 28% per year and reach US$ 50 billion by 2025.
The information illustrates why key players in the blotting systems market are focusing on Asia Pacific nations.
More Insights, Lesser Cost (-50% off)
Insights on import/export production,
pricing analysis, and more – Only @ Fact.MR
Category-wise Analysis
Why are Gel Electrophoresis Blotting Systems Widely Preferred?
"Effective Method for Protein Identification"
Gel electrophoresis blotting systems, imagers, and consumables are some of the products in this market. In terms of product type, gel electrophoresis blotting systems currently dominate the market and are anticipated to keep up their dominance over the forecast period.
By utilising an enzyme's or a primary antibody's capacity to bind to a specific antigen, electrophoresis blotting is a highly effective method for identifying a specific protein in a sample. It has high requirements in a variety of applications as a result. Demand for consumables in blotting systems from research and diagnosis is also growing at the fastest pace due to the rising prevalence of contagious diseases.
Don't Need a Global Report?
save 40%! on Country & Region specific reports
Competitive Landscape
Competition in the blotting systems market is getting stricter with each year passing. The key players in the blotting systems market are concentrating on launching a greater selection of products to maintain their positions in the fierce competition.
In the past few years, Bio-Rad Laboratories, Inc. has introduced a new line of western blotting products, including the Trans-Blot Turbo Transfer System and Immun-Blot PVDF Membrane.
Key Segments of Blotting Systems Industry Research
By Product :

Gel Electrophoresis Blotting Systems
Imagers
Consumables

By Type :

Southern
Western
Northern
Eastern

By End User :

Pharma & Biotech Companies
Academic & Research Institutes
Hospitals & Diagnostic Laboratories

By Region :

North America
Latin America
Europe
East Asia
South Asia & Oceania
MEA
- FAQs -
The global blotting systems market is valued at US$ 1.14 billion in 2023.
Global sales of blotting systems are projected to reach US$ 1.86 billion by 2033.
Global demand for blotting systems is predicted to increase at a CAGR of 5% from 2023 to 2033.
North America currently dominates the global market.
Some of the top manufacturers of blotting systems are Bio-Rad Laboratories, Inc., Bio-Techne Corporation, Cell Signaling Technology, Inc., and F. Hoffmann-La Roche AG.