e-Prescription Systems Market
e-Prescription Systems Market Analysis By Component (Hardware, Software, Services), Type of System (Standalone e-Prescribing Systems, Integrated e-Prescribing Systems), By Delivery Mode (Cloud-based, Web-based, On-premise), By End User (Hospitals, Office-based Physicians, Pharmacies, Clinics) & By Region - Global Market Insights 2023-2033
Analysis of e-Prescription Systems Market Covering 30+ Countries Including Analysis of US, Canada, UK, Germany, France, Nordics, GCC countries, Japan, Korea and many more
e-Prescription Systems Market Outlook (2023-2033)
The global e-Prescription systems market stands at US$ 2.96 billion in 2023 and is projected to reach US$ 15.49 billion by 2033, surging ahead at a CAGR of 18% during the next 10 years.
Based on components, e-Prescription systems are segmented into hardware, software, and services. Worldwide sales of electronic prescription services are predicted to rise at an impressive CAGR of 19.5%, while demand for e-Prescribing solutions is expected to evolve at a 17% CAGR during the forecast period (2023-2033), respectively.
Electronic prescribing (e-Prescribing) solutions are widely preferred to avoid mistakes such as fewer or no medication errors as they are handwritten and not phoned-in prescriptions, high patient safety concerns, and lower risk of getting lost or misplaced.
Prescribers can electronically deliver prescriptions to the patient's preferred dispenser (such as a pharmacy) with the use of e-Prescribing services (EPS). For both patients and workers, this improves the effectiveness and convenience of the prescribing and dispensing procedure.
The advantages of EPS include:
Practitioners can process prescriptions faster and spend less time answering questions about them.
Dispensers can enhance stock management, use less paper, and give patients better service.
Without seeing their doctor, patients can pick up repeat medications from a drugstore and won't risk losing a paper prescription.
Thus, such aspects are boosting the demand for e-Prescribing services across the world.
A technical framework called electronic prescribing, sometimes known as e-Prescribing, enables doctors and other medical professionals to send computer-based electronic production and transmission of prescribed medication to a hospital-based or standalone drugstore.
Through the use of e-Prescribing software, medical professionals can send prescriptions to pharmacies in a secure manner. By monitoring drug interactions and lowering prescription errors, e-Prescribing systems provide several linked advantages, including enhanced patient safety and healthcare quality.
Compared to traditional prescription filling methods, which take a lot of time, it is both cheaper and more practical for doctors and physicians. The increasing use of e-Prescribing health systems in various medical facilities would significantly increase their demand throughout the anticipated period.
For example, the study "A Survey of Patients' Opinions and Preferences on the Use of E-Prescriptions in Poland" published in September 2021 claims that e-Prescriptions are one of the vital e-services in the dynamic trend of informatization of the Polish healthcare system and that e-Prescriptions come with several benefits for both patients and medical staff.
It further stated that the adoption of electronic prescriptions into the Polish healthcare system was intended to solve the issue of the legibility of prescriptions and, as a result, has a good effect on patient care.
Such studies show that the worldwide adoption of e-Prescription systems software is increasing rapidly and will continue to do so over the decade.
Report Attributes

Details

e-Prescription Systems Market Size (2023E)

US$ 2.96 Billion

Forecasted Market Value (2033F)

US$ 15.49 Billion

Global Market Growth Rate (2023-2033)

18% CAGR

China Market Growth Rate (2023-2033)

24% CAGR

Japan Market Growth Rate (2023-2033)

14% CAGR

Germany Market Growth Rate (2023-2033)

15% CAGR

Key Companies Profiled

Allscripts Healthcare Solutions, Inc.
Athenahealth, Inc.
Cerner Corporation
Change Healthcare Inc.
Computer Programs and Systems, Inc. (CPSI)
DrFirst, Inc.
eClinicalWorks LLC
Epic Systems Corporation
GE Healthcare
Greenway Health LLC
Henry Schein, Inc.
MEDITECH
Practice Fusion, Inc.
Know thy Competitors
Competitive landscape highlights only certain players
Complete list available upon request
Why is Demand for e-Prescribing Systems Skyrocketing?
"Rapidly Rising Adoption Rate of Integrated e-Prescribing Systems in EHR Settings"
Demand is increasing greatly as a result of the inclusion of e-Prescribing software in electronic health record (EHR) solutions. Clinical notes, laboratory data, and a wide range of clinical decision assistance are all features that standalone systems do not provide, but integrated e-Prescribing systems in EHR do.
e-Prescribing using integrated EHRs improves the accessibility of patients' medical records and pharmacy benefits data, making potentially life-saving drug information readily available. Since EHR-based systems have significantly decreased prescription errors in community-based medical practices, system acceptance has increased, supporting market growth during the projection period.
Various governments across the globe are taking initiatives to deploy integrated electronic health records across several institutions is yet another important driver boosting the e-Prescribing industry.
For instance, the Cures Act was introduced in the United States on December 13, 2016, to enhance medical product development and foster breakthroughs and advancements in medical technology. By lowering documentation requirements and enhancing regulatory flexibility within the Medicare program, the Cures Act's implementation has helped the stakeholders in the healthcare IT industry develop strategies and recommendations that aim to address key hardships associated with the use of integrated EHR.
"Rising Efforts to Eliminate Adverse Drug Events (ADEs) and Medical Errors"
As prescription errors contribute to more than 70% of drug errors reported by general medical settings and hospitals, they are the main source of worry for medical practitioners worldwide. The patient's health may suffer as a result of medication mistakes.
Legal and medical malpractice claims against doctors and other healthcare providers frequently stem from pharmaceutical errors. One of the main causes of death in the United States is an adverse drug event (ADE).
According to numerous research, medical errors cause more than 90,000 deaths annually in the United States.
As a result, using e-Prescribing software programs enable healthcare professionals to access patient medical histories, drug information, and diagnoses that improve patient safety by obviating or lowering medical errors.
What is Challenging the Sales of e-Prescribing Systems in Emerging Economies?
"High Implementation & Maintenance Cost of Integrated e-Prescribing Solutions"
Even though e-Prescribing methods are being used more frequently in clinical settings, several limitations are preventing the wider adoption of these technologies. The high cost of integrated e-Prescribing solutions in EHR implementation and maintenance is one of the main reasons limiting the market's growth.
Because of their high cost, e-Prescribing methods are finding it difficult to be implemented in many developing economies. Another significant element hindering sales growth is the lack of healthcare IT assistance in many emerging economies.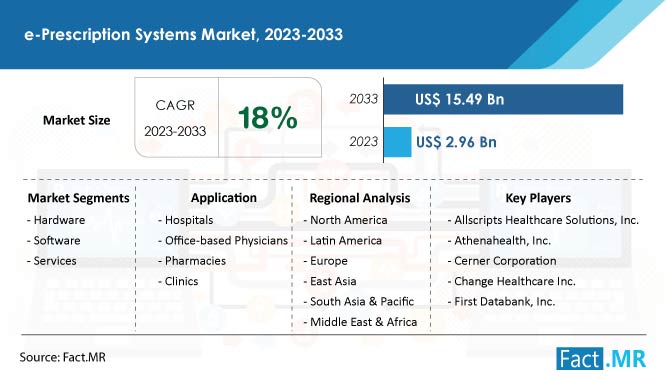 Country-wise Analysis
What is Driving the Sales of e-Prescribing Systems in the United States?
"Rapid Adoption of Digitalization in Healthcare Industry"
The U.S. market is expected to experience profitable growth as a result of factors such as the growing digitalization of the healthcare industry, favourable government policies, and a flexible regulatory environment.
Furthermore, rising private and public investments in the adoption of integrated EHRs will support national market growth during the projected period.
In June 2019, for example, the Cooperative Agreement Notice of Funding Opportunity (NOFO) was issued by the Office of the National Coordinator for Health Information Technology (ONC). This program's objective is to facilitate advancements in the technical standards required to achieve interoperability among healthcare IT systems. The program's debut year of funding included up to US$ 500,000.
As a result, these variables are responsible for the favourable growth of the sales of e-Prescriptions in the United States.
How is Demand for e-Prescribing Systems Evolving in European Countries?
"Rising Implementation of Telehealth Services across the Continent"
After patients' electronic health records, telehealth services are among the second-largest e-Health trends in Europe. The increasing acceptability of remote monitoring systems as well as technological advancements are two important elements promoting industry growth in Europe.
For instance, Germany conducted more than 19,500 teleconsultations in March 2020. Nearly 60% of consultations in Norway were conducted online.
With almost ten years of excellent telemedicine laws in place, France is a successful example of telehealth adoption. The European market for e-Prescription technologies will change as a result of artificial intelligence.
To comprehend how practitioners manage patients automatically in real-life circumstances, big data analytics and machine learning algorithms are developed for evaluating large-scale electronic medical record (EMR) data. The active presence of significant electronic prescription providers in the European region is also boosting sales growth.
Why are Providers of e-Prescribing Systems Eyeing Asia Pacific?
"Growing Use of e-Prescription Methods in Asian Countries"
The market in Asia Pacific is anticipated to expand at a profitable pace due to the growing use of e-Prescription methods and the rising number of suppliers entering the region's emerging economies, including Japan, China, and South Korea.
The implantation of e-Prescription solutions is increasing rapidly in Japan.
For its computerised prescription project, the Ministry of Health, Labour, and Welfare of Japan has chosen four test locations. This will occur before the official nationwide rollout of e-prescriptions in January of next year (i.e. 2023).
This pilot program, according to a press release, intends to validate the e-Prescription system and its operational procedure as well as address any potential system problems.
Sakata in Yamagata Prefecture, Asahi in Chiba Prefecture, Sukagawa in Fukushima Prefecture, and Asa in Hiroshima Prefecture are the regions that the Health Ministry has chosen for the trial. The government is presently looking to work with pharmacies and medical facilities that are interested in implementing e-Prescriptions.
More Insights, Lesser Cost (-50% off)
Insights on import/export production,
pricing analysis, and more – Only @ Fact.MR
Category-wise Analysis
What Makes Web-based e-Prescription Systems the Preferred Choice?
"Lower Need for Additional Costs & IT Support"
Based on delivery mode, the electronic prescribing systems market is classified into cloud-based delivery, web-based delivery, and on-premise delivery.
The main distinction between an on-premise e-prescribing solution and a web-based e-prescribing solution is that the former involves hosting the software on internal servers that are incorporated and managed by an organisation, whereas the latter, is an online execution of the software in a location where users can access it through the internet.
Compared with web-based solutions, it is predicted that the on-premise demand will grow more slowly. However, due to the increasing acceptance of on-premise systems around the world during the forecast period, the segment will continue to create consistent e-Prescribing market revenues.
It is anticipated that web-based solution sales are likely to increase at a healthy CAGR throughout the forecast period. Web-based systems that use the cloud do not need labour-intensive installation procedures where professionals must set up expensive infrastructure to host data. Everything may be done online, eliminating the need for additional costs and IT support.
Which are the Most Widely Used e-Prescribing Methods?
"Integrated e-Prescribing Systems More Effective & Efficient Than Standalone e-Prescribing Systems"
Based on systems, the e-Prescribing methods are segmented into standalone e-Prescribing systems and integrated e-Prescribing systems.
An autonomous single-entity system called the standalone e-prescribing system is used to electronically prescribe medications to patients. Through this program, which operates in a single mode, medical professionals can electronically prescribe medications to patients.
Compared to integrated systems, standalone e-prescribing programs are less expensive and simpler to implement. Standalone programs might not, however, contain all the features, such as the e-prescribing module connected to an electronic medical record.
Any clinical data may need to be entered twice for standalone applications. This slows down the procedure overall since it necessitates more work and raises the possibility of more errors.
Applications of standalone systems are gradually being phased out of the healthcare IT industry in favour of integrated e-Prescribing systems since they are more effective and efficient.
Competitive Landscape
Allscripts Healthcare Solutions, Inc., Athenahealth, Inc., Change Healthcare Inc., DrFirst, Inc., eClinicalWorks LLC, Epic Systems Corporation, GE Healthcare, Greenway Health LLC, Henry Schein, Inc., and MEDITECH are some of the key players in the e-Prescribing systems market.
Epic Systems Corporation is one of the top companies in the e-Prescribing systems market, which specialises in interoperable technologies and focuses particularly on the requirements of healthcare organisations. In comparison to any of its rivals in this market, the organisation is renowned for having numerous secured contracts with small to major hospitals. Hospital conglomerates such as Johns Hopkins Health System, Vanderbilt Health System, Duke University Health System, UNC Health Care, and University of Utah Health Care are among its clientele.
In August 2021, Meddo, an Indian start-up operating a digital outpatient care platform, paid cash and stock to acquire Doxper, another start-up. The acquisition is anticipated to increase Meddo's monthly patient base by between 300,000 and 400,000. Within the next 12 to 15 months, the purchase also plans to remodel 1,000 additional clinics in India's premier areas.
A partnership between MediRecords and the eRX Script Exchange to deliver electronic prescriptions to patients was announced in September 2020.
Key Segments of e-Prescription Systems Industry Research
By Component:

Hardware
Software
Services

Type of System:

Standalone e-Prescribing Systems
Integrated e-Prescribing Systems

By Delivery Mode:

Cloud-based
Web-based
On-premise

By End User:

Hospitals
Office-based Physicians
Pharmacies, Clinics

By Region:

North America
Latin America
Europe
East Asia
South Asia & Oceania
MEA
- FAQs -
E-prescribing, often known as electronic prescribing, is a technology that enables doctors to electronically generate and send prescriptions to pharmacists.
The global e-Prescribing systems market is valued at US$ 2.96 billion in 2023.
Global sales of e-Prescribing systems are projected to reach US$ 15.49 billion by 2033.
North America currently dominates the worldwide e-Prescribing systems market.
Global demand for e-Prescribing systems is predicted to surge at a CAGR of 18% from 2023-2033.