Hydrosurgery Systems Market to Exhibit Dexterous Growth, Handpieces to Remain Highly Preferred
Improvement in healthcare policies in various countries such as the U.S. and Japan has resulted in enhanced affordability for various diagnostic and treatment services. Hydrosurgery systems are further receiving an impetus owing to the increasing occurrences of chronic and acute wounds among the elderly. Maximum number of the people diagnosed with chronic wounds are 65 and older. A small number of people aged below 45 are diagnosed with chronic wounds. By component, handpieces are the fastest growing segment among hydrosurgery systems. Handpieces are also poised to capture a sizeable chunk of the hydrosurgery market through 2029. Handpieces are highly preferred as they are safer to maneuver at the time of surgery.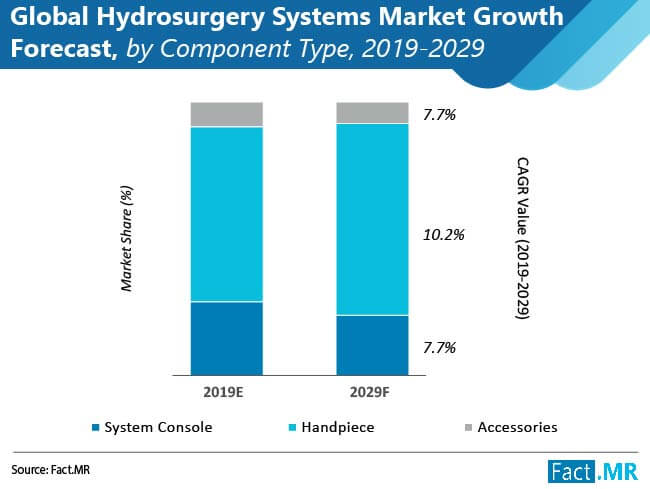 Access our intuitive market intelligence on the hydrosurgery systems market by requesting for a report sample here
Technological Advancements Fuel the Hydrosurgery Systems Market Growth
There are several conventional methods existing for wound debridement, such as enzymatic, autolytic, bio-debridement, surgical and mechanical methods. However, sharp debridement method using a scalpel remains the gold standard. But these techniques have some disadvantages as they are not appropriate for large surfaces, and not found optimal for saving tissue. Advancement in surgical instruments and technological innovations such as hydrosurgery could represent an alternative method to conventional wound debridement methods especially for chronic, non-healing wounds. Consequently, such technology transformation has expected to leave a positive impact on the global hydrosurgery systems market growth.
Mergers and Acquisitions to be Key Market Imperative
The increasing demand for hydrosurgery systems at hospitals is expected to propel growth of the hydrosurgery system market. Hydrosurgery system debridement has been increasingly accepted by the surgeons vis-a-vis conventional blade debridement for the treatment of acute partial thickness burns. The hydrosurgery systems enables the surgeons to accurately remove the non-viable burn tissue in acute cases. Growing acceptance of hydrosurgery system is expected to favor the demand for the hydrosurgery system console, handpiece and accessorie. Health care companies are increasingly focusing on mergers, acquisitions and partnerships to optimize financial and operational performance in hydrosurgery systems market. For instance, In April 2019, Smith & Nephew acquired Osiris Therapeutics, Inc. a fast growing company offers regenerative medicine products including bone graft, skin, and articular cartilage substitutes
North America is expected to hold Large Revenue Share in the Hydrosurgery system Market
North America is expected to hold approximately 40% of the total revenue generated in the hydrosurgery system market. Technological advancements in North America will proliferate the adoption of hydrosurgery systems in this region. The North American market is poised to grow at a stellar CAGR of 9.6% through 2029. Europe is expected to hold second largest share in the hydrosurgery system market. MEA is expected to show a significant growth rate in the overall market.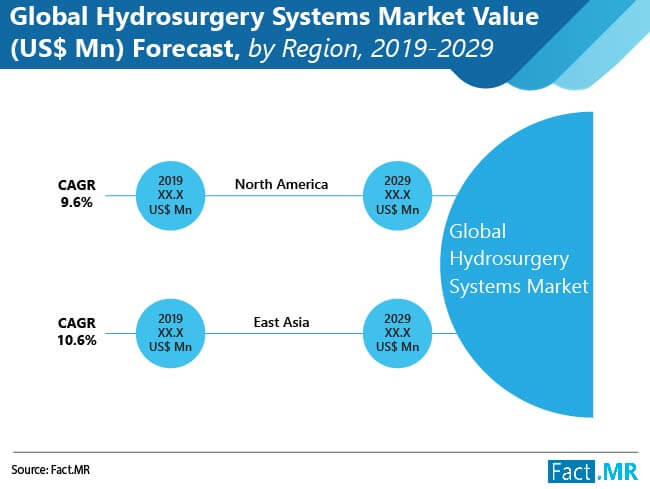 To get latest regional insights on the hydrosurgery systems market, ask an analyst here
COVID-19 Impact on Hydrosurgery market
As healthcare industries across the globe try to lineate the impact of COVID-19, the hydrosurgery market will face a slowdown in adoption rate. The suspension of non-essential healthcare and medical treatments have considerably decreased the number of hydro surgeries during the forecast period. However, after the pandemic is brought under control, market players will witness an upsurge in adoption of hydrosurgery as consumers are likely to prefer advanced treatment options over conventional methods post the COVID-19 pandemic. Self-imposed lockdown is proving to be an ordeal for millennials dependent on delivery of products and services.
Healthcare institutions around the world are in need of ventilators, and personnel protective equipment. Manufacturers are encouraged to contribute in any way they can. For instance, Tesla is making efforts to procure ventilators, lithium ion batteries for hospitals. Similarly, many organizations are contributing towards essential supplies to help control COVID-19 at the earliest. In times of financial uncertainty, it is wise to pool resources with stakeholders and contribute towards mitigating the spread of coronavirus.. Post normalization, market players will invest in industrial automation of manufacturing processes. Hydrosurgery organizations with a concrete recovery plan will gain a competitive edge post COVID-19 normalization.
Hydrosurgery Systems Market – Report Scope
Fact.MR recently published a market study on the global market for hydrosurgery systems. The study provides detailed assessment on the key market dynamics, including drivers, trends, opportunities, and restraints, as well as detailed information about the hydrosurgery systems market structure. The market study presents exclusive information about how the hydrosurgery systems market will grow during the forecast period of 2019-2029.
Key indicators of market growth, which include year-on-year (Y-o-Y) growth of the market and compounded annual growth rate (CAGR) are explained in Fact.MR's study in a comprehensive manner. This information can help readers understand the quantitative growth prospects of the hydrosurgery systems market during the forecast period.
The study is relevant for stakeholders in the hydrosurgery systems market, including, manufacturers, suppliers, distributors, and investors, and can help them in developing appropriate strategies to grow in the market. Stakeholders in the hydrosurgery systems market, investors, industry experts, researchers, and journalists, as well as business researchers can leverage the information and data presented in Fact.MR's study.
It also offers actionable insights based on the future trends in the hydrosurgery systems market. Furthermore, small businesses and new entrants in the hydrosurgery systems market too can make use of the information presented in this study, based on which, they can make appropriate business decisions to gain momentum in the market.
Key Segments of Hydrosurgery systems Market
Fact.MR's study on the hydrosurgery systems market offers information divided into three important segments— component type, end user and region. This report offers comprehensive data and information about the important market dynamics and growth parameters associated with these categories.
Component Type

Application

End User

Region

System Console
Handpiece
Accessories

Chronic Wounds
Surgical Wounds
Traumatic Wounds
Burn Cases

Hospitals
Clinics
Ambulatory Surgical Centres
Homecare Settings

North America
Latin America
Europe
South Asia
East Asia
Oceania
Middle East & Africa
Key Questions Answered in Fact.MR's Hydrosurgery systems Market Report
Which regions will continue to remain the most profitable regional markets for hydrosurgery systems market players?
Which factors will induce a change in demand for hydrosurgery systems manufacturers during the assessment period?
How will changing trends impact the hydrosurgery systems market?
How can market players capture the low-hanging opportunities in the hydrosurgery systems market in developed regions?
Which companies are leading the hydrosurgery systems market?
What are the winning strategies of stakeholders in the hydrosurgery systems market to upscale their position in this landscape?
Hydrosurgery systems Market: Research Methodology
In Fact.MR's study, a unique research methodology is utilized to conduct extensive research on the growth of the hydrosurgery systems market, and reach conclusions on the future growth parameters of the market. This research methodology is a combination of primary and secondary research, which helps analysts ensure accuracy and reliability of conclusions.
Secondary resources referred to analysts during the production of the hydrosurgery systems market study include statistics from government organizations, trade journals, white papers, and internal and external proprietary databases. Analysts have interviewed senior managers, product portfolio managers, CEOs, VPs, marketing/product managers, and market intelligence managers, who contributed to the development of this report as a primary resource.
Comprehensive information acquired from primary resources and secondary resources acts as a validation from companies in the hydrosurgery systems market, and makes Fact.MR's projection on the growth prospects of the hydrosurgery systems market more accurate and reliable.
Fact.MR offers custom research services that help clients to get specific research solutions
We are committed towards customer satisfaction and quality service.
---
Our Clients

Hydrosurgery Systems Market Forecast, Trend Analysis & Competition Tracking - Global Market Insights 2019 to 2029