Frozen Egg Market
Frozen Egg Market Analysis By Product Type (Whole Frozen Eggs, Frozen Egg White, Frozen Egg Yolks), By End-use Application (Food Processing Industry, Food Service Providers, Retail/Household) & By Region - Global Market Insights 2023 to 2033
Analysis of Frozen Egg Market Covering 30+ Countries Including Analysis of US, Canada, UK, Germany, France, Nordics, GCC countries, Japan, Korea and many more
Frozen Egg Market Outlook (2023 to 2033)
According to Fact.MR's latest research report, the global frozen egg market is valued at US$ 3.67 billion in 2023. Worldwide sales of frozen eggs are forecasted to increase at a CAGR of 6.2% and reach US$ 6.69 billion by the end of the projected period (2023 to 2033).
Demand for frozen meals is transforming in sync with the ever-evolving landscape of the food and beverages industry. A significant number of egg product consumers are shifting to egg-based foods that have a longer shelf life, as opposed to fresh eggs. This shift in consumer preferences is attributed to the availability of frozen egg products that offer comparable nutritional content and taste to freshly produced egg products.
Leading egg producers are showing keen interest in the potential value that frozen eggs can add to the journey from the farm to the retail store. By processing frozen eggs along with other egg-based products such as frozen egg white, frozen whole eggs, and frozen egg yolks, these producers have the opportunity to enhance their profit margins. The low perishability factor of frozen egg products is playing a pivotal role in their rising popularity as shelf-stable retail dinners.
Sales of whole frozen eggs are predicted to increase rapidly at a CAGR of 7% through 2033.
Whole frozen eggs offer convenience to consumers and food service establishments. They eliminate the need for cracking and separating eggs, saving time and effort in meal preparation. The availability of pre-measured portions in frozen egg formats simplifies recipes and ensures consistent results.
Frozen whole eggs have a significantly longer shelf life compared to fresh eggs. This attribute is particularly beneficial for consumers who may not use eggs frequently or in large quantities. The extended shelf life reduces food waste and provides a stable supply of eggs throughout the year.
Frozen eggs undergo pasteurization, which eliminates the risk of salmonella and other foodborne illnesses associated with raw eggs. This added safety measure appeals to consumers concerned about food safety and those who prefer to avoid risks associated with using raw eggs in recipes.
Report Attributes
Details

Frozen Egg Market Size (2023E)

US$ 3.67 Billion

Forecasted Market Value (2033F)

US$ 6.69 Billion

Global Market Growth Rate (2023 to 2033)

6.2% CAGR

United Kingdom Market Growth Rate (2023 to 2033)

5.7% CAGR

United States Market Growth Rate (2023 to 2033)

7.4% CAGR

South Korea Market Growth Rate (2023 to 2033)

3.9% CAGR

China Market Value (2033F)

US$ 876.58 Million

Japan Market Value (2033F)

US$ 220.82 Million

Key Companies Profiled

Ballas Egg
Crystal Lake LLC
Cargill Inc.
Pace Farm
Sonstegard Foods
Ovobel Foods Limited
Rembrandt Foods
Willamette Egg Farms
Nature-Egg LLP
NestFresh Eggs
Bumble Hole Foods Ltd
Don't Need a Global Report?
save 40%! on Country & Region specific reports
Why is Demand for Frozen Eggs Increasing Rapidly across Geographies?
"Frozen Egg Products Gaining Widespread Popularity among Working Professionals"
In the world of the catering industry, demand for frozen egg products is rising, boldly stepping in as the culinary superhero of private cafeterias in schools, hospitals, and commercial firms.
The modern era demands food that comes onto plates effortlessly, reducing preparation time while satisfying hunger with lightning speed. As a result, the use of fresh eggs in institutional food services is decreasing, making way for frozen egg products. Among working professionals who cherish the convenience of frozen delights, frozen egg whites are considered the most favored choice.
Global appetite for convenience in the kitchen is contributing to an exponential surge in demand for frozen eggs. With today's fast-paced consumer lifestyle, the desire for quick and easy solutions intertwines with a growing concern for health and mindful food consumption. As individuals across the globe are seeking to elevate their culinary experience, the demand for frozen eggs is expected to grow rapidly over the forecast period.
Which Aspects are Restraining Sales Growth of Frozen Eggs?
"Misconceptions about Frozen Eggs and Easy Availability of Substitutes"
Some consumers have a perception that frozen eggs are of lower quality compared to fresh eggs. This perception stems from concerns about taste, texture, or nutritional value.
The market for egg substitutes such as plant-based egg replacements is growing rapidly. These alternatives cater to the rising demand for vegan and vegetarian options and offer a similar texture and functionality to eggs in various recipes. The availability and popularity of these alternatives are expected to pose competition and impact sales of frozen eggs.
"Improper Storage & Changes in Temperature Hampering Frozen Egg Quality"
Frozen eggs require appropriate storage and transportation conditions to maintain their quality. Logistical challenges such as maintaining the cold chain distribution network and ensuring proper storage facilities at retail locations are encountered by suppliers, which restricts the market growth. Any disruption or mishandling during the transportation process is expected to negatively impact the quality of frozen eggs, leading to decreased sales.
"High Cost of Frozen Eggs Driving Consumers towards Poultry Eggs"
Frozen eggs have a higher price point compared to fresh eggs due to the additional processing and storage requirements. The cost factor can influence some consumer purchasing decisions, especially in price-sensitive markets. Consumers are opting for fresh eggs due to their perceived affordability, which is anticipated to hamper sales of frozen eggs.
More Insights, Lesser Cost (-50% off)
Insights on import/export production,
pricing analysis, and more – Only @ Fact.MR
What Strategies are Being Adopted by New Companies to Gain Higher Profits?
"Continuous Innovations Aiding in Development of Cost-effective Standard Products to Overcome Logistic Challenges"
For new firms entering the frozen egg market, implementing effective strategies is crucial to establish a market position and gain revenue shares. Newcomers should focus on continuous innovation and development of product taste, texture, and quality.
Frozen eggs need to be stored and transported at a proper temperature to maintain their quality. Start-ups are expected to uplift their sales graph by implementing robust supply chain management practices to ensure the smooth handling and transportation of frozen eggs, working closely with logistics partners who specialize in cold chain logistics to maintain optimal temperature conditions throughout the distribution process, minimizing disruptions and mishandling by investing in proper packaging and labeling, and regularly monitoring and tracking shipments to promptly address any issues that may arise.
Start-ups are majorly focusing on pricing strategies. They are investing in R&D to develop cost-effective frozen eggs. Also, proactively educating consumers about the benefits and value of frozen eggs is expected to mitigate their cost considerations.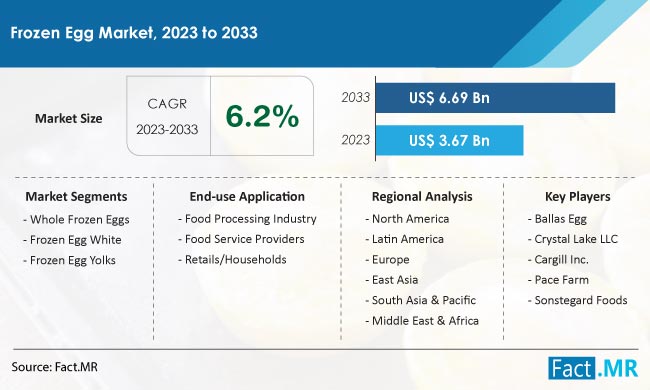 Country-wise Analysis
What's Propelling the Sales of Frozen Eggs in the United States?
"Evolving Consumer Preferences for Cooking Convenience"
The United States market is projected to reach US$ 2.02 billion by 2033.
In the United States, the frozen egg market is experiencing significant growth due to evolving consumer preferences. With the increasing demand for convenient and time-saving food options, frozen eggs are gaining traction in the market as a popular choice among busy households and professionals. Key insights reveal that consumers appreciate the longer shelf life and reduced food waste associated with frozen eggs.
In 2022, according to United Egg Producers report, 261 million eggs were produced in the United States out of which 76.5 million eggs were further processed for various egg products such as frozen eggs, dried eggs, liquid eggs, and more.
Why is Demand for Frozen Eggs Rising in the United Kingdom?
"Busy Lifestyles and Growing Popularity of Frozen Eggs among Health-conscious Individuals"
Demand for frozen eggs in the United Kingdom is forecasted to increase at a CAGR of 5.7% over the next 10 years.
Sales of frozen eggs in the United Kingdom are undergoing notable transformations as consumers are seeking convenient meal solutions without compromising on quality. Busy lifestyles, increased awareness of food safety, and a desire for prolonged product shelf life are driving the demand for frozen eggs in the country.
Growing popularity of frozen egg products among health-conscious consumers due to the nutritional content and versatility offered by these products is also boosting market growth.
Will South Korea Be a Profitable Market for Frozen Egg Producers?
"Frozen Eggs Gaining Popularity in South Korean Food Culture"
The South Korean market is estimated to reach US$ 220.82 million by 2033. As the country embraces a fast-paced urban lifestyle, frozen eggs are gaining popularity due to their ease of use and extended shelf life.
Use of frozen egg products is increasing in the food service industry, including restaurants, cafes, and bakeries, where they are used as ingredients for various culinary creations. Furthermore, the rising interest in Western-style breakfasts and the influence of global food trends are contributing to the growing demand for frozen eggs in South Korea.
Know thy Competitors
Competitive landscape highlights only certain players
Complete list available upon request
Category-wise Analysis
Why are Ready-to-cook Delights Widely Used in the Food Service Industry?
"Rising Importance of Frozen Eggs Owing to Their Easy to Store & Cook Features"
Demand for frozen eggs from the food service industry is estimated to rise at a CAGR of 5.1% from 2023 to 2033.
The food service industry, including restaurants, cafes, hotels, and catering companies, requires efficient and convenient solutions to meet the demands of their customers. Frozen eggs offer a ready-to-use option that eliminates the need for cracking and preparing fresh eggs, saving valuable time and labor in busy kitchen environments. They allow for quick and consistent food preparation, ensuring smooth operations and timely service.
Frozen eggs have a significantly longer shelf life compared to fresh eggs and this is particularly beneficial for the food service industry, where managing inventory and minimizing food waste is essential. The extended shelf life of frozen eggs allows establishments to stock up on a reliable and stable supply of eggs, reducing the risk of running out of this essential ingredient.
Competitive Landscape
Packaging holds immense significance within the frozen egg industry, contributing significantly to the enhancement of product quality and visual appeal. By adopting suitable packaging solutions, the shelf life of frozen egg products is effectively extended. Additionally, visually appealing packaging has the power to attract a wide consumer base, resulting in a heightened demand for frozen egg products.
Leading frozen egg producers are actively engaged in the development of eco-friendly packaging alternatives to comply with environmental regulations and cater to environmentally conscious consumers. The incorporation of technological advancements in packaging techniques considerably amplifies product sales by greatly improving product quality.
NestFresh, a renowned provider of local, humane, and sustainable eggs, demonstrated its commitment to sustainable and humane food in 2021 through the acquisition of New Barn Organics, further expanding its presence in this domain.
Key Segments of Frozen Egg Industry Research
By Product Type :

Whole Frozen Eggs
Frozen Egg White
Frozen Egg Yolks

By End-use Application :

Food Processing Industry
Food Service Providers
Retail/Household

By Region :

North America
Latin America
Europe
East Asia
South Asia & Oceania
MEA
- FAQs -
The global frozen egg market stands at US$ 3.67 billion in 2023.
Worldwide sales of frozen eggs are estimated to reach US$ 6.69 billion by 2033.
Demand for frozen eggs is forecasted to rise at a CAGR of 6.2% through 2033.
Ballas Egg, Crystal Lake LLC, and Cargill Inc. are some of the leading frozen egg manufacturing companies.
Increasing at a CAGR of 7.4%, the United States market for frozen eggs is projected to reach US$ 2.02 billion by 2033.