Medical beds are designed specifically for assisting and supporting patients. Medical beds enable infection control, provide comfort, safety & ease of use, and promote effective risk management. Various types of medical beds are available in the market such as manual beds, semi-electric beds, and electric beds.
Technological advancements in terms of portability, utilities, cost-effectiveness and patient comfort have resulted into various innovations in medical beds such as adjustable side railings, automatic height adjustability, fiber-made body, and multi-storage facility. Population over 60 years old are more prone to spinal injuries, cancers, cardiac problems, and neurological disorders, as they have low immunity levels. Prevalence of aging population has surged over the past few years, leading toward increased incidences of hospitalization. Rising medical emergencies have compelled healthcare providers to be equipment-ready, in a bid to cater emergency situations. Hospitals and ambulatory surgical centers (ASCs) are buying medical supplies such as fully-automated beds for ensuring patient safety and comfort.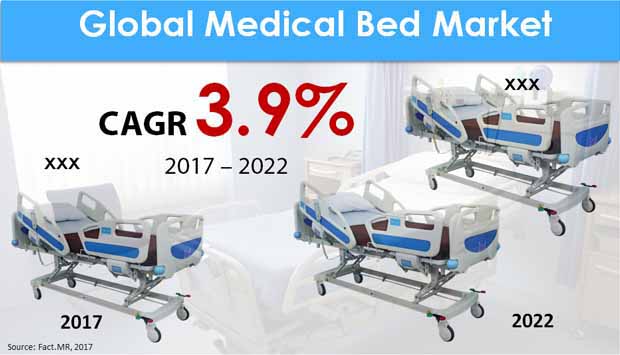 The healthcare sector is experiencing a paradigm shift from clinical- and hospital-based services toward home-based services, for people recovering from various types of injuries or surgeries. Governments and NGOs are taking initiatives for spreading awareness about homecare services. As healthcare services offered in hospitals involving long duration stays are expensive, the requirement for affordable healthcare services, including acute care and long-term care, is increasing. This is further encouraging manufacturers as well as suppliers in scaling up their productivity for the provision of semi-automated and manual medical beds. The global market for hospital beds is highly competitive, characterized by presence of numerous vendors across the globe. The regional and international players have a broad geographic reach, along with a strong market penetration.
Fact.MR has offered a comprehensive research report on the global medical beds market for the forecast period 2017 to 2022. The global medical bed market is projected to register a moderate expansion, to surpass US$ 3,000 Mn by 2022-end.
Market Taxonomy
| | | | | |
| --- | --- | --- | --- | --- |
| Region | Product Type | End User | Application | Usage |
| North America | Electric Beds | Hospitals | Intensive Care | Acute Care |
| Latin America | Semi-Electric Beds | ASCs | Non-Intensive Care | Long-Term Care |
| Europe | Manual Beds | Other Facilities | | Psychiatric and Bariatric Care |
| Japan | | | | Others |
| APEJ | | | | |
| MEA | | | | |
(Additional information, including cross-sectional data and country-wise analysis & forecast is available in the report)
Europe will Dominate Global Medical Beds Market
The global medical beds market will continue to be dominated by Europe, in terms of revenues. The medical beds markets in Europe and Middle East & Africa (MEA) are poised to register similar CAGRs through 2022. North America will also remain lucrative in the global medical beds market, and is projected to register a relatively faster expansion through 2022.
Although electric beds will continue to be sought-after among products in the market, sales of semi-electric beds will exhibit the highest CAGR through 2022. Manual beds are anticipated to be comparatively less lucrative than electric beds and semi-electric beds over the forecast period.
Hospitals will Remain Largest End-users of Medical Bed
Hospitals are expected to remain the largest end-users of medical beds, with revenues projected to account for roughly three-fourth share of the market during 2017 to 2022. On the basis of application, attractiveness of non-intensive care is expected to remain unmatched over the forecast period.
Medical beds will find the highest usage in acute care, with sales estimated to reach nearly US$ 2,000 Mn by 2022-end. Medical beds will find the lowest usage in psychiatric and bariatric care during 2017 to 2022.
Competition Tracking
Leading players in the global medical beds market are focusing on offering innovative products and extensive services, with an aim of increasing and retaining trust of the end-users. With international players continuously concentrating on extension of their market footprint, regional vendors are finding it difficult to cope up with them in terms of financial resources, market reach, pricing, and quality. Fact.MR's report has provided a list of companies contributing to growth of the medical beds market worldwide, which include Stryker Corporation, Hill-Rom Holdings, Inc., Getinge AB, Invacare Corporation, Amico Corporation, Medline Industries, Inc., LINET spol. s r.o., Stiegelmeyer GmbH & Co. KG, Span-America Medical Systems, Inc., and Merivaara Corp.
Note: The insights mentioned here are of the respective analysts, and do not reflect the position of Fact.MR
Increasing incidences of medical emergencies and surgeries, owing to rising geriatric population and increased prevalence of accidents, have resulted into soaring number of hospitalization. Medical furniture such as medical beds are therefore witnessing a significant demand across the globe. This Fact.MR report analyzes the expansion of global medical beds market till date, and provides key insights on the growth of the market during the forecast period, 2017-2022.
Scope
The scope of Fact.MR's report is to analyze the global medical bed market for the forecast period 2017-2022 and provide readers an unbiased and accurate analysis. Medical device manufacturers, research institutes, and raw material suppliers in the global medical bed market can benefit from the analysis offered in this report. This report offers a comprehensive analysis, which can be of interest to leading trade magazines and medical journals pertaining to medical bed.
Summary
The report commences with a brief information of the global medical bed market. This executive summary sets the tone for the rest of the report, providing users the scope of the report. The executive summary includes important facts and statistics on the global medical bed market.
Overview
The next section offers an overview of the global medical bed market. This comprises an introduction to the market, along with a standard definition of the product – medical bed. In this section, market value and year-over-year growth is offered to the readers. Year-over-year growth provides readers with a broader view of growth patterns over the forecast period.
The report's succeeding section focuses on drivers, restraints and key trends from macroeconomic, demand, and supply perspectives. Impact analysis of weighted average model-based growth drivers is contained in the report for better provision of decision-making insights to clients.
In order to offer readers with up-to-date information about the latest advancements in the global medical bed market, the report provides updates about market opportunities, which can benefit leading manufacturers of medical bed. With continuous evolution of the healthcare sector, keeping a record of latest developments and trends is fundamental for medical bed manufacturers to formulate key business strategies. Detailed insights about raw material sourcing, supply chain, regulatory approvals, pricing analysis, list of distributors, and cost structure are provided in this section.
The Fact.MR report provides a segment-wise analysis & forecast for covering wide scope of the global medical bed market. The global market for medical beds has been segmented on the basis of product type, usage, application, end-user, and region. A detailed country-wise forecast has been included in the segmentation analysis across all key market parameters.
The report's last section comprises of the global medical bed market competitive landscape, to provide readers with the dashboard view of company analysis and market players. This competitive intelligence is based on the providers' categories across value chain, and their presence in the global medical bed market.
Research Methodology
Fact.MR is committed to offer unbiased and independent market research solutions to its clients. Each market report of Fact.MR is compiled after months of exhaustive research. We bank on a mix of tried-and-tested and innovative research methodologies to offer the most comprehensive and accurate information. Our main sources of research include,
Primary research
Secondary research
Trade research
Focused interviews
Social media analysis
Fact.MR offers custom research services that help clients to get specific research solutions
We are committed towards customer satisfaction and quality service.
---
Our Clients

Medical Beds Market Forecast, Trend Analysis & Competition Tracking – Global Market insights 2017 to 2022