Cannabis Infused Drinks Market Outlook (2022-2032)
The global cannabis infused drinks market has reached a valuation of US$ 400 million in the year 2022 and is predicted to race ahead and end up at US$ 8.7 billion by 2032-end. This astounding market growth is because worldwide demand for cannabis infused drinks is estimated to surge at a CAGR of 37.8% through 2032.
Non-alcoholic infused drinks are estimated to account for over 50% share of the global market by the end of 2032.
Many new manufacturers of cannabis-infused beverages have entered the market to meet the increasing demand for these beverages. The sales of cannabis-infused goods expanded at a noticeable CAGR of 15.1% from 2016 to 2020 and the market reached US$ 260 million in 2021.
Considering the illicit use of these beverages, recreational cannabis is used at a noticeable rate as compared to therapeutic cannabis. Consequently, various initiatives that are taken by government bodies to legalize the recreational use of these drinks in limited quantities are gathering prominence around the world, especially in the U.S.
As per the latest projections by Fact.MR, the rising therapeutic and recreational usage of cannabis is estimated to increase the demand for these drinks in the years to come. Further, manufacturers serving the cannabis infused drinks market are taking efforts to develop adequate THC emulsification for the achievement of proper suspension within liquids. Furthermore, these emulsions require comparatively shorter processing time – typically less than 30 minutes.
These initiatives align with the requirement of consumers for quick feedback on their dosage, which is further likely to stimulate the sales of these beverages. Some leading beverage businesses have identified the desires of consumers in the cannabis culture and further transitioned into the sector of cannabis-infused beverages.
Labeling, testing, and packaging are some pivotal steps in the process of the harmonization state. The regulatory acceptance of these beverages is also likely to serve as a noticeable factor and drive the sales of these products. However, in the absence of a proper regulatory framework, the growth opportunities in the global market are likely to experience an adverse impact.
Cannabis, even in the present scenario, is federally illegal. Hence, many beverage giants are approaching and marking their place cautiously. Companies serving the alcohol industry have been quick to jump into the fray as compared to non-alcoholic and conventional beverage brands.
The combination of cannabis and alcohol is illegal in the United States. As such, the market for cannabis infused drinks consists of beverages that are based on water. This factor is predicted to bring in novel growth opportunities for market players.
Owing to national prohibition in the U.S, there are a lot of beverage companies that are bringing cannabis into their business portfolios. These companies are majorly operating according to state-by-state laws and various regulatory environments. These are also catering to adult-use cannabis programs. Regulatory patchworks are estimated to have a noticeable impact on business operations, i.e., marketing, advertising, labeling, packaging, and even dosing instructions.
Report Attributes

Details

Cannabis Infused Drinks Market Size (2022)

US$ 400 Million

Estimated Market Value (2032)

US$ 8.7 Billion

Anticipated Market Growth Rate (2022-2032)

37.8% CAGR

Projected Share of Europe in Global Market (2032)

41%

Expected CAGR of U.S. Market (2022-2032)

10.1%

Key Companies Profiled

CAN
Artet
The Alkaline Water Company
Phivida Holdings Inc.
Koios Beverage Corporation
VCC Brands
Know thy Competitors
Competitive landscape highlights only certain players
Complete list available upon request
Which Factors are Driving Growth Opportunities in the Cannabis Infused Drinks Market?
"Purported Health Benefits of Cannabis-Infused Drinks"
There are a lot of health benefits which are associated with the consumption of cannabis drinks. Blood pressure regulation, depression and anxiety reduction, weight loss, and improved sleep patterns are some of these benefits that are estimated to propel sales of cannabis-infused drinks in the years ahead.
In addition, there is a significant increase in the demand for cannabis drinks due to the rising use of cannabis for different neurological illnesses, cancer, pain management, and epilepsy. The legalization of medicinal or recreational cannabis is also expected to put a positive impact on the growth opportunities in the global market.
Leading companies in the global cannabis infused drinks market are enhancing the quantity and variety of the products that are available to different end-users. These initiatives are likely to bolster the demand for these drinks around 21X through 2032.
"Surging Online Retailing of Cannabis Infused Beverages"
At present, there is a significant increase in the demand for cannabis infused beverages through e-Commerce platforms that provide increased autonomy, privacy, and convenience in product selection.
The sales of cannabis have increased from regulated dispensaries and thus open up many options for specialized retailers to present appetizing and creative drinks that are infused with some active principles from cannabis. In addition, these distribution channels intend to serve as the "go-to place" for edibles that are based on cannabis and help to gain momentum.
"Increasing Traction for Cannabis-infused Non-Alcoholic Beer"
In recent years, there is a noteworthy trend for cannabis-infused non-alcoholic beer that is projected to gain momentum due to the growing inclination of firms to cater to the requirements of a health-conscious consumer base.
For instance :
Aploa is a non-alcoholic spirit that is infused with CBD.
CERIA Grainwave is a non-alcoholic beer that is infused with THC. In December 2018, it has debuted on the dispensary shelves. This beverage has less than 0.5% ABV.
What is a Restraining Factor for Market Expansion?
"Stringent Regulatory Obstacles Will Limit Product Adoption"
For some time, certain regulatory obstacles have persisted in the business of cannabis infused drinks. Labeling, testing, and safety regulations are some noteworthy concerns that impede product introduction and clearance.
Testing and re-labeling of the goods from the industry to ensure compliance with constantly changing standards are projected to serve as one of the significant pressing concerns among industry players.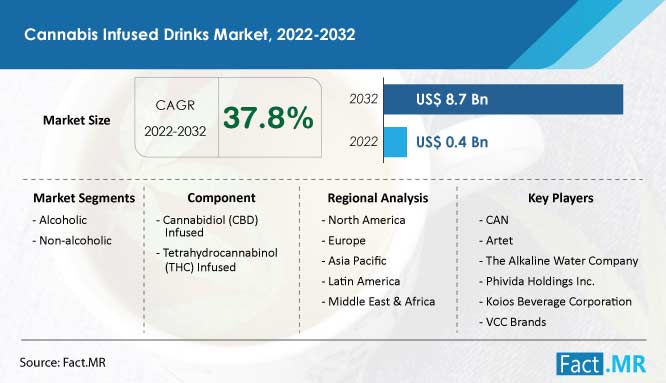 Which Regional Cannabis Infused Drinks Market is Projected to Expand Rapidly?
"Europe Likely to Become Lucrative Market Over Coming Years"
The market in Europe is estimated to expand at a noticeable pace during the forecast period. The rapid growth of the regional market is attributed to growing consumer demand for these beverages in the region.
As per the Cannabis Trade Association, many regional firms are making efforts to develop new products to meet the rising requirement for wellness beverages.
The existence of different marijuana-friendly restaurants and cafes is also expected to contribute to demand opportunities in the Netherlands. A noticeable expansion of cannabis tourism across the country is likely to increase demand for these products even more. The projected share of the European market on the global platform is 41% in the coming years.
More Insights, Lesser Cost (-50% off)
Insights on import/export production,
pricing analysis, and more – Only @ Fact.MR
Country-wise Insights
How Lucrative is the U.S. Market for Cannabis Infused Drinks?
"Supportive Legalization Augmenting Demand for Cannabis Infused Drinks"
Recreational marijuana legalization is spreading across the U.S. It is further bolstering the demand for cannabis-infused beverages in recent years. In addition, the hemp and CBD category has reached a noticeable level.
The nation is estimated to emerge as one of the biggest cannabis beverage industries. Furthermore, the legalization of cannabis for recreational, therapeutic, and medicinal use is also likely to propel the demand for these products.
A lot of states in the U.S. have legalized the incorporation of cannabis infusions into drinks and food. Based on findings provided by Fact.MR, the U.S. cannabis infused drinks market is estimated to progress at a CAGR of 10.1% through 2032.
Which Country is Likely to Dominate the Asian Market?
"India to Leads Asia Pacific Market Due to Rapidly Rising Disposable Income"
There are a lot of Asian countries that are likely to exhibit high growth in the regional market owing to appealing demographic profiles. Furthermore, the rising count of households who belong to the middle-to-upper income category is predicted to propel the demand for the industry products.
India is estimated to generate novel growth opportunities in the global market during the forecast period. Rising awareness related to various types of fusion beverages and increasing disposable income are anticipated to stimulate the demand for these beverages. A CAGR of 8.1% is expected for the Indian market through 2032.
Category-wise Insights
Why are CBD Cannabis-Infused Drinks Becoming Mainstream?
"Rising Consumer Awareness about Cannabis to Drive Demand Opportunities"
Users who are beginning stage to use cannabis desire regulated, accessible, and discreet doses of cannabis infused beverages. The share of these people in the sales opportunities generally accounts for over 3 out of 5 persons.
The non-psychoactive characteristic of these beverages is likely to garner more customers for beverages that are CBD-infused. CBD-based cannabis infused beverages come with the ability to provide a "high" that too without putting any health concerns that are related to smoking. This feature of these drinks is predicted to increase the popularity of cannabis infused drinks.
Why is Consumption of Non-Alcoholic Cannabis Infused Drinks Surging?
"Low Calories & High Nutritional Value of Non-Alcoholic Beverages"
Cannabis has the potential to mimic the impacts of alcohol with minimal or obvious health advantages and negligible calories. This factor is likely to bolster the sales of these non-alcoholic infused drinks while capturing around 50.1% of demand in the market.
There is a spike in the demand for non-alcoholic beverages that come with high nutritional value and low in calories. The advent of this market category is majorly driven by start-ups and private-label companies that are taking advantage of the medicinal advantages of these products. Further, the merits of these products are helpful to produce products that enable the use of cannabis in a convenient, generally acknowledged, and socially acceptable way.
Competitive Landscape
The environment of the cannabis infused drinks market remains competitive owing to the uncertainty that surrounds sales of cannabis in recent years and uses respective rules. The industry in Canada is likely to grow at a noticeable pace due to favorable federal rules that are helpful to stimulate the sales of these products in the country.
The use of novel technologies and adherence to the trends in the beverages industries to create some unique variations is predicted to serve as a noticeable strategy to achieve a competitive edge in the market.
Key suppliers of cannabis infused drinks are CAN, Artet, The Alkaline Water Company, Phivida Holdings Inc., Koios Beverage Corporation, and VCC Brands.
CAN is one of the most well-known and simplest Cannabis drinks. It generally contains little quantity of carbonated water, agave juice, aromatic oils as well as Californian cannabis extract. Around 4mg CBD and 2mg THC are included in it which provides extremely regulated effects which are comparatively milder than Cannabis beverages. Further, it is accessible to various dispensaries and available on different e-commerce websites.
Artet, similarly, a non-alcoholic beverage combines cannabis sociability in one bottle with cocktail culture. The product comes in various tastes, each of which has a combination of dry, flowery, and herbal undertones. The container comes with 37.5mg THC which is further divided between fifteen shots that have 2.5mg TCH. These beverages are ideal for first-time users of cannabis beverages.
Segmentation of Cannabis Infused Drinks Industry Research
By Product Type :

By Components :

Cannabidiol (CBD) Infused
Tetrahydrocannabinol (THC) Infused

By Region :

North America
Europe
Asia Pacific
Latin America
Middle East & Africa