Nitro-Infused Tea Market
Nitro-Infused Tea Market Analysis by Type (Black Tea, Green Tea, Herbal Tea, Fruit-infused Tea, Matcha Green Tea, Others), By Distribution Channel (Supermarkets, Convenience Stores, Online Stores, Others) and By Region – Global Market Insights 2023 to 2033
Analysis of Nitro-Infused Tea Market Covering 30+ Countries Including Analysis of US, Canada, UK, Germany, France, Nordics, GCC countries, Japan, Korea and many more
Nitrogen-infused Tea Market Outlook (2023 to 2033)
The global nitrogen-infused tea market is valued at US$ 24.97 million in 2023 and is forecasted to reach US$ 161.2 million by 2033, expanding rapidly at a CAGR of 20.5% over the decade.
Nitrogen-infused tea, also known as nitro tea, is a type of tea that is infused with nitrogen gas. Similar to nitro coffee, nitrogen infusion gives the tea a foamy texture, creating a unique and enjoyable drinking experience. The process of nitrogen infusion involves adding nitrogen gas under high pressure to the brewed tea. This process creates small bubbles in the nitro milk tea, giving it a smooth and creamy texture and a frothy layer on top. The nitrogen infusion also enhances the flavor profile of the tea, providing a unique taste experience.
Nitrogen-infused tea is typically served on tap or from a can, similar to nitro-infused coffee. The popularity of nitrogen-infused beverages has been growing in recent years, with many tea and coffee shops adding nitrogen-infused drinks to their menus. Nitrogen-infused tea can be made with a variety of tea types, including nitro black tea, green tea, and herbal tea, and can be flavored with a range of ingredients, such as fruits, herbs, and spices. Nitro matcha green tea has gained popularity in recent years as a healthier alternative to traditional tea and coffee beverages and is often found in specialty cafes and health food stores.
Nitro iced tea has a bold and robust flavor that is often compared to beer. The nitrogen infusion gives it a creamy and smooth texture with a frothy head, similar to nitro cold brew tea. Nitro-infused herbal teas are caffeine-free and come in a variety of flavors like chamomile, peppermint, and rooibos. The nitrogen infusion adds a creamy and frothy texture to the tea, enhancing the flavor profile and overall drinking experience.
The latest trend in the nitro-infused tea market is the consumption of fruit teas. They are becoming increasingly popular due to their refreshing and fruity flavors. The nitrogen infusion adds a creamy texture to the tea, enhancing the fruit flavors and providing a unique drinking experience.
In 2019, Pure Leaf introduced its line of Nitro Cold Brew Teas, featuring a variety of flavors such as black tea with a splash of honey, hibiscus tea, and green tea with a hint of mint.
Report Attributes

Details

Market Size in 2022

US$ 20.72 Million

Estimated Market Value (2023)

US$ 24.97 Million

Forecasted Market Value (2033)

US$ 161.2 Million

Global Market Growth Rate (2023 to 2033)

20.5% CAGR

United States Market Growth Rate (2023 to 2033)

20.2% CAGR

China Market Growth Rate (2023 to 2033)

21.6 % CAGR

Japan Market Growth Rate (2023 to 2033)

14.9% CAGR

South Korea Market Growth Rate (2023 to 2033)

17.2% CAGR

United Kingdom Market Growth Rate (2023 to 2033)

21.8% CAGR

Companies Profiled

Starbucks
Nitro Tea
Caveman Coffee Company
BonaFied Nitro Coffee & Tea
East Forged
Rise Brewing Co.
Califia Farms
PepsiCo
Quivr
Left Hand Brewing Co.
Lucky Jack
BEANLY
What are the Factors Contributing to the Expansion of the Nitrogen-infused Tea Market?
"Assessing the Effects of Nitrogen and Potassium Fertilization on Tea Cultivation"
Although the significant influence of nitrogen (N) and potassium (K) fertilization on tea production is widely recognized, their behavior over time remains inadequately understood. It was crucial to investigate the impact of varying fertilizer application rates on the dynamics of nitrogen and potassium in the tea cultivation environment.
As per the American Journal of Plant Sciences, to calculate plant nutrient uptake, tea yield, plant biomass, and nutrient concentrations were assessed. Nutrient loss was defined as nutrients that accumulated in plants and were lost during harvest, whereas, fertilizers were defined as nutrient inputs that were gained by the soil.
There was a positive linear connection between N applied and the yield of prepared tea and a negative linear connection between K applied and the yield of prepared tea. There was little difference between N-K treatments and crop N removal in the interaction. There was little variation between N-K remedies and crop N removal except for mature and maintenance leaves.
"Consumers' Rising Preference for Healthier Beverage Options"
As consumers become more health-conscious, there is a growing interest in beverages that offer health benefits. Nitrogen-infused beverages are often consumed as a healthier alternative to traditional sugary drinks due to the antioxidants and other beneficial compounds found in tea.
Consumers are always looking for new and interesting flavors, and nitrogen-infused tea provides an opportunity to experiment with different ingredients and combinations. Flavors like matcha, chai, and fruit-infused teas are becoming more popular in nitrogen-infused form.
The presentation of nitrogen-infused tea is an important aspect of the consumer experience. Many retailers are serving nitrogen-infused drinks in stylish and eye-catching packaging, such as glass bottles or custom-designed cans, to differentiate their products from traditional tea.
Don't Need a Global Report?
save 40%! on Country & Region specific reports
What are the Factors Limiting the Consumption of Nitrogen-infused Tea?
"High Prices of Nitrogen-infused Tea and Lack of Awareness of Its Benefits"
Despite the growing popularity of nitrogen-infused beverages, many consumers are still unaware of the concept of nitrogen-infused tea. Retailers and top producers of nitrogen-infused tea may face challenges in promoting and marketing their products to consumers who are unfamiliar with the trend. Nitrogen-infused tea is still a relatively niche product and is not widely available in many regions.
The production process for nitrogen-infused tea can be more complex and expensive compared to traditional tea, which may result in high prices for consumers. The cost may limit the adoption of nitrogen-infused tea, especially in price-sensitive markets. Nitrogen-infused tea has a limited shelf life compared to traditional tea. The nitrogen infusion process can cause the tea to lose its flavor and aroma over time, which can be a concern for retailers and consumers who prefer longer shelf-life products.
"Supply Chain Disruptions Hindering Availability & Affordability of Nitrogen-infused Tea"
Sourcing ingredients and nitrogen gas can be a challenge for manufacturers and retailers, especially in regions where nitrogen-infused tea is not widely consumed. This can result in higher costs and supply chain disruptions, which may limit the availability and affordability of nitrogen-infused tea. The market is still relatively small, but it is becoming increasingly competitive as more players enter the market.
Established tea and coffee companies are also expanding their product lines to include nitrogen-infused beverages, which may increase competition and limit the growth of nitrogen-infused market potential for small-scale and newer players.
While the market is expanding, these restraints may affect its growth potential in the coming years. Manufacturers and retailers will need to address these challenges and find ways to overcome them to ensure the long-term success of the market.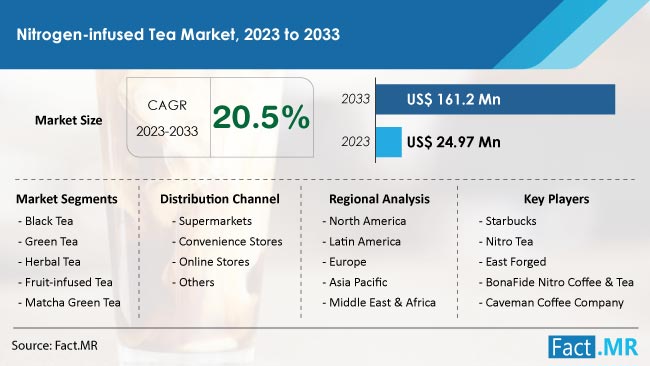 Country-wise Insights
What Makes the United States a Lucrative Market for Nitrogen-infused Tea Suppliers?
"Tea Producers' Increasing Focus on R&D and Innovation"
Demand for nitrogen-infused tea in the United States is anticipated to increase at a high CAGR of 20.2% during the forecast period. North America accounts for major revenue in the market due to the presence of leading industry players. Companies are focusing on R&D activities and the introduction of innovative products to gain a competitive edge over their rivals. It is anticipated that increased investments in the introduction of premium products will fuel market expansion.
The country's demand for beverages with nitro infusions increased due to the expanding social media promotion of nitro coffee and other products. As some of the major market competitors have a huge consumer base and operate in multiple places, there is fierce competition among them.
The United States nitrogen-infused tea market has been growing steadily in recent years. The trend first gained popularity in coffee shops and cafes, but it has since expanded to grocery stores and other retail outlets. Consumers are increasingly looking for healthier and more unique beverage options, and nitrogen-infused tea provides a refreshing and flavorful alternative to traditional tea.
Key brands in the nitrogen-infused beverage industry are available in the United States, including both large and small companies. Some of the most popular brands include Tea Riot, Joyride, and Rishi Tea. These companies offer a variety of flavors and blends, such as hibiscus, green tea, and chai, all infused with nitrogen to create a creamy, frothy texture.
How is the Demand for Nitrogen-infused Tea Shaping Up in Japan?
"Increasing Popularity of Nitro Tea Among Health-conscious and Young Consumers"
Demand for nitrogen-infused tea in Japan is anticipated to expand at a noteworthy CAGR of 14.9% during the forecasted timeframe. Due to its enormous growth potential, the Japanese market is expected to expand significantly in the years to come. By utilizing this opportunity, market participants have been expanding their footprint in this area.
The market in Japan is still relatively small compared to other markets, but it is growing steadily. Nitrogen-infused tea is known as "nitro tea" in Japan and is gaining popularity among health-conscious consumers who are looking for new and unique nitrogen-infused frozen beverage options. The trend is particularly popular among younger consumers who are drawn to the novelty of nitrogen-infused tea and its visually appealing presentation.
Several Japanese tea companies have started offering nitrogen-infused tea, such as Ito En's "Oi Ocha Nitro" and Suntory's "Toku Nitro Tea." These products are typically sold in convenience stores and supermarkets and are also available in some cafes and restaurants. Matcha and sencha teas are the most commonly consumed teas for nitrogen infusion in Japan.
More Insights, Lesser Cost (-50% off)
Insights on import/export production,
pricing analysis, and more – Only @ Fact.MR
Category-wise Insights
What are the Benefits of Nitrogen-infused Green Tea?
"High Antioxidant Content in Nitrogen-infused Green Tea"
Nitro-infused green tea is a popular option among health-conscious consumers due to the high antioxidant content in green tea. The nitrogen infusion provides a refreshing and creamy texture to the tea, making it a unique and tasty alternative to traditional green tea.
Nitrogen infusion is a process where nitrogen gas is added to beverages to create a smoother and creamier texture, similar to the texture of beers that are served on tap. While nitrogen infusion is commonly associated with coffee, it can also be applied to other beverages like tea.
Green tea, which is high in antioxidants and has a mild flavor, is a popular choice for nitrogen infusion. The process involves adding nitrogen gas to green tea, typically through a specialized machine that infuses the tea with the gas under high pressure. The nitrogen gas helps create a creamy and smooth texture, while also enhancing the tea's aroma and flavor.
Consumption of nitrogen-infused green tea can be enjoyed as a standalone beverage or used as a base for other drinks, such as tea lattes or cocktails. It is a popular choice among health-conscious consumers who are looking for unique and flavorful beverage options.
Which Distribution Channel is Extensively Preferred for Selling Nitrogen-infused Tea?
"Growing Significance of Online Sales Channels for Nitro-Infused Beverages"
Though the sales of nitrogen-infused tea are expected to remain high through offline channels, expanding at 19.3% CAGR, the online stores segment is anticipated to expand significantly during the next few years. The nitro drink industry size is expanding as a result of the growing focus of food and beverage companies on integrating e-commerce technology to increase sales of nitro-infused cola.
Suppliers of nitro-infused beverages have opted for quick doorstep delivery by using the online sales platform. Online retail channels allow for the personalization of marketing and a wider range of product offerings, making them attractive to consumers.
It is anticipated that increased investment in the launch of new premium products will encourage the expansion of the market. The expanding social media promotion of nitro coffee and other products leads to increased consumption of drinks with nitro infusions. There is intense competition among big market rivals because some of them have enormous customer bases and operate in several locations.
Competitive Landscape
The competitive landscape of the market is intense with several key players operating in the industry. Some of the major players in the market include companies like Nitto Beverage USA Inc., FIZZIQUE LLC, Nestlé, and Bai Brands LLC. These companies are investing heavily in research and development activities to innovate their products and introduce new flavors and varieties to the market.
These companies are also expanding their distribution networks to reach a wider consumer base and offering competitive pricing to gain an edge over their competitors for the future of nitro-infused drinks. The growing trend of online retail is leading to the emergence of new players in the market, further intensifying the competition. The industry is highly competitive, with firms vying for nitrogen-infused tea market size based on parameters such as product quality, pricing, distribution, and innovation.
Cruise Beverages announced the debut of a new range of nitro-infused CBD craft drinks in February 2021. These really useful drinks provide a substitute for alcoholic beverages. They are designed to improve focus and aid individuals in managing stress and anxiety without causing a spike in sugar levels or hangover-like symptoms.
In 2020, Starbucks added Nitro Cold Brew Tea to its menu, featuring nitrogen-infused peach tea with a frothy layer on top.
Know thy Competitors
Competitive landscape highlights only certain players
Complete list available upon request
Key Segments of Nitrogen-infused Tea Industry Research
By Type :

Black Tea
Green Tea
Herbal Tea
Fruit-infused Tea
Matcha Green Tea
Others

By Distribution Channel :

Supermarkets
Convenience Stores
Online Stores
Others

By Region :

North America
Latin America
Europe
Asia Pacific
Middle East & Africa
- FAQs -
The global nitrogen-infused tea market is valued at US$ 24.97 million in 2023.
Demand for nitrogen-infused tea is predicted to surge at a CAGR of 20.5% from 2023 to 2033.
Worldwide sales of nitrogen-infused tea are anticipated to reach US$ 161.2 million by 2033.
The United States is expected to hold a leading share of the nitrogen-infused tea market and expand at 14.9% CAGR.
Starbucks, Nitro Tea, and East Forged are leading suppliers of nitrogen-infused tea.