Automotive Oil Pans Market
Automotive Oil Pans Market Analysis By Product Type (Structural, Non-structural), By Material (Steel, Aluminium, Composite), By Vehicle (Passenger Vehicles, Light Commercial Vehicles, Heavy Commercial Vehicles), By Sales Channel (OEMs, Aftermarket) & By Region - Global Market Insights 2023 to 2033
Analysis of Automotive Oil Pans Market Covering 30+ Countries Including Analysis of US, Canada, UK, Germany, France, Nordics, GCC countries, Japan, Korea and many more
Automotive Oil Pans Market Outlook (2023 to 2033)
According to this latest Fact.MR analysis, the global automotive oil pans market is estimated at US$ 11.35 billion in 2023 and is predicted to increase at a CAGR of 5.3% to reach US$ 18.95 billion by 2033-end.
An automotive oil pan, also known as an oil sump, is an essential component of an internal combustion engine. It is a metal or plastic container located at the bottom of the engine, directly below the crankshaft. The primary function of the oil pan is to hold the engine oil and serve as a reservoir for lubrication.
Sales of automotive oil pans are growing at a healthy pace due to several advancements in the automobile industry. Rise in global automotive production and increasing replacements of conventional oil pans with lightweight composite alternatives are boosting automotive oil pan sales. Additionally, the employment of commercial vehicles is increasing in various industries, while the use of personal vehicles is also on the rise. These factors collectively are driving the growth of the automotive oil pans market.
Structural and non-structural are two types of automotive oil pans.
Structural automotive oil pan demand is forecasted to rise faster at a CAGR of 5.7% during the forecast period.
Structural automotive oil pans are typically made from lightweight materials such as composite plastics or aluminium. This lightweight design helps to reduce the overall weight of the vehicle, contributing to improved fuel efficiency and reduced emissions. As the automotive industry increasingly focuses on sustainability and regulatory compliance, the demand for lightweight structural oil pans is expected to rise during the next 10 years.
Automotive structural oil pans are often made from materials that offer high corrosion resistance, such as advanced composite plastics or corrosion-resistant alloys. This property ensures the durability and longevity of the oil pans, particularly in harsh operating conditions or regions with extreme weather. The corrosion resistance reduces maintenance requirements and extends the lifespan of the oil pan, further driving the demand for structural oil pans.
Report Attributes
Details

Automotive Oil Pans Market Size (2023E)

US$ 11.35 Billion

Forecasted Market Value (2033F)

US$ 18.95 Billion

Global Market Growth Rate (2023 to 2033)

5.3% CAGR

Germany Market Value (2033F)

US$ 1.72 Billion

United States Market Value (2033F)

US$ 3.66 Billion

Japan Market Growth Rate (2023 to 2033)

4% CAGR

China Market Growth Rate (2023 to 2033)

5.9% CAGR

South Korea Market Growth Rate (2023 to 2033)

3.2% CAGR

Key Companies Profiled

Filtran LLC
Yorozu Corporation
Endurance Technologies Ltd
Polytec Holding AG
DANA Inc
Ahresty Corporation
Elring Klinger AG
Hwashin Group
Nemak
Mahle Gmbh
Yanagawa seiki Co. ltd
Don't Need a Global Report?
save 40%! on Country & Region specific reports
Which Market Trends are Generating Potential Growth Opportunities for Suppliers of Automotive Oil Pans?
"Innovation Under the Hood: Lightweight Materials Redefining Automotive Oil Pans"
There has been a significant focus on lightweight materials in the automotive industry, and the same trend applies to oil pans. Manufacturers of automotive oil pans are increasingly using materials such as aluminium and high-strength plastics to reduce the weight of oil pans. Lightweight oil pans contribute to improved fuel efficiency and overall vehicle performance
Plastic materials used in automotive oil pans are engineered to withstand high temperatures and thermal cycling. Advanced plastic formulations and additives enhance the heat resistance of plastic oil pans, ensuring they can handle the demanding operating conditions of the engine compartment.
Plastic oil pans are often more cost-effective to manufacture than metal oil pans. Plastic moulding processes, such as injection moulding, enable mass production with reduced labour and material costs, making plastic oil pans an economical choice for automotive manufacturers.
Mahle is a renowned automotive supplier that manufactures various components, including plastic oil pans. Its plastic oil pans feature innovative designs and advanced materials to meet the industry's demands for lightweight and durable solutions.
"Integration of Sensors & Monitoring Systems in Oil Pans"
In recent years, there has been a notable trend in the automotive industry towards equipping oil pans with integrated sensors and monitoring systems. This development is driven by the increasing need for real-time data and advanced diagnostics to ensure optimal engine performance and maintenance. They enable proactive maintenance and help prevent potential engine damage.
With the help of integrated sensors and monitoring systems, oil pans can contribute to the implementation of preventive maintenance practices. By continuously monitoring oil conditions, the system can provide alerts or notifications when the oil needs to be changed, ensuring that the engine operates with clean and properly lubricated components. This helps to extend the engine's lifespan and reduce the risk of costly repairs.
IntelliStick's engine oil monitoring system is an innovative technology that offers comprehensive and accurate monitoring of engine oil conditions. This advanced system provides real-time data and insights to ensure optimal engine performance of fleets, cars, boats, trucks, and other heavy vehicles.
Which Challenges are Encountered by Producers of Automotive Oil Pans?
"Powertrain Paradigm Shift in EVs Altering Use of Traditional Oil Pans"
As automotive technology evolves, there is a shift toward electric vehicles (EVs) and hybrid vehicles. These vehicles typically have different powertrain configurations and may not require traditional oil pans. The growing popularity of EVs can reduce the demand for oil pans, affecting sales.
"Advancements in Automotive Engines Resulting in Less Frequent Oil Pan Changes"
Modern engines are designed to last longer and require fewer oil changes compared to older models. Improved engine technologies, better lubrication systems, and high-quality oils contribute to longer engine life. Consequently, the replacement frequency of oil pans decreases, which can impact sales.
"Durability & Quality Manufacturing of Oil Pans May Act as Hindrance to Their Sales Growth"
Oil pans are typically made of materials such as aluminium or steel to withstand the rigours of engine operation. With advancements in material science and manufacturing techniques, oil pans have become more durable and resistant to corrosion. This high durability can reduce the need for replacements, affecting the growth of the market for automotive pans.
More Insights, Lesser Cost (-50% off)
Insights on import/export production,
pricing analysis, and more – Only @ Fact.MR
Is the Automotive Oil Pans Market an Opportunistic Space for Start-up Companies?
"Collaboration for Success: new Companies Partnering with Industry Titans to Fuel Innovation"
As sustainability becomes increasingly important in the automotive industry, there is a growing demand for eco-friendly solutions. Newcomers can focus on developing oil pans using recycled or bio-based materials, implementing efficient manufacturing processes, or incorporating features that promote better fuel economy and emissions reduction. These environmentally conscious solutions can resonate with consumers and manufacturers looking to align with sustainability goals.
New manufacturers can also benefit from forming strategic partnerships or collaborations with established automotive manufacturers or suppliers. By working closely with these industry players, new entrants can gain access to resources, distribution networks, and expertise, accelerating their market entry and establishing credibility in the industry.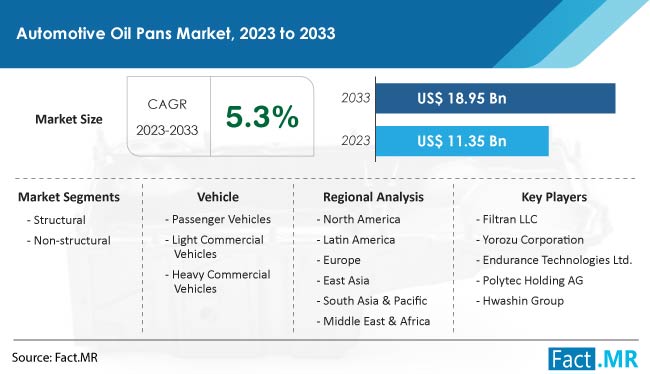 Country-wise Analysis
How is the High-performance Vehicles Market in the United States Benefitting Automotive Oil Pan Manufacturers?
"Growing Craze for Hypercars Influencing Demand for Advanced Automotive Parts"
The United States market for automotive oil pans is currently valued at US$ 2.14 billion. The United States has a large and growing vehicle population, resulting in high demand for automotive maintenance and replacement parts, including oil pans.
American consumers often prioritize high-performance vehicles, leading to the need for high-quality oil pans that can handle the demands of powerful engines. The growth of online shopping platforms in the country has made it easier for end users to access a wide range of automotive parts, including automotive oil pans.
Why is Germany a Leading Market in the European Region?
"Continuous Automotive Innovations Pushing Oil Pan Manufacturers' Revenue Graph"
Sales of automotive oil pans in Germany are predicted to reach US$ 1.72 billion by 2033.
Germany is renowned for its automobile manufacturing industry, which places a strong emphasis on precision engineering and high-quality components. This focus on quality leads to a healthy demand for durable and reliable oil pans.
The country being at the forefront of automotive technology holds a significant presence in electric and hybrid vehicles. These advanced vehicles require specialized oil pans to accommodate their unique designs. Also, Germany has strict regulations regarding emissions and environmental standards. This necessitates regular vehicle maintenance, including oil changes, resulting in consistent demand for oil pans.
What is Attracting Manufacturers of Automotive Oil Pans to Japan?
"Growing Trend of Sustainability Spurring Demand for Advanced Automotive Oil Pans"
Japan is home to major automobile manufacturers known for producing reliable and fuel-efficient vehicles. With a large domestic market and significant vehicle exports, the demand for oil pans is likely to expand at a CAGR of 4% during the forecast period in the country.
Japanese manufacturers are known for their continuous innovation in the automotive industry. The country holds a strong commitment to sustainability and environmental conservation. As a result, there is a growing demand for advanced oil pans that are made from recycled materials or contribute to improved fuel economy.
Know thy Competitors
Competitive landscape highlights only certain players
Complete list available upon request
Category-wise Analysis
Which Type of Vehicles are Oil Pans Most Widely Deployed In?
"High Deployment of Automotive Oil Pans in Passenger Vehicles"
According to Fact.MR, a market research and competitive intelligence provider, passenger vehicles are predicted to hold 65.91% share of the automotive oil pans market by 2033.
Oil pans are integral components of a vehicle's lubrication system. They hold the engine oil, allowing it to circulate and lubricate the engine's moving parts, reducing friction, heat, and wear. Passenger vehicles, which include cars, SUVs, and minivans, have internal combustion engines that require oil pans to ensure proper lubrication.
The number of passenger vehicles on the road is significant compared to other vehicle types such as commercial trucks or buses. This large vehicle fleet contributes to the substantial demand for oil pans as passenger vehicles require regular maintenance, including oil changes and occasional oil pan replacements due to wear and tear.
The passenger vehicle market is diverse, offering a wide range of models and brands to cater to different consumer preferences. Each vehicle model typically has its specific oil pan design and requirements, further contributing to the demand for a variety of oil pans.
Competitive Landscape
Investing in research and development activities is enabling automotive oil pan manufacturers to stay ahead of the curve and develop innovative oil pan designs. By constantly improving the performance, durability, and efficiency of their products, leading companies are attracting customers who value advanced technologies and superior qualities.
Dorman Products is a well-known manufacturer of aftermarket automotive parts, including oil pans. They offer a wide range of oil pans for various vehicle makes and models, designed to meet or exceed OEM specifications.
Melling is a trusted manufacturer of automotive engine components, including oil pans. They provide oil pans that are engineered for optimal oil flow and cooling, designed to withstand the demands of modern engines.
Key Segments of Automotive Oil Pans Industry Research
By Product Type :

Structural
Non-structural

By Material :

Steel
Aluminium
Composite

By Vehicle :

Passenger Vehicles
Light Commercial Vehicles
Heavy Commercial Vehicles

By Sales Channel :

By Region :

North America
Latin America
Europe
East Asia
South Asia & Oceania
MEA
- FAQs -
The global automotive oil pan market size is currently valued at around US$ 10 Bn.
From 2016 to 2020, the automotive oil pan industry, in fact, decreased at a CAGR of around -3.7%.
Lightweight composite materials used for oil pan manufacturing is a key trend being witnessed in this market.
Increasing automotive production & sales and design improvements in oil pans are factors driving demand across regions.
Dana, Nemak, Elring Klinger, Yorozu Corp., and Ahresty Corp. are the top 5 manufacturers of automotive oil pans, and together account for 17% market share.
China, the U.S., Japan, Germany, and India are the top 5 countries as far as demand for automotive oil pans in concerned.
The market in Germany is projected to expand at a CAGR of 2.3% over the next ten years.
Together, S. Korea and Japan hold 13% share of the global market.