Chelating Resins Market
Chelating Resins Market Analysis By Functional Group (Iminoacetic, Aminophosphonic, Glucamine, Oxime, Phosphonic + Sulphonic, Phosphorous & Thiol Group), By Matrix Type (Polystyrene, Polystyrene & Polyacrylic Divinylbenzene), By Application, By End-use Industry - Forecast 2022 to 2032
Analysis of Chelating Resins market covering 30 + countries including analysis of US, Canada, UK, Germany, France, Nordics, GCC countries, Japan, Korea and many more
Chelating Resins: Powerful Tool for chemical Processing
The global chelating resins market is valued at US$ 447.7 million in 2021 and is estimated to grow at a CAGR of 5.1% to reach a valuation of US$ 773.8 million by 2032.
Chelating resins are considered very important for various industrial processes such as separation & purification, wastewater treatment, and electroplating which are predominant factors for the functioning of the chemical industry. Being highly effective in the industrial separation process, the future lookout for chelating resin markets seems promising.
Report Attributes

Details

Chelating Resins Market Size (2021A)

US$ 447.7 Million

Ion Exchange Resin Market (Parent Market 2021)

US$ 1.68 Billion

Estimated Market Value (2022E)

US$ 470.6 Million

Forecasted Market Value (2032F)

US$ 773.8 Million

Global Market Growth Rate (2022-2032)

5.1% CAGR

East Asia Market Share (2021)

~22.7%

Latin America Market Growth Rate (2022-2032)

~4.4% CAGR

Brazil Market Growth Rate (2022-2032)

~5.8% CAGR

Market Share of Top 5 Companies

~60.0%

Key Companies Profiled

LANXESS
Mitsubishi Chemical Corporation
Purolite
DuPont
Sunresin New Materials Co. Ltd.
Ion Exchange (India) Limited
Thermax Limited
Suqing Group
Samyang Corporation
ResinTech
SH Scenic Resin Co. Ltd.
Jiangsu Widevision Environmental Protection Technology Co., Ltd
Ajinomoto Fine-Techno's Inc
Zhejiang Zhengguang Industrial Co., Ltd.
Jacobi Resinex
Zibo Dongda Chemical Industry Co., Ltd.
Shandong Zibo Haofu Synthetic Resin Co., Ltd.
Bleach Co., Ltd
Minsheng Resin Technology Co., Ltd
Hebei Lijiang Biological Technology Co., Ltd
Know thy Competitors
Competitive landscape highlights only certain players
Complete list available upon request
Chelating Resin Market Overview: Historical Vs Future Collation
The chelating resins are part of ion exchange resins used for the precise separation of metal particles. These resins have a specific property to bond with metal ions with a functional group to form a complex structure with the metal ion. Owing to this specific attribute, the demand is anticipated to rise in the future.
Short Term Market Overview (2022 to 2025): Since most of the industrial sector is still recovering from the effects of the pandemic, the growth rate is low as compared to pre-COVID times. The recovery phase is quite affected by the rising geopolitical volatility.
Medium-Term Market Overview (2025-2028): The rebound in industrial sector would demand increased production of chelating resins. This demand would favor the growth of the chelating resins in the global market.
Long-Term Market Overview (2028-2032): Owing to the demand for chelating resins in the industrial process, the market will surge in the forecast period. Emerging economies such as Latin America, South Asia & Oceania will be the top most consumer of chelating resins due to the growing industrialization and related processes.
While considering all these factors, the chelating resins market has experienced a growth rate of 4.1% in (2017-2021) and is estimated to experience a 5.1% of growth rate in the forecast period (2022 - 2032), reports Fact.MR, a market research and competitive intelligence service provider.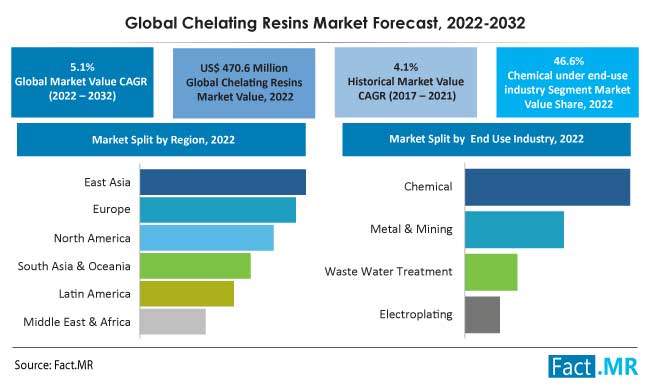 The above image depicts a market share analysis of chelating resins based on region and end-use industry in nutshell. Under the end-use industry segment, chemicals dominate the market with a 46.6% share in 2022
"Selective Removal of Heavy Metal Ions from Water and Waste Water"
Globally, it has been recognized that heavy metal pollution may be one of the most serious challenges to water as an essential natural resource for all living organisms. Metal recovery from industrial wastewater has been identified as a key market growth area. Chelating resins are a special category of weak cation resins that are very useful in certain heavy metal recovery applications. Wastewater treatment by chelating resin accounts for comparatively less in share in the global market but is expected to gain momentum in upcoming years.
Furthermore, chelating resins are distinguished from the ordinary type of ion exchange resins by being highly selective towards metal ions as well as the combination of the ion exchange and complex chelating functional groups offers solid support for the concentration and/ or separation of trace metals. This specific attribute would demand more consumption of chelating resins in wastewater treatment plants.
"Rapid Kinetics of Chelating Resins Help to Improve Recovery of Gold in Cyanide Leaching"
With, global gold market capitalization set to be about US$ 2.5-3.0 trillion, gold mining has been a highly profitable business with operations on every continent. Market players investing in the gold business can expect high returns in the future. During the gold extraction process, the presence of copper minerals that are cyanide soluble could present some operational difficulties.
The major advantage of using chelating resins to remove the gold from the pregnant leach solution of copper and gold is to make the process more economic than alternatives like activated carbon. Thus, with the anticipated rise in demand for gold required for various applications such as jewelry or electrical equipment, demand for its production has also increased.
"Continuous Invention and R&D with Synthesis of Chelating Resins for Various Analytical Chemistries"
Chelating ion exchange resins had been an area of early interest and are still in the front row of research topics. Resins with an enormous variety of chelating ligands have been synthesized in the laboratory. Essentially any complexing agent used in small-scale analytical chemistry can be coupled to a commercial resin. However, challenges come in obtaining the desired efficiency at a greater scale.
Several new inventions involving separation by chelating resins have been of importance in the last three-four decades. Furthermore, chelating resins also attract a great deal of attention in the field of biochemistry as chelating resin-supporting elements are applicable to the purification of proteins.
"Operational Constraints of Using Chelating Resins Limiting Sales"
Owing to the bulky exchange groups of chelating resins and the discrete stability of the different chelating bonds, the total exchange rate of a chelating resin is limited. All chelating resins are subject to losses and do not operate efficiently at elevated flow rates, as it increases the loss of capacity and metal leakage at this high flow rate.
Furthermore, all chelating resins have a relatively narrow chemistry range in which they work efficiently. All chelating resins are stable from pH < 0 to >14; however, their useful operating range is much narrower. Chelating resins lose selectivity below certain pH values.
Further, chelating resins are comparatively costlier than conventional ion exchange materials. They are vulnerable to fouling due to particularly large volume amounts. It is further important to carefully control inlet chemical composition, particularly pH and TDS, and only and probably then, will chelating resins perform to expectations. If the TDS (and hardness) are low enough to permit other ion exchangers to function, then they are likely to be far less expensive to use.
Country-wise Growth Outlook for Chelating Resins Market
Why does China dominate the market for chelating agents?
China is the major producer of chelating resins. Heavy investment, easy labor, and the economic cost of raw materials support the production of specialty chemicals. Major players are mostly operating from China favoring the healthy demand & supply relationship.
Chinese businesses are concentrating on R&D to upgrade technologically and to create the best and most affordable products available in the market. Also operating in its own country provides an edge over other players. China has amazing production capability and a dense network of manufacturers and suppliers.
Rising consumption of chelating resin for improving the efficiency of chlor alkali plants in China results in increased inclination towards the chelating resin.
What will be the future prospects of chelating resins in other regions?
The demand for the application of chelating resin comes from Chlor Alkali, thus it has the bulk of consumption in Asia, Europe & North America where most chlor alkali companies are present.
Chelating resins are expected to be in short supply in North America, which already imports most through Asian nations. Due to the region's extremely high resin prices, the majority of manufacturers have agreements with local distributors for resin procurement.
In spite of having a high demand for chelating resins in Latin America & MEA, these regions are highly import-dependent for the chelating business.
Category-wise Insights
What are the application areas of Chelating Resins?
Chelating resins are widely used in industrial chemical processing. The most demanding end use of chelating resins is chlor alkali processing. The transition of chlor alkali plants from mercury cell to membrane cell technology is popular at the moment due to the significant energy and financial savings. The use of membrane technology in chlor-alkali electrolysis has imposed rigorous controls on the brine's purity.
Ion exchange technologies also have a precise set point that limits alkaline release to a specific concentration, ensuring efficient functioning. Chelating resins are used to control these contaminants without being depleted by sodium. Chelating resins have been shown to be effective at removing hardness from brine streams. So, during the projected period, the demand for chelating resins is expected to fuel market expansion.
In addition to this, chelating resins are widely used in the treatment of effluents and wastewater, which is one of the most rapidly expanding sectors. Over the long-term predicted period, the growth rate would be 4.0% for utilization in the wastewater treatment plant.
Key Manufacturers footprint
Leading chelating resins manufacturers are LANXESS, Mitsubishi Chemicals Corporation, Purolite, Dupont, Resin Tech, Sunresin New Materials Co. Ltd, Samyang Corporation, Ion Exchange (India) Limited, Thermax Limited, Suqing Group, Zhejiang Zhengguang Industrial Co., Ltd., And others
The global leading producers of chelating resins are employing for cost optimization. Key suppliers are focused to strengthen market presence as several mid-scaled players from China and India has already captured major client by providing their products at affordable rates. Moreover, forward integration by these manufacturers transforms them into full-service providers, which is expected to shorten value distribution in the supply chain.
LANXESS introduced the Lewatit MDS TP 208 ion exchange resin for chlor-alkali electrolysis brine purification. Lewatit MDS TP 208 prevents damage to the ion exchange membranes used for electrolysis, hence extending the life of the very sensitive electrolysis membranes, and its finely dispersed polymer beads efficiently reduce the energy input.
In May 2020, the manufacturing facility for Purolite in Huzhou, Zhejiang, China, achieved certifications for ISO 14001:2015 and ISO 45001:2018. In addition to this, the company also received two new certifications for the site's current ISO 9001:2015 accreditation for the design, development, and production of ion exchange resins and adsorbents.
Fact.MR has provided detailed information about the price points of key manufacturers of chelating resins positioned across regions, sales growth, production capacity, and speculative technological expansion, in the recently published report.
Segmentation of the Chelating Resins Market
By Functional Group :

Iminoacetic Group
Aminophosphonic
Glucamine Group
Oxime Group
Phosphonic + Sulphonic Group
Phosphorous Group
Thiol Group
Thiourea Group
Picolylamine Group
Quaternary Amines
Polyamines

By Matrix Type :

Polystyrene
Polystyrene Divinylbenzene
Polyacrylic Divinylbenzene

By Application :

Separation & Purification
Treatment of Wastewater and Effluent
Removal of Impurities
Biochemistry
Others

By End Use Industry :

Electroplating
Chemicals

Chlor Alkali
Biomedical
Others

Metal & Mining

Cobalt
Nickel
Copper
Lithium
Gold
Rare Earth Metal
Others

Waste Water Treatment

By Region :

North America
Latin America
Europe
East Asia
South Asia & Oceania
MEA
- FAQs -
The global chelating resins market was valued at US$ 447.7 Million in 2021.
During 2017-2021, sales of chelating resins experienced a moderate growth rate of 4.1%.
East Asia holds the highest market share in the global chelating resin market.
The application of chelating resins in separation & purification accounts for 31.6% global market share.
Consumption of chelating in wastewater treatment plants accounts for 15.1% of the market share.