Automotive Headliners Market
Automotive Headliners Market, Forecast, Trend, Analysis & Competition Tracking – Global Market Insights 2021 to 2031
FACT414MR
Jan-2021

List of Tables : 68

List of Figures : 134

170 Pages
About the Report
Interior comfort levels in automobiles are set to become increasingly important as a point of differentiation for manufacturers as autonomous cars become closer mainstream. To provide passengers with more comfort, experts have initiated experimentation with conceptual cars, including features such as noise-blocking systems, ambient lighting, and adaptive seat configurations. Innovations in terms of durability, space-saving, and sustainability are key to developments in the automotive headliners market.
Older conventional technologies for headliners, including fiberglass, cut & score, resinated cotton, and hardboard are still used in a number of vehicle models, owing to their reliability and reduced cost. However, new alternatives such as natural fiber, polyester, and urethane offer similar reliability, with improvements in terms of acoustic performance, structure, and recyclability. Fiberglass has also retained its lead in acoustical performance, but has issues in terms of handling and breakage. For modern cars and trucks, headliners are key to noise control in vehicle interiors, and also for improvements as a secondary roof structure. These factors will have significant influence on the design and material choice for automotive headliners.
In a new market study, market research and consulting firm Fact.MR analyzes the major factors that will influence demand for automotive headliners over the decade ahead. The study also provides an analysis of over 20+ countries, which points towards the regions of Europe and Asia Pacific leading market growth. The study also talks about how big a role OEMs will play in the automotive headliners industry, along with an in-depth section on the effects that the COVID-19 pandemic is having on this sector.
How Has the Automotive Headliners Market Fared Historically?
In the period from 2016 to 2020, the global automotive headliners market reflected steady growth of around 3% to 4%, to reach a market valuation of US$ 8.4 Bn in 2020. Major manufacturers increasingly displayed interest in offerings for mass-produced products for low- and mid-range cars and commercial vehicles. Geographical expansion of automotive production activities by OEMs around the world was a major contributor to automotive headliners market growth.
Know More Details About the Report
What is the Future Outlook for Automotive Headliners?
According to the Fact.MR study, the COVID-19 pandemic has adversely affected the growth of the industry in the short term. With transition of the automotive industry towards electric and hybrid vehicles, the car headliners market is likely to start recovering towards 2021, expanding at a steady CAGR of around 4% through 2031. Asia Pacific excluding Japan, led by China, will remain a leading contributor to market growth. Innovations in automotive designs and materials will play key roles in market developments for the foreseeable future.
Sustainability & Efficiency Driving Developments in Automotive Headliners
Sustainability and efficiency are key parameters being considered by automotive component manufacturers. Weight reduction and recyclability are factors that are gaining traction in the automotive industry.
The Woodbridge Group unveiled StrataLiner NET headliner material, which offers superior environmental stability for the finished assembly, in addition to better acoustics, and weight reduction up to 40 % in comparison to competing composite materials. This innovation has set the path for the StrataLiner NET, which offers similar characteristic in smaller space constraints.
The product offers OEMs an affordable alternative to conventional fibreglass and polypropylene composite materials for superior forming and acoustical performance characteristics as to that provided by polyurethane solutions. This innovation is aided by improvements in low mass technology.
Further, the GreenLite environmental initiative offers similar performance and quality for polyurethane foam components, with significant weight reductions. This technology responds to major challenges facing the auto industry, including fuel efficiency.
Low mass solutions are to aid product performance, while keeping costs low. Other advantages to the approach include superior design flexibility, thinner cross-sections, improved acoustics, enhanced surface quality, and better compatibility in side curtain air bags. Offerings in the industry are provided as complete systems or as individual parts, to meet customer requirements. This trend is likely to create long-term opportunities for players in the automotive headliners market space.
Avail customized purchase options for your needs
What is the Role of Polyurethanes in Headliner Production?
Polyurethanes are considered to be an important material in most vehicles manufactured worldwide. The foam material is often used in a number of applications, including chassis components, dashboards, headrests, cable sheathing, gear knobs, steering wheels, bumpers, seats, and trims, among others. PU systems are also injected into cavities as reactive mixtures.
Superior thermoforming capabilities and low density make this material ideal for car headliner production. In terms of automotive interiors, headliners are the largest surface used for noise reduction, making them key to passenger comfort.
Apart from noise absorption, special manufacturing processes cut down emissions. Improvements in adhesive technologies allow for efficient bonding of sandwich structures made from thermoformable PU foam and other technical textiles.
BASF has developed an adhesive, Elastan 6578, which minimizes aldehyde emissions, in addition to reduced material needs in headliner modules. Such improvements in adhesives are an improvement to BASF's portfolio of emission reduction solutions in the automotive sector.
Major trends in the automotive industry, including electromobility and autonomous driving, are also generating demand for high-performance, efficient, components. Thanks to the high versatility of polyurethane, headliner solutions with a comprehensive range of vehicles contribute to new developments.
How are Premium Car Sales Influencing Market Developments?
Fueled by trends such as increasing disposable income and car sharing programs around the world, consumer demand for luxurious interiors is growing rapidly. This likely to bode well for leading technical textile manufacturers, including Asahi Kasei, Toray Industries, and Seiren, who are key suppliers of headliners. Luxury car sales have also risen. Mercedes alone delivered close to 500,000 vehicles worldwide in 2020.
With the introduction of car sharing concepts, high-end driver services, and, autonomous cars, tactile experience has become increasingly important. Also, odor control characteristics have been gaining interest for adoption in high-end cars, including headliner panels. A key trend with high potential for benefiting headliner material suppliers is the growing number of electric vehicles on the road. One of the major focuses of electric car manufacturers is weight reduction to increase range per battery charge.
Alcantara has already been mandated by several electric vehicle manufacturers. As per a global EV Outlook 2020 report, sales of electric cars reached 2.1 million in 2019, surpassing 2018, which was already a record year, to bolster overall EV stock to 7.2 million units.
Alcantara has announced a spending plan of US$350 million over five years to expand its production facilities. On a similar note, Toray, in Japan, announced increasing production of its Ultrasuede offering by up to 60%. In October 2020, Ultrasuede got a major boost when Toyota announced the incorporation of the material in Lexus models. This factor bodes well for the long-term prospects of the industry.
An Adaptive Approach to Modern-day Research Needs
What are the Obstacles Challenging Headliner Manufacturers?
The prospects of the automotive headliners market are largely positive for the long-term. However, market players will face varying challenges that limit the potential for growth in the sector. For instance, short age of resources in technological expertise and skilled labor hurts development and production efforts.
Growing costs of production associated with government policies of indirect taxes, including excise and customs, is an issue. Also, globalization of the automotive industry and the competitive nature of the market have limited the profitability of the industry for market players. Aftermarket sales also remain substantially low, owing to low rates of replacements, which are expected to hinder growth in the long term.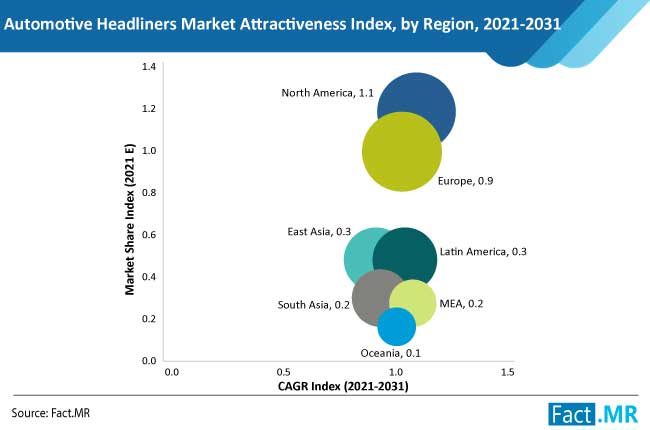 Region-wise Analysis
What is the Contribution of United States to Headliner Sales?
The United States has one of the largest automotive markets in the world. In 2018, sales of light vehicles in the U.S. surpassed 17 million units, making it the fourth consecutive year in which sales reached this number. Overall, the United States is the world's second-largest market for vehicle sales and production. As per the Fact.MR report, the U.S. market for headliners accounted for over US$ 1.1 Bn, and was the largest market in 2020.
U.S. affiliates of majority?foreign-owned automotive companies account for more than 400,000 jobs in the U.S. Furthermore, a number of auto manufacturers have engine and transmission production plants in the country, while also conducting design, R&D, and testing in the United States.?Total foreign direct investment in the U.S. automotive industry reached US$ 114.6 billion in 2018. The U.S. automotive industry is also leading in terms of innovation. According to Auto Alliance, of the?US$ 105 billion spent on R&D in the auto sector, globally, a fifth (US$18 billion) can be accounted for by the United States.
In 2018, the United States exported 131,200 medium and heavy trucks (valued at over US$ 60 billion) and 1.8 million new light vehicles to more than 200 countries globally. The U.S. further exported automotive parts worth US$ 88.5 billion. With key factors such as large consumer market, open investment policies, available infrastructure, highly skilled workforce, and government incentives, the United States is likely to contribute highly to the future prospects of the headliner industry.
How is the Headliner Industry Faring in the United Kingdom?
The U.K. automotive industry is a key part of its economy, and is worth more than a £78 billion turnover, adding £15.3 billion value to the UK economy. The industry directly employs around 180,000 people in manufacturing and more than 864,000 people across ancillary sectors, it accounts for around 13% of the overall UK export of goods, worth £44 billion. The country also invests £3 billion annually in automotive R&D. As per the Fact.MR report, the U.K. automotive headliners market will account for more than 12% of the European market through the end of 2031.
According to the Society of Motor Manufacturers and Traders, over 1.3 million passenger cars, 78,000 commercial vehicles, and 2.5 million automotive engines were produced in the U.K. in 2019. Eighty percent of all cars produced in the U.K. are exported overseas to 160 different countries around the world.
While the threat of Brexit had impacted the automotive sector, the European Automobile Manufacturers' Association (ACEA) released a statement welcoming the deal struck in December 2020 between the European Union and the United Kingdom on future trading relations. This agreement is a major relief for European automobile manufacturers, allowing the sector to avoid the potentially catastrophic effects of a no-deal Brexit.
The country is expected to face major challenges in the near future, as trading of goods is likely to be substantially impacted by trade restrictions in the form of new customs procedures that were introduced on 1 January 2021. Overall, the huge U.K. auto industry will be a vital part of the global market over the next 10 years.
How is Germany's Role as a Premium Automotive Production Hub Playing Out?
According to the Fact.MR report, Germany is the largest European market for automotive headliners, accounting for close to US$ 720 Mn in 2020. According to the Germany Trade and Invest report of 2020-2021, 1 in 5 cars that are produced around the world are German OEM made. The country accounted for around 4.6 million passenger vehicles in 2019, and a third of all automotive research & development spending comes from German OEMs.
The automotive industry of the country accounts for around a quarter of the nation's domestic industry revenue. Following the COVID-19 crisis, the German government has implemented far-reaching financial packages and cash incentives for EV sales and charging infrastructure as a part of a national 130-billion-Euro program to restart the German economy. Germany is a leading car production hub for the international market. Of all premium vehicle brands around the world, more than 65% can be accounted for by German OEM manufacturers. Within Europe, the number is more than 80%
The Western Europe market for light vehicles is largely focused on the premium sector, according to the Germany Trade and Invest report. This has resulted in expansion of scale and range for production of premium segment cars, which is currently close to 40% of the region's light vehicle production, making it a key market for headliner products as well.
Are Automotive Headliners Sales on a Path to Recovery in France?
According to the Comité Des Constructeurs Français D'Automobiles, in 2018, global production of French light vehicles reached a new record level. The industry has risen by around 30% in 2019 as compared to 2007. As per the report, light vehicle production has risen by 2% in France between 2017 and 2019. High levels of competitiveness by French manufacturers, globalization, and environment challenges have resulted in substantial investments increase around 80% between 2014 and 2018.
The CCFA has also stated that, in France, road traffic has grown since 2012 at a steady pace of around 1.3% on average. Key factors have been more economic growth and lower fuel prices until 2016. Automotive spending accounted for 10% of household expenditure in 2019 as compared to 9% between 2010 and 2017. Vehicle purchases have displayed recovery owing to buoyant sales in the new car market, with the introduction of advanced technologies to adhere to new environmental standards. These factors contribute to renewal of vehicles in use, both passenger cars and commercial vehicles as well.
According to the Fact.MR report, automotive headliner sales stagnated between 2019 and 2020 at 3% owing to the pandemic. However, recovery is expected from 2021 onwards with relaxation of government restrictions.
What is the Outlook for Headliner Sales in Spain?
According to the Fact.MR report, Spain is the second-largest market for headliners in Europe, and is expected to reach close to 20% of overall sales in the region by the end of the forecast period. The Automobile Manufacturers Association of Spain (ANFAC) announced that, passenger car registrations of over 100,000 units were made in December 2019, which represented growth of over 6.5% in comparison to 2018.
Full-year sales of over 1,200,000 units in 2019 account for close to 5% decrease through 2018. In December, ANFAC announced that passenger car registrations of over 93,000 units in November 2019 accounted for a rise of more than 2.3% in comparison to November 2018.
Passenger car sales of around 1,1500,00 units in between January and November 2019 represented a decrease of over 5.5% from the same period in 2018. SEAT, Dacia, Nissan, and Toyota are major brands in the country that are likely to have significant impact on developments in the industry across Spain in the long term.
How is Japan's Prominent Auto Industry Generating Potential?
In 2020, the Japanese automotive headliners market was a major contributor, lagging behind only the United States and China, accounting for close to US$ 869 million. According to the Japan Automobile Manufacturers Association, automotive shipments surpassed 62 trillion yen in 2018, a rise of over 2.5% over the previous year. Sales of motor vehicles in Japan grew more than 10 % in Dec 2020 as compared to 6.7 % in the previous month.
The Japan Automobile Manufacturers Association indicated a rise of around 200,000 on road vehicles between 2018 and 2019, and new registrations declining by close to 80,000 units during the same period, including cars, trucks, and buses. While auto sales dropped in 2020, Fact.MR's report indicates steady growth from 6 to 6.4% CAGR for 2020 and 2021.
A key point for the automotive industry in Japan for 2020 was the joint sales of all models at all stores by Toyota. The measure was a virtual reorganization of the major Toyota sales channels. In April 2020, Toyota's 33 parts distributors and parts sales network was set to be merged, which is likely to influence headliner sales and distribution in the country.
How is China's Changing Automotive Sector Impacting Headliner Sales??
As per the Fact.MR report, China is the second-largest major market for automotive headliners, albeit displaying a sluggish rate of growth through 2031. China's automotive industry has been growing rapidly, and the country is playing an increasingly important role in the global automotive market.
According to China Association of Automobile Manufacturers, the first 11 months of 2020 accounted for over 20,00,0000 units of passenger cars and commercial vehicles sold, creating sustained potential for headliner sales in the country.
With rapid growth in the number of cars in China, vehicle emissions have also become a major challenge for the industry. China Vehicle Environmental Management Annual Report showed that, emission from motor vehicles constitutes a major source of air pollution. China has made a pledge to reach a carbon emission peak in 2030. These factors are likely to bolster efforts towards sustainability and recyclability in automotive headliner production in the near future.
Have a report related query? Speak to us directly
Category-wise Insights
What are the Commercial Prospects of Foam-backed Cloth?
Automotive headliners can be produced from foam-backed cloth, cotton-napped cloth, synthetic cloth and perforated cloth materials. Of these, foam-backed cloth for headliners accounts for a major market share, albeit gradually declining throughout the forecast period.
Improvements in material choices and versatile scope of applications, including caravans, cars, motor homes, and recreational vehicles, are likely factors influencing developments in the distribution and sales of foam-backed cloth for automotive headliners. Also, foam-backed cloth is ideal for application with fiberglass, hardboard, and resinated cotton, which will help in sustained growth in the years to come.
Why are Hardtop Automotive Headliners Sweeping the Market Share?
Headliner manufacturers produce offerings for both, hardtop and soft-top configurations. Accounting for a valuation of more than US$ 2 billion in 2020, hardtop headliners account for a larger market share, while also reflecting a faster rate of growth on the whole. The segment will account for more than 95% of the market through the end of the assessment period.
Demand for hardtop headliners can be attributed to vast production of hardtop cars around the world, especially in terms of mass-produced low-cost vehicles. Cost benefits to consumers have bolstered demand, and the trend is likely to continue for the foreseeable future. Also, hardtop configurations provide better insulation and noise reduction to passengers, which will positively influence headliner sales.
What Makes Application of Headliners in LCVs Dominant?
Automotive headliners find roles in a wide range of automobiles, including headliners for compact vehicles, and also mid-sized, premium, luxury, LCVs, and HVCs. Of these, demand for automotive headliners largely can be accounted for by LCVs, accounting for around 30% of the overall market share through the projection period. Global sales of LCVs surpassed 9 million units in 2020.
Demand for vehicle headliners for Light commercial vehicles can be attributed to the relatively larger number of these vehicles on the roads in comparison to HCVs. Further, higher volume of headliners used in commercial vehicles in comparison to passenger cars also contributes to overall high demand.
What is the Role of OEMs in Automotive Headliner Sales?
Both OEMs and aftermarket distributors are key channels of sales for automotive headliners. As per the Fact.MR report, sales of headliners for automobiles through OEMs are slated to account for more than 85% of the market by the end of 2031.
Low replacement rates of automotive headliners, and steady growth in vehicle sales over the previous decade, have been major factors bolstering the lead of OEMs over aftermarket channels. However, increased interest towards customization by vehicle owners has created greater opportunities for aftermarket sales. Sales in both channels are expected to recover in 2021 in the post pandemic period.
Competitive Landscape
The global automotive headliners market is moderately consolidated and competitive, owing to the presence of numerous regional players in the industry. Major manufacturers are focused on product launches and capacity expansions to bolster their portfolios, in addition to strategic collaborations, to consolidate their positions in the market.
For example, in October 2020, Oracle Lighting debuted the new StarLINER ColorSHIFT Fiber Optic hardtop headliner. The product has been designed specifically for use in the Gladiator JT and Warngler JL vehicle models.
In July 2019, International Automotive Components (IAC Group) announced the expansion of the company's presence in the United Kingdom. This is set to be achieved through the expansion of the headliner manufacturing facility in Elmdon.
In November 2020, SEAT, for its 2nd Innovation Day, revealed Ku-Fizz, a novel physical foam technology for automotive headliners, which reduces the weight of plastic components, in an initiative towards increasing sustainable materials in the automotive sector.
Report Scope
Attribute

Details

Forecast Period

2021-2031

Historical Data Available for

2016-2020

Market Analysis

USD Million for Value, 000' Sq. Mt. for Volume

Key Regions Covered

North America
Latin America
Europe
Japan
Asia Pacific Excluding Japan
Middle East & Africa

Key Countries Covered

US
Canada
Brazil
Mexico
Germany
U.K.
France
Italy
Spain
China
Japan
South Korea
India
Thailand
Singapore
GCC Countries
Turkey
South Africa

Key Segments Covered

Material
Headliner Type
Vehicle
Sales Channel
Region

Key Companies Profiled

Lear Corporation
Toyota Boshoku Corporation
International Automotive Components Group S.A.
Grupo Antolin
Motus Integrated Technologies
UGN Inc.
Atlas Roofing Corporation
Acme Auto Headlining Company
American Foam & Fabric, and Howa Tramico (indicative list)

Report Coverage

Market Overview
Key Market Trends
COVID-19's Impact
Demand Analysis
Market Background
Segmental Analysis
Regional Profiling
Market Structure Analysis
Competition Analysis

Customization & Pricing

Available upon Request
Key Market Segments
Material

Foam-backed Cloth
Cotton-napped Cloth
Synthetic Cloth
Perforated Cloth

Headliner Type

Vehicle

Compact
Mid-sized
Premium
Luxury
LCV
HCV

Sales Channel

Region

North America (U.S. & Canada)
Latin America (Mexico, Brazil, & Rest of LATAM)
Europe (Germany, U.K., France, Italy, Spain, & Rest of Europe)
Middle East and Africa (GCC Countries, Turkey, South Africa, & Rest of MEA)
Japan
Asia Pacific excluding Japan (China, India, South Korea, Thailand, Singapore, & Rest of APEJ)
Automotive Headliners Market: Report Scope
A new market study published by Fact.MR on the global automotive headliners market provides readers with an exhaustive analysis on key market dynamics, including the drivers, restraints, opportunities, and trends, along with comprehensive data on the structure of the market. The report also provides information on the growth of the automotive headliners market throughout the assessment period of 2021 to 2031.
Major indicators of growth, including value chain and Year-on-Year (Y-o-Y) growth of the market, in addition to compounded annual growth rate (CAGR) and supply chain analysis, have been covered in the market study. The data allows readers better comprehension of the prospects of the automotive headliners market through the forecast period.
The report can prove to be very relevant for key stakeholders in the automotive headliners industry, including suppliers, manufacturers, investors, and distributors, aiding them in the development of informed strategies to take advantage of the trends in this market space. Stakeholders in the automotive headliners market - investors, industry experts, researchers, and journalists, can make use of the data presented in the Fact.MR study.
The study also covers key statistics on the economic factors that shape the development of the automotive headliners market. It also gives actionable data on the potential of future trends in this sector. Also, small-scale players and new entrants can leverage the information given in the report, to support informed business decisions to gain traction in the automotive headliners market.
Report Summary
This market report offers an exhaustive analysis on different features, including product development, regulatory landscape, demand, sales, and revenue generation in the global automotive headliners market.
In-depth estimates about the market have also been given through optimistic and conservative scenarios in terms of sales of automotive headliners during the projection period. A comparison of price points by region and global average price is also covered in the study.
Key Questions Answered in the Report
Which regions will remain the more lucrative regional markets for market players?
Which factors will induce changes in the demand for automotive headliners during the assessment period?
How will changing trends impact the automotive headliners market landscape?
How can market players capture the low-hanging opportunities in developed regions?
Which companies are leading the automotive headliners market space?
What are the winning strategies of stakeholders to upscale their position in this landscape?
Research Methodology
In Fact.MR's study, a unique methodology for research has been implemented to conduct detailed research on the developments in the automotive headliners market, and reach conclusions on the basic growth parameters of the market for the future. This research methodology is a combination of primary and secondary research, which helps analysts maintain the accuracy and reliability of the conclusions drawn.
Secondary resources referred to by analysts during the preparation of the study include statistics from government organizations, trade journals, white papers, and internal and external proprietary databases. Analysts have interviewed product portfolio managers, CEOs, senior managers, market intelligence managers VPs, and marketing/product managers, all of whom have contributed to the development of the study on the automotive headliners market as a primary resource.
Need an Exclusive Report for your Unique Requirement?
Talk Show:
The Rise of Intelligent Packaging
Personalized, Connected and Sustainable
November 18, 2021
11:00-11:45 AM PST (USA & Canada)
This is a LIVE session


- Our Clients -

- Evaluate How Fact.MR's Report Can Help. -
Is the market research conducted by Fact.MR?
Yes, the report has been compiled by expert analysts of Fact.MR, through a combination of primary and secondary research. To know more about how the research was conducted, you can speak to a research analyst.
What research methodology is followed by Fact.MR?
Fact.MR follows a methodology that encompasses the demand-side assessment of the market, and triangulates the same through a supply-side analysis. This methodology is based on the use of standard market structure, methods, and definitions.
What are the sources of secondary research?
Fact.MR conducts extensive secondary research through proprietary databases, paid databases, and information available in the public domain. We refer to industry associations, company press releases, annual reports, investor presentations, and research papers. More information about desk research is available upon request.
Who are the respondents for primary research?
Fact.MR speaks to stakeholders across the spectrum, including C-level executives, distributors, product manufacturers, and industry experts. For a full list of primary respondents, please reach out to us.
Is a sample of this report available for evaluation?
Yes, you can request a sample, and it will be sent to you through an email.