IoT Sensors Market
IoT Sensors Market Analysis by Type (IoT Accelerometers, IoT Gyroscopes, IoT Magnetometers, IoT Pressure Sensors, IoT Light Sensors), by Application (Consumer Electronics, Healthcare, Automotive, Building Automation), by Region - Global Forecast 2022-2032
Analysis of IoT Sensors market covering 30 + countries including analysis of US, Canada, UK, Germany, France, Nordics, GCC countries, Japan, Korea and many more
Global IoT Sensors Market Outlook
Global sales of IoT sensors is expected to procure US$ 27.4 Billion in 2022, up from US$ 21.8 Billion in 2021. The global IoT sensors market is expected to garner absolute dollar growth of US$ 146.3 Billion by 2032.
The projected Y-o-Y growth rate for 2021-2022 is 25.7%. The convergence of technology such as AI, ML, and connectivity is escalating growth across all spheres. Rising deployment of 5G and increased electronic content in automotive, EVs, and AVs, and the expansion of IoT equipment in smart homes are the emerging trends of the global IoT sensors market.
Report Attributes

Details

Projected Base Year Value (2021)

US$ 21.8 Billion

Anticipated Market Value (2022)

US$ 27.4 Billion

Estimated Forecast Value (2022-2032)

US$ 173.7 Billion

Projected Market Size of China (2032)

US$ 20.9 Billion

Anticipated Growth Rate of U.K (2022-2032)

US$ 10 Billion

Market Value of India (2032)

US$ 30 Billion

Market Players

Infineon Technologies (Germany)
STMicroelectronics N.V. (Switzerland)
IBM (U.S.)
Robert Bosch GmbH (Germany)
Honeywell International Inc. (U.S.)
Increasing demand for integration of Industrial IoT (IIoT) in sectors that demand sensor-based measurements for observations and decision support purposes to projected to drive the expansion of the IoT sensors market in the forecast period. Based on region, North America is expected to dominate the market in the forecast period. The U.S alone is anticipated to garner a revenue of US$ 33.8 Billion by 2032. The U.S is expected to emerge as the strongest player across the globe. This can be attributed to the presence of eminent players such as Honeywell. Besides, other cities like San Francisco pioneered smart parking systems that assist drivers to find parking among 8200 parking spots installed with sensors.
Further, Chicago has installed a various array of sensors to detect and respond to floods, or traffic. Moreover, New York, Chicago, and San Francisco are some of the cities in the U.S to embed sensor nodes into light poles for the urban environment, regulate air quality in congested areas, and institute predictive analytics. Owing to such factors, the market in North America is likely to flourish in the coming years.
Know thy Competitors
Competitive landscape highlights only certain players
Complete list available upon request
Global IoT Sensors Market Revenue Analysis 2015-2021 Vs Future Outlook 2022-2032
With increasing Smart City initiatives, the development of field devices, robots, sensors, and the advent of Industry 4.0, the market is anticipated to have fortified its expansion. As per the latest report by Fact.MR, the industry exhibited a growth rate of 23.9% from 2015-to 2021. Unfolding modern applications and business models, along with inexpensive device costs, have played a salient role in driving the market for IoT sensors during the prior mentioned timespan. As a result, various connected equipment such as; connected cars, machines, consumer electronics, and meters, among others started flourishing in the market.
Industry 4.0 initiatives across regions such as; China, and Europe, are the key drivers of the IoT implementation, thus, benefitting the market in the forecast period. As per Accenture, 60% of the manufacturing organizations are already involved in IoT projects, and more than 30% are at a nascent stage. Also, the reduced cost of IoT sensors is one of the salient causes that are likely to fuel the market in the future.
With the increasing adoption of microelectromechanical systems (MEMS) technology and fast reduction in the sensor size, sensors are witnessing significant demand in automotive, consumer products, and healthcare. According to Fact.MR, the global IoT sensors market is anticipated to exhibit a CAGR of 20.3% during the forecast period from 2022 to 2032. Over the last 5 years, smaller sensors have been implemented in devices such as; drones, smartphones, robots, and wearables, thereby, bolstering the market size significantly.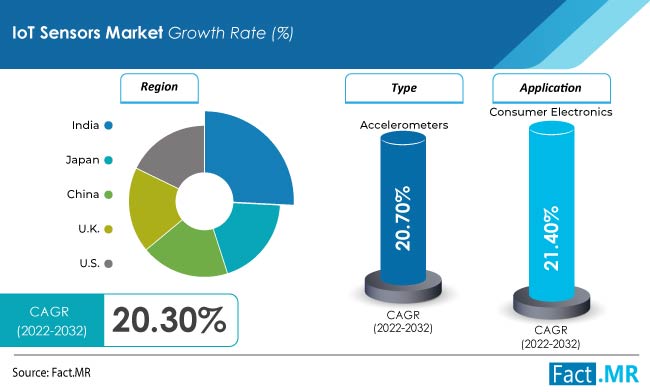 Principal IoT Sensors Market Drivers
Automotive and Transportation Industry to Play Salient Role in Developing the Market
As per NASDAQ, by 2030, driverless cars are likely to fetch dominance in the market. Besides, DHL SmartTrucking is focusing to construct a fleet of 10,000 IoT-enabled trucks by 2028. Players such as; Volkswagen, Mercedes-Benz, Toyota, Google Inc., and Volvo are making aggressive investments to develop smart cars with fine specifics that provide safer and more comfortable driving experiences. IoT has introduced a massive revolution in the transportation and automotive sector. With real-time data access, preventative maintenance, and connected mobility, the IoT market is flourishing significantly.
With the emergence of smart cities, Car2Car connectivity and modern fleet management are likely to enter the market, thereby, offering significant opportunities to the IoT sensors. This has resulted in fast innovation and the adoption of smart sensor technology, increasing the demand for IoT sensors. The automotive sector across the globe is transforming into an autonomous phase with recent business collaborations and joint ventures among system integrators, chip makers, automotive giants, and others.
IoT has allowed various transportation companies to map profitable routes, enhance fuel usage, logistics enterprises to track and trace their products. IoT devices are used in traffic congestion control systems telematics systems within motor vehicles, reservation and booking systems used by security, surveillance systems, and transport operators.
Increasing Smart City Initiatives to Augment the Market Size
With increasing urbanization and population, various countries across the world are implementing the Smart City projects. Connected devices such as; smart lights, sensors, smart meters, and others, are assisting in enhancing functions and efficiency of infrastructure and other services. The increasing number of smart homes, smart infrastructures, smart manufacturing, and Industry 4.0 projects are likely to transform the business arrangement, thereby, bolstering the industry growth.
As per the White & Case LLP Report 2021, Saudi Arabia is in the process to construct four smart cities, the Red Sea Project, NEOM, Qiddiya, and Amaala. Resources reveal that the most significant development among all is NEOM, which is US$ 500 Billion megacities that would include a zero-carbon hyper-connected city.
Furthermore, there has been significant growth in the adoption of smart grids, smart air quality controllers, smart waste management, and smart grids. This is projected to play a significant role in driving the global IoT sensors market in the forecast period. Also, with rising acquisitions amongst players in the market, the industry is projected to grow significantly. For instance, in April 2022, Antin Infrastructure Partners announced that it had inked an agreement to acquire a majority stake in SNRG. SNRG is an owner-operator of fully integrated smart grid systems for industrial and residential customers. The acquisition was part of Anti's NextGen strategy, which was disclosed in 2021.
Recent Developments
The IoT sensors market in 2019, accounted for USD 11.9 Billion. Moreover, the number is further anticipated to increase to USD 43 Billion by end of 2025.

Industry 4.0 is heavily dependent on the Internet of things and artificial intelligence. Big data analytics and cloud infrastructure are other two important technologies driving many applications. Nearly 72% of respondents have agreed to IoT as the key and most impactful technology within their premises or organization.

Drone market is anticipated to gain rapid growth where IoT sensors are likely to remain in mainstay. The segment of the drone is projected to grow with a CAGR of 4.70% and is anticipated to cross a value of USD 4.58 Billion by 2027.

As per the survey on supply chain investment, about 56% of manufacturers are focusing on investment in IoT sensors. About 40% of them are interested in Blockchain technology.
Factors Inhibiting the Global IoT Sensors Market
Concerns Associated with Privacy of Data and Security to Limit the Market Growth
Despite the huge potential and benefits offered by IoT devices, there are severe concerns associated with data privacy. IoT-enabled devices and sensors generate a massive volume of data each second. As IoT connects various devices, it offers more opportunities for entry points for malware. The intervention of privacy may occur as a result of the growing dependency on connected devices, reflecting the vulnerability of connected equipment.
Various players in the industry are developing solutions. However, owing to the market's ecosystem and complexities, 100% data security is not been offered. In April 2022, Trend Micro Incorporated announced the launch of Trend Micro One, a new unified cybersecurity management platform. The cloud-based solution collects more than 250 billion data signals across the users' environment. It uses native sensors across a wide array of technology such as; Bit Discovery, Google Cloud, Slack, Tenable, and Rapid7 among others.
In December 2020, the U.S introduced cybersecurity regulations to protect all vulnerable devices from hackers. The IoT Cybersecurity Improvement Act 2020 is expected to provide security against undesirable security breaches by hackers. The market is likely to see limitations in the forecast period, however, with increasing favorable initiatives by the government and the launch of new software/products, the market is expected to witness positive results in the coming years.
Country-Wise Analysis
Why is Demand for IoT Growing across the U.S?
Presence of Established Players in the Region to Act as the Most Salient Factor in Boosting the Market
As per the analysis, the market in North America is expected to lead the global market for IoT sensors. In the region, the U.S is projected to be the most lucrative region during the forecast period, garnering US$ 33.8 Billion, while expanding at a CAGR of 20.9% from 2022-to 2032.
The growth of the region can be attributed to the presence of established players such as; Honeywell, Verizon, Microsoft Corporation, and Google, among others. Players are making massive investments in strengthening their IoT infrastructure. For instance, in 2019, Honeywell launched a new industrial IoT analytics platform known as Honeywell Forge that would collect operational data, optimize, and analyze it. In another instance, in November 2020, Honeywell and Nozomi Networks announced a cybersecurity partnership to offer more comprehensive, end-to-end cybersecurity for Operational Technology (OT) environments. Owing to such initiatives by eminent players in the region, the market in the U.S is likely to expand manifold in the coming years.
Also, with increasing demand for advanced IoT sensor solutions across various industry verticals, the market is likely to augment in the forecast period. In order to meet such demands, players focus on offering unique and innovative solutions, thereby, making the market more remunerative. For instance, Google offers Cloud IoT Core. It is helpful when there are thousands of connected devices to the internet and there is a need for a highly scalable and manageable service. With such factors, the market in the U.S is anticipated to flourish and make fetch massive revenues in the coming time.
Why is APAC Expected to Expand at the Highest CAGR during the Assessment Tenure?
India Anticipated to be the Most Lucrative Market in the Region Owing to Favorable Initiatives by the Government
Demand for IoT devices and sensors has surged rapidly in major developing economies such as; India, China, Japan, and others. As per the observations by Fact.MR, India is projected at the highest growth rate of 30.3% during the forecast period. China and Japan are estimated at 22.2% and 22.6% respectively.
Expansion of IoT adoption in India is backed by increasing internet penetration, strong connectivity, growing Smart City projects, and new business models, among others. With increasing efforts by the government of India to make the nation smart and developed, IoT has ample remunerative opportunities.
For instance, in April 2022, Coimbatore City Municipal Corporation (CCMC) launched a smart 24*7 water supply project at Cheran Nagar in Kavundampalayam, Tamil Nadu. With such favorable initiatives, the market in the country is expected to witness rapid growth during the forecast period.
Similarly, the launch of Gujarat International Finance Tec-City (GIFT) has garnered international attention, which is an under-construction central business district in Ahmedabad, Gujarat. The initiative will be a major boost to India's Smart-City mission by burgeoning finance and technology sectors.
Also, with the principal customers in the city such as; Oracle, Cybage, BSE, NSE, MCX, Bank of America, and STT, the project is likely to experience numerous opportunities in the forthcoming years. Owing to the aforementioned factors, the market in India is likely to procure significant traction across the globe, thereby, benefitting the APAC region and as well as the nation itself.
| Country | Projected CAGR |
| --- | --- |
| U.S | 20.9% |
| U.K | 21.4% |
| China | 22.2% |
| Japan | 22.6% |
| India | 30.3% |
Category-Wise Analysis
Based on Type, how is the Accelerometers Segment Driving the Global IoT Sensors Market?
According to Fact.MR, the accelerometers segment, is expected to dominate the market during the forecast period. The segment is predicted to exhibit a CAGR of 20.7% from 2022-to 2032.
Growth of the segment can be attributed to various benefits such as; high impedance, offers higher sensitivity, and using an in-built signal conditioning circuit to measure capacitance.
Various developed nations such as; Singapore, Australia, and Malaysia are projected to be lucrative markets for IoT sensor solutions owing to the increasing deployment of IoT sensors such as accelerometers.
What is the Contribution of Consumer Electronics in Developing the Global IoT Sensors Market?
Based on application, the consumer electronics segment is projected to dominate the market in the forecast period. The segment is projected at a growth rate of 21.4% from 2022-to 2032.
Expansion of the segment can be attributed to the innovation of new products and the strong position of key market players across the globe.
Competitive Landscape
Key players in the global IoT sensors market are focusing on product development and carrying out various advanced research and development programs. Enterprises are making several efforts to collaborate with various technology providers to give innovative results. Recent key developments among players are:
In February 2022, Siemens updated its NX Software under the Xcelerator portfolio, with attributes like intelligence-based design. This update allows the application to use AI and modern simulation technologies, offering efficient insights to the consumers.
In January 2022, PTC disclosed an alliance with Schaeffler Group. It is a Germany-based manufacturer that implements an absolute IT landscape. The new partnership focuses to support Schaeffler's initiatives for digital twin and visualization of 3D models.
More Insights, Lesser Cost (-50% off)
Insights on import/export production,
pricing analysis, and more – Only @ Fact.MR
Key Segments Covered in the Global IoT Sensors Market Study
by Type :

IoT Accelerometers
IoT Gyroscopes
IoT Magnetometers
IoT Pressure Sensors
IoT Temperature Sensors
IoT Light Sensors
Other IoT Sensor Types

by Application :

Consumer Electronics
Healthcare
Automotive
Industrial application
Building Automation
Retail IoT Sensors

by Region :

North America
Europe
APAC
RoW
- FAQs -
The global IoT sensors market is estimated at US$ 173.7 Billion by 2032
The U.S is anticipated at US$ 33.8 Billion by 2032
Based on type, the accelerometer segment is likely to expand at 20.7% CAGR by 2032
India is likely to exhibit a CAGR of 30.3% during the forecast period
China is projected to garner US$ 20.9 Billion by 2032
The U.K is expected to witness a CAGR of 21.4% from 2022-to 2032
The global IoT sensors market is expected to procure US$ 27.4 Billion in 2022
Japan is anticipated to garner US$ 16.4 Billion by 2032