Peptide-based Cancer Therapeutics Market
Peptide-based Cancer Therapeutics Market Analysis, By Drug Type (Goserelin, Bortezomib, leuprorelin), By Distribution Channel (Hospital Pharmacies, Retail Pharmacies, Online Pharmacies) & By Region – Global Market Insights 2023 to 2033
Analysis of Peptide-based Cancer Therapeutics Market Covering 30+ Countries Including Analysis of US, Canada, UK, Germany, France, Nordics, GCC countries, Japan, Korea and many more
Peptide-based Cancer Therapeutics Market Outlook (2023 to 2033)
Expanding at a CAGR of 7.8%, the global peptide-based cancer therapeutics market is forecasted to increase from a valuation of US$ 10.1 billion in 2023 to US$ 21.4 billion by the end of 2033. A rise in research and development activities and continuous clinical trials are presenting lucrative prospects for bortezomib drug manufacturer.
A peptide is a compound that is created by artificial or natural biological chaining of amino acid monomers. In recent years, peptides have emerged as effective therapeutic agents in the treatment of various diseases, including cancer. With new developments in delivery, stability, modifications, and preclinical success, the future growth potentials of such cancer therapeutics continue to intensify.
Peptides' decreased toxicity can be attributed to both their low probability of interacting with unrelated molecules and their ease of breakdown into their amino acid residues. Numerous pharmaceutical businesses have been drawn to them because of their simplicity in manufacturing. Additionally, the discovery of perspective peptides targeting the receptors of different malignancies has been stimulated by their exceptional ability to pass the blood-brain barrier.
The delivery of cytotoxic chemicals to cancer cells specifically during traditional chemotherapy is challenging without harming normal cells, which results in systemic toxicity and unfavorable severe side effects. Proteins, peptides, and other similar biomolecules are increasingly used in "molecularly tailored cancer therapies" because they may increase therapeutic effectiveness and potency while causing fewer side effects.
Peptides can be employed as radio-nuclide carriers, pharmacological targets, vaccinations, hormones, cytotoxic drug carriers, and direct anti-cancer medications. Even though peptides' shorter in vivo half-life is a problem, current drug delivery methods and peptide modification developments are anticipated to overcome those challenges.
There are now several peptide-based medications on the market that have shown effectiveness in treating a variety of malignancies. The rapid approval of the first peptide-based cancer vaccine for the treatment of prostate cancer can also be used to explain the scientists' heightened interest.
Many novel peptides with promising preclinical research have started clinical trials and are anticipated to boost market growth. In comparison to other cancer treatments currently available, it is anticipated that the medications will demonstrate excellent clinical response.
Numerous novel peptides with promising preclinical outcomes are now being tested in clinical studies for the treatment of cancer. Moreover, the application base of peptides is steadily expanding to other therapeutic areas as well. The global peptide-based cancer therapeutics market is likely to be influenced by the rising prevalence of cancer across the globe over the coming years.
WHO reveals that cancer is one of the leading causes of death worldwide. Factor as such is expected to play an important role in boosting the popularity of peptide-based cancer therapeutics further. In addition, various complications involved in conventional cancer therapeutics as well as the risk of severe side effects are prompting medical professionals to utilize peptides in tumor and cancer treatment.
Report Attributes

Details

Peptide-based Cancer Therapeutics Market Size (2023)

US$ 10.1 Billion

Projected Market Value (2033)

US$ 21.4 Billion

Global Market Growth Rate (2023 to 2033)

7.8% CAGR

Market Share of Bortezomib

40%

Key Companies Profiled

AstraZeneca
Allergan plc
Pfizer Inc.
Abbott Laboratories
AbbVie Inc.
Johnson & Johnson
Valeant Pharmaceuticals International Inc.
Takeda Pharmaceutical Company Limited
Don't Need a Global Report?
save 40%! on Country & Region specific reports
What is Opening Up New Opportunities for Manufacturers of Peptide-Based Cancer Therapeutics?
"Growing Acceptance of Biologics in Cancer Treatment"
Cancer is defined by unchecked cell division and the capacity of these cells to infiltrate other organs, which results in the creation of tumor masses, vascularization, and metastasis. Angiogenesis is a crucial and normal process in growth and development, but it also plays a key role in the transformation of benign tumors into malignant ones. As a result, tumor cell development has been inhibited by the use of angiogenesis inhibitors.
One of the main methods for treating cancer is chemotherapy, which works by giving the cancer cells a cytotoxic substance. The primary drawback of conventional chemotherapy is its inability to deliver the right dosage of medication to cancer cells without also harming healthy cells. Other prevalent issues include drug resistance, altered bio-distribution, biotransformation, and drug clearance.
A potent solution to avoid such issues is targeted chemotherapy and medication delivery systems. Preventing access to normal cells will enable the selective and efficient localization of medicines at designated targets, maximizing therapeutic index and lowering toxicity.
A new wave of more potent and targeted anti-cancer medications is anticipated to emerge over the coming years. This is due to the discovery of several protein/peptide receptors as well as tumor-related peptides and proteins. Proteins, monoclonal antibodies, and peptides are some of the 'biologics' cancer treatment options.
Peptides have several benefits, including their short size, simplicity in synthesis and modification, capacity to penetrate tumors, and high biocompatibility. Chemical alterations, such as the addition of cyclization, can stop peptide decomposition through proteolysis.
"New Developments in Cancer Therapies"
A significant innovation in the treatment of cancer has been the discovery of targeted medicines that specifically attach and act through chemicals expressed by cancer cells. These therapies mediate better efficacy with improved tolerability when compared to conventional cytotoxic drugs.
Peptides have recently experienced significant market growth as a result of their many benefits, which include high specificity, simple synthesis, adaptability, and cost-effectiveness. Peptides and heparin are used in the drug development process by many pharmaceutical companies because of the benefits they have to offer.
The enormous research and development efforts have resulted in the approval of a cocktail of peptide-based drugs used to treat a variety of tumors. The development of generic medications has also been made possible by the patent exclusivity of these medications, which lowers the overall cost of treatment. With the introduction of generic medications, therapy is now accessible to all patients regardless of socioeconomic class, and pharmaceutical companies have more opportunities to boost their market share.
What is Hampering Global Demand for Peptide-Based Cancer Therapeutics?
"High Cost of Drug Development and Strict Regulatory Standards for Drug Approval"
Low oral bioavailability and weak resistance to cleavage by serum proteases are the factors hampering market expansion. Peptide therapeutic instability concerns, the high cost of drug development, and strict regulatory standards for drug approval are restraining market growth.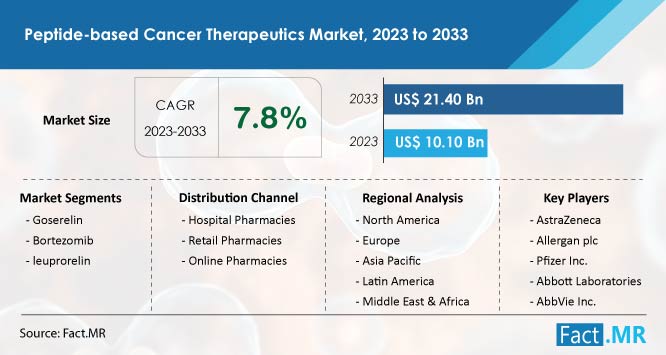 Which Region is Predicted to Lead Market Expansion Going Forward?
"Well-established Biotech & Pharmaceutical Industries in North America"
North America accounts for 50% share of the global peptide-based cancer therapeutics market. The potency in healthcare and the presence of top manufacturers of peptide-based cancer therapeutics are supporting market growth in North America. Growing awareness of peptide therapies, well-established biotech & pharmaceutical industries, and the rising demand for cancer diagnostics are driving market value.
More Insights, Lesser Cost (-50% off)
Insights on import/export production,
pricing analysis, and more – Only @ Fact.MR
Country-wise Insights
Why are Sales of Peptide-Based Cancer Therapeutics Surging in the United States?
"Advantageous Reimbursement Regulations in the Country"
The United States is emerging as a burgeoning market for peptide-based cancer therapeutics. The market in the United States is expanding due to enhanced healthcare infrastructure, advantageous reimbursement regulations, and a rise in the local supply of innovative peptide medications.
What are the Growth Prospects for Peptide-based Cancer Therapeutic providers in Germany?
"Increase in Medical Research Programs in Germany"
The rapid acceptance of peptide therapies and an increase in medical research programs are boosting market value in Germany. Market expansion in Germany is anticipated to be aided by a rise in spending for R&D by government organizations and the growing geriatric population.
Why is Japan a Prominent Market for Peptide-based Cancer Therapeutics?
"Increasing Need for Advanced Therapies for Cancer Treatment"
The market in Japan is being driven by a rise in healthcare spending, high cancer prevalence, low cost of raw materials, and top businesses offering outsourced services. The market is also expected to grow as a result of the vast patient base and increasing need for more modern & advanced therapies for cancer treatment.
Category-wise Insights
Which Drug Type is Forecasted to Gain a Prominent Market Share?
"Growing Prevalence of Multiple Myeloma Driving Demand for Bortezomib Drugs"
Based on drug type, the market is divided into goserelin, bortezomib, leuprorelin, and others. Bortezomib accounts for around 40% revenue share of the global market.
A drug called bortezomib is used to treat multiple myeloma. Patients with mantle cell lymphoma can also receive bortezomib treatment. The medication class known as antineoplastic agents includes bortezomib. It works by removing cancer cells.
The main variables impacting market growth rate include the growing incidence of multiple myeloma, mantle cell lymphoma, and lymphomas, as well as rising healthcare expenditure. The demand for bortezomib is expected to rise as a result of advancements in medical technology and rising consumer awareness.
Which Distribution Channel is Leading the Sales of Peptide-based Cancer Therapeutic Products?
"Hospital Pharmacies Favored Due to Their Easy Access to Patient Information & Medical Histories"
The market is divided into hospital pharmacies, retail pharmacies, and online pharmacies based on distribution channel. Hospital pharmacies are gaining traction due to their primary responsibility for ensuring the availability of all pharmaceuticals used in hospitals.
Hospital pharmacies are favored by individuals as they have patient information and medical histories. The long-term treatment maintenance, the easy accessibility of medications, and improved supply chain management are boosting the sales of peptide-based cancer therapeutics through hospital pharmacies.
Competitive Landscape
Key businesses are focusing on product launches, quality control, mergers & acquisitions, pricing trends, and collaboration tactics to increase their market share. Technology advancements and the creation of new products are important strategies used by businesses to gain market share.
Leading players are engaged in strategic alliances such as enhancing product standards following safety regulations to lower the environmental impact. R&D of novel peptides is anticipated to provide market participants with significant growth opportunities.
Top producers of peptide therapies are focusing on market expansion through distribution agreements and research into untapped markets. To strengthen their local presence and expand their manufacturing capabilities, established businesses are now working with local businesses.
For instance :
In 2019, the Swiss pharmaceutical giant Novartis and the Japanese biotechnology company PeptiDream announced a new peptide drug conjugate (PDC) cooperation. To find novel macrocyclic and restricted peptides as PDCs against several targets of interest selected by Novartis, PeptiDream will leverage its own Discovery Platform System technology.
In 2020, Sony Brook University (SBU) presented a cutting-edge method to treat advanced prostate cancer, which allowed SBU to prolong funding for FABP5 inhibitors through 2025. Researchers believe that the SBU-specific fatty acid binding protein (FABP) may aid in preventing cancer.
Key Segments of Peptide-based Cancer Therapeutics Industry Research
By Drug Type :

Goserelin
Bortezomib
leuprorelin
Others

By Distribution Channel :

Hospital Pharmacies
Retail Pharmacies
Online Pharmacies

By Region :

North America
Europe
Asia Pacific
Latin America
Middle East & Africa
- FAQs -
The global peptide-based cancer therapeutics market is valued at US$ 10.1 billion in 2023.
Bortezomib holds 40% share of the global peptide-based cancer therapeutics market.
Sales of peptide-based cancer therapeutics are set to increase at a CAGR of 7.8% through 2033.
AstraZeneca, Allergan plc, and Pfizer Inc. are the top producers of peptide-based cancer therapeutics.
Worldwide demand for peptide-based cancer therapeutics is forecasted to reach US$ 21.4 billion by 2033.