Automotive Lead Acid Battery Market
Automotive Lead Acid Battery Market Analysis by Battery Type (Flooded, Enhanced Flooded, Absorbent Glass Mat (AGM)), By Technology (Internal Combustion Engines (ICE), Hybrid, Electric), By Vehicle Type (Passenger Cars, Commercial Vehicles), By Sales Channel (OEMs, Aftermarket) & By Region – Global Market Insights 2023 to 2033
Analysis of Automotive Lead Acid Battery Market Covering 30+ Countries Including Analysis of US, Canada, UK, Germany, France, Nordics, GCC countries, Japan, Korea and many more
Automotive Lead Acid Battery Market Outlook (2023 to 2033)
The value of the global automotive lead acid battery market reached US$ 26.93 billion in 2022, according to the latest market study by Fact. MR. Over the projection period (2023 to 2033), worldwide sales of lead acid batteries are predicted to rise at 5.1% CAGR to amount to US$ 46.54 billion by 2033-end.
Lead acid batteries consist of lead and lead oxide plates immersed in a sulfuric acid solution, forming an essential component of these batteries. When the battery discharges, it transforms reactive energy into electrical power. These batteries find extensive applications in automobiles for ignition, lighting, and starting (SLI). They supply electricity to devices such as charging plugs, radios, music players, and air conditioners within vehicles. There is a diverse range of lead acid battery types employed in the automotive industry.
The automotive lead acid battery market is expected to grow in the coming years as a result of technological advancements leading to enhanced and maintenance-free batteries, higher vehicle production, and electronic applications.
The market benefits from the increased popularity of electric vehicles and the stricter regulatory rules regarding fuel pollution. One of the key factors driving market growth is the ease with which lead acid batteries can be recycled as compared to lithium-ion batteries.
Flooded lead acid batteries include free electrolytes that can move within the battery casing. When the battery is charged, the acid and lead electrodes react electrically. In terms of value, flooded lead acid batteries are less expensive than VRLA batteries and are ideal for traction, starter, lights, and ignition (SLI).
On July 13, 2022, Panasonic Corporation, a global leader in lithium-ion battery manufacturing, partnered with Kansas for economic development to accelerate the expansion of the electric vehicle (EV) industry in the United States.
General Motors Company reached a significant milestone in its research and development of the next-generation Ultium chemistry on March 13, 2021. This accomplishment opened doors for a strategic joint development agreement with Solid Energy Systems, with the shared objective of accelerating the transition to an electric future.
Report Attributes
Details

Automotive Lead Acid Battery Market Size (2022)

US$ 26.93 Billion

Estimated Market Value (2023)

US$ 28.30 Billion

Forecasted Market Value (2033)

US$ 46.54 Billion

Global Market Growth Rate (2023 to 2033)

5.1% CAGR

China Market Value (2033)

US$ 10.14 Billion

China Market Growth Rate (2023 to 2033)

5.7% CAGR

South Korea Market Value (2033)

US$ 1.48 Billion

South Korea Market Growth Rate (2023 to 2033)

3% CAGR

Key Companies Profiled

EnerSys Inc.
Johnson Controls Inc.
GS Yuasa Corporation
Panasonic Corporation
Exide Industries Ltd.
General Motors Company
CBS Energy Technology Co. Ltd.
East Penn Manufacturing Company
What are the Factors Influencing the Demand Growth for Automotive Lead Acid Batteries?
"Higher Rate of Regeneration of Lead Acid Batteries Leading to Their Increased Adoption"
Adoption of electric vehicles is increasing worldwide. Lead acid batteries are suitable for a broad spectrum of consumer and industrial uses due to their dependability and cost. Lithium-ion batteries generally have a higher rate of handling and regeneration compared to lead acid batteries.
Governments all over the world have adopted and put into effect favorable laws that encourage the use of electric lead acid batteries in EVs to reduce the consumption of crude oil, automotive emissions, and air pollution.
For instance, Mahindra & Mahindra declared, in 2021, its intention to spend US$ 402 million on electric vehicles over the following three years, to have 500,000 of them on Indian roads by 2025.
Such developments have boosted the utilization of automotive electric lead acid batteries in electric vehicles.
"Substantial Demand for Lead Acid Batteries Due to Their Durability against Corrosion & Abrasion"
Lead acid batteries power a variety of car accessories, including ACs, music systems, wipers, radios, and charging ports. This is one of the main driving forces behind the market's expansion, coupled with the increasing sales of passenger vehicles due to the growing global population, rapid urbanization, and rising income levels. Demand for electric automobiles and e-bikes is being fueled by people's growing awareness of the negative effects of carbon emissions.
As a result of their high power delivery, durability against corrosion and abrasion, and reduced internal impedance, lead acid batteries are being used extensively. Lead acid batteries have become an environmentally friendly energy storage technology due to the advancements in utilizing recycled components in their production.
To produce sophisticated and high-performance batteries, companies have been engaging in research and development (R&D) activities and collaborating or partnering with leading companies. This is expected to have a favorable impact on lead acid battery sales in the coming years.
Don't Need a Global Report?
save 40%! on Country & Region specific reports
What are the Challenges Faced by Manufacturers of Automotive Lead Acid Batteries?
"Lower Energy Density, Weight, and Size of Lead Acid Batteries"
Lead acid batteries have lower energy density compared to other battery technologies such as lithium-ion. This limits their ability to store and deliver large amounts of energy, making them less suitable for applications that require high power and longer range, such as electric vehicle (EV) batteries.
Lead-acid batteries are relatively bulky and heavy compared to other battery technologies. This makes them less suitable for applications where weight and size constraints are critical, such as electric vehicles seeking to maximize range and efficiency.
"Longer Charging Time and Limited Temperature Range"
Lead acid batteries typically require longer charging times compared to some other battery chemicals. This can be a limitation in applications where fast charging is essential, such as electric vehicles or high-demand industrial equipment.
Lead acid batteries perform best within a limited temperature range. Extreme temperatures, both hot and cold, can significantly impact their performance and lifespan. This makes them less suitable for applications in extreme climates or temperature-sensitive environments.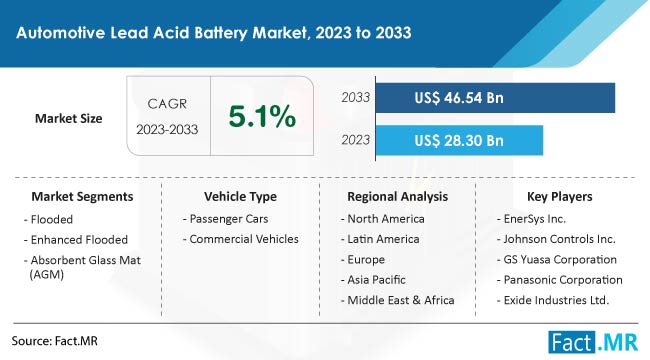 Country-wise Insights
What Makes the United States a Lucrative Market for Manufacturers of Lead Acid Batteries?
"Favorable Regulatory Policies and Excellent Renewable Energy Infrastructure"
Demand for automotive lead acid batteries in the United States is anticipated to reach a valuation of US$ 9.91 billion by 2033, increasing at a steady CAGR of 4.8%.
Due to its strong industrial infrastructure, swift implementation of battery-based storage of energy projects, and growth in the infrastructure for renewable energy sources, the United States is a major hotspot for industrial batteries. The battery industry is projected to be driven in the coming years by beneficial policies governing the installation of renewable energy and residential distributed power systems in the United States.
During the projected period, the expanding military spending is anticipated to support the army's increasing reliance on battery-operated communications and other electronic equipment, which will in turn increase demand for lead acid batteries.
Market players in the United States are projected to benefit significantly from advancements in lead acid battery technology to boost storage density, lengthen useful service life, and enhance cold-weather performance at an affordable price than modern battery technologies.
How is Demand for Lead Acid Batteries Shaping Up in India?
"Increased Production of Passenger and Commercial Cars to Support Economic Expansion"
The market in India is anticipated to be driven by rising demand for lead acid batteries from the telecommunication sector and data centers as well as rising application levels in sectors such as railroads. The expansion of the industry, however, is projected to be disrupted by alternative technologies, particularly lithium-ion, principally because of their declining costs and technical benefits.
India is a major market in South Asia for automobile lead acid batteries. Growth in the manufacturing of passenger and commercial cars is expected to keep supporting economic expansion in India.
Lead acid battery technology is advancing due to rising demand for 12-volt lead acid batteries and new regulations governing carbon dioxide emissions.
What is the Demand Projection for Lead Acid Batteries in Germany?
"Emphasis of Manufacturers on Advancements to Create Efficient Batteries"
The market in Germany is projected to reach US$ 4.74 billion by 2033, expanding at a noteworthy CAGR of 6.6%.
Lead acid batteries are becoming more and more necessary as auto production rises. Key manufacturers in the country are working on new products to create superior batteries to meet the rising demand for efficient power sources.
For instance, more than 2 million electric vehicles are predicted to be deployed in Germany in the coming years. Since consumers are switching to more affordable and environmentally friendly vehicles, demand for such batteries would expand along with the demand for such vehicles.
More Insights, Lesser Cost (-50% off)
Insights on import/export production,
pricing analysis, and more – Only @ Fact.MR
Category-wise Insights
Which Vehicle Type Accounts for High Deployment of Automotive Lead Acid Batteries?
"Need for Dependable Power Sources for Passenger Cars"
Use of lead acid batteries in passenger cars is anticipated to rise at a steady CAGR of 5.2% during the forecast period.
Over the coming years, the automotive lead acid battery market is expected to be dominated by passenger cars. Due to their high demand, the increasing number of vehicles on the road, and the requirement for dependable power sources in vehicles, passenger cars make up the majority of the lead acid battery industry.
The market is anticipated to expand in the coming years due to the rising demand for backup power supplies in automobiles as well as the popularity of electric vehicles.
Why is Production of Electric Lead Acid Batteries Gaining Traction?
"Environmental Concerns and Limited Oil Resources Making Electric Lead Acid Batteries a Good Alternative"
Demand for electric lead acid batteries is expected to advance at a steady CAGR of 5.6% during the forecast period.
In response to mounting environmental concerns and depleting oil reserves, automotive manufacturers have been actively pursuing the development of alternative fuel vehicles. Electric lead acid batteries are a cleaner and more environmentally friendly alternative to traditional internal combustion engines. They produce zero emissions during operation, helping to reduce air pollution and combat climate change.
The automotive industry has experienced a surge in electric car and bike production, fueled by the growing trend toward electric vehicle usage. The cost-effectiveness of electric vehicles, coupled with their extensive application in commercial sectors, has led to their increasing utilization across the globe. Electric lead acid batteries are generally more cost-effective to operate compared to vehicles powered by internal combustion engines. They have lower maintenance requirements, as they have fewer moving parts and do not require oil changes or regular tune-ups.
Competitive Landscape
Leading players in the automotive lead acid battery industry offer a wide range of products for various applications, including automotive vehicles. A majority of companies have a strong global presence and a robust distribution network, enabling them to cater to the demands of the automotive sector effectively.
In January 2021, EnerSys and TravelCenters of America (TA) formed a partnership to provide Group 31 designated lead acid batteries, namely Odyssey Performance and NorthStar PRO, tailored specifically for heavy-duty applications.
In December 2021, GS Yuasa Corporation announced its plans to enter the motorcycle lead acid battery market.
Know thy Competitors
Competitive landscape highlights only certain players
Complete list available upon request
Key Segments of Automotive Lead Acid Battery Industry Research
By Battery Type :

Flooded
Enhanced Flooded
Absorbent Glass Mat (AGM)

By Technology :

Internal Combustion Engine (ICE)
Hybrid
Electric

By Vehicle Type :

Passenger Cars
Commercial Vehicles

By Sales Channel :

By Region :

North America
Latin America
Europe
Asia Pacific
Middle East & Africa
- FAQs -
The global automotive lead acid battery market size is estimated at US$ 28.30 billion in 2023.
The market is forecasted to expand at a CAGR of 5.1% during the forecast period.
Worldwide sales of automotive lead acid batteries are set to reach US$ 46.54 billion by 2033.
Demand for lead acid batteries in the U.S. is projected to rise at 4.8% CAGR through 2033.
The market in Germany is expected to progress at a CAGR of 6.6% through 2033.