With growing health-consciousness among consumers worldwide, a large number of commercial and non-commercial foodservice outlets that serve healthy and nutritious meals have emerged over the past few years, helping consumers in curtailing their calorie intake. This has further created the need for effective packaging in these foodservice outlets. In addition, growing preference for ready-to-eat food, changing consumer demand patterns regarding food packaging, and rising emphasis on use of convenient packaging have driven the demand for foodservice packaging. Vendors in the food service packaging market are introducing innovative packaging products for takeaway and home delivery food. These vendors are implementing several innovations in foodservice packaging such as compostable packaging and biodegradable packaging. Recently, corrugated packaging has gained immense traction in the foodservice industry on the back of its thermal properties, the ability to retain freshness of food products for extended duration, and preventing food from releases & spills. Additionally, many players have started introducing sustainable packaging products, meanwhile continuously working on recyclable and reusable packaging materials.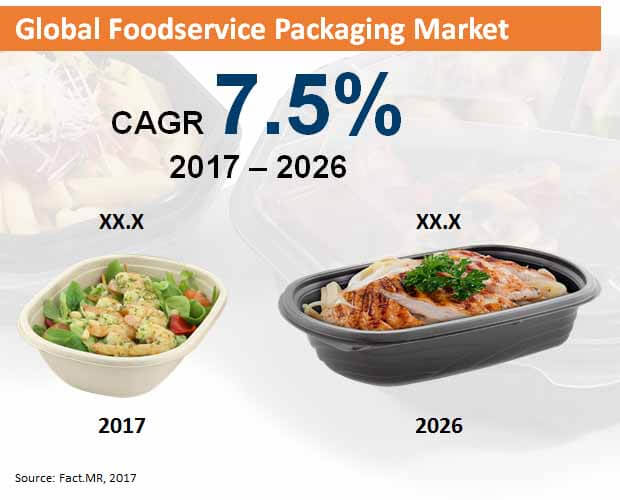 Fact.MR has compiled a new report on the global food service packaging market. The report projects the global market for foodservice packaging to ride on an impressive 7.5% CAGR through the forecast period (2017-2026), in terms of value. Over 54,000 '000 tons of food service packaging products are likely to be sold across the globe by 2026-end.
For more insights, request sample of this report.
Market Taxonomy
| | | | | |
| --- | --- | --- | --- | --- |
| Region | Product Type | Packaging Material | Application | Fabrication Type |
| North America | Plates | Polyethylene Terephthalate (PET, PETE, PETG or polyester) | Foodservice Outlets | Thermoforming |
| Latin America | Shallow Trays | High Density Polyethylene (HDPE) | Bakery | Die Cutting |
| Europe | Cups | Polyvinyl Chloride (PVC) | Takeaway Meals | Injection Molding |
| Japan | Bowls | Low Density Polyethylene (LDPE) | On the Go Breakfast | |
| APEJ | Bottles | Polypropylene (PP) | Institutional Foodservices | |
| MEA | Cans | Polystyrene (PS) | Online Food Ordering | |
| | Single Serve Portion Packs | Aluminum | Dairy Products | |
| | Clamshell Containers (Hinge Lid Containers) | Clay Coated Cardboard | Alcoholic Beverages | |
| | Two Piece Containers (Separate Lid Containers) | Molded Fiber | Ready to Drink Beverages | |
| | Others (Foil, Paper and Pouches) | | Other Applications | |
(Additional information, including cross-sectional data and country-wise analysis & forecast is available in the report)
North America to Remain Fast-expanding market for Food Service Packaging
Despite mature state of food service packaging market in North America, the industry demand continues to witness expansion, mainly driven by high demand from foodservice settings in the U.S. Hectic and busy lifestyle of people in North America has led them to opt for ready-to-go and convenient food. In addition, proliferation in home deliveries of food products by various foodservice outlets has further created demand for food service packaging in the region. North America will prevail as the fast-expanding and the most remunerative market for food service packaging.
Relatively lower cost and thermoforming benefits of polyethylene terephthalate (PET, PETE, PETG or polyester) has made it the most lucrative packaging material in the market. Revenues from PET will account for the largest market share during the forecast period, in terms of value. In addition, demand for high density polyethylene (HDPE) and polyvinyl chloride will also remain significant among food service packaging industries on the back of their properties such as high temperature-resistance and prevention of food products from moisture.
Key Research Findings from the Report
Thermoforming will remain preferred among fabrication types for foodservice packaging, in terms of value
Based on applications, foodservice outlets will continue to be leading revenue contributor to the market
Plates will continue to be sought-after among products in the market
Competition Tracking
The global market for food service packaging is extremely fragmented in nature, owing to the presence of a larger number of large and small vendors. The occupancy of multiple market players has created challenges for players in retaining customer's loyalty. Vendors in this heterogeneous market are competing in terms of packaging innovation, pricing strategy, and quality. High intensity of competition between players has led them to provide customized solutions and services along with attractive loyalty-based offers for retaining high-value customers. Key food service packaging companies supporting the market expansion include Huhtamaki Oyj, Genpak, LLC, Linpac Packaging, Pactiv LLC, D&W Fine Pack, Sealed Air Corporation, Stanpac Inc., Smurfit Kappa Group, WestRock Company, and DS Smith.
Request research methodology of this report.
Note: The insights mentioned here are of the respective analysts, and do not reflect the position of Fact.MR
Growth of the global food service packaging will remain influenced by factors such as rising prevalence of convenient packaging products, changing consumer demand patterns associated with packaging, and increasing adoption of ready-to-eat food. This report, compiled by Fact.MR, provides in-depth analysis of the global food service packaging market for the forecast period 2017-2026, offering key insights on the growth prospects of the market.
Scope:
The scope of the Fact.MR's report is to analyze the global food service packaging market for the forecast period 2017-2026 and offer accurate and unbiased insights to the readers. Food service packaging manufacturers, suppliers, and stakeholders in the global industry can benefit from the analysis offered in this report.
In-depth analysis regarding the energy saving properties, usage benefits, and long-term maintenance is detailed in this report. The comprehensive study offers insights on various market drivers, trends, and challenges shaping the future of the market, serving as a platform for future study, interest and understanding for the leading industries, trade magazines and journals related to the global food service packaging market.
Summary:
The report introduces the current scenario of the market for food service packaging. The executive summary section of the report offers information regarding the future scope of the global foodservice packaging market. Brief information on the vital aspects, facts, and statistics on the global food service packaging market is emphasized in this section.
Overview:
This section offers an overview of the global food service packaging market. This section comprises definition of the product – foodservice packaging, along with key insights on dynamics playing an important role towards the growth of the market. The overview also includes market value and year-on-year growth defining the future progress and decline of the global foodservice packaging. Data on the year-on-year growth provides readers with an overall view on expected progress reshaping growth during the forecast period.
In the next section, the report provides insights on major drivers, key trends, and retrains on the basis of demand, supply and macro-economic factors. The report also talks about an impact analysis of drivers and restraints that helps in decision-making and becoming more efficient.
The report further provides information on various technological advancements in the global foodservice packaging market. Latest information and advancements regarding growth opportunities can prove to be beneficial for the leading manufacturers of foodservice packaging. With advancements in technology, keeping an eye on the latest trends and developments is important for food service packaging manufacturers to frame key business strategies. Key insights concerning the list of distributor, supply chain, cost structure, pricing analysis, and raw material sourcing, are also provided in this section of the report.
Considering the broad-scope of the global food service packaging market, the report offers in-depth insights on the forecast and segment-wise analysis. The foodservice packaging market has been segmented on the basis of fabrication type, application, packaging material, product type, and region. This sections offers segmentation analysis, along with a detailed country-wise forecast on all the parameters.
In the final section, the report offers information on the key competitors, along with a board view of the market players and company analysis. This competitive intelligence is based on the providers' categories across the value chain, and their presence in the global food service packaging market.
Research Methodology
Fact.MR is committed to offer unbiased and independent market research solutions to its clients. Each market report of Fact.MR is compiled after months of exhaustive research. We bank on a mix of tried-and-tested and innovative research methodologies to offer the most comprehensive and accurate information. Our main sources of research include,
Primary research
Secondary research
Trade research
Focused interviews
Social media analysis
Fact.MR offers custom research services that help clients to get specific research solutions
We are committed towards customer satisfaction and quality service.
---
Our Clients

Food Service Packaging Market Forecast, Trend Analysis & Competition Tracking - Global Market insights 2017 to 2026