CRISPR and Cas Genes Market
CRISPR and Cas Genes Market By Product (Vector-based Cas, DNA-free Cas), By Application (Genome Engineering, Disease Models, Functional Genomes), By End User & By Region - Global Market Insights 2023 to 2033
Analysis of CRISPR and Cas Genes Market Covering 30+ Countries Including Analysis of US, Canada, UK, Germany, France, Nordics, GCC countries, Japan, Korea and many more
CRISPR and Cas Genes Market Outlook (2023 to 2033)
Global demand for CRISPR and Cas genes is anticipated to surge at a stupendous CAGR of 20% from 2023 to 2033. At present, the global CRISPR and Cas genes market is valued at US$ 2.6 billion and is thus expected to reach a market size of US$ 16 billion by the end of 2033.
Biotechnology & pharmaceutical companies are using gene modification extensively for both research and business purposes. These companies are increasingly relying on CRISPR-Cas technologies to develop more accurate biological models for human diseases rapidly and to quickly identify and validate new therapeutic targets.
The genomes of prokaryotic species, such as bacteria and archaea, contain a DNA sequence family known as CRISPR (clustered regularly interspaced short palindromic repeats). Prokaryotes, including bacteria and archaea, have an adaptive defense system called CRISPR-Cas that shields them from viruses, phages, and other foreign genetic material.
As a quick and effective genome editing tool, CRISPR-Cas systems have been widely used in a range of species as well as in different human cell lines. It is a medical innovation that is used to both generate genetically enhanced species and treat many genetic diseases.
The CRISPR-Cas system is a bacterial immune mechanism that provides resistance to external genetic components, enabling acquired immunity. Compared to earlier DNA modification methods, it is quicker, more effective, and more accurate, and it has more applications.
Advancements in the field of genome editing have facilitated the increased adoption of CRISPR-Cas systems in diagnostics and the assessment of evolutionary analysis in prokaryotes. The technique is specifically used to understand the evolution of bacteria. Governments worldwide have encouraged investments in genome editing advancements, paving the way for the CRISPR and Cas genes market growth.
The most important development in this field is the introduction of the Cas-9 technique. This is a revolutionary step in the field of biomedical research. The application of CRISPR/Cas 9 focuses on somatic cell genome editing and aims to accelerate treatment for various genetic disorders. CRISPR-based tests provide more accurate test results compared to other techniques such as RT-PCR tests.
The widespread use of CRISPR Cas genes in the therapy of disease is a result of the prevalence of hereditary diseases in humans. Additionally, CRISPR-Cas technologies have been widely used in genome editing in molecular biology laboratories all over the world because of their simple design, low cost, high efficiency, great repeatability, and rapid cycle, which is expected to propel market growth.
CRISPR-Cas systems have been applied to the therapy of various hematologic disorders, including hemophilia B and sickle cell disease (SCD). It is not just restricted to treating genetic abnormalities; metastatic cancer has also been successfully treated with it. The CRISPR and Cas genes Industry is increasing as a result of its expanding applications, which have attracted numerous biotech companies to invest in the market and financial support from the government.
Report Attributes

Details

CRISPR and Cas Genes Market Size (2023)

US$ 2.6 Billion

Projected Market Value (2033)

US$ 16 Billion

Global Market Growth Rate (2023 to 2033)

20% CAGR

Market Share of Vector-based Cas

60%

Key Companies Profiled

Addgene
AstraZeneca plc
Caribou Biosciences, Inc.
Cellectis
Synthego
CRISPR Therapeutics AG
Editas Medicine, Inc.
GenScript
Lonza Group AG
Beam Therapeutics
Don't Need a Global Report?
save 40%! on Country & Region specific reports
Why is the Demand for CRISPR and Cas Genes Increasing Rapidly?
"Constant Advancements in CRISPR & Cas Gene systems"
Recently developed biotechnological research has made it possible for CRISPR & Cas gene systems to be widely used in ways that either directly or indirectly benefit human health. For instance, transthyretin amyloidosis, sickle cell disease, and HIV have all been treated through somatic gene editing, which entails altering an individual's DNA.
It is anticipated that the method will be one of several advanced therapy alternatives for different types of cancer. The field of cancer research and therapies has recently undergone a revolution due to new developments in CRISPR and Cas gene systems.
Demand for gene editing techniques such as CRISPR & Cas gene technology has increased as a result of innovative technologies, including karyotyping, newborn screening, virus screening, and others. Additionally, the biotechnology sector has seen a rise in the utilization of CRISPR & Cas gene technology to improve agricultural production through inventive breeding techniques.
The ability to add or remove genetic information from precise places in the genome is one advantage of using CRISPR technology. The study of human disorders, such as cystic fibrosis, the effects of Barth syndrome on the heart, hemophilia, and Duchenne muscular dystrophy, has increasingly used CRISPR technology.
"Growing Adoption of CRISPR Technology for Research on Genetic Diseases"
Genome editing is broadening the ability to elucidate the contribution of genetics to diagnostics by facilitating more accurate cellular and animal models of pathological processes. Genome editing techniques are being investigated as promising approaches to human gene therapy.
CRISPR technology is being increasingly used for research on genetic diseases. Global demand for CRISPR and Cas genes has been primarily driven by the use of CRISPR-Cas systems in bacterial activities, an increase in government spending on genome editing research and development, and the application of CRISPR technology to improve crop production.
The discovery and characterization of CRISPR and Cas genes have fueled the recent development of a flexible, democratized genome-engineering toolbox based on programmable targeting of CRISPR and Cas systems. The technology is being widely used in research to find treatment options for neurodegenerative diseases.
For instance, the technique is being applied to investigate possible treatment approaches for Huntington's disease. The use of Cas9 nuclease provides safe and efficient means of targeting the Huntington gene by deletion of abnormal repetition along with inhibiting toxic protein synthesis.
Since its involvement in bacterial adaptive immunity was discovered a few years ago, CRISPR has evolved into a potent and widely used tool in genetics. Genome editing has advanced thanks to CRISPR technology in the fields of health, biotechnology, and agriculture, making it possible for researchers to study these areas more quickly and effectively. Due to easy, quick, and affordable access to vectors and the subsequent next-generation tools made available by the nonprofit plasmid repository Addgene, CRISPR technology is in more demand.
Immunization of cultured cells, self-targeted cell destruction, and metabolic pathway engineering for improved biochemical synthesis are some potential uses of CRISPR-Cas systems. CRISPR-Cas systems are already being used in fields, including the engineering of industrial microorganisms and the breeding of plants and animals, expanding their application beyond just research and therapeutic development.
What Barriers are Being Encountered by Key Market Participants?
"High Costs Associated with Using CRISPR Genes and Availability of Alternatives"
It is anticipated that the high costs associated with using CRISPR genes will restrain global market expansion, according to pricing trends. Market growth will be hampered by ethical concerns about human genome editing.
The development of the worldwide CRISPR and Cas genes business may be constrained by a lack of qualified professionals, and the availability of alternatives is also anticipated to constrain market expansion.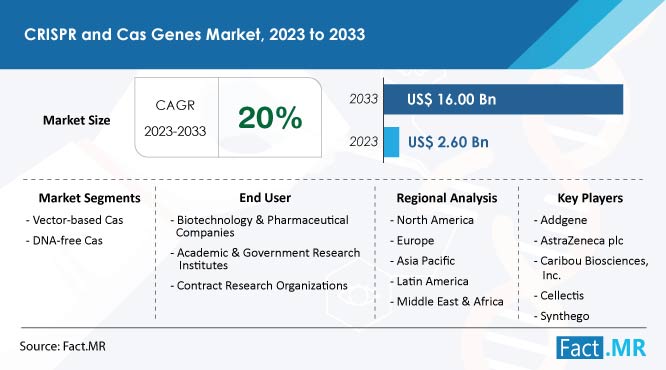 Which Region Accounts for a Leading Position in the Global Market?
"Increased Funding for Research Activities to Provide Modified Products in North America"
North America accounts for 50% share of the global market. Increased funding for research activities to provide modified products for preventing chronic diseases is anticipated to drive market growth. An increase in clinical trials, effective government initiatives, and a rise in the local supply of CRISPR-Cas products are anticipated to support market expansion.
More Insights, Lesser Cost (-50% off)
Insights on import/export production,
pricing analysis, and more – Only @ Fact.MR
Country-wise Insights
Why is the United States the Leading Revenue Generator in North America?
"Favorable Healthcare Legislation in the Country"
The United States is poised to be at the vanguard of the global CRISPR and Cas genes market over the forecast period due to favorable healthcare legislation, a high prevalence of chronic disorders, and a developed healthcare system. Growing biopharmaceutical R&D as well as the active involvement of various pharmaceutical companies in the development of novel medications using genome editing methods are driving market growth.
What are the Demand Growth Prospects for CRISPR and Cas Genes in Germany?
"Presence of Major Pharmaceutical & Gene Therapy Companies"
The market in Germany is anticipated to rise due to an increase in research approvals, the demand for novel therapies, and the presence of major pharmaceutical and gene therapy companies. A few of the main variables responsible for market growth are rising funding for biotechnology and genomics programs and reassuring healthcare policies.
Why is Japan Set to Be a Lucrative Market for Providers of CRISPR and Cas Genes?
"Increasing Need for Genetically Engineered Treatment Options for Chronic Diseases"
The market in Japan is estimated to increase at a significant rate throughout the forecast period owing to ongoing clinical investigations and an increase in genome-editing method research projects. The need for genetically engineered treatment options for chronic diseases such as cancer is anticipated to improve the growth prospects of the market in Japan.
The growing popularity of CRISPR technology in many applications and the expansion of R&D by research institutions & companies are two additional factors boosting market expansion. The market is driven by the rising prevalence of various genetic disorders and higher government investments in R&D activities to find novel treatments.
Category-wise Insights
Which Product is Forecast to Gain a Prominent Market Share?
"Vector-based Cas Systems More Useful for Production of Stable Cell Lines"
Based on product, the market is divided into vector-based Cas and DNA-free Cas. Vector-based Cas systems account for 60% share of the global market. Researchers that concentrate on enriching Cas9-expressing cells or work to create a stable cell line can benefit from vector-based Cas expression platforms. It is also possible to create stable cell lines with little background expression using vector-based Cas with an inducible promoter or to regulate Cas9 expression for a variety of experimental uses.
Production of high-level expression of protein and RNA over several days, reduction in potential off-targets, and the possibility of finding correlations with human diseases in model systems will continue to push the demand for vector-based Cas systems. Growth in demand for DNA-free systems is attributed to rising awareness about multiple CRISPR-Cas applications across various fields such as drug discovery, biomedical research, non-transgenic bleeding, and clinical therapies.
Which Application Will Bring in High Revenue Streams?
"Genome Engineering Systems Widely Used for Therapeutic Development & Germline Alterations"
The market is bifurcated into genome engineering, disease models, functional genomes, knockdown/activation, and others based on application. Genome engineering is anticipated to find the leading application of CRISPR-Cas-based techniques over the forecast period, capturing more than half of the total market share attributed to the growing use of gene-editing techniques for therapeutic development and germline alterations.
Enabling programmable genetic, epigenetic, and transcriptomic engineering is anticipated to push the scope of application in genome engineering. Widespread usage in research projects is also poised to influence market prospects for genome engineering. Application of CRISPR-Cas systems in disease models is anticipated to surge on the back of immunology-focused applications such as the targeting of C-C chemokine receptor type 5 and programmed death-1 gene.
Competitive Landscape
Top companies are engaged in several strategic alliances, including supply chain management, acquisitions, quality control, and the introduction of advanced products following safety regulations to lower the environmental impact and maintain their position in the international market.
Key market players are enhancing product standards and forming alliances with research institutes to conduct R&D for the treatment of many diseases, including AIDS, cancer, and genetic diseases. The market is experiencing greater competition as a result of technological advancements and the expanding functional background.
For instance :
Thermo Fisher Scientific has a broad range of CRISPR-Cas products such as the CRISPR-Cas9 101, CRISPR Protein, CRISPR gRNA, Cas9 Lentivirus, and CRISPR Plasmids among others. The company also partnered with Synthego to distribute synthetic Guide RNA products for CRISPR.
In 2021, Casebia Therapeutics and Bayer AG, a CRISPR therapeutics and pharmaceutical business, engaged in a cooperative research effort to find, develop, and market novel therapeutics to treat blindness, blood diseases, and congenital heart disease.
Key Segments of RISPR and Cas Genes Industry Research
By Product :

Vector-based Cas
DNA-free Cas

By Application :

Genome Engineering
Disease Models
Functional Genomes
Knockdown/Activation
Others

By End User :

Biotechnology & Pharmaceutical Companies
Academic & Government Research Institutes
Contract Research Organizations

By Region :

North America
Europe
Asia Pacific
Latin America
Middle East & Africa
- FAQs -
Demand for CRISPR and Cas genes is expected to surge at a CAGR of 20% through 2033.
The global CRISPR and Cas genes market is valued at US$ 2.6 billion in 2023.
Vector-based Cas systems hold 60% share of the global market.
Addgene, AstraZeneca plc, and Caribou Biosciences, Inc. are top suppliers of CRISPR and Cas genes.
The market for CRISPR and Cas genes is forecasted to reach US$ 16 billion by 2033.