Global CRISPR and Cas Genes Market Size and Growth Outlook
The global CRISPR and Cas genes market shows stellar future growth prospects, expanding at a CAGR of 21.2% during the forecast period (2020-2026). Advancements in the field of genome editing have facilitated increased adoption of CRISPR-Cas systems in diagnostics and in the assessment of evolutionary analysis in prokaryotes.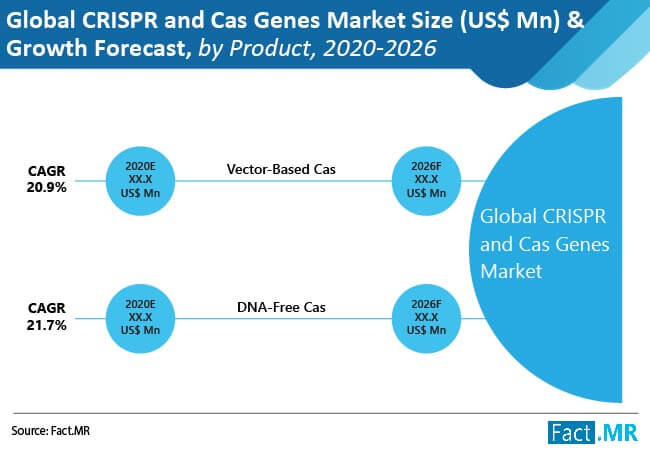 The technique is specifically used to understand the evolution of bacteria. Governments worldwide have encouraged investments in genome editing advancements, paving the way for the CRISPR and Cas genes market growth.
The most important development in this field is the introduction of the Cas-9 technique. This is a revolutionary step in the field of biomedical research. The application of CRISPR/Cas 9 focuses on somatic cell genome editing and aims to accelerate treatment for various genetic disorders. Moreover, it is projected that the COVID-19 pandemic shall find credible applications of this technique to understand the mutation of the novel coronavirus. Studies have proven that CRISPR-based tests provide more accurate test results compared to other techniques such as RT-PCR tests.
Don't Need a Global Report?
Save 40% on Country & Region specific reports
Global CRISPR and Cas Genes Market: Technological Insights
Genome editing is broadening the ability to elucidate the contribution of genetics to diagnostics by facilitating more accurate cellular and animal models of pathological processes. Genome editing techniques such as Zinc Finger Nucleases (ZFNs), Transcription Activator-like Effector Nucleases (TALENs), mega nucleases and Clustered Regularly Interspaced Short Palindromic Repeats (CRISPR) are being investigated as promising approaches to human gene therapy. The CRISPR technology is being increasingly used for researching on genetic diseases.
The discovery and characterization of CRISPR and Cas genes have fueled the recent development of a flexible, democratized genome-engineering toolbox based on programmable targeting of CRISPR and Cas systems. The technology is being widely used in research to find treatment options for neurodegenerative diseases. For instance, the technique is being applied to investigate possible treatment approaches for Huntington's disease. The use of Cas9 nuclease provides safe and efficient means of targeting the Huntington gene by deletion of abnormal repetition along with inhibiting toxic protein synthesis.
More Insights, Lesser Cost (-50% off)
Insights on import/export production,
pricing analysis, and more – Only @ Fact.MR
Global CRISPR and Cas Genes Market: Product Insights
Vector-based-Cas systems dominated the global CRISPR and Cas genes market during the historical period, capturing over 3/5th of the market value share. This trend is poised to continue over the forecast period, capturing a similar market share and expanding at a CAGR of 20.9%. However, DNA-free-Cas systems are anticipated to catch up, growing at a CAGR of 21.7% through 2026 and accounting for 2/5th of the global CRISPR and Cas genes market value.
Production of high level expression of protein and RNA over several days, reduction in potential off-targets, and the possibility of finding correlations with human diseases in model systems will continue to push the demand for vector-based Cas systems. Growth in demand for DNA-free systems is attributed to rising awareness about multiple CRISPR-Cas applications across various fields such as drug discovery, biomedical research, non-transgenic bleeding and clinical therapies.
Know thy Competitors
Competitive landscape highlights only certain players
Complete list available upon request
Global CRISPR and Cas Genes Market: Application Insights
Genome engineering is anticipated to find maximum application of CRISPR-Cas based techniques over the forecast period, capturing more than half of the total market share. The disease models segment is catching up, expanding 3.3x and capturing nearly one-fifth of the market value.
Enabling of programmable genetic, epigenetic and transcriptomic engineering is anticipated to push the scope of application in genome engineering. Widespread usage in research projects is also poised to influence market prospects for genome engineering. Application of CRISPR-Cas systems in disease models is anticipated to surge on the back of immunology-focused applications such as the targeting of C-C chemokine receptor type 5 and programmed death-1 gene.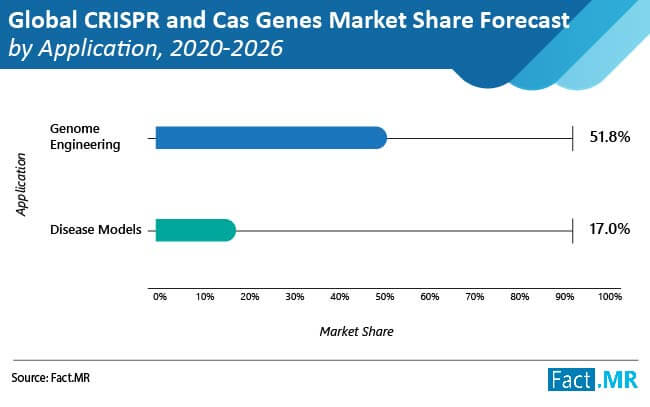 Global CRISPR and Cas Genes Market: Regional Insights:
North America is poised to be at the vanguard of the global CRISPR and Cas genes market over the forecast period. The region will capture almost half of the total market value, expanding at a CAGR of 21.6%. However, Asia-Pacific is set to expand the fastest at a CAGR of 23.2% through 2026 and capture more than 1/5th of the market share.
Increased funding for research activities to provide modified products for preventing chronic diseases is anticipated to drive the North America's CRISPR and Cas genes market growth. A clinical trial was initiated in 2016 in the United States to use CRISPR for disease treatment. The need for genetically engineered treatment options for chronic diseases such as cancer is anticipated to improve growth prospects of the market in Asia Pacific.
Global CRISPR and Cas Genes Market: Competition Structure
The global CRISPR and Cas genes market is highly fragmented, comprising of numerous small players. It is estimated that 50% of the total market share is collectively held by companies which individually do not account for more than 8% of the global market.
Prominent market players in the industry are Addgene, Integrated DNA Technologies (IDT) and Thermo Fisher Scientific. A strong distribution network across the globe, wide product portfolio of CRISPR plasmids, and collaboration with research institutes are major factors augmenting the revenue share of these companies.
Thermo Fisher Scientific has a broad range of CRISPR-Cas products such as the CRISPR-Cas9 101, CRISPR Protein, CRISPR gRNA, Cas9 Lentivirus and CRISPR Plasmids among others. The company also partnered with Synthego to distribute synthetic Guide RNA products for CRISPR in 2017. Likewise, Addgene offers products such as SapTrap CRISPR, CRISPi-Kit Gasser and CRISPaint Kit- Hornung.
COVID-19's Impact on the Market
The outbreak of the COVID-19 pandemic has generated shockwaves across the world, with infection rates rising on a daily basis. Presently, over 3 million active cases have been reported, out of which more than two hundred thousand people have succumbed to the disease. Despite the massive number, healthcare providers have unnervingly cared for the sick, trying to minimize the casualty rates.
The global CRISPR and Cas genes market is anticipated to burgeon amid the pandemic. Until now, hospitals have been relying on the RT-PCR based testing systems to diagnose COVID-19 patients. However, fluctuations in the reading of swabs often provide unreliable results. Therefore, healthcare organizations are exploring the possibilities of CRISPR-Cas9 based testing which are proven to guarantee a nearly 100% accuracy rate.
With the pandemic in full swing, the adoption of CRISPR-based diagnostics is only expected to burgeon in the future. Moreover, the pandemic is anticipated to break through the commercialization barriers faced by the CRISPR-based diagnostics industry. Analysts are also hopeful that the diagnosis might eventually pave way for possible treatment and eradication of the virus altogether.
Analyst's Viewpoint
"The global CRISPR and Cas genes market is anticipated to ride on the back of rapid advancements in genomic testing. The ongoing coronavirus pandemic only serves to provide further impetus to the market, as researchers are hopeful of finding a way to inhibit the mutation of the virus. North America and Asia-Pacific promise to generate immense growth opportunities, owing to rising investments in advanced testing mechanisms."
Global CRISPR-Cas Genes Market: Report Scope
The recent study by Fact.MR on the Global CRISPR and Cas genes market incorporates a six-year forecast period, 2020-2026. The report explicates on vital dynamics such as the key drivers, opportunities and restraints impacting the market in the future. The study has been conducted on the following segments: product, application, and end user.
Each segment contains a detailed analysis based on market share, revenue and growth rate across the forecast period. The study also covers an exclusive chapter on the COVID-19 impact analysis to help stakeholders in better decision-making.
A detailed regional landscape across five geographies (North America, Europe, Asia-Pacific, Latin America and Middle East & Africa) has also been incorporated within the scope of this report. Each region includes an in-depth study of the segments enumerated above. In addition, a competition landscape has been provided towards the conclusion of the report.
This section provides information on the prominent market players engaged in providing CRISPR-based products, their revenue shares, key collaborations and a SWOT analysis to predict a realistic outlook for each company's future growth.
Global CRISPR and Cas Genes: Market Segmentation
Fact.MR has studied the global CRISPR and cas genes market with detailed segmentation on the basis of product, application, end user and region.
By Product :

Vector-based Cas
DNA-free Cas

By Application :

Genome Engineering
Disease Models
Functional Genomes
Knockdown/Activation
Others

By End User :

Biotechnology & Pharmaceutical Companies
Academic & Government Research Institutes
Contract Research Organizations

By Region :

North America
Europe
Asia Pacific
Latin America
Middle East & Africa (MEA)
"This taxonomy prepared is confidential and intended exclusively for the individual or entity with whom it is being shared. Reading, disseminating, distributing, or copying this to any party other than addressee(s) is unauthorized and prohibited."