Gradually progressing cycling industry coupled with significant growth of sports apparel industry continue to remain instrumental in influencing the demand of cycling apparel worldwide. In addition, the cycling apparel market growth is pushed by the increasing preference for cycling, given the inherent health benefits of this sport. For instance, in United States demand for cycling quadrupled in the past few years, reveals World Bank analysis. Albeit wide adoption among low income groups of people, cycling has also proliferated across medium and high income classes, mainly driven by personal liking and preference for sustainable awareness. This has largely propelled the adoption of cycling apparel, in turn driving growth of cycling apparel market.
Considering all odds, Fact.MR has drafted a new research report on cycling apparel market that projects the demand and adoption scenario of cycling apparel across major countries worldwide. The report projects that the cycling apparel market is expected to rise at a moderate pace during the period of forecast, 2018-2028. The cycling apparel market report reveals that the sales of cycling apparel are expected to remain concentrated in developed nations of North America and Europe, while on the other hand, Asia Pacific excluding Japan (APEJ) region is expected to reflect significant growth potential apropos of cycling apparel demand.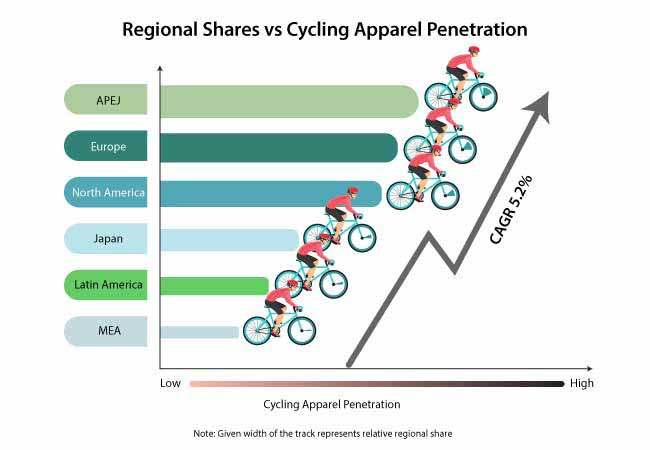 In consonant with consumer demand for cycling apparel, manufacturers are introducing a wide range of novel cycling apparel to gain customer loyalty towards the respective cycling apparel brand as well as higher visibility among untapped customer base. In addition, manufacturers of cycling apparel are adopting omnichannel approach for distribution of cycling apparel as they touch base with dealers, vendors and third party suppliers to provide a seamless experience to customers preferring cycling apparel.
Cycling Apparel Market: Looked Upon as Sustainable Transport
With growing concerns regarding environment protection against greenhouse emissions, EPA has been striving to regulate the carbon dioxide emissions from vehicles in a bid to improve environment health. That said, cycling being a socially, environmentally and economically sustainable activity, it promotes environment health along with physical health. Albeit being a feasible means of transport, accidents are prone to occur that can induce a level of reluctance among cyclists. This has promoted cycling safety by mandating use of gears such as cycling apparel. With cycling gaining higher significance as a sustainable transport mode, the demand for cycling apparel is likely to witness steady rise during the period of forecast, thus fuelling growth of cycling apparel market.
Cycling Apparel Market: Developed Regions to Foster Adoption of Tops and Bottoms in the Coming Years
Albeit at a moderate pace, the demand for cycling apparel across regions in the globe has witnessed remarkable growth underpinned by various benefits including comfort, reducing air resistance, increase breathability and wind block. That said, European countries have reflected impressive growth in cycling culture that has further surged with introduction of electric and hybrid cycles. World Bank reveals that around 60 percent of population in Finland use bicycles while Netherlands holds the top position with high number of bicycles per capita. Moreover, 655,000 people are involved in the cycling industry representing higher employment rate than in quarrying and mining. These factors have influenced the use of cycles, in turn raising the demand for various cycling apparel such as tops and bottoms, consequently pushing the growth of cycling apparel market.
Following the suit, North America, particularly the United States have showcased high inclination towards use of cycling apparel on the back increasing cycling activities in the country. According to World Bank analysis, United States' inclination towards cycling has been marked by the presence of several international and national cycling tournaments. Moreover, with a two-fold rise in cyclist count in Canada and United States in the past two decades, demand for cycling apparel such as tops and bottoms including shorts, tights and pants, jerseys, jackets and t-shirts, is likely to surge in the forthcoming years strongly impelled by growing GHDI (Gross Household Disposable Income) of these countries.
Cycling Apparel Market: Design Innovations to Favor Momentum
The cycling apparel market is highly unorganized as market comprises a large percentage of small players spread worldwide. With growing popularity of cycling, manufacturers of cycling apparel competing in the international market are focusing on collaborative efforts with a view to organize the supply chain of the cycling apparel industry as well as advancements in cycling apparel that enhance comfort and usability. Ford has introduced cycling jacket that is a smart cycling apparel which has sleeves that light up to guide the rider on road. Such design innovations are expected to spur the demand for cycling apparel in turn favoring momentum of cycling apparel market during the forecast period.
Cycling Apparel Market: Growing Cyclist Death to Induce Sense of Reluctance
Increasing number of cyclist deaths has induced a sense of reluctance among people which is likely to hamper the growth of cycling apparel market. Albeit a higher percentage of population preferring cycling, road accident factor is likely to reduce the count in the coming years, which can impede the use of cycling apparel. According to Governor's Highway Safety Association (GHSA), deaths among cyclist due to road accidents is increasing by 12.2 percent per year. This coupled with automobile development is likely to create challenges for cycling activates, in turn hindering adoption of cycling apparel.
Note: The insights mentioned here are of the respective analysts, and do not reflect the position of Fact.MR
A 360 Degree View of the Cycling Apparel Market
A new study by Fact.MR presents in-depth insights along with forecast analysis on the cycling apparel market for the assessment period, 2018 – 2028. This report is an extensive analysis of the performance of the cycling apparel market across key regions in the globe. This report presents a weighted analysis on the cycling apparel market and provides key insights on various drivers fuelling sales of cycling apparel in the market. The report also covers several restraining aspects challenging the revenue growth of the cycling apparel market along with various growth opportunities for manufacturers of cycling apparel. The present and future trends in cycling apparel anticipated to influence growth in revenue of the cycling apparel market are also clearly explained in this extensive research publication.
Extensive Research Methodology
The analysts have deployed a proven, tested and comprehensive methodology of research to arrive at key projections of cycling apparel market across various regions. Exhaustive secondary research is used to ascertain the market size, key segments growth rate, top factors fuelling revenue growth of the cycling apparel market, and challenges and restraints negatively impacting the market growth. Data acquired using secondary research is evaluated through primary research by speaking to top industry stakeholders in the cycling apparel market. Based on the gathered data points, the analysts derive key market metrics such as Y-o-Y growth rate, CAGR, market value, absolute and incremental opportunity, consumption data, and market shares. The final data is then thoroughly examined using advanced research tools to derive relevant insights on the cycling apparel market.
Systematic Report Structure for Reader's Convenience
This report on the cycling apparel market is structured in a systematic manner to facilitate convenience of reading and understanding of different sections. A separate chapter is devoted to each segment in the cycling apparel market report, with individual sections for each of the assessed key regional markets. For each market segment and the evaluated geographies, the report tracks all the matrices and also presents a market attractiveness index analysis that complements the insights provided in the report on the cycling apparel market.
Key Report Insertions
The cycling apparel market report features various sector specific macros influencing the growth in revenue of the cycling apparel market. Key inclusions here cover consumer demands for cycling apparel, production and supply of cycling apparel, data and information pertaining to the manufacturing techniques used to develop cycling apparel, actual consumption of cycling apparel across various important regions, along with the pricing structure and analysis of cycling apparel across numerous countries.
The different generic and specific pull and push aspects influencing growth in demand and adoption of cycling apparel is an important inclusion in the report on cycling apparel market. The report presents an opportunity assessment of cycling apparel market that throws light on various attractive business and lucrative growth opportunities available to manufacturers of cycling apparel. Impact analysis and assessment of market dynamics is yet another important inclusion of the cycling apparel report. In addition, the report on cycling apparel reflects the market supply chain analysis and value chain analysis of cycling apparel industry.
Regional and Segmental Analysis
An attractive feature of this report on cycling apparel market is a detailed analysis of various market segments and the regional cycling apparel markets. The report scrutinizes the performance of the cycling apparel market on the basis of product type, sales channel, and demographics along with region. Critical volume and value data is provided for each segment of cycling apparel market for the entire duration of the assessment period. Segmental insights and data analysis are indicated in separate chapters dedicated to each of the cycling apparel market segments.
In these chapters, the report studies various market forces influencing the revenue growth of the market segments and also provides intelligence on regional factors impacting the growth of the cycling apparel market in various countries across the globe. These sections reflect useful information on the demand and supply picture of cycling apparel and support the reader in making crucial investment decisions. Below is the extensive market segmentation of cycling apparel market.
Assessment on Competitive Landscape
One of the main chapters of the report features the assessment on competitive landscape of the cycling apparel market. This section provides a dashboard view of the top companies involved in manufacturing of cycling apparel, distributors and suppliers of cycling apparel across the globe. Details of the market share held by these participants supports the reader in understanding current market structure of cycling apparel market. The competitive landscape section also covers profiles of top companies functional in the cycling apparel market. Company profiles include details such as management information, company and business information, current revenue, business and growth strategies, key financials and details of mergers and acquisitions. An in-depth SWOT analysis for each manufacturer has been added with a motive to study the strengths, weaknesses, opportunities, and threats of leading companies involved in the cycling apparel market.
Fact.MR offers custom research services that help clients to get specific research solutions
We are committed towards customer satisfaction and quality service.
---
Our Clients

Cycling Apparel Market Forecast, Trend Analysis & Competition Tracking - Global Market insights 2018 to 2028