Success of biologic drugs, owing to their capability to treat chronic diseases, has taken the pharmaceutical industry to a new level. Biologics, offering enhanced curing abilities without side effects are being widely used to treat chronic ailments such as cancer and other autoimmune diseases. With FDA approval, several companies have been introducing novel biologic drugs for various therapeutic areas. This has made delivery of biologics an important aspect.
With growing innovations in drug delivery systems, for instance adoption of prefilled syringes, the administration of biologics has been convenient and effective. Novel drug delivery systems such as prefilled syringes have gained high traction as effective delivery systems especially for injectable drugs. Moreover, prefilled syringes are aiding in delivery of personalized drugs specifically tailored for small patient populations.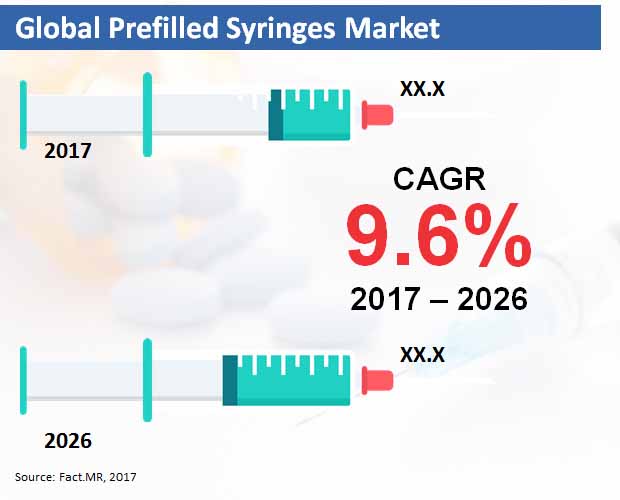 According to research on prefilled syringes by Fact.MR, the global market for prefilled syringes is expected to expand at a value CAGR of 9.6% during the period of forecast, 2017-2026. By end of 2026, more than 10,200,000 thousand units of prefilled syringes are expected to be sold across the globe in various healthcare facilities. Key companies involved in the global prefilled syringes market include Becton Dickinson and Company, Terumo Medical Corporation, Baxter International Inc., Medtronic and Gerresheimer.
Increasing Use of Glass Prefilled Syringes to Aid the Growth of the Global Prefilled Syringes Market
Prefilled syringes come in two types of material, namely plastic and glass. Glass prefilled syringes are a widely used drug injectable system for parenteral drugs owing to its compatible features, for instance, higher stability, oxygen permeability and non-reactive nature. However, the main challenge of glass prefilled syringes is their fragile nature. Glass prefilled syringes require high caution while storing or transportation, in the absence of which, loss of injectable drugs can take place. On the other hand, plastic prefilled syringes are also witnessing increased demand, with introduction of advanced plastic material that removes the chances of reaction of drug with inner walls of the syringe, thereby maintaining the pH level of the medicine.
Use of advanced polymer material, for instance, crystal-clear polymer and polypropylene, have increased the adoption of plastic prefilled syringes. These advanced plastic material being biocompatible, do not initiate chemical activity within the syringe. Moreover, chance of breakage is removed with the use of plastic prefilled syringes. However, majority of prefilled syringes are made of glass, and sales of glass prefilled syringes are expected to sky rocket in the coming years.
Sale of Prefilled Syringes in North America to Remain at the Forefront, as Compared to Other Regions
According to Prefilled Syringes West Coast Conference held in 2017, the use of prefilled syringes in North America have gained high demand with increasing need for safety, patient satisfaction and high quality. Counters in North America, especially the United States, are reflecting higher expenditure on injectable drug delivery systems, for instance development of composite polymer prefilled syringes. These syringes have high break resistance. In addition the needle is attached with use of insert molding procedure, thus eliminating the use of tungsten and glue, increasing their sterilization levels.
The prevalence of chronic diseases in United States and Canada, according to analysis of American Heart Association, is increasing owing to increased use of tobacco and smoking. This has made it imperative for pharmaceutical companies in this region to develop novel biologics to fight against chronic disorders such as cancer. This is expected to fuel the adoption of efficient drug delivery systems such as prefilled syringes in the coming years.
Note: The insights mentioned here are of the respective analysts, and do not reflect the position of Fact.MR
Extensive research analysis associated with market valuation, applications, demand and sales of prefilled syringes has been covered in global prefilled syringes market, a new research report devised by Fact.MR recently. This research report gives a thorough analysis on the changing dynamics of the global market for prefilled syringes along with incisive insights on each market segment.
The research report on global prefilled syringes market includes insights on various aspects that drive the market, for instance, new trends, developments and factors that have aided the use of prefilled syringes thus fuelling their sales across regions. In addition, the research report also portrays major challenges faced by manufacturers of prefilled syringes, as well as restraints that have a negative influence on the growth of the global prefilled syringes market.
The research study includes historical data analysis on prefilled syringes market along with current market scenario and future market projections that cover a nine year span, from 2017 till 2026. Moreover, market for prefilled syringes across key regions in the globe along with intelligence on sub regional markets for prefilled syringes has been included in this research report. This portrays a 360 degree market intelligence on prefilled syringes that the reader can utilize to plant the next move/s with a view to establish a global footprint in the global market.
Extensive research process pushes the credibility of the research
Global market for prefilled syringes has been researched upon using a unique research methodology which includes both primary and secondary research. The research is kick started with a high level secondary scrutiny on prefilled syringes followed by primary research. Both these arms are used simultaneously and each data point gathered from secondary research is verified in primary interviews.
Moreover, each market statistic from one primary interview is re-evaluated in the next and this continues till the conclusion of the research study. These multiple validation funnels of each and every market statistic ensures a high level accuracy of the data thus enhancing the credibility of the research report. Each segment of the market is analyzed in similar fashion.
Market segmentation
| Region | Material Type | Distribution Channel | Technology Type | Function Type |
| --- | --- | --- | --- | --- |
| North America | Glass based prefilled syringes | Hospitals | Conventional Prefilled Syringes | Single Chambered |
| Latin America | Polymer based prefilled syringes | Specialty Clinics | Safety Prefilled Syringes | Dual/Multi Chambered |
| Europe | | Online Pharmacies | | |
| Japan | | Other Distribution Channels | | |
| APEJ | | | | |
| MEA | | | | |
(Additional information, including cross-sectional data and country-wise analysis & forecast is available in the report)
Competitive intelligence covered
The research report on global prefilled syringes market includes in-depth competitive assessment. This includes analysis on the key manufacturers, distributors and third party vendors of prefilled syringes. Their key details such as SWOT analysis, product developments, innovations and product offerings and portfolio, market shares, sale analysis, expansion plans, mergers and strategic alliances, key strategies, supply chain analysis and overall financial aspects of the key players have been included in a separate section in the report titled competitive landscape.
The reader can gain complete understanding on the current happenings in the prefilled syringes market. This section can assist the reader in gaining an edge over the competition in the years to follow. Analytical research report on global prefilled syringes market offers actionable intelligence on every market facet by providing a thorough deep dive on the global prefilled syringes market. This research report supports in achieving research objectives of the reader and his/her intelligence team with the use of which they can plan for new strategies and marketing tactics.
This type of third party research provides an unbiased view of the global prefilled syringes market with weighted market segmentation, insightful segmental snapshot, and a holistic view of the entire market. Moreover, all the insights are drafted in a systematic manner for the convenience of the reader. Fact.MR also extends a 24x7 analyst support for the readers of this report in case of any queries or requests.
Fact.MR offers custom research services that help clients to get specific research solutions
We are committed towards customer satisfaction and quality service.
---
Our Clients

Prefilled Syringes Market Forecast, Trend Analysis & Competition Tracking - Global Market insights 2017 to 2026