With increasing awareness regarding various lifestyle diseases such as diabetes, high cholesterol and obesity, health and fitness has gained high focus among individuals. They are becoming more aware regarding use of appropriate quantity of cooking oils. With this fact in focus, manufacturers have been producing cooking oils with high nutrient value and less fatty matter. Increasing incidences of cardiovascular diseases across the globe has prompted individuals to consume health cooking oils. For example, in United States, around 610,000 people die owing to heart disorders every year (According to American Health Association). Ever since, scientists have researched upon best cooking oils for consumption. This is likely to impact the growth of the cooking oil market during the assessment period.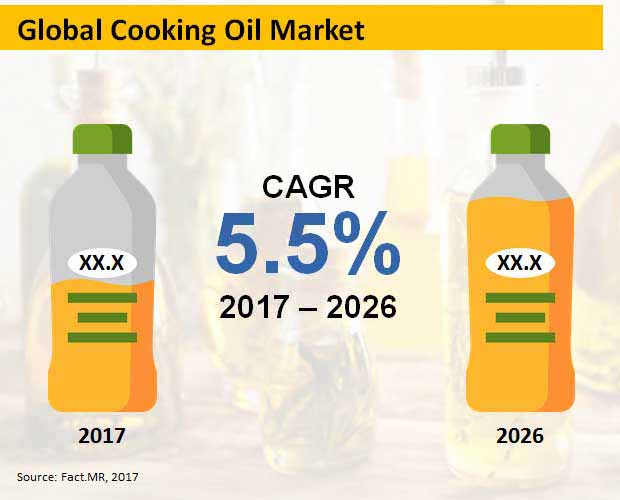 According to Fact.MR, the sales of cooking oils are expected to increase at a steady pace during the forecast period. The global cooking oil market is projected to expand at a value CAGR of 5.5% during the period of assessment (2017-2026). Also, Fact.MR analysis has revealed that the volume sales of cooking oils is estimated to surpass 250,000,000 tons by the end of the year of assessment (2026). Health advantages associated with the consumption of various vegetable oils such as olive oil, coconut oil and canola oil is expected to influence the sales of cooking oils. Manufacturers of cooking oils have introduced new brands that are rich in nutrient value thus promoting health. For example, Avnash Industries Ghana Ltd., has introduced Lafia cooking oil that is rich in nutrients and is a refined form of palm oil fortified with Vitamin A. Other key participants profiled in this research report include Archer Daniels Midland Company, American Vegetable Oils, Inc., Cargill Incorporated and Sime Darby Sdn Berhad.
Asia Pacific Excluding Japan to Witness Increased Consumption and Demand for Cooking Oils
Sale of cooking oil across various regions in the globe has been significantly increasing since the past several years. However, emerging economies in the Asia Pacific excluding Japan (APEJ) region are expected to largely contribute to the growth of the cooking oil market. This is mainly driven by increasing population growth across countries in Asia Pacific excluding Japan (APEJ), especially China and India that are highly populated (Chinese population in 2017 was 1,409,517,397 and has touched 1,415,045,928 in the first four months of 2018 and is still growing).
Moreover, governments in these regions are supporting the development of healthy cooking oils, considering the increasing health disorders and chronic diseases. In China, rates of chronic diseases is on the higher side with high expenses on medications. Consequently, cooking oil manufacturing companies in China started introducing new healthy cooking oils that DHA (docosahexaenoic acid) algal oil in order to prevent or reduce heart diseases and other health issues. With growing domestic demand for cooking oils in the APEJ region, the sales of cooking oil in this region is expected to grow exponentially to reach a significant value by the end of the year of assessment. APEJ is expected to reflect high market attractiveness for cooking oils during the assessment period.
Moreover, another factor contributing to the increasing sales of cooking oils is the channel of distribution preferred by manufactures. Apart from convenience stores, or supermarkets and hypermarkets, distributors of cooking oil are using online sales channel to enhance their reach consequently improving the sales of cooking oils. Additionally, using online sales channel also offers additional benefits apart from cooking oil delivery at homes. People can avail lucrative discounts and promotional offers on various cooking oil brands. This has accelerated the growth in sales of cooking oils across regions.
Note: The insights mentioned here are of the respective analysts, and do not reflect the position of Fact.MR
After thoroughly analyzing the global market for cooking oil, Fact.MR has revealed vital insights on the global consumption of cooking oil along with its demand and production scenario. The research report includes various aspects that have an impact on the growth of global cooking oil market. The research report covers detailed analysis on various geographies in order to gain a complete understanding on the cooking oil market. The research study includes analysis of data on present market scenario as well as forecasts for a period of nine years, from 2017 till 2026. The reader can gain high level insights of the market that can be used to make informed decisions from expansion and strategic standpoints.
Covering global market outlook
The research report on global cooking oil market includes various trends, developments that positively influence the growth of the global market. Moreover, it also includes analysis on various market drivers that fuel the global market's growth as well as challenges that might hinder market expansion. All these factors are studied across important regions as the magnitudes of these aspects vary from region to region. This gives a clear understanding regarding the potential of a particular region and sub region that the reader can tap to gain potential hold over the market. Moreover, a 360 degree perspective is portrayed giving a holistic touch to the research report. Major revenue pockets can be identified with the extensive analysis provided in this research. Additionally, the research report on global cooking oil market assists the reader in investment decisions with respect to production of various cooking oil types. The analysis of the data in this research report provides a realistic shape to the reader by offering actionable intelligence on each market segment.
Market segmentation
| Region | Fuel | Category | Nature | Sales Channel |
| --- | --- | --- | --- | --- |
| North America | Soy Oil | Refined | Organic | Departmental Stores |
| Latin America | Sunflower Oil | Semi-Refined | Conventional | Hypermarkets & Supermarkets |
| Europe | Corn Oil | Unrefined | | Discounters |
| Japan | Palm Oil | | | Online Store |
| APEJ | Olive Oil | | | Convenience Store |
| MEA | Canola Oil | | | Other Sales Channel |
| | Coconut Oil | | | |
| | Sesame Oil | | | |
(Additional information, including cross-sectional data and country-wise analysis & forecast is available in the report)
Exquisite research process
A one-of-its kind research methodology is applied by Fact.MR to obtain highly accurate data with reduced deviations. Based on an in-depth market segmentation, the entire cooking oil market is churned with the help of a vast secondary research. As the research progresses, several primary interviews are carried out to deep dive in the global cooking oil market. Industry experts, influencers, market observers and thought leaders involved in cooking oils are interviewed with a view to sketch a realistic contour of the global cooking oil market. With the help of a triangulation procedure, the data from secondary and primary research is collated and extrapolated to arrive at a high accuracy data point. This process is carried out for all market segments, and regions. Forecast analysis based on this model is carried out depicting future market scenario.
The research report on global cooking oil market covers a separate section on competition landscape which describes the analysis of key players involved. This section describes several details of the key players such as SWOT analysis, company overview, market share and revenue analysis, key developments and innovations, mergers and acquisitions, product portfolio analysis, and several other key financials. This intelligence dashboard gives a complete picture of the active players in the global cooking oil market, which can be used to gain competitive advantage in the years to follow.
Fact.MR offers custom research services that help clients to get specific research solutions
We are committed towards customer satisfaction and quality service.
---
Our Clients

Cooking Oil Market Forecast, Trend Analysis & Competition Tracking - Global Market insights 2017 to 2026