Oil Soluble Flavours Market
Oil Soluble Flavours Market Analysis by Product Type (Natural, Artificial), By Oil Type (MCT (Medium Chain Triglyceride), Sunflower), By Application (Food & Beverages, Personal Care, Healthcare), By Sales Channel (Online [Company-owned Websites, e-Commerce Sites], Offline [Retail Stores, Beauty & Spa Salons]) & By Region – Global Market Insights 2023 to 2033
Analysis of Oil Soluble Flavours Market Covering 30+ Countries Including Analysis of US, Canada, UK, Germany, France, Nordics, GCC countries, Japan, Korea and many more
Oil Soluble Flavours Market Outlook (2023 to 2033)
The global oil soluble flavours market is valued at US$ 1.26 billion in 2023 and is forecasted to reach US$ 2.08 billion by the end of 2033, advancing at a CAGR of 5.1% over the decade, according to this new market study by Fact.MR.
Flavour oils are seasoned oils that are used to enhance the flavour and aroma of foods. Flavour oils are extracted from various sources, including herbs, vegetables, fruits, and flowers, and are utilized for a variety of purposes. The expanding food and beverages industry, driven by changing consumer lifestyles and preferences, is fuelling the demand for oil-soluble extracts. Manufacturers are incorporating these flavours in a wide variety of products, ranging from bakery items to beverages.
Oil-soluble flavours find applications in several food and beverage segments, including bakery, confectionery, dairy, beverages, sauces, and dressings. The versatility of oil-soluble flavours allows for their integration into various product formulations, providing enhanced flavour experiences.
Advancements in flavour extraction techniques, encapsulation methods, and formulation technologies have positively impacted the oil soluble flavours market. These advancements have improved the stability, shelf life, and overall quality of oil-soluble flavours, enabling manufacturers to create high-quality products.
Humectants are water-soluble chemicals and should not be used in oils or anhydrous compositions. However, oil-soluble humectants are now available on the market, with a significant price difference. It is worth mentioning that some formulations, such as oleogels, are anhydrous and contain glycerine.
With globalization and increased exposure to diverse cuisines, consumers are becoming more open to trying unique flavours. Oil-soluble flavours allow manufacturers to create global taste experiences, incorporating flavours from various cultural cuisines.
Archer Daniels Midland (ADM) Company purchased Comhan, a significant South African flavour distributor, in February 2022. ADM has been collaborating with this local company for several years, and the official acquisition now provides customers with direct access to ADM's comprehensive portfolio and network of experts.
Report Attributes

Details

Oil Soluble Flavours Market Size (2022)

US$ 1.15 Billion

Estimated Market Value (2023)

US$ 1.26 Billion

Projected Market Value (2033)

US$ 2.08 Billion

Global Market Growth Rate (2023 to 2033)

5.1% CAGR

United Kingdom Market Growth Rate (2023 to 2033)

6.4% CAGR

China Market Growth Rate (2023 to 2033)

6.3% CAGR

United States Market Growth Rate (2023 to 2033)

6.5% CAGR

India Market Growth Rate (2023 to 2033)

7.9% CAGR

Key Companies Profiled

Apex Flavors Inc.
Bickford Flavors
Capella Flavors
Flavor Concentrates
Flavor West
Le Melange
Lorann
Prinova
Wizard Labs
Don't Need a Global Report?
save 40%! on Country & Region specific reports
What's Contributing to the Growing Popularity of Oil Soluble Flavours?
"Increasing Demand for Premium Cosmetics and Organic Beauty Products Derived from Oils"
More consumers are being drawn to products that have both a strong sensory appeal and health-promoting features. Extensive research and development initiatives, combined with the rising demand for high-quality beauty oils, have resulted in the creation of several self-care and cosmetic items. Because of expanding self-care and premiumization trends, consumers are increasingly seeking premium cosmetics.
Health and wellness trends have prompted customers to seek items containing organic ingredients and formulations. Organic flavour oils are premium ingredients utilized in oil-based cosmetics, especially lip care products, to impart fragrance. These oils also find application in perfumery for creating delightful scents, as well as in the cosmetics and personal care sectors.
"Rising Utilization of Flavouring Oils in Bakery & Confectionery Sector"
The food and beverages industry, particularly the bakery and confectionery sector, is witnessing increased demand for flavouring oils driven by the popularity of natural products. Countries like the United States, China, and Western European nations, which exhibit high consumption of bread products, are expected to drive the demand for flavouring oils. Plant-derived flavouring oils are particularly sought-after due to their natural composition.
Natural flavours carriers, such as plant-derived flavouring oils, are rich in essential vitamins and minerals, making them highly sought after in the market. Demand for these natural flavour carriers extends beyond bakeries and includes the expanding number of confectioneries.
More Insights, Lesser Cost (-50% off)
Insights on import/export production,
pricing analysis, and more – Only @ Fact.MR
What are the Obstacles Impeding the Growth of the Oil Soluble Flavours Market?
"Adverse Health Effects Associated with Consumption of Synthetic Flavours"
Synthetic flavours are artificial compounds that are added to food to improve its flavour, shelf life, freshness, and nutritional value. They can be found in a variety of foods, including yogurt, chips, bread, salad dressings, and baked goods. Nonetheless, data from multiple scientific research suggests that artificial food additives cause cancer.
Nitrites and nitrates, which are commonly found in processed meats, have been linked to an increased risk of colorectal cancer when taken in large amounts. The impact of artificial food additives on children's behavioural difficulties or neurodevelopmental anomalies is being studied. As a result, the negative impacts of synthetic flavours may limit the expansion of the oil-soluble flavours business.
"Stringent Regulatory Framework and High Cost of Production"
The oil soluble flavours market is subject to strict regulations and standards imposed by regulatory authorities. These regulations ensure consumer safety, product quality, and labelling accuracy. Compliance with these regulations can pose challenges for manufacturers, requiring them to invest in extensive testing, documentation, and regulatory compliance procedures, which may hinder market growth.
Production of oil-soluble flavours involves complex extraction processes and requires high-quality ingredients, which can contribute to increased production costs. Use of specialized equipment and technologies for flavour extraction and formulation adds to the overall expenses. These high production costs can limit the affordability of oil soluble flavours, potentially impacting their market penetration and adoption.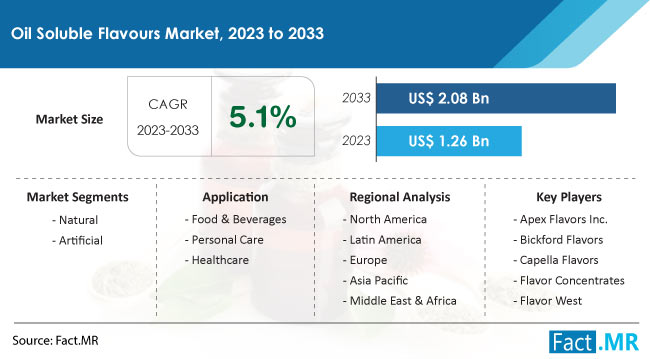 Country-wise Analysis
Why is the United States a Lucrative Market for Manufacturers of Oil Soluble Flavours?
"Widespread Applications of Oil-Soluble Flavours in F&B Industry and Growing Demand for Enhanced Flavours"
The market in the United States is anticipated to expand at a steady CAGR of 6.5% during the forecast period.
The oil soluble flavours market in the United States is a significant and thriving sector within the food and beverages industry. The market is driven by various factors, including the demand for enhanced flavours, changing consumer preferences, and the growing food service sector. Consumers in the United States have an increasing preference for unique and intensified flavours in their food and beverages.
Oil-soluble flavours provide manufacturers with a wide range of options to develop innovative products that cater to these evolving taste preferences. These flavours can enhance the aroma, taste, and overall sensory experience of food and beverages.
A broad spectrum of food and beverage products utilize oil-soluble flavours. They are used in baked goods, confectionery, dairy products, beverages, snacks, sauces, dressings, and more. The versatility of oil-soluble flavours allows manufacturers to cater to various consumer preferences and create differentiated products in these segments.
What is the Demand Outlook for Oil-Soluble Flavours in Germany?
"High Demand for Diverse Flavours Profiles and Captivating Taste Experiences"
Demand for oil-soluble flavours in Germany is anticipated to increase at a CAGR of 6.7% during the forecast period.
Germany has a rich culinary heritage, known for its diverse range of traditional and regional dishes. This cultural influence drives the demand for flavours, including oil-soluble flavours, which add depth, complexity, and uniqueness to food and beverages. Consumers in Germany appreciate the use of flavours to enhance their gastronomic experiences.
Consumers are increasingly inclined towards exploring and embracing diverse and unique flavour profiles, with a growing preference for novel and captivating flavour profiles. This trend has led to a growing demand for oil-soluble flavours, which offer a wide variety of options to create innovative and distinctive food and beverage products. Manufacturers are focusing on developing flavours that cater to these evolving consumer preferences.
Know thy Competitors
Competitive landscape highlights only certain players
Complete list available upon request
Category-wise Analysis
Why is There High Demand for Natural Oil-Soluble Flavours?
"Potential of Natural Oil-Soluble Flavours to Provide Customized Taste & Health Benefits"
Demand for natural oil-soluble flavours is projected to rise at a CAGR of 5.2% during the forecast period.
Natural oil-soluble flavours refer to flavouring compounds derived from natural sources that are soluble in oil-based products. These flavours are obtained from various natural ingredients, such as fruits, vegetables, herbs, spices, and botanical extracts. They are extracted through processes like cold-pressing, steam distillation, or solvent extraction, maintaining the natural aroma and taste of the source material.
Some natural oil-soluble flavours are associated with potential health benefits due to the presence of bioactive compounds found in the source ingredients. For instance, certain fruit or botanical extracts used as oil-soluble flavours may contain antioxidants, vitamins, or other phytochemicals that offer health-promoting properties.
Natural oil-soluble flavours provide manufacturers with the flexibility to create unique and customized flavour profiles. They can be blended or combined to develop new flavour combinations, enabling innovation in product development and meeting specific consumer preferences.
Will Utilization of Oil-Soluble Flavours Continue to Rise in the Food & Beverage Industry?
"Versatility of Oil-Soluble Flavours in Enhancing Taste Profiles across Functional Foods, Baked Goods, and Confectionery Applications"
Usage of oil-soluble flavours in the food & beverages industry is expected to increase at a steady CAGR of 5.5% from 2023 to 2033.
Oil-soluble flavours play a vital role in the food and beverages industry, offering a wide range of applications and benefits. They are extensively used to enhance the taste, aroma, and overall sensory experience of various food and beverage products. Versatility of oil-soluble flavours allows manufacturers to create a wide range of innovative and flavourful products. They enable product differentiation, help meet consumer preferences, and enhance the overall sensory experience, contributing to the success of food and beverage brands in the market.
They are also utilized in nutraceuticals and food flavouring oil, including fortified beverages, protein bars, meal replacement shakes, and dietary supplements. These flavours help improve the taste and palatability of these products, making them more enjoyable for consumers.
In the confectionery industry, oil-soluble flavours are essential for creating a variety of candies, chocolates, gums, and other sweet treats.
Competitive Landscape
The competitive landscape of the oil soluble flavours market is characterized by a diverse range of players, including multinational flavour companies, regional manufacturers, and specialized ingredient suppliers. These companies compete to meet the increasing demand for unique and high-quality oil-soluble flavours in the food and beverages industry.
To expand market penetration in underdeveloped markets, major firms are using techniques such as introducing clean labelling and organic taste varieties, as well as acquiring and partnering with local players. The introduction of new commodities is expected to aid large producers in increasing sales, capturing consumers' attention, and enhancing the value of their brand.
Along with the major businesses, several additional players are focusing on online distribution channels for product promotion and branding to expand their geographical reach and customer base.
PureCircle Limited, one of the world's leading producers of plant-based stevia sweeteners and flavours for the food and beverages sector, was acquired by Ingredion Incorporated in July 2021.
Innova Foods Pty Ltd., Griffith Foods' major savoury flavour component provider, was acquired by Synergy Flavours, Inc. in May 2021. This acquisition was done for Synergy Flavours to expand its business globally, thereby speeding up the global food flavour market.
Key Segments of Oil Soluble Flavours Industry Research
By Product Type :

By Oil Type :

MCT (Medium-Chain Triglycerides)
Sunflower

By Application :

Food & Beverages
Personal Care
Healthcare

By Sales Channel :

Online

Company-owned-websites
e-Commerce Sites

Offline

Retail Stores
Beauty and Spa Salons

By Region :

North America
Latin America
Europe
Asia Pacific & China
Middle East & Africa
- FAQs -
The global oil soluble flavours market is valued at US$ 1.26 billion in 2023.
Worldwide sales of oil-soluble flavours are projected to rise at a CAGR of 5.1% from 2023 to 2033.
Demand for oil-soluble flavours is anticipated to reach a market value of US$ 2.08 billion by 2033.
Demand for oil-soluble flavours in China is anticipated to rise at a CAGR of 6.3% through 2033.
Apex Flavours, Bickford Flavours, and Capella Flavours are leading manufacturers of oil-soluble flavours.