In biotechnology there are several industrial applications that have resulted in development of biotech products that are being used on a regular basis. Few of these come under food science application category that make use of enzymes to enhance quality and functional properties of different foods. Likewise, in dairy industry, enzymes are either used as coagulants for the production of cheese or as bio protectors for enhancing safety and shelf life of dairy products.
A new intuitive Fact.MR report reveals that the global dairy enzymes market is expected to rise at a value CAGR of 7.4% during the period of assessment, 2017-2026.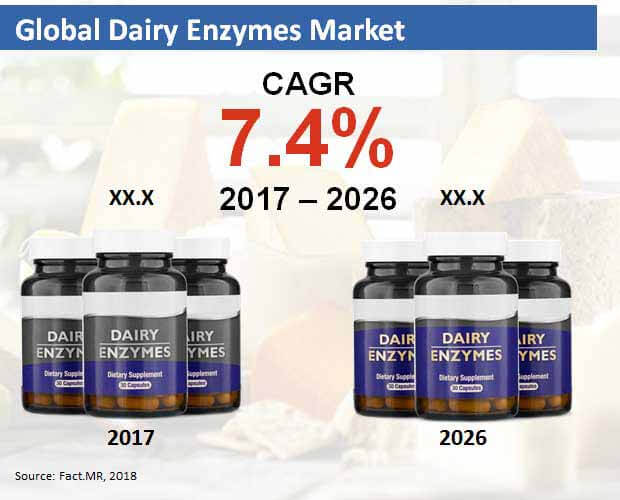 Rising importance of enzymes used in dairy products has caught attention of various regulatory associations in several industrialized countries. The European Food Safety Authority (EFSA) and U.S Food and Drug Administration (FDA) have considered dairy enzymes as GRAS (Generally Recognized As Safe). For instance, recently, thermolysin enzyme intended for use in dairy products to improve taste, protein solubility and digestibility of dairy products has been recognized as GRAS.
For more insights, request sample of this report.
Dairy Enzymes – The Key to Sustainability
Given that dairy enzymes have been developed to reinforce quality aspects in dairy products, few of the drivers for enzyme development include reduced cost of production, low environmental impacts and highly efficient processing. Manufacturers involved in dairy enzyme development, such as DSM, Novozymes and Advanced Enzymes Technologies are focusing on developing advanced enzymes that further the sustainability quotient of dairy products at the retail as well as consumer level. Increased sustainability results in reduced wastage owing to increased shelf life of the product along with continued freshness. Sustainability being the foremost benefit offered by enzymes, their demand in the dairy industry is expected to proliferate in the coming years.
Manufacturers Focusing on Developing Enzymes for Lactose Free Dairy
Manufacturers involved in dairy enzymes development are shifting their focus towards developing novel enzymes for lactose free dairy products. This change in perception and focus on innovation has been triggered with the increasing number of lactose intolerant people in the globe. According to NIDDK (National Institute of Diabetes and Digestive and Kidney Diseases) about 68 percent of people across the globe are facing lactose malabsorption. In Asia and Africa majority of the people are lactose intolerant, whereas in the United States about 36 percent of people are intolerant to lactose.
In response to trending healthy food consumption and growing consumer awareness regarding digestive health, manufacturers have developed innovative dairy enzymes that facilitate a significant increase in capacity and efficiency with respect to production thereby allowing dairy product manufacturers to fulfil the increasing demand for dairy products lactose free, especially milk. In addition, they are focused on further enhancements in their enzyme offerings that are applicable in production of cheese and yoghurt and enable faster production and a double digit enhancement in the production efficiency.
Optimization in dairy production being the focal point of several manufacturers they continue to invest in developing dairy enzymes that can fasten rate of production along with quality enhancements. Particularly enzymes for dairy products that offer exceptional texture and flavor along with enhanced freshness, reduced whey bitterness and facilitate trouble-free ultra-high temperature (UHT) processing.
Request research methodology of this report.
Note: The insights mentioned here are of the respective analysts, and do not reflect the position of Fact.MR
Thoroughly analyzing the demand and supply scenario of dairy enzymes, Fact.MR has compiled several insights on the global dairy enzymes market in its recent research report. The insights pertaining to use of dairy enzymes across various application areas has been presented in a systematic manner in the report. In addition, the research report on global dairy enzymes market covers historic data, current market scenario as well as future market projections for a period of nine years, starting from 2017 till 2026.
Including a Global Perspective
The research report on global dairy enzymes market covers various trends, drivers and challenges that influence the growth of the market. Moreover, these growth influencers are analyzed across various geographies as their intensities change from region to region. This provides a clear market understanding on dairy enzymes across key regions and countries to the reader. A 360 degree global perspective has been presented that gives a holistic touch to the research.
Global Dairy Enzymes Market Taxonomy
The research report on global dairy enzymes market offers a well analyzed study on the global market by including major segments and their detailed scrutiny. The market has been segmented into four key categories, namely, product type, source, application and region. The analysis of these segments has been carried out at a global level as well as at country level along with data projections throughout the period of forecast (2017-2026). With detailed segmentation analysis, the readers can expect intelligence on potential opportunities and key revenue pockets in the global market. Below taxonomy table illustrates various market segments that have been included during the research study.
| | | | |
| --- | --- | --- | --- |
| Region | Product Type | Source | Application |
| North America | Carbohydrates | Plant | Milk |
| Latin America | Proteases | Animal & microorganism | Cheese |
| Europe | Polymerases & Nucleases | | Ice cream & desserts |
| Japan | Lipases | | Yogurt |
| APEJ | Phytases | | Whey |
| MEA | Other Enzymes | | Infant formula |
| | | | Others |
(Additional information, including cross-sectional data and country-wise analysis & forecast is available in the report)
Exquisite Research Methodology for an Authentic Market Study
An exquisite research process has been employed by analysts of Fact.MR to carry out evaluation of key industry trends, developments and other dynamics. A combination of extensive primary research along with a weighted secondary research has been executed to gauge the entire dairy enzymes market for obtaining reliable and realistic estimations along with forecasts. The initial phase of the research starts with secondary research during which analysts extract high level information by data mining. For this, up-to-date research journals, government published articles and independent research studies have been used. These market estimations are further validated using primary research during which analysts get in touch with market participants, key stakeholders, industry experts, market observers and subject matter experts. Every market data point is again validated at every primary interview and the process continues till the conclusion of the research which enhances the accuracy of the gleaned data.
Competitive Landscape Analysis- A Complete Intelligence Package
The research report on global dairy enzymes market concludes with an extensive analysis on various key players operating in the global market. Various facets such as company overview, SWOT analysis, revenue shares, key product developments/up gradations and innovations, geographical spread, product portfolio analysis and other key financials have been covered in this section. Such a dashboard delivers a complete intelligence package for active participants in the global dairy enzymes market that can serve as a significant tool in gaining competitive advantage in the years to follow.
Fact.MR offers custom research services that help clients to get specific research solutions
We are committed towards customer satisfaction and quality service.
---
Our Clients

Dairy Enzymes Market Forecast, Trend Analysis & Competition Tracking - Global Market insights 2017 to 2026