Dairy Enzymes Market
Dairy Enzymes Market Analysis by Product Type (Carbohydrates, Protease, Polymerase & Nuclease, Lipase, Phytase), By Source (Plant-based, Animal- & Micro-organism-based), By Application (Milk, Cheese, Ice Cream & Desserts, Yogurt, Whey, Infant Formula) & By Region – Global Market Insights 2023 to 2033
Analysis of Dairy Enzymes Market Covering 30+ Countries Including Analysis of US, Canada, UK, Germany, France, Nordics, GCC countries, Japan, Korea and many more
Dairy Enzymes Market Outlook (2023 to 2033)
According to Fact.MR, the global dairy enzymes market stands at US$ 813.45 billion in 2023 and is projected to grow at a robust CAGR of 7.8% to reach US$ 1.72 billion by the end of 2033.
Enzymes are proteins that serve specific biological functions. Native milk, ambient bacterial contamination, and bacteria added consciously for fermentation are all sources of milk enzymes. The dairy industry utilizes a specific set of enzymes in the production of cheese, yogurt, and other dairy products. Enzymes are employed to improve the texture and flavor of these dairy products, enhancing their overall quality.
Since enzymes are sensitive to variations in temperature, pH, and substrate concentration, they must operate within a certain temperature and pH range. The biggest hurdle for R&D activities in dairy processing is choosing the right enzymes for a specific application. Analytical grades, pharmaceutical grades, and feed grades are the categories used to classify enzymes.
Market growth is fueled by the rising consumption of cheese, yogurt, and other dairy products in emerging economies. The dynamic dairy industry is becoming more competitive, so advanced technology and expertise are needed to stay adaptable, efficient, and profitable.
Leading companies in the market are offering specialized solutions to enhance the texture and flavor of dairy products. Immobilized enzyme technology has been introduced by reputable firms. This technology contributes to improved tolerance to alterations in environmental factors such as pH and temperature. Convenience, affordability, and excellent stability are advantages of immobilized enzyme technology. It has considerable uses in the brewing and dairy industries.
Umamizyme pulse, a non-GMO enzyme and cellulose enzyme designed for use in various plant protection products to generate a delectable savory flavor, was made available by Amano Enzyme in March 2021.
Report Attributes
Details

Dairy Enzymes Market Size (2022)

US$ 754.6 Million

Estimated Market Value (2023)

US$ 813.45 Million

Forecasted Market Value (2033)

US$ 1.72 Billion

Global Market Growth Rate (2023 to 2033)

7.8% CAGR

South Korea Market Value (2033)

US$ 63.78 Million

South Korea Market Growth Rate (2023 to 2033)

6.7% CAGR

United Kingdom Market Value (2033)

US$ 127.57 Million

United Kingdom Market Growth Rate (2023 to 2033)

7.1% CAGR

Key Companies Profiled

DowDuPont
Kerry Group
DSM
Novozymes
Enmex
Amano Enzymes
SternEnzym
Biocatalysts
Connell Bros
Which are the Key Factors Augmenting the Demand for Dairy Enzymes?
"Growing Demand for Fermented Milk Products Driven by Rising Prevalence of Gastrointestinal Illnesses"
Rising incidence of digestive disorders has fueled the demand for fermented milk products globally. Yogurt is one type of probiotic milk beverage. It is one of the most preferred food products among consumers seeking products that would aid their digestive health because it is available in both drinkable and traditional variants and comes in a variety of flavors.
Probiotic consumption is widespread among all age groups, and it is one of the key market drivers for digestive health products. Because of consumers' growing preference for goods that support digestive health, probiotic food products are still required.
For instance, according to ITC Trade Map, the United Kingdom imported 282,980 tons of yogurt in 2021 as compared to 219,085 tons in 2019. Two more essential factors that significantly increase the sales of probiotic dairy products in diverse geographical locations are the continued prominence of nutritious food and staying hydrated. This will hasten market growth as a result.
"Increasing Consumption of Enzymes Driven by Their Versatile Applications in Dairy Processing"
The main driver behind market growth in the enzyme industry is the rising consumption of enzymes, which can be attributed to their wide range of applications. These applications span from coagulants used in dairy processing to bioprotective enzymes that extend the shelf life of processed dairy products. Dairy enzymes play a vital role in the digestion of various dairy products such as cheese, yogurt, milk, and other milk derivatives.
Some of the enzymes commonly used in food and dairy products include esterase, lactase, lipases, proteases, and catalase. The process of manufacturing cheese requires the use of rennet, also known as rennin, which is a pepsin and chymosin mixture obtained from animal and microbial sources. Rennet is required to cause milk to curdle. To reduce the allergic effects associated with cow milk, various types of proteases are employed to expedite the maturation process of cheese and modify milk proteins.
AMFEP, Food Chemicals Codex (FCC), FAO/WHO, Joint Expert Committee on Food Additives (JECFA), and Enzyme Technical Association (ETA) are a few organizations that have standardized the grade of enzymes. The guidelines provided by these associations should be followed when using these enzymes. Therefore, the limited nature of enzymes acts as a barrier to the market's expansion.
Don't Need a Global Report?
save 40%! on Country & Region specific reports
What Obstacles Do Dairy Enzyme Producers Need to Overcome?
"Adverse Effects Associated with Consumption of Dairy Products"
Lactose intolerance, caused by decreased production of lactase by the small intestine, can cause stomach pain, gas, bloating, diarrhea, and other symptoms. For instance, the local bacteria, or microflora, can digest and break down lactose, but the cells that line the colon cannot absorb it.
Fermentation results in the release of various substances such as short-chain fatty acids, hydrogen, methane, and carbon dioxide. The build-up of these gases and acids can cause stomach aches and cramps. Lactose intolerance often leads to diarrhea, characterized by increased water levels in the colon, which consequently alters the volume and texture of stool, making it more liquid. This condition is more frequently observed in infants and young toddlers.
"Stringent Safety Regulations Governing Use of Enzymes in Food"
Expansion of the worldwide dairy enzymes market is being hampered by controlled operating environments and the allergies associated with them. The market may be constrained by safety regulations governing the use of enzymes in food and allergic reactions to dairy products.
For numerous small firms, the significant initial investment required by the dairy enzyme sector has proven to be a barrier. The main obstacle to the global market for dairy enzymes right now is this. The market boom is anticipated to be hampered by strict laws on how individuals may utilize enzymes in a range of dairy products, particularly milk and other foods.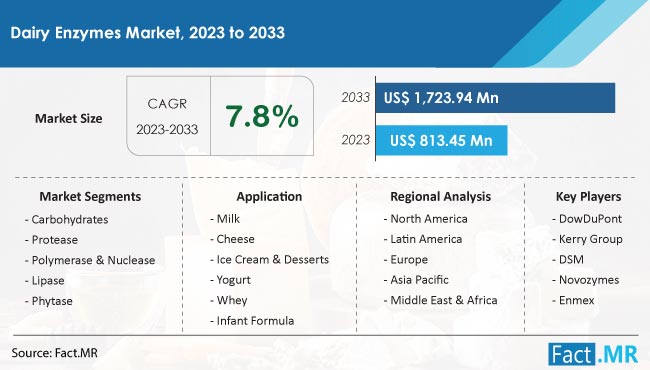 Country-wise Insights
What are the Trends Driving Dairy Enzyme Sales in the United States?
"Growing Health Consciousness among Consumers and Technologically Advanced Dairy Enzyme Processing Facilities"
Sales of dairy enzymes in the United States are projected to expand at a robust CAGR of 8.3% and reach US$ 486.15 million by the end of 2033.
The United States has a well-established dairy industry with advanced processing facilities and a robust supply chain. This infrastructure supports the efficient production and distribution of dairy products, including those incorporating dairy enzymes, creating favorable conditions for market growth.
Ongoing research and development efforts in enzyme technology have led to advancements in the production and application of dairy enzymes. This has resulted in improved enzyme efficiency, enhanced functionality, and expanded applications in various dairy processes, contributing to the market's growth.
As consumers become more health-conscious and seek nutritious food options, the consumption of dairy products with added health benefits is on the rise. Dairy enzymes are utilized to produce functional and fortified dairy products that cater to specific nutritional needs, such as lactose-free or low-lactose options, probiotic-enhanced products, and reduced allergenicity.
The new enzyme 'Nurica' for dairy products was introduced by International Flavors & Fragrances (IFF) in the United States in June 2021. To naturally produce a high output of prebiotic galactooligosaccharides fibers, Nurica uses the lactose found in milk. The component lowers the amount of sugar and lactose.
What is Driving Japan's Demand for Dairy Enzymes?
"Rising Health-consciousness and Stringent Food Safety Regulations Governing Integrity of Dairy Products"
The market in Japan is forecasted to expand at a moderate CAGR of 4.1% and reach US$ 53.44 million by 2033.
The dairy enzymes market in Japan is witnessing significant growth and presents promising opportunities for market players. Japan has witnessed a rise in the consumption of dairy products, including milk, yogurt, cheese, and ice cream. This growing consumption fuels the need for dairy enzymes that are essential for improving product quality, enhancing taste and texture, and extending shelf life.
The Japanese population is increasingly adopting health-conscious lifestyles, leading to a high demand for functional and fortified dairy products. Dairy enzymes play a crucial role in producing low-lactose, lactose-free, and probiotic-enhanced dairy products, meeting the needs of health-conscious consumers.
Japan has stringent regulations and standards for food safety and quality control. Presence of robust regulatory frameworks ensures the safety and integrity of dairy products in the market, including those containing dairy enzymes.
Know thy Competitors
Competitive landscape highlights only certain players
Complete list available upon request
Category-wise Insights
Which is the Most Preferred Source of Dairy Enzymes?
"Improved Digestibility and Extended Product Shelf Life Offered by Animal- and Microorganism-based Dairy Enzymes"
Consumption of animal- & microorganism-based dairy enzymes is forecasted to increase at a robust CAGR of 8.1% over the projected period.
Animal- and microorganism-based dairy enzymes play a crucial role in the dairy industry, contributing to the processing, production, and development of various dairy products. These enzymes offer specific functionalities and benefits that aid in achieving desired characteristics and enhancing overall quality.
They play a vital role in dairy processing, offering benefits such as improved digestibility, extended shelf life, and product diversity. These enzymes contribute to the development of a wide range of dairy products with enhanced characteristics, meeting the needs of different consumer preferences and dietary requirements.
Rennet, derived from animal sources, is a key enzyme used in cheese production. It primarily contains the enzymes pepsin and chymosin, which help coagulate milk proteins. The coagulation process is essential in forming the curds necessary for cheese production.
How is Demand for Dairy Enzymes in Cheese Production Shaping Up?
"Crucial Role of Dairy Enzymes in Coagulation, Ripening, and Flavor Development in Cheese Production"
Demand for dairy enzymes in cheese production is calculated to expand at a healthy CAGR of 6.6% from 2023 to 2033.
Dairy enzymes play a fundamental role in cheese production, influencing the coagulation, ripening, flavor development, and texture of various cheese varieties. These enzymes are crucial in transforming milk into curds and shaping the unique characteristics of different cheeses.
Enzymes are essential players in cheese production, enabling coagulation, ripening, and flavor development. These enzymes shape the unique characteristics of different cheese varieties and contribute to the diversity and quality of cheeses available in the market. By harnessing the properties of dairy enzymes, cheese makers can create a wide range of delicious and distinctive products enjoyed by cheese lovers worldwide.
Competitive Landscape
Leading manufacturers are focusing on expanding their product portfolios to satisfy the needs of diverse market groups by taking advantage of the potential offered by emerging markets for new product development. To increase their customer base and geographical reach, businesses have made strategic partnerships their main marketing tactic.
In March 2020, Novozyme introduced Saphera Fiber, an innovation aimed at increasing fiber content and reducing sugar in fermented and non-fermented dairy products. By utilizing the lactase enzyme, Saphera Fiber transforms lactose in milk into GOS fibers (galactooligosaccharides).
Know thy Competitors
Competitive landscape highlights only certain players
Complete list available upon request
Key Segments of Dairy Enzymes Industry Research
By Product Type :

Carbohydrates
Protease
Polymerase & Nuclease
Lipase
Phytase

By Source :

Plant-based
Animal- & Microorganism-based

By Application :

Milk
Cheese
Ice Cream & Desserts
Yogurt
Whey
Infant Formula

By Region :

North America
Latin America
Europe
Asia Pacific
Middle East & Africa
- FAQs -
The global dairy enzymes market is valued at US$ 813.45 million in 2023.
Worldwide demand for dairy enzymes is predicted to increase at a CAGR of 7.8% from 2023 to 2033.
Demand for dairy enzymes is anticipated to reach a market value of US$ 1.72 billion by 2033.
The market in Japan is projected to expand at a CAGR of 4.1% through 2033.
Sales of dairy enzymes in South Korea are projected to rise at a CAGR of 6.7% through 2033.