Anastomosis Devices Market
Anastomosis Devices Market Analysis By Product Type (Disposable, Reusable), By Application (Cardiovascular Surgeries, Gastrointestinal Surgeries), By End Use (Hospitals, Ambulatory Care Centers, Clinics), & By Region - Global Market Insights 2022-2027
Analysis of Anastomosis Devices market covering 30 + countries including analysis of US, Canada, UK, Germany, France, Nordics, GCC countries, Japan, Korea and many more
Anastomosis Devices Market Outlook (2022-2027)
The global anastomosis devices market is valued at US$ 3.86 billion in 2022 and will reach a valuation of US$ 5.31 billion by 2027. Global sales of anastomosis devices are predicted to rise at a high CAGR of 6.6% from 2022 to 2027.
In the market for anastomosis devices, reusable anastomotic devices are a rapidly growing market segment. Global reusable anastomotic device sales are expected to increase at a CAGR of 7% during the next 5 years.
Report Attributes

Details

Anastomosis Devices Market Size (2022E)

US$ 3.86 Billion

Forecasted Market Value (2027F)

US$ 5.31 Billion

Global Market Growth Rate (2022-2027)

6.6% CAGR

China Market Value (2027F)

US$ 1.1 Billion

Key Companies Profiled

Johnson & Johnson
Medtronic Plc
B. Braun Melsungen
Intuitive Surgical Inc.
Boston Scientific Corporation
Artivion, Inc.
Smith & Nephew Plc
Becton, Dickinson and Company
CONMED Corporation
Advanced Medical Solutions Group Plc
Baxter International, Inc.
Teleflex
Meril Life Sciences
Surgical Specialties Corporation
Know thy Competitors
Competitive landscape highlights only certain players
Complete list available upon request
Demand Analysis of Anastomosis Devices (2017-2021) Vs. Market Forecasts (2022-2027)
A surgical connection of two structures is called anastomosis. It typically refers to a joining of tubular organs such as blood veins or gut loops. After an organ has been removed to connect the remaining pieces, thus it is a surgical technique that joins two structures.
It is a crucial stage of a surgical process with a significant risk of complications, necessitating the employment of extremely sophisticated and effective tools. Furthermore, significant efforts have been made to facilitate the formation of graft-to-coronary anastomosis with the introduction of off-pump coronary artery bypass transplantation and minimally-invasive coronary artery bypass grafting.
Numerous anastomotic devices have been developed as a result. The ideal anastomotic device should be easy to use, but there are several design requirements that must be satisfied to create a symmetrically perfect anastomosis with minimal endothelial injury and a blood-exposed non-intimal surface.
Medical instruments such as surgical staplers and staples can be employed in place of surgical sutures. Patients experience less pain than sutures and can heal severe wounds or cuts more swiftly. They are frequently employed in minimally-invasive surgeries. In surgeries to excise organs or to reattach pieces of internal organs, they are also used to heal wounds in locations where the skin is close to the bone.
During Cesarean deliveries or C-sections, surgical staplers are routinely used to close wounds in the belly and uterus because they help women heal more quickly and produce less scar tissue.
Manual surgical staplers and powered surgical staplers are two forms of surgical staplers. While absorbable and non-absorbable sutures are available in the sutures category.
There are various types of sealants & adhesives such as fibrin-based, collagen-based, albumin-based, and urethane-based sealants & adhesives. The primary duty of all is to stop bleeding by attaching near the cut area.
The surgical anastomosis devices are used in cardiovascular & thoracic surgeries, gastrointestinal surgeries, orthopedic surgeries, and gynaecological surgeries.
The global increase in gastrointestinal and cardiac surgeries is one of the main factors fuelling the market's expansion. As a result, their utilization during the operation increases. Due to the prevalence of numerous coronary heart diseases around the world and the growing elderly population, there is a higher need for procedures such as CABG (Coronary Artery Bypass Grafting), a partial colectomy, and other thoracic surgeries.
For instance, 17.9 million people worldwide pass away each year, according to the WHO. Furthermore, cardiovascular conditions such as coronary heart disease, hypertension, and strokes were listed as the leading killers on a global scale.
Also, the market is anticipated to rise as a result of favourable reimbursement policies, rising endoscopic surgical use, and technological advancements.
According to Fact.MR, a market research and competitive intelligence provider, the global market for anastomosis devices is expected to increase from US$ 3.86 billion in 2022 to US$ 5.31 billion by 2027.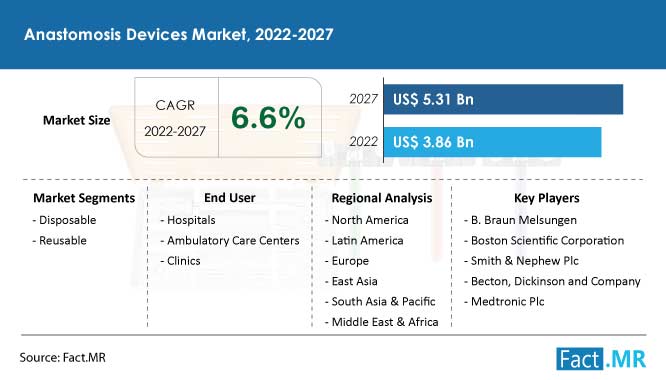 What are the Significant Drivers of the Anastomosis Devices Market?
"Rising Number of Surgical Procedures on Global Level"
A startling 310 million major procedures are carried out annually across the globe, with between 40 to 50 million taking place in the U.S. and 20 million in Europe, says National Centre of Biotechnological Information report
The worldwide increase in the senior population and the rising incidence of chronic diseases are two factors that contribute to the rising number of surgeries. In addition to an increase in the number of senior individuals, there is a global rise in the prevalence of lifestyle diseases such as cancer, diabetes, obesity, hypertension, and heart illnesses.
Demand for anastomosis devices is expected to increase along with the increase in the total number of these operations performed globally. These tools facilitate less scarring, quicker healing, and less blood loss.
"Developing Healthcare Sectors in Emerging Nations"
Major market participants have significant growth prospects in emerging economies such as South Korea, Vietnam, Malaysia, Africa, Israel, Saudi Arabia, and the United Arab Emirates. This is due to factors such as lenient regulatory requirements, improved healthcare facilities, expanding patient populations, and rising medical tourism.
Furthermore, compared to industrialised nations, the regulatory policies in the countries of the Asia Pacific region are more flexible and business-friendly. This has led key players in the anastomosis devices market to concentrate on emerging nations along with the escalating competition in developed areas.
More Insights, Lesser Cost (-50% off)
Insights on import/export production,
pricing analysis, and more – Only @ Fact.MR
What are the Restraining Factors for the Sales of Anastomosis?
"High Anastomosis Device Costs & Onerous Clinical Data Requirements for Introduction of New Devices"
The manufacturing of anastomosis devices, such as surgical sealants and adhesives, is quite expensive. To create new products that successfully meet market demands, large R&D investments are required. The expensive production method (freeze-drying), chilled storage, and challenging device assembly are characteristics of product development.
Also, compared to surgical sutures, surgical staplers are more expensive. The exorbitant cost of these devices drives up the expense of surgical treatments even more. Since healthcare providers are putting more emphasis on controlling healthcare expenses and lowering the financial burden on patients, it is anticipated that the high price of surgical staplers will in certain cases restrain demand, particularly in developing nations.
"Need for Qualified Medical Workers to Ensure Best Possible Use of Products"
In this sector, a critical element directly influencing procedural outcomes is the demand for knowledgeable and qualified personnel. The integrity of staple lines and tissue compression during wound closure is crucial for creating stable anastomoses; improper use of surgical staplers owing to inexperience and ignorance raises the risk of potentially fatal harm to patients.
Also, as tissues vary in thickness, effective tissue compression is entirely dependent on tissue type and thickness, so surgeons must take tissue compression and staple height into account. However, a lot of surgeons are unaware of which size staples to use for which kinds of surgeries.
Which Regional Market Provides Lucrative Growth Opportunities for Anastomosis Device Suppliers?
"Presence of Established Healthcare Facilities in North America"
North America dominates the global anastomosis devices market. The regional market is expected to increase as a result of the rising frequency of cardiovascular illnesses and the rising number of R&D partnerships formed by significant regional companies.
Furthermore, expanding access to healthcare, rising awareness of CVD and CHD, the rising spending power of the populace over advanced, and well-established healthcare infrastructure are important drivers of growth.
The major Asia Pacific market contributors are Japan, China, and India. Due to the region's improving economic conditions, rising healthcare awareness, and growing elderly population, the regional market is anticipated to grow at the fastest rate throughout the forecast period. Aged adults are more prone to digestive and cardiovascular illnesses, making them a sizable target population for the industry.
The market is expected to be driven by growing anastomosis device demand as well as rising manufacturers' interest in expanding their presence in the region.
Country-wise Analysis
Why are Sales of Anastomosis Devices High in the U.S.?
"Rising Prevalence of Cardiovascular Disorders Driving Anastomosis Device Sales"
In the United States, heart disease is the leading cause of death. Cardiovascular disease claims one life in the United States every 34 seconds.
According to the Centers for Disease Control and Prevention, in the United States, heart disease claimed the lives of almost 697,000 people in 2020, accounting for 1 in 5 fatalities.
As a result, the market in the nation is driven by the greater need for these devices during surgical procedures. Anastomosis devices market growth is being driven by the country's excellent revenue share, deskbound lifestyle, and growing elderly population with chronic conditions.
What is Supporting the Sales of Anastomosis Devices in China?
"Rising Cases of Gastrointestinal Disorders Fuelling Demand for Anastomosis Systems"
Obesity rates are alarmingly rising in the Asia Pacific region, especially in China.
In China, more than one in seven people meet the criteria for overall obesity and one in three people fulfil the threshold for abdominal obesity. Obesity is observed due to unhealthy eating habits.
In China, gastrointestinal diseases are commonly observed in the elderly as well as in the young population, this could be because of unhealthy diet intake and a weak digestive system.
The country's ageing population, greater healthcare awareness, government initiatives to treat bile duct problems, and increased research and development for pancreatic and gastrointestinal infections are all predicted to contribute to the lucrative expansion of China's anastomosis devices market.
Sales of anastomosis devices are anticipated to rise at a high CAGR of 10% from 2022 to 2027, and will reach US$ 1.1 billion by 2027.
Category-wise Analysis
Why is the Use of Reusable Anastomosis Devices Increasing Rapidly?
"Rising Need to Minimize Biomedical Waste"
Based on product type the market is segmented into disposable and reusable anastomosis devices.
Sales of disposable anastomosis devices are expected to rise at a CAGR of 6.5% from 2022 to 2027, and will reach US$ 4.5 billion by 2027, this may be due to a wider range of disposable anastomotic devices being offered and increased market penetration. The group of large players are engaged in the manufacture of disposable anastomosis products.
These goods lessen the possibility of surgical site infections, cross-contamination, and other infections linked to healthcare (HAI). Disposable anastomotic devices also have the benefit of not needing to be reprocessed in between applications, which lowers reprocessing costs and expedites the overall procedure. The features mentioned above will cause this market segment to grow at a healthy rate.
A fresh market segment for anastomosis devices is the reusable anastomotic device. Sales of reusable anastomotic devices are predicted to rise at a CAGR of 7% during the next 5 years.
Some of the major factors expected to propel the segment's growth during the forecast period include the creation of technologically improved devices and the growing requirement to eliminate biomedical waste.
Which Application Accounts for High Use of Anastomosis Devices?
"Significant Use of Anastomosis Devices in Cardiovascular Surgeries"
During the projected period, the anastomosis devices market is anticipated to be dominated by cardiovascular surgeries in terms of application. This domination is a result of more cardiac procedures using various tools, such as surgical staplers, surgical sealants, and surgical adhesives.
These devices are in greater demand due to their capacity to prevent anastomotic leaks and lower the risk of problems in aortic surgeries, arrhythmia surgeries, myectomy, and CABG procedures. A further factor driving the segment's growth is the rising prevalence of heart illnesses, which calls for technologically sophisticated devices.
On the other hand, throughout the projection period, the gastrointestinal surgeries category is predicted to experience the highest CAGR. The lucrative expansion of the market may be attributed to the increase in gastrointestinal cancer cases worldwide.
According to an American Cancer Society report, stomach cancer will afflict roughly 27,600 Americans and result in 11,010 fatalities. The report also claims that the only operation that can realistically offer a possibility for this form of cancer cure is surgery such as endoscopic resection, partial gastrostomy, etc.
Thus, it is anticipated that the segment would develop faster as surgery becomes a standard component of care for many various stages of stomach cancer.
Don't Need a Global Report?
save 40%! on Country & Region specific reports
Competitive Landscape
There are several key players in the moderately competitive anastomosis devices market. To compete with the products that are popular in the market, a few of the major competitors are creating advanced products and technologies.
For instance, Ethicon introduced its ECHELON CIRCULAR Powered Circular Stapler in September 2019, which makes use of a novel Gripping Surface and 3D Stapling Technologies. The stapler is made to lessen leaks while maintaining perfusion.
During the projected period, such new introductions are anticipated to propel the expansion of the worldwide anastomosis devices market. Medtronic PLC, LivaNova PLC, Getinge AB, Johnson & Johnson, and Baxter International Inc. are a few of the businesses currently ruling the market.
Key Segments in Anatomosis Devices Industry Research
By Product Type :

By Application :

Cardiovascular Surgeries
Gastrointestinal Surgeries
Other Surgeries

By End Use :

Hospitals
Ambulatory Care Centers
Clinics
Others

By Region :

North America
Latin America
Europe
East Asia
South Asia & Oceania
MEA
- FAQs -
The market for anastomosis devices is projected to reach US$ 5.31 billion by 2027.
Global sales of anastomosis devices are predicted to expand at 6.6% CAGR from 2022 to 2027.
The global anastomosis devices market is currently valued at US$ 3.86 billion.
Key market players in the anastomosis devices market are Medtronic PLC, LivaNova PLC, Getinge AB, Johnson & Johnson, and Baxter International Inc.
The anastomosis devices market has been segmented into hospitals, ambulatory care centers, clinics, and others, with the hospitals segment leading the market.