Body Worn Insect Repellent Market
Body Worn Insect Repellent Market Size & Trends Analysis, By Product (Apparel, Oils & Creams), By Distribution Channel (Online Sales of Body Worn Insect Repellents, Offline Sales of Body Worn Insect Repellents) & By Region - Global Insights to 2031
FACT6443MR
Nov-2021

List of Tables : 80

List of Figures : 120

170 Pages
Body Worn Insect Repellent Market Outlook
The global demand for body worn insect repellent enjoyed year-on-year (YoY) growth of 7.6% in 2021, to total a value of more than US$ 430 Mn.
Attribute

Details

Market Size (2021)
US$ 430 Mn
Global Market Growth Rate (2021-2031)
7.6%

Key Companies Profiled

C. Johnson & Son, Inc.
Godrej Group
Insect Shield, LLC,
Reckitt Benckiser Group Plc
Spectrum Brands Holdings, Inc.
Tender Corporation

Pricing

Available upon Request
The apparel segment displayed negative growth of 0.7%, whereas oil & cream was up by 1.5%. Overall, the global body worn insect repellent market is estimated to expand 2.1X over the next ten years.
Interested to Procure The Data
Revenue Analysis of Body Worn Insect Repellents from 2016 to 2020 Compared to Demand Outlook for 2021 to 2031
As per the body worn insect repellent industry research by Fact.MR - a market research and competitive intelligence provider, historically, from 2016 to 2020, market value increased at around 7.1% CAGR, wherein, Brazil, India, Indonesia, Malaysia, and Tanzania held significant share in the global market.
Growing reliance of users on insect repellent products to reduce the danger of insect-borne diseases is expected to lead the market to expand at a high CAGR of close to 8% over the coming 10 years.
Demand for worn insect repellents saw soaring growth in 2020 with worldwide revenues up 1.4% year-over-year. Fact.MR estimates that revenue will grow 2.1X from 2021 to 2031, reaching more than US$ 900 Mn by 2031.
As per Fact.MR's body worn insect repellent market insights, global revenue totaled US$ 400 Mn in 2020.
Demand for plant-based body worn insect repellents to accelerate at the highest pace.
Top 5 providers of body worn insect repellents held over 30% market share in 2020.
Global shipments of body worn insect repellents are anticipated to increase 2.1% in 2021 to over US$ 430 Mn in value.
While demand was impacted by COVID-19, over the decade, long-term forecasts look good, especially for oils & creams.
Why is Rising Health Awareness a Key Driver for Body Worn Insect Repellent Demand?
In developing countries, increasing health awareness combined with rising literacy rates are encouraging consumers to choose high quality insecticides. Furthermore, NGOs, government agencies, and community service organizations are constantly raising public awareness about the importance of maintaining cleanliness and a disease-free environment.
People are therefore less tolerant of pests and insects in their environment. As a result, growing health consciousness is expected to propel demand for body worn insect repellents. Attributed to these factors, the market is expected to surpass a valuation of US$ 900 Mn by the end of 2031.
An Adaptive Approach to Modern-day Research Needs
How are Government Regulations Hampering Sales of Body Worn Insect Repellents?
As public knowledge of insects-borne disease grows, government agencies are better prepared to accept only licensed and registered insect repellent products.
The U.S. Environmental Protection Agency imposes regulations that require these goods to be closely monitored before receiving a qualified mark. To transfer their goods, local players must comply with a slew of regulatory requirements.
As a result, strict regulations can create a difficult environment for small and local businesses. This might stifle the development of the market for body worn insect repellents.
What are the Opportunities on Offer for Body Worn Insect Repellent Manufacturers?
Government and non-government organization (NGOs) are actively involved in raising awareness among the general public and rural population about the consequences of poor waste management and a lack of hygiene skill.
Companies are taking part in efforts to raise awareness about insect-borne disease and the threats they pose. Since these initiatives are part of CSR programs, involvement in large-scale government projects helps raise brand awareness for a variety of insect repellent products.
Godrej Consumer Products, for example, highlighted its active role in government programs to eliminate mosquito-borne diseases such as dengue, chikungunya, and zika.
Avail customized purchase options for your needs
Which Region Offers the Largest Opportunity for Sales of Body Worn Insect Repellents?
South America is at the top over other regions in terms of sales of body worn repellents. In 2020, sales in the region increased 7.6%, and similar growth patterns are estimated till the end of 2031.
The region has a long history of suffering with vector-borne diseases such as dengue, malaria, chikungunya, and related diseases. Since, 1901, major outbreaks of these vector-borne diseases in the region have been observed.
In 2019, there were about 3 Mn dengue cases reported in the region. This number is near about 20% higher than a 2015 report. Surge in cases is due to the presence of a large vector population and climatic conditions of the region.
Regulatory bodies have been extensively investing in providing insect repellents to the people, and have introduced schemes for the same. Governments have offered special subsidies to the manufacturers of such products, which is benefitting them while operating in the regional market.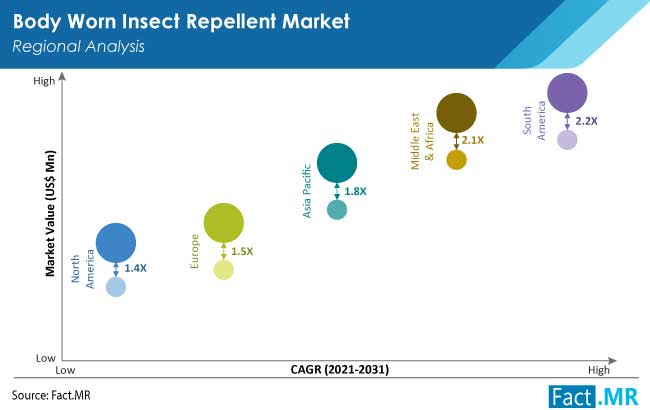 Country-wise Analysis
Why is Demand for Body Worn Insect Repellents High in Brazil?
In 2019, Over 2 Mn of dengue cases were reported in Brazil with 155 fatalities. During the same timeframe, around 87,687 chikungunya cases and 8,680 zika virus cases were recorded. The number of vector-borne diseases is significantly increasing in the country year-on-year. The country's climatic conditions is the major factor responsible for such an increase in vector-borne diseases.
Owing to this, demand for body worn insect repellents is always high in the country, thus creating lucrative opportunities for manufacturers operating in the country. Over the coming years, demand for body worn insect repellents is anticipated to grow 2.2X at a CAGR of 8% through 2031.
How Has Body Worn Insect Repellent Demand Been Shaping across Established & Emerging Markets?
Mexico: The country shows similar growth to that of Brazil. Vector-borne diseases are significantly increasing every year in the country. Manufacturers are partnering with the local educational institutions for spreading awareness on insect repellents, and, in turn, are also marketing their products through this strategy
India: Historically, the Indian market expanded at a CAGR of 6.3%. The number of insect-borne disease in the country has been declining since 2000. Deaths from malaria in India declined from 29,500 in 2000 to 7,700 in 2019. Similar stats have been observed for other vector-borne disease.
Despite such a decline in cases, demand for body worn insect repellents has not been much effected. Many people aware of using such products as a preventative measure has led the market to drive forward.
During the forecast period, it is estimated that the body worn insect repellent business will expand at a CAGR of more than 6%.
What are the Strategies Being Followed by Key Manufacturers of Body Worn Insect Repellents Operating in South and North Africa?
In 2020, the body worn insect repellent industry expanded at 6.6% in South Africa and 5.6% in North Africa. The number of vector-borne diseases in North Africa is lesser than that of South, owing to which, it has lower sales of the product.
Key players operating in the region have been practising a wide mix of marketing strategies. To expand their footprints, promising players are likely to concentrate on business expansion through strategic alliances, mergers, and partnerships.
Companies are widening their operations by disturbing their goods through a variety of networks. They are also focused on providing customers with cost-effective creative solutions in order to improve profitability and ensure long-term business growth.
Category Wise Analysis:
Why are Insect Repellent Patches an Ideal Solution for Infants?
Stickers or patches have emerged as an ideal solution for infants among the various types of body-worn insect repellents. Insect repellent patches containing essential natural oils such as eucalyptus oil, peppermint oil, lavender, and citronella are in high demand, as they are healthy for babies and offer maximum protection.
While lotions, ointments, and gels are more effective that patches, patches are easier to use, and, as such, body worn insect repellent patches are likely to gain popularity over the coming years.
Why is Consumer Preference High towards Plant-based Formulae Body Worn Insect Repellents?
While DEET (N, N-Diethyl-meta-toluamide) retains a significant market share, this is expected to change over the coming years as consumers shift their preferences towards organic and natural body-worn insect repellent formulations. Pleasant smell, pleasant skin feel, and vapour motion are some of the top selling points of plant-based body worn insect repellents.
Furthermore, rising customer concerns about the oily texture and discomfort caused by DEET is a major factor driving demand for plant-based body worn insect repellents. Over the coming years, plant-based insect repellents are anticipated to touch higher avenues and project a growth rate of 7.7% through 2031.
What is the Effect of COVID on Demand for Body Worn Insect Repellents?
Increasing health-related issues among consumers could theoretically increase demand for body worn insect repellents, as the COVID-19 pandemic spreads like wildfire across various parts of the globe. Despite the fact that there is no proof that the COVID-19 virus is spread by insects, customers continue to buy insect repellents as a precaution.
During the COVID-19 pandemic, demand for mosquito repellent wristbands has been increasing, mostly in developed regions of the world. In addition, due to increase in the number of malaria and dengue cases, some firms are encouraging government officials to include body worn insect repellents on the list of important products.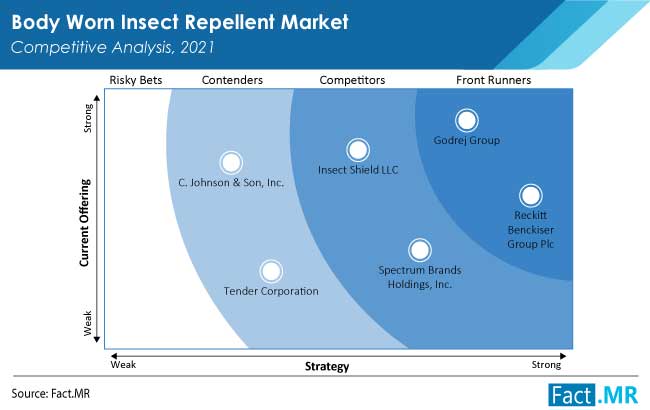 Competitive Landscape
Majority companies discussed in the report have focused on expansion, investment, acquisitions, delivery focus, portfolio expansion, and brand development.
Some of the key developments are:
In 2019, Due to the surge in Lyme/Zika health hazards, Insect Shield, LLC began online illness education by establishing new protection programs and expanding its brand partners throughout the world.
In 2019, Sawyer Items, Inc. advertised its products on Amazon, Walmart, Dick's Sporting Goods, and MENARDS, among other online and offline retailers. Furthermore, the company is focusing on promoting its products through its own distribution channel, dubbed SAWYER.
Similarly, recent developments related to companies manufacturing body worn insect repellents have been tracked by the team at Fact.MR, which are available in the full report.
Market Segments Covered in Body Worn Insect Repellent Industry Analysis
By Product

Apparel

Trousers
Shirts
Jackets
Head Nets
Others

Oils & Creams

Plant-based Body Worn Insect Repellents
Synthetic Body Worn Insect Repellents
Stickers & Patches

By Distribution Channel

Online Sales of Body Worn Insect Repellents
Offline Sales of Body Worn Insect Repellents