Formic Acid Market
Formic Acid Market Analysis By Concentration (Formic Acid of 85% Concentration, 90% Concentration, 94% Concentration, 99% Concentration), By Application (Formic Acid For Animal Feed, Agricultural Products, Leather Tanning), By Region - Global Insights 2021-2031
FACT4279MR
Sep-2021

List of Tables : 89

List of Figures : 69

170 Pages
Market Outlook for Formic Acid
According to Fact.MR's latest industry analysis on formic acid, the market was valued at US$ 1.5 Bn in 2020, and is expected to accelerate at a CAGR of 4% to top US$ 3 Bn by 2031. Demand for formic acid of 85% concentration is set to increase at a CAGR of 3% across the assessment period of 2021 to 2031.
Avail customized purchase options for your needs
Key Points Covered in Formic Acid Industry Survey:
Market Estimates and Forecasts (2016-2031)
Key Drivers and Restraints Shaping Market Growth
Segment-wise, Country-wise, and Region-wise Analysis
Competition Mapping and Benchmarking
Brand Share and Market Share Analysis
Formic Acid Production Analysis
Formic Acid Market Pricing Analysis
Formic Acid as a Miticide
Growth Opportunities for Formic Acid in 2021
Key Product Innovations and Regulatory Climate
Assessment by Product Grade / Purity / Formulation Standards
Assessment of Import Price, Bulk Price, Contractual Price, Producer / Distributor Price
Certifications and Compliance Requirements
Analysis of Supply Contracts, Avg. Consumption, Potential for Direct & Indirect Sales
COVID-19 Impact on Formic Acid Industry and How to Navigate
Recommendation on Key Winning Strategies
Formic Acid Consumption Analysis from 2016-2020 Vs Future Market Outlook for 2021-2031
As per Fact.MR, a market research and competitive intelligence provider, the global market for formic acid was valued at US$ 1.5 Bn in 2020.
Increasing application of formic acid in pharmaceutical industry and rising demand for formic acid in textile industry are essential factors expected to boost the development of the worldwide market for formic acid.
In addition, use of formic acid, in leather tanning, rubber products production, and demand for formic acid in food processing will also boost the market growth over the forecast period.
Amplified emphasis on different types of products, their varied applications, and the safety regulations associated with the utilization of formic acid is expected to be the key driving factors for the global formic acid market.
High quality and environmental acceptability of formic acid are some of the major factors that are expected to drive the market at a 4% CAGR from 2021 to 2031.
An Adaptive Approach to Modern-day Research Needs
Which Properties of Formic Acid are Stimulating Market Growth?
Formic acid, also known as methanoic acid or carboxylic acid, is a colorless corrosive liquid with vesicant properties. It is naturally found in insects, and some plants. Formic acid gives a pungent and penetrating odor at room temperature.
It is also a bi-product of acetic acid production. Formic acid dissolves in water, alcohols, and other hydrocarbons such as acetone and ether. The market is expected to expand significantly during the forecast period due to the rise in demand for the acid in various applications such as preservatives, animal feed, agriculture, and leather.
Formic acid is used for coagulating latex in the production of natural rubber, as an important chemical block, in regulating the pH value of chemical processes, and in pharmaceuticals, dyes, and perfume industries.
Formic acid is used extensively as a catalyst in the manufacturing of different chemicals. Formic acid is an environment-friendly de-icing agent that is widely used to make airport runways permanently ice-free. These superior properties will add extra growth impetus to the market.
What are the Restraints being Encountered by Formic Acid Manufacturers?
Imposed regulations on the proper use of formic acid are expected to slow market growth. These are intended to safeguard natural resources against future adverse effects of formic acid on the environment.
The formic acid manufacturing process uses steam that may come from a renewable source to reduce non-renewable resource usage. While the vendors are slowly overcoming these technical challenges, there are no concrete barriers that diminish the size of the market.
Even though formic acid has occupied the marketplace of many of its many alternatives, the major challenge in front of formic acid manufacturers is greener production of the chemical. The future foresees the adoption of this technology.
Formic acid possesses some potential health risks on prolonged exposure. It can cause chronic kidney damage as well as some skin allergies that manifest on re-exposure. This is expected to hamper the market growth.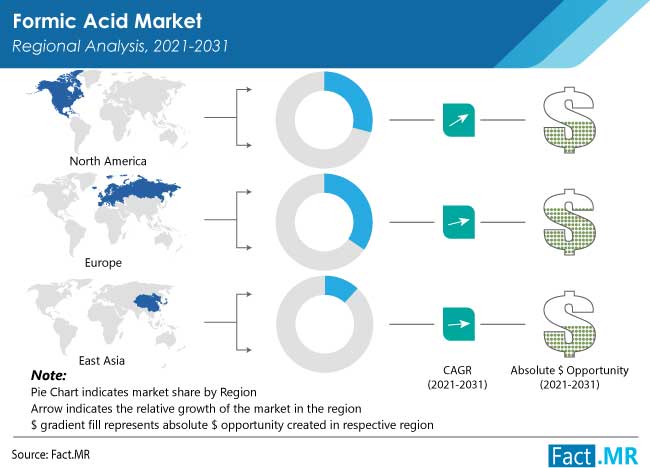 Which Region Offers the Largest Opportunity for Formic Acid Suppliers?
The Asia Pacific region leads with more than 50% share in the global market for formic acid. Textile and rubber industries are the prominent consumers of formic acid in the Asia Pacific. Rapid industrialization and easy availability of raw materials are major reasons for higher share of Asia Pacific in the market.
Regulatory norms are also minimal in the region. Moreover, a vast number of the chemical manufacturing industries in this region are anticipated to propel the growth of the market in the forecast period.
Asia Pacific has been observing industrial growth for quite a few years now. The pharmaceutical sector has been making strides with a gamut of international companies investing in developing economies.
Subsequently, demand for formic acid to be used in pharmaceutical industries is on the rise. This is also attributed to cheap raw materials and operational cost for manufacturing units in Asia Pacific, which creates more scope for profit, and a lot of vendors are reaping the benefits of the same.
Other countries / regions that are expected to perform well over the coming years include Brazil grade 85% formic acid market and Turkey grade 94% formic acid market.
Interested to Procure The Data
Country-wise Analysis
What is the Formic Acid Demand Outlook for the U.S.?
The market in the U.S. was valued at over US$ 380 Mn in 2020. Expansions and investments play a major role in market growth. Rising investments in concentrated formic acid development across the value chain from suppliers to end-use industries are expected to positively impact the United States formic acid market growth over the forecast period.
The U.S., which strives towards self-sufficiency, has witnessed higher growth in the market. Major R&D investments, expansion of formic acid production facilities, and rising use of formic acid in feedstock manufacturing in the country have further boosted the sales of formic acid.
What are the Growth Opportunities for Formic Acid Providers across China?
By 2031, China is expected to have a market of roughly US$ 365 Mn. China is among the largest meat producers in the world. Top three categories include pork, chicken, and beef. In 2019, according to the National Bureau of Statistics China, the volume of beef and veal production in China was around 6.67 Mn metric tons.
China's textile and apparel makers are going through painful industrial restructuring. While the country, with enormous production capacity, is still the world's largest clothing exporter, oversupply at home, high labor costs, and rising global protectionism all eroded its competitiveness.
Lower capital and labor costs along with the rapidly growing market in China are expected to draw high investments from manufacturers of agricultural formic acid.
Category-wise Insights
Why is Formic Acid of 85% Concentration Rising Rapidly in Popularity?
Based upon concentration, the market can be segmented into 85%, 90%, 94%, and 95% and above. The 85% segment accounted for a share of 40% in the market. It is widely used in various applications.
High demand for 85% concentration of formic acid in the market can be ascribed to low concentration. As a result, it is less toxic to environment and human life. The 85% formic acid concentration is considered the standard concentration for various applications. Other concentrations are customized based on applications.
Why is Animal Feed Industry Demand for Formic Acid Dominating the Landscape?
Formic acid, as a commercial animal feed additive, is added to the animal diet for feed acidification. It is used as an animal feed additive for fisheries, cattle, poultry, etc. The growth of cattle and poultry is higher in countries, such as the United States, China, India, etc., and these are the countries where the demand for formic acid increased at a moderately high rate.
Formic acid is also used as an antibacterial agent and preservative in livestock feed.
Formic acid is sprayed on fresh hay, in order to delay or halt decay, thereby allowing the feed a longer survival period. This process is of particular importance in the preservation of winter cattle feed.
In poultry farming, formic acid is applied to feed, in order to kill salmonella bacteria. These practices are widespread in Europe but are not as common in the United States due to the generally low commercial availability of formic acid.
These applications of formic acid are on the rise due to increase in demand for animal feed. This trend is expected to contribute to the demand for formic acid in the animal feed industry.
Has COVID-19 Impacted Demand for Formic Acid?
Due to COVID-19, lockdown regulations, and a deficient number of workers, production in various chemical and other industries decreased, and the supply of raw materials to industries decreased. The animal feed industry, which is the major end-user industry of formic acid, was also badly affected by the closure of restaurants around the world.
The coronavirus crisis has severely harmed the supply of animal feed, despite the fact that demand has remained relatively stable across the world. Owing to all these factors, the market was negatively impacted by COVID-19.
Over the medium term, major factors that will drive demand growth of formic acid are increasing demand for food preservatives and feed additives and rising consumption of meat and poultry.
Competitive Landscape
The global market is moderately consolidated with a few chemical industry giants capturing a large part of the market share.
Foremost strategies for expanding the formic acid industry are product launches, mergers & acquisitions, and contracts & collaborations. These strategies would deliver effective goods and high-performance goods, supporting market laws, and lastly, better client satisfaction.
Manufacturers of formic acid are planning to move their companies to locations offering cheap raw materials and labor. Growing emphasis on R&D activities and business expansion would improve the competitive environment between manufacturers of formic acid.
Formic Acid Market Report Scope
Report Attribute

Details

Market size value in 2020

USD 1.5 Billion

Market forecast value in 2031

USD 3 Billion

Growth Rate

CAGR of 4% from 2021 to 2031

Forecast Period

2021-2031

Historical Data Available for

2016-2020

Market Analysis

US$ Mn for Value & '000 Units for Volume

Key Regions Covered

North America
Latin America
Europe
East Asia
South Asia
Oceania
MEA

Key Countries Covered

U.S.
Canada
Germany
U.K.
France
Spain
Italy
Russia
China
Japan
South Korea
India
Australia
Brazil
Mexico
Argentina
GCC
South Africa

Key Market Segments Covered

Concentration
Application
Region

Key Companies Profiled

Anhui Asahi Kasei Chemical Co. Ltd
BASF SE
Beijing Chemical Industry Group Co. Ltd
Feicheng Acid Chemicals Co. Ltd
GNFC Limited
Luxi Chemical Group Co. Ltd
Perstorp
Polioli SpA
Rashtriya Chemicals and Fertilizers Limited
Shandong Baoyuan Chemical Co. Ltd
Shanxi Province Yuanping Chemicals Co. Ltd
Wuhan Rui Fuyang Chemical Co. Ltd
Eastman Chemical Company

Pricing

Available upon Request
Key Segments Covered in Formic Acid Industry Research
Concentration

Formic Acid of 85% Concentration
Formic Acid of 90% Concentration
Formic Acid of 94% Concentration
Formic Acid of 99% Concentration
Others

Methanoic Acid
Carboxylic Acid

Application

Formic Acid For Animal Feed
Formic Acid For Agricultural Products
Formic Acid For Leather Tanning
Formic Acid For Textile Dyeing and Finishing
Formic Acid For Pharmaceuticals/Food Chemicals
Formic Acid For Rubber Products
Formic Acid For Coatings