Pathology Instruments Market
Pathology Instruments Market Analysis, By Technology (Clinical Chemistry, Immunoassay Technologies, Microbiology, Molecular Diagnostics), By Application (Drug Discovery & Development, Diagnostics), By End User (Pharmaceutical Companies, Diagnostic Laboratories, Others), & Region - Global Market Insights 2023 to 2033
Analysis of Pathology Instruments Market Covering 30+ Countries Including Analysis of US, Canada, UK, Germany, France, Nordics, GCC countries, Japan, Korea and many more
Pathology Instruments Market Outlook (2023 to 2033)
The global pathology instruments market is valued at US$ 3.65 billion in 2023 and is predicted to reach US$ 5.67 billion by the end of 2033.
Rising prevalence of contagious and chronic diseases across the world is expected to increase the sales of pathology instruments at a CAGR of 4.5% during the next 10 years.
In the field of pathology, body fluids, organs, and tissues are examined to determine the source, cause, and nature of diseases. To choose the best course of treatment for each condition, it must first assess the disease's real status. Digital and anatomical are two main types of pathology.
Pathology tools are primarily used in drug discovery & development and diagnostic applications. Demand for pathology instruments for diagnostic services is expected to progress at a CAGR of 5% during the forecast period. Pathology protocols give researchers the chance to investigate the causes of disease and related effects.
Thus, pathology plays a vital role in an illness diagnosis. The primary driver of the illness diagnosis instruments is the increasing prevalence of chronic illnesses such as cancer and the growing elderly population who are more prone to experience various illnesses.
The pathology workflow makes it easier to find tumours when they are still in the inflammatory and proliferative stromal cell stage, which lowers the cost of tumour eradication. The manufacturers of pathology instruments are emphasizing the launch of novel and creative diagnostics techniques.
Demand for pathology instruments from drug discovery & development companies is expected to evolve at a CAGR of 4% from 2023 to 2033. Pharmaceutical companies can gain a lot of information from pathologists' studies on the tissue used in preclinical studies.
To evaluate the negative effects of potential medications, anatomic pathology is a critical component of toxicological assessment. Thus, for carrying out detailed research on drug discovery the use of pathology lab instruments is increasing.
The development of pharmaceutical drugs, including discovery, preclinical GLP pathology, and oncology clinical trials, has significantly benefited from the use of digital pathology, an emerging technology that offers an image-based setting for managing and analyzing the information produced from a digitalized glass slide. By enabling data exchange to connect scattered pharma pathology labs across the world, digital pathology is revolutionizing international pharmaceutical research.
Report Attributes

Details

Pathology Instruments Market Size (2023E)

US$ 3.65 Billion

Forecasted Market Value (2033F)

US$ 5.67 Billion

Global Market Growth Rate (2023 to 2033)

4.5% CAGR

China Market Growth Rate (2023 to 2033)

8% CAGR

Japan Market Growth Rate (2023 to 2033)

2% CAGR

Germany Market Growth Rate (2023 to 2033)

3% CAGR

Canada Market Growth Rate (2023 to 2033)

5% CAGR

Key Companies Profiled

Abbott Laboratories
Becton, Dickinson and Company
Bio-Rad Laboratories
Danaher Corporation
Definiens
Hamamatsu Photonics
Mikroscan Technologies
Ortho-Clinical Diagnostics
Roche Diagnostics
Thermo Fisher Scientific
Which Market Trends are Benefitting Pathology Instrument Providers?
"Increasing Cases of Skin Cancer Boosting Demand for Histopathology Instruments"
Rising incidence of melanoma is increasing fear in the general population. Melanoma is one of the serious types of skin cancer.
The United Nations Environment Program estimates that there are about 200,000 new instances of malignant melanoma per year.
According to the Skin Cancer Foundation, there were around 53 percent more melanoma diagnoses annually in the past ten years.
Rising referrals from general practitioners and rising public awareness are growing the demand for histological analysis of melanoma. These elements are increasing the significance of a unified and systematic approach to melanoma histology, which subsequently is boosting the demand for histology pathology instruments.
"COVID-19 Accelerated Adoption Rate of Digital Pathology Technologies"
Increasing clinical use of biomarkers allows pathologists to pinpoint the molecular causes of disease and further drives clinical decision-making power by improving patient outcomes. The market for pathology instruments is being driven by the increasing reliance on pathology tests and methods based on biomarkers to investigate common malignancies and tumorigenesis.
The introduction of full slide imaging, telepathology, and digital pathology due to the COVID-19 pandemic is boosting sales growth. Pathologists can now operate remotely because of digital pathology, which improves their general productivity and helps them catch up on the backlog of cases.
Over the past few years, these technologies have seen an increase in utilization. The adoption rate accelerated due to the emergence of the COVID-19 outbreak, which is still boosting the demand for instruments used in digital pathology.
The widespread use of cutting-edge pathology tools such as gross imaging, staining systems, and digital microscopy is expected to significantly increase anatomic pathological techniques. The specificity and accuracy-related advantages of digital imaging systems over traditional methods are expected to increase the demand for clinical pathology instruments.
"Cancer High Cause of Fatalities Worldwide"
Increasing emphasis on customized medicine and the rising incidence of cancer and other chronic diseases are boosting the need for instruments in pathology. The pathology market is also increasing due to the rising rate of cancer diagnoses.
According to data from the American Cancer Society's Cancer Facts & Figures 2022 report, there were an estimated 1.9 million cancer cases diagnosed in the United States in 2022.
According to the GLOBOCAN 2020 report, by 2030, there will be 24,044,406 new instances of cancer, indicating an increasing global incidence of the disease.
Development of diagnostic procedures and treatment medications uses clinically practical biomarkers. These biomarkers can be used by pathological laboratories during diagnostic procedures to identify and monitor the progression of infections and diseases. As a result, biomarkers are becoming more used as prognostic and diagnostic indicators.
Vela Diagnostics launched innovative next-generation sequencing (NGS)-based panels in March 2022 to identify DNA and RNA cancer biomarkers from formalin-fixed paraffin-embedded (FFPE) tissue samples. The panels are extensive (60 genes) and narrowly focused (525 genes).
"Sedentary Lifestyles Increasing Chances of Diabetes & Heart Disorders"
High cholesterol is a major risk factor for several chronic diseases, including cardiovascular diseases (CVDs), type 2 diabetes, and hypertension. It is also associated with brain disorders such as Alzheimer's disease.
For instance, the International Diabetes Federation (IDF) estimates that in March 2022, there were about 1 billion obese people worldwide, including 1 in 5 women and one in seven males.
In September 2021, 38.2 million children under the age of 5 were deemed to be overweight or obese, according to World Health Organization (WHO).
Around 18 million people die due to CVDs worldwide annually, according to WHO.
Thus, rising prevalence of obesity in the population is predicted to raise the need for cholesterol monitoring to reduce the risk of acquiring illnesses. This is expected to increase demand for pathology tests to determine the types of lipoproteins, which subsequently are boosting the sales of surgical pathology instruments.
"Rising Prevalence of Infectious Diseases"
Rising incidence of infectious diseases in the populace is projected to raise the demand for diagnostic tests, which is predicted to support the growth of the market for pathology instruments over the forecast period. The risk of infectious diseases is increasing more rapidly than before due to several environmental and manmade causes.
According to data released by the WHO, around 10.6 million individuals worldwide contracted tuberculosis in 2021-6 million men, 1.2 million children, and 3.4 million women.
Don't Need a Global Report?
save 40%! on Country & Region specific reports
What is Majorly Affecting the Sales of Pathology Instruments?
"Availability of Refurbished Pathology Devices"
Higher error rates, which significantly vary between institutions and depend on the test type, are some of the main factors limiting sales growth.
The pre-analytic phase error rates in a lab medicine workflow can range from 32% to 75%,
The analytic phase error rates from 13% to 32%,
And the post-analytic phase error rates from 9% to 31%.
Common mistakes can occur as a result of patient or specimen misdiagnosis, contamination of specimens, and mistakes during specimen collection. Larger laboratories that get 20,000 or more specimens annually experience a higher rate of discrepancies than those that receive less than 20,000 samples.
Furthermore, the pathology instruments market is expected to be hampered by the availability of refurbished pathology systems. Refurbished anatomic pathology systems including ICH& ISH, microtomes, and staining systems are offered by companies such as LabX, ReScience, International Equipment Trading Ltd., and AL-TAR.
As original pathology instruments are so expensive, most medium- and small-sized laboratories in poor nations choose to use refurbished systems. Thus, this factor is expected to hamper sales growth to some extent.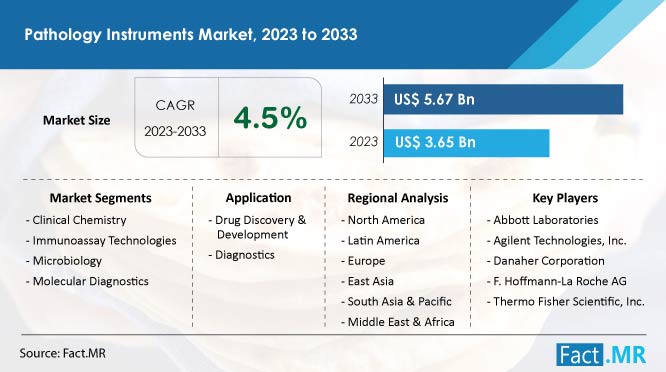 Country-wise Analysis
Which Tactics are Adopted by Manufacturers of Pathology Instruments in the United States?
"Technological Advancements in Production of Pathology Instruments"
Approximately 15% to 20% of all breast cancer patients in the United States in 2022 were found to be HER-2 Negative, according to NIH statistics released in March 2022.
In the United States, 287,850 new female breast cancer cases were detected in 2022.
Increasing cases of infectious and chronic diseases improved healthcare infrastructure, and technological improvements in pathological devices are some of the factors boosting sales growth in the United States. Advancing pathological centres or labs, the introduction of advanced lab equipment, and the use of digital or artificial intelligence in the creation of pathology devices are some of the aspects expected to support manufacturers of pathology & laboratory equipment to earn more profits.
Roche and PathAI signed into a production and distribution deal in October 2021. Together, the businesses create an embedded image analysis workflow for pathologists that give them access to PathAI image analysis algorithms through Roche's cloud-based uPath enterprise software, NAVIFY Digital Pathology.
How are Pathology Instrument Suppliers Faring in Germany?
"Rising Prevalence of Diabetes Increasing Demand for Diagnostic Procedures"
One of the major issues facing Germany's healthcare institutions is diabetes. The adult population of Germany has a very high prevalence of type 1 and type 2 diabetes, as well as a sizable number of individuals who have not yet received a diagnosis. Over the coming years, it is anticipated that the cases of type 2 diabetes would rise significantly as a result of an ageing population and an unhealthy lifestyle.
A new drug's development to provide diabetic patients with more treatment options has been spurred by the disease's increasing incidence, prevalence, and chronic nature, which is driving up demand for pathology instruments. As per an analysis by Fact.MR, a market research and competitive intelligence provider, sales of pathology devices in Germany are expected to increase at a CAGR of 3% during the projected period.
As per the German Diabetes Centre (DDZ) analysis, around 7% of the population is living with diabetes in Germany.
How are Sales of Pathology Instruments Evolving in Japan?
"Increasing Cases of Cardiac Disorders"
In December 2021, according to the National Cerebral and Cardiovascular Center of Japan, there were around 1.2 million heart failure patients in Japan.
In Japan, where individuals often live to be 100 years old, the prevalence rate of cardiovascular disorders rises, and the cases of heart failure patients are anticipated to rise even higher. The rising population of cardiac disorder patients is expected to increase the adoption of early diagnostic procedures, which will further boost the demand for pathology devices.
Around 29% of Japan's population aged 65 or older in 2021, as per World Data 2022.
The population of Japan is ageing at a significant rate across the globe. The increase in the elderly population is anticipated to fuel sales growth in Japan because they are more likely to have chronic cardiovascular illnesses than younger people.
More Insights, Lesser Cost (-50% off)
Insights on import/export production,
pricing analysis, and more – Only @ Fact.MR
Category-wise Analysis
Why is Demand for Molecular Diagnostics Increasing Rapidly?
"Growing Cases of Viral & Bacterial Infections"
Analyzing biological markers in the genome and proteome with molecular diagnostic tools enables the detection of pathogens and mutations. Molecular diagnostic tools can be classified into mass spectrometry, chips and microarrays, next-generation sequencing (NGS), cytogenetics, PCR-based techniques, and molecular imaging based on technology.
Demand for point-of-care diagnostics is rising due to the rapid widespread of bacterial and viral diseases and advancements in technologies. The development of precision medicine, which is giving patients with cancer and Mendelian disorders specific treatment plans that outperform current clinical practices, is increasing the need for next-generation sequencing, which is further anticipated to drive demand for molecular diagnostics.
More than 60 million people across the globe would have their genomes sequenced by 2025, according to data released by the Centers for Disease Control & Prevention (CDC) in January 2021.
Competitive Landscape
Key players in the pathology instruments market are developing advanced devices and technologies to earn more and maintain a dominating market position. Local supply, regional expansion, pricing trends as per region to region, and new developments are some of the marketing tactics of leading pathology instrument companies.
The comprehensive in-vitro genomic profiling kit 'TruSight Oncology (TSO)', was introduced by Illumina in March 2022, which evaluates several genes and biomarkers to determine the unique molecular pattern of a cancer patient in Europe. According to the patient's molecular profile, this makes it easier for clinicians to administer targeted medication.
Know thy Competitors
Competitive landscape highlights only certain players
Complete list available upon request
Key Segments of Pathology Instruments Industry Research
By Technology :

Clinical Chemistry
Immunoassay Technologies
Microbiology
Molecular Diagnostics

By Application :

Drug Discovery & Development
Diagnostics

By End User :

Pharmaceutical Companies
Diagnostic Laboratories
Academic Institutes
Pharmaceutical & Biotechnology Companies

By Region :

North America
Latin America
Europe
East Asia
South Asia & Oceania
MEA
- FAQs -
The global pathology instruments market is valued at US$ 3.65 billion in 2023.
Global demand for pathology instruments is predicted to increase at a CAGR of 4.5% between 2023 and 2033.
The pathology instruments market is projected to reach US$ 5.67 billion by 2033.
The United States, Germany, and Japan are profitable markets for pathology instrument manufacturers.
Abbott Laboratories, Becton, Dickinson and Company, and Bio-Rad Laboratories are some of the leading pathology instrument companies.