Pneumatic Nebulizers Market
Pneumatic Nebulizers Market Analysis By Product Type (Vented, Breath-actuated), By End User (Hospitals, Clinics, Ambulatory Surgical Centers), & By Region - Global Market Insights 2022-2027
Analysis of Pneumatic Nebulizers market covering 30 + countries including analysis of US, Canada, UK, Germany, France, Nordics, GCC countries, Japan, Korea and many more
Pneumatic Nebulizers Market Outlook (2022-2027)
Global sales of pneumatic nebulizers are expected to increase steadily at a CAGR of 4% and increase from a market valuation of US$ 699 million in 2022 to US$ 850.4 million by 2027.
Sales of breath-actuated nebulizers are anticipated to expand at a similar CAGR of 4% during the next five years; this can be attributed to their benefits such as increased drug delivery capacity and decreased dose wastage.
Report Attributes

Details

Pneumatic Nebulizers Market Size (2022E)

US$ 699 Million

Forecasted Market Value (2027F)

US$ 850.4 Million

Global Market Growth Rate (2022-2027)

4% CAGR

China Market Value (2027F)

US$ 176 Million

Share in Nebulizers Market (2022)

63.5%

Key Companies Profiled

Koninklijke Philips N.V.
Omron Corp.
PARI Pharma
General Electric Company
Allied Healthcare Products, Inc.
Becton, Dickinson & Company
GF Health Products, Inc.
Medline Industries, Inc.
Briggs Healthcare
Vectura Group Plc
Know thy Competitors
Competitive landscape highlights only certain players
Complete list available upon request
Revenue Analysis of Pneumatic Nebulizers (2017-2021) Vs. Market Projections (2022-2027)
A nebulizer is a medication delivery tool that facilitates the inhalation of medication in the form of a mist. These gadgets create a thin mist of liquid by forcing compressed air through it, which is then inhaled through a mouthpiece or mask. These devices are made to treat respiratory conditions such as chronic obstructive pulmonary disease (COPD), asthma, and asthma cystic fibrosis.
A pneumatic nebulizer creates a negative pressure zone by delivering compressed gas through a jet-like structured device. The substance to be aerosolized is sheared into a liquid film after being entrained into the gas stream. Surface tension forces lead this film to become unstable and separate into droplets.
Jet nebulizers, ultrasonic nebulizers, electronic nebulizers, and mesh nebulizers are also some of the nebulizers available in the market.
Every sector has been influenced by the COVID-19 pandemic, including the market for pneumatic nebulizers. Patients with COPD or asthma who were aware of the possibility of airborne COVID-19 infection were wary of using inhaled treatments since they are thought to be a source of viral transmission and immunosuppression.
Medical professionals did, however, advise all such patients to keep utilizing their inhalers and other prescription inhaled drugs. Therefore, COVID-19 had a negligible overall effect on the market.
The market is also anticipated to be driven by factors such as the rising prevalence of chronic respiratory disorders, demand for home healthcare equipment, and the rising geriatric population.
According to Fact.MR, a market research and competitive intelligence provider, over the next five years, global sales of pneumatic nebulizers are expected to expand at a CAGR of 4%.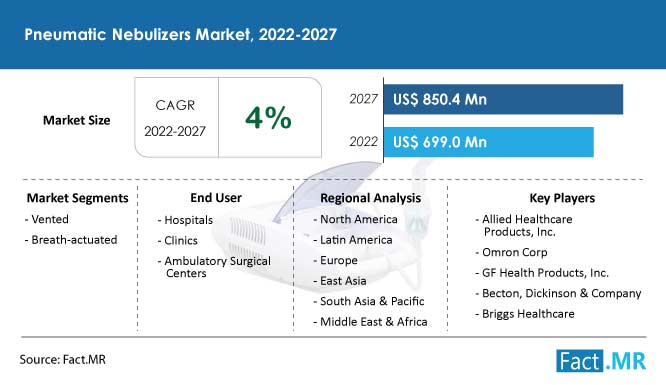 Which Types of Respiratory Diseases are Driving the Sales of Pneumatic Nebulizers?
"High Demand for Pneumatic Nebulizers for Treatment of Asthma & COPD"
Growth of the pneumatic nebulizers market will be fueled by the increasing incidence of asthma and COPD disorders.
Asthma caused 461,000 deaths worldwide in 2019 and affected around 262 million people, according to the World Health Organization.
Long-term therapy for COPD and asthma may result in substantial healthcare costs. Furthermore, the sector will see increased demand for pneumatic nebulizers due to growing urbanization, deteriorating air quality, and increased awareness of respiratory diseases and their treatment.
For instance :
For a variety of respiratory disorders, the OMRON Electro-pneumatic Nebulizer A3 Complete offers a full range of nebulization options. You can treat upper and lower airway chronic diseases or respiratory infections with one device. This ranges from seasonal allergies and colds to asthma and COPD.
More Insights, Lesser Cost (-50% off)
Insights on import/export production,
pricing analysis, and more – Only @ Fact.MR
What is Diminishing the Market Share of Pneumatic Nebulizer Suppliers?
"High Cost of Improved Pneumatic Nebulizers & Availability of Alternative Technologies"
As more patients adopt alternative technologies to treat respiratory problems, this established market is expected to encounter competition. Healthcare professionals are increasingly favouring inhalers, notably metered-dose inhalers (MDI), for the treatment of asthma.
Asthma patients are increasingly switching from nebulization devices to inhalers due to the therapeutic and practical advantages of MDIs in the treatment of the condition, as well as the reduced cost of these devices. Furthermore, the market during the projection period is likely to be hampered by the limited reimbursement policies in underdeveloped nations and the high cost of advanced pneumatic nebulizers.
How Can New Market Entrants Increase their Revenue Share?
"New Players Should Focus on Developing Advanced Nebulizers"
Increased accessibility for patients, healthcare professionals, and other end users is largely due to growing developments and investments made by market players in the development of technologically sophisticated nebulizer products.
For instance, Omron Healthcare, Inc. provides the OMRON MicroAIR U100, a small battery-operated device for treating respiratory diseases ranging from a simple cough to asthma. Small children will find the MicroAIR U100 to be quite comfortable because it features a 360-degree operation that allows for use in any position. In addition, the device employs novel mesh technology to efficiently carry the drug to the lungs.
Furthermore, Respira Technologies, Inc. introduced the RespiRx nebulizer platform to the market in June 2020. An ultra-portable handheld vibrating mesh nebulizer (VMN), this novel drug delivery technology is designed to treat both local and systemic conditions.
The demand for these portable gadgets is projected to increase quickly as a result of such innovative products. Healthcare providers' increasing knowledge of cutting-edge products and the rise in player collaborations to expand their market reach are expected to accelerate market expansion.
Recent Development in Start-up Space
A renowned provider of durable medical equipment (DME) and respiratory services in the United States, Lincare, has announced a new collaboration with Plug and Play, a worldwide innovation platform. They will be working together to find solutions for healthcare, IoT, and other issues that will benefit both their businesses and their clients throughout this relationship.
The parent firm of Lincare, Linde, is a participant in Stuttgart, Germany's Startup Autobahn. Lincare teamed up with Plug and Play to get exposure to start-up deal flow about particular issues that were significant to Lincare.
Lincare has already begun a POC with a company focused on omnichannel communications and enhancing patient experience within the first month of Plug and Play and Lincare's collaboration.
Why is Demand for Pneumatic Nebulizers Higher in North America?
"Higher Proportion of North American Population Living with Lung Disorders"
The market for pneumatic nebulizer devices in North America is expanding every day as a result of ongoing technological advancements. Patients looking for more portable nebulizer systems that can be transferred conveniently in times of need for patients suffering from asthma and other airway or lung ailments (bronchitis and pneumonia) are doing so because of the region's fast-paced lifestyle.
The prevalence of asthma and COPD, (which is the third leading cause of mortality in the United States), is by far the highest in North America, which is the main factor behind the region's dominance in the pneumatic nebulizers industry.
Due to its high proportion of senior population, greater emphasis on preventative care, and respective governments' measures supporting technological advancements, the Asia Pacific market is anticipated to have the fastest growth over the projection period.
Demand for pneumatic nebulizers has been fueled by an increase in regional healthcare spending and patient awareness. Foreign firms have been successfully drawn to this market by the region's respective governments' advantageous tax laws and low-cost manufacturing facilities. Furthermore, the growth of the regional industry has been assisted by the increase in medical tourism in nations such as the Philippines, India, Malaysia, and Singapore.
Country-wise Analysis
Why is the U.S. a Leading Pneumatic Nebulizers Market?
"Rapid Technological Advancements Driving Pneumatic Nebulizer Sales"
The U.S. population has started using newly introduced nebulizers with quick drug administration along with high-end technical assessment with more precision, which is supporting the expansion of the U.S. pneumatic nebulizer devices market.
For instance, Omron Healthcare, Inc. unveiled the Portable MicroAir Nebulizer gadget, which weighs 6 oz, fits discretely in one's palm, and is filled with extremely small nebulizers equipped with Vibrating Mesh Technology.
As a result, manufacturers are creating portable gadgets that neonates with respiratory conditions including COPD, asthma, and others can utilize. Rechargeable batteries power nebulizer machines and a variety of mask styles are also offered for use in neonatal situations. Thus, ongoing advancements in nebulizers are boosting market growth.
Which Asia Pacific Countries Account for High Demand for Pneumatic Nebulizers?
"High Prevalence of COPD in China, India, New Zealand, & Australia"
The use of pneumatic nebulizer devices has increased throughout the Asia Pacific due to the rising incidence of chronic obstructive pulmonary disease. Asthma and chronic bronchitis are two examples of lung conditions that can worsen slowly over time and are referred to as chronic obstructive pulmonary diseases.
According to the Journal of Thoracic Disease, China has an 8.2% prevalence rate for COPD cases, which is linked to an increase in biomass smoke exposure.
The Journal of Lung, Pulmonary & Respiratory Research reports that 5 lakh fatalities in India are thought to be caused by COPD each year.
The World Health Organization estimates that 10% to 17% of the population in New Zealand has COPD.
The Lung Foundation Australia estimates that 7.5% of Australians over the age of 40 have COPD.
As a result, it is anticipated that over the next few years, the demand for pneumatic nebulizer devices would increase in the nations of the Asia Pacific region.
Category-wise Analysis
What Makes Breath-actuated Nebulizers the Ideal Choice for Respiratory Disorder Patients?
"Advanced Inhalation Therapy Accounting for High Sales of Breath-actuated Nebulizers"
It has been established that inhalation therapy offers a more direct and efficient treatment for illnesses that impact the respiratory system. A smaller dose requirement, higher effectiveness, and a reduced incidence of persistent adverse effects all indicate the inhaled medication's effective activity in the treatment of respiratory tract disorders.
The inclusion of a device or sensor that initiates the production of aerosol during inhalation improves drug administration and offers several advantages. Nebulizers have long held a key position among the devices frequently utilized in inhalation therapy.
Nebulizer's breath actuation is a feature that has received a lot of attention recently, especially when it comes to the creation of novel inhalation devices.
When compared to the complete set of commercially available devices, the number of breath-actuated nebulizers is rather modest; nonetheless, over the past ten years, proof of the advantages of breath-actuated devices has grown.
The use of breath-actuated nebulizers as a remedy significantly lowers the emission of these fugitive aerosols, reducing the quantity of API lost to environmental waste and creating a safer atmosphere for those who share the room with patients undergoing inhalation therapy.
As a result, the market is anticipated to be dominated by the breath-actuated nebulizers segment due to their advanced inhalation therapy.
Competitive Landscape
Omron Corp., PARI Pharma, General Electric Company, Allied Healthcare Products, Inc., Becton, Dickinson & Company, and GF Health Products, Inc. are some of the top companies in the pneumatic nebulizers market.
The market for pneumatic nebulizers is also progressing due to the presence of significant companies. However, the development of highly advanced mesh nebulizers has opened up numerous potential for the manufacturers of pneumatic nebulizers.
Mesh nebulizers are another tool used widely by pharmaceutical corporations in drug research.
For instance, mesh nebulizers rather than jet nebulizers are more frequently used in clinical trials supported by pharmaceutical corporations, according to a review of clinical trial databases from the United States and Europe.
The market is further distinguished by a sizable share of small producers in emerging countries who concentrate on creating relatively less expensive nebulizer products.
The launch of the OMRON NE C106 was announced in July 2020 by OMRON Healthcare, the top Japanese provider of home healthcare. It is a supplement to their line of compressor nebulizers. The distribution of respiratory medications is an area in which the company is constantly evolving.
Segments of Pneumatic Nebulizers Industry Research
By Product Type :

By End User :

Hospitals
Clinics
Ambulatory Surgical Centers
Others

By Region :

North America
Latin America
Europe
East Asia
South Asia & Oceania
MEA
- FAQs -
A jet nebulizer is a device that creates a fine mist of certain liquid medications that can be inhaled through a face mask or mouthpiece.
The global pneumatic nebulizers market is valued at US$ 699 million.
By 2027, the global market for pneumatic nebulizers is predicted to reach US$ 850.4 million.
Global sales of pneumatic nebulizers are predicted to expand at a CAGR of 4%.
The China pneumatic nebulizers market is predicted to reach US$ 176 million by 2027.
Global sales of vented pneumatic nebulizers are expected to increase at a CAGR of 3.3% and reach US$ 337.1 million by 2027.