Interactive Robot Market
Interactive Robot Market Analysis By Product Type (Mobile Robots, Stationary Robots), By Application (Education & Research, Companion & Humanoid, Guidance & Marketing, Hotel Assistance) & By Region – Global Market Report (2023 to 2033)
Analysis of Interactive Robot Market Covering 30+ Countries Including Analysis of US, Canada, UK, Germany, France, Nordics, GCC countries, Japan, Korea and many more
Interactive Robot Market Outlook (2023 to 2033)
The global interactive robot market is valued at US$ 4.7 billion in 2023 and is projected to surge ahead at a CAGR of 24% to reach a market size of US$ 38 billion by 2033-end, according to the latest market study by skilled analysts at Fact.MR.
An interactive robot is an autonomous machine that interacts and communicates with people or other physical autonomous agents by adhering to the social norms and expectations associated with that function. A social robot has a physical body, much like other robots do. Some artificial social agents are built with a screen that serves as the face or head to interact with users in real time.
Robot technology is in high demand across a wide range of industries because it can boost productivity, efficiency, and safety. The manufacturing industry has significantly boosted its demand for robot control systems. Demand for industrial robot components is rising as companies try to automate manufacturing processes, reduce labor costs, and improve product quality.
Interactive robots for pets are made to occupy and amuse household animals, particularly cats and dogs. Even when their owners are not present to play with them, these robots provide a variety of features and functions to keep pets mentally and physically engaged.
A robotic device that interacts with its environment or users while remaining in a permanent position or location is known as a stationary interactive robot. Stationary robots are made to function from a fixed base or position, as opposed to mobile robots, which may move autonomously.
From 2023 to 2033, worldwide demand for stationary robots is predicted to increase at a CAGR of 20.5%, while that for mobile robots is set to rise at 24% CAGR.
The market for robotic toys is part of the toy industry that creates and markets products that use robotics and technology to give kids and hobbyists engaging and enjoyable experiences. In recent years, this market has experienced substantial expansion and innovation, and consumers may now choose from a wide variety of robotic toys.
Report Attributes
Details
Interactive Robot Market Size (2022A)
US$ 3.8 Billion
Estimated Market Value (2023E)
US$ 4.7 Billion
Forecasted Market Value (2033F)
US$ 38 Billion
Global Market Growth Rate (2023 to 2033)
24% CAGR
China Market Growth Rate (2023 to 2033)
29% CAGR
Germany Market Growth Rate (2023 to 2033)
23% CAGR
Japan Market Growth Rate (2023 to 2033)
18% CAGR
Mobile Robots Segment Growth Rate (2023 to 2033)
24% CAGR
Key Companies Profiled

Blue Frog Robotics
Pal Robotics
Savioke
Vstone
Softbank Robotics
Bossa Nova Robotics, Inc.
ECOVACS Robotics, Inc.
Fellow Robots
Don't Need a Global Report?
save 40%! on Country & Region specific reports
What is Sparking the Surge in Interest for Interactive Robots?
"Growing Need for Interactive Robots to Enhance Learning Experiences"
Artificial intelligence (AI) advancements have greatly enhanced the capabilities of interacting robots, including machine learning and natural language processing. Robots become increasingly helpful and engaging thanks to AI's ability to comprehend and react to human gestures, voice, and emotions.
The world's aging population has boosted the need for healthcare and eldercare services. Interactive robots can help with healthcare monitoring, ease caregiver shortages, and offer older people assistance and companionship. Interactive robots are becoming more and more necessary in educational settings to improve learning opportunities. Robots can help teachers, offer individualized tutoring, and involve students in STEM (science, technology, engineering, and math) classes.
In the near future, smart interactive robots can interact intelligently with people and their environment, leveraging artificial intelligence (AI), sensors, and advanced robotics. These robots can fundamentally alter several sectors and drastically affect how we live our daily lives.
"Emergence of Industry 4.0 Driving Need for Increased Automation in Manufacturing"
To enhance client experiences, companies in the retail, hotel, and customer service sectors have implemented interactive robots. Robots can streamline services, give information, and direct clients.
Introduction of collaborative robots (cobots) has been sparked by the rise of Industry 4.0 and the need for greater automation in the manufacturing sector. Together with human workers, these robots enhance productivity and safety. Creation of social companion robots has been spurred by the growing awareness of social isolation and loneliness, particularly among the elderly. These machines offer emotional support and friendship.
Interactive robots are becoming more customizable and adaptable to various industries and applications. They can be tailored to specific tasks and environments, increasing their versatility. Efforts to reduce the cost of developing and manufacturing interactive robots have made them more accessible to a wider range of industries and consumers. Regulatory frameworks are being developed to ensure the safety and ethical use of interactive robots, particularly in sensitive areas like healthcare and education.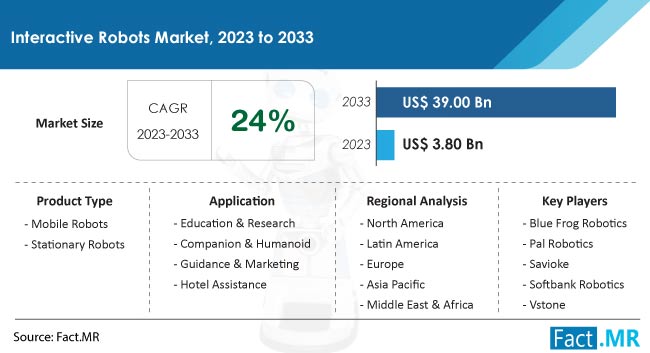 What Hindrances are Impacting Market Growth to Some Extent?
"Elevated Development Expenses, Intricacy, and Safety Concerns"
Creating interactive robots can be costly, especially when adding cutting-edge technology, sensors, and AI. For many potential users, this price may make these robots unaffordable and inaccessible. Creating robots that can interact with people and their environment is a difficult task. It takes a lot of engineering and research to ensure reliable interaction between humans and robots.
It is essential to ensure human safety when engaging with robots. When using robots in various situations, there is a need for safety regulations and measures to stop accidents and harm. Data security and privacy issues may arise from the frequent collection and archiving of user data by interactive robots. If users are concerned about how their data is being managed, they may be reluctant to communicate with robots.
"Employment Disruption Concerns, Regulatory Gaps, and Resistance to Adoption of Robots"
Use of robots in some areas can raise concerns about job loss. There may be a need for workforce modifications or reskilling when robots automate some operations. Use of robots in delicate industries like healthcare and childcare presents ethical dilemmas. For instance, AI-driven robot decisions in life-or-death medical settings may present difficult moral choices.
There are limited regulations governing the use of interactive robots in some areas. This can lead to ambiguity and prevent adoption, especially in fields where morality and safety are top priorities. Depending on cultural, socioeconomic, and generational considerations, people's acceptance of interactive robots varies. In some areas or businesses, adoption can be slowed down by resistance to change and mistrust toward technology.
More Insights, Lesser Cost (-50% off)
Insights on import/export production,
pricing analysis, and more – Only @ Fact.MR
Country-wise Insights
This section provides insight into revenue generation in key markets, with a significant focus on Japan and the United States, acknowledged as leading players in the market. These statistical insights, assessed by Fact.MR, highlight significant regional prospects encompassing all the countries examined in the report.
Why is Japan a Key Market for Manufacturers of Interactive Robots?
"Substantial Presence of Consumer-focused Robots and Cultural Integration of Robots"
From 2023 to 2033, the market in Japan is forecasted to expand significantly at a CAGR of 18%.
Japan has one of the most developed and active interactive robot markets in the world. Japan boasts a rich history of fascination with robotics and has been at the forefront of developing and employing interactive robots across a myriad of applications. Interactive robots targeted towards consumers have a substantial presence in Japan. Robots like Sony's Aibo and Softbank's Pepper, which is a humanoid robot utilized in a variety of situations like retail and hospitality, are also available.
Robots are deeply ingrained in Japan's culture and technology. This passion has existed since the dawn of time and has been a major factor in the nation's leadership in robotics. Many of the universities and research institutions dedicated to robotics may be found in Japan. This has produced a strong ecosystem for interactive robot research and development.
Why is the United States Leading the Adoption of Interactive Robots?
"Extensive Adoption of Automation for Increased Productivity and Reduced Labor Costs"
From manufacturing and logistics to healthcare and agriculture, the United States has seen considerable growth in automation across a wide range of industries. The goal of greater efficiency, lower operational costs, and higher quality control are driving this movement toward automation. Interactive and logistics robots can easily fit into these automated systems as a result.
The United States has a robust industrial foundation, supported by its well-established manufacturing sector. Manufacturers in this market aim to improve production processes, help workers, and automate various duties in manufacturing facilities.
Category-wise Insights
An overview of market revenue is given in this section, broken down into important segments. Mobile robots and companion & humanoids are among the standout segments. Fact.MR believes that these markets have a great deal of potential for growth in the years to come.
What's Powering Global Sales of Mobile Robots?
"Mobile Robots Revolutionizing Personal, Domestic, Educational, and Elderly Care"
Through 2033, worldwide sales of mobile robots are predicted to rise at a high-value CAGR of 24%.
Autonomous mobile robots are being used more in personal and domestic tasks, as well as in learning and research and helping the elderly. High cognitive abilities, a high degree of autonomy, intelligent sensors, cutting-edge artificial intelligence, sophisticated communication abilities, and emotional and social dexterity are all basic features of mobile robots.
The interactive robot market is significantly dominated by mobile robot platforms, which provide mobility for a wide range of applications. Autonomous robots can execute activities or interact with their environment as they move freely while navigating on either wheels or rails.
Several mobile robots have cutting-edge sensors, cameras, and navigational systems that allow them to navigate safely and autonomously in changing situations. They can instantly change their courses and avoid obstructions.
Why are Interactive Robots Extensively Used in Companion and Humanoid Roles?
"Ability of Interactive Robots to Aid in Household Chores and Offer Innovation in Learning"
In the interactive robot industry, companion and humanoid applications are two separate but related market sectors that have attracted a lot of interest recently. Humanoid, aid, and companion robots provide older people with company and help with household chores in both homes and workplaces. Vendors are taking steps to enhance the ability of robots to learn, comprehend, control their emotions, and perform jobs to meet the growing demand.
To enhance their interactions with humans, companion and humanoid robots frequently use cutting-edge artificial intelligence, speech recognition, and computer vision technology. When using these robots, especially in delicate settings like healthcare and education, ethical considerations, privacy concerns, and the need for clear rules are crucial factors.
With a focus on enhancing natural interaction, emotional intelligence, and context adaptability, companion and humanoid robot development is still progressing.
Know thy Competitors
Competitive landscape highlights only certain players
Complete list available upon request
Competitive Landscape
The competitive arena for interactive robots encompasses a diverse array of businesses, ranging from well-established robotics firms to innovative startups. The interactive robot market is a competitive one for these businesses in a variety of industries and applications. Modern robotic technologies are developed in universities and other research facilities. Commercial applications benefit from the practical implementation of some research findings.
In September 2021, Keenon Robotics, a top artificial intelligence company that specializes in indoor intelligent service robots, and SoftBank Robotics Group Corp., a world leader in robotics solutions, announced their partnership to expand the use of robotics systems in the service sector, which will boost productivity and efficiency. Due to the increased operational efficiency brought about by service robots, businesses are expected to be able to devote more time and resources to service teams so that they may refocus on customer service with the help of this partnership.
Key Segments of Interactive Robot Market Research
By Product Type :

Mobile Robots
Stationary Robots

By Application :

Education & Research
Companion & Humanoid
Guidance & Marketing
Hotel Assistance

By Region :

North America
Latin America
Europe
Asia Pacific
Middle East & Africa
- FAQs -
The global interactive robot market stands at US$ 4.7 billion in 2023.
Worldwide demand for interactive robots is predicted to rise at a CAGR of 24% from 2023 to 2033.
Mobile robots are projected to account for higher sales with the segment predicted to expand at 24% CAGR through 2033.
Worldwide sales of interactive robots are set to reach US$ 38 billion by 2033.
China is poised to hold a leading position in the global market through 2033.
The market for interactive robots in Germany is forecasted to expand at a CAGR of 23% through 2033.