Satellite Communication Market
Satellite Communication Market Analysis By Component (Satellite Communication Equipment & Satellite Communication Services) By Application, By Vertical and By Region – Global Market Insights 2022 to 2032
Analysis of Satellite Communication market covering 30 + countries including analysis of US, Canada, UK, Germany, France, Nordics, GCC countries, Japan, Korea and many more
Satellite Communication Market Outlook (2022-2032)
The global satellite communication market is projected to expand steadily at a CAGR of 9.4%, during the forecast period 2022-2032. In the year 2022, the market size is expected to be worth US$ 78.22 Billion. Following the increasing demand in the global market, the market for satellite communication is expected to reach US$ 192.09 Billion by 2032.
Report Attributes

Details

Global Growth Rate (2022-2032)

9.4% CAGR

Satellite Communication Market Value 2022

US$ 78.22 Billion

Satellite Communication Market Projected Value (2032)

US$ 192.09 Billion

Key Companies Profiled

SES S.A
Intelsat
Viasat, Inc.
EchoStar Corporation
Thuraya Telecommunications Company
Telesat
L3 Technologies, Inc.
Comtech Telecommunications Corp.
GILAT SATELLITE NETWORKS
SKY Perfect JSAT Group
Cobham Limited

Report Customization & Pricing

Available upon Request
The satellite communication market is constantly changing, and demand for next-generation satellite communication is higher than ever. Currently, classic communication systems such as ground wave transmission and sky wave propagation have a station distance limitation of 1,200KM-1,500KM.
Satellite communication much outperforms this distance barrier. The benefits of satellite communication include more spatial coverage than terrestrial systems, widespread coverage to every corner of the globe, increased bandwidth and broadcasting capabilities, and the ability to adjust the related cost of communications dependent on coverage area.
These qualities enable satellite communication to outperform other modes of communication in terms of speed uniformity and uninterrupted connection.
The development of new applications has fueled the expansion of the satellite communication sector. Various applications, such as audio broadcast media and voice communication systems; broadcasting, such as Direct to Home (D2T); web technologies, such as data transmission, GPS applications, and internet browsing; military surveillance and navigations; remote sensor applications; and meteorological conditions monitoring and forecasting. Such applications will drive the global satellite communication market during the forecast period.
The Union of Concerned Scientists (UCS) has counted 6,542 artificial satellites circling the Earth as of January 2021, with 3,372 of them operating.
Artificial satellites are in charge of sending picture, audio, and video data in the form of analogue and digital signals across different network locations. The development of fully reusable vehicles for commercial, defense, and aerospace applications, as well as the rise of mobile satellites in low-Earth orbit (LEO), has changed the satellite communications industry.
Don't Need a Global Report?
save 40%! on Country & Region specific reports
2017-2021 Satellite Communication Demand Analysis vs. Forecast 2022-2032
According to market research and competitive intelligence provider Fact.MR - the market for satellite communication reflected a value CAGR worth 7.5% during the historical period, 2017- 2021.
Due to the disruption in the supply chain of important raw materials, the rapid spread of COVID-19 had a substantial influence on the global satellite communication business in 2020. Aviation, maritime, and communication were among the most badly hit businesses by the epidemic, with initial investment declines.
Availability of new satellite communication technologies is expected to fuel the market's growth over the forecast period. Furthermore, the growing need for IoT in the aviation industry for a variety of applications such as aircraft connection, airlines, air traffic control, and MRO management is expected to drive global Satellite Communication market growth throughout the forecast period.
Use of satellite communication has also spread to the military. Military operations rely heavily on satellite communication, which is expected to boost worldwide market growth over the forecast period.
Military satellite communication is providing improvements in satellite communications such as personal communication network, global broadcast service, and bandwidth frequencies by combining military frequency bands with commercial communications satellites. Such advances are expected to bring new changes in this domain during the coming decade.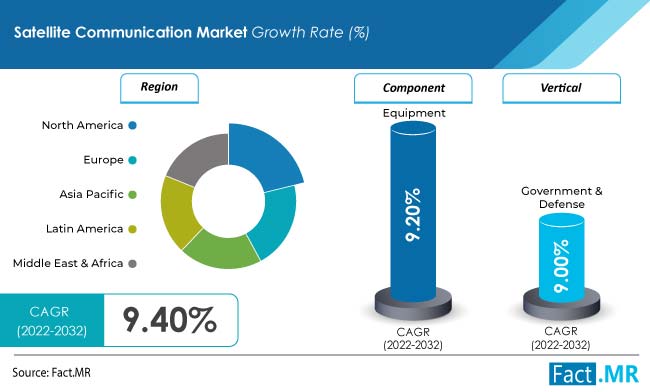 Prominent Growth Drivers Influencing satellite communication Industry
Increased usage of IoT and AI to accelerate Market Growth
Robust Artificial Intelligence (AI), Internet of Things (IoT), and autonomous technologies are progressively being used in numerous areas, including defense, automobile, and healthcare. These technical technologies are used to improve the efficiency and efficacy of current or future infrastructure.
Microsoft, for example, announced the construction of a healthcare cloud service in September 2020. This cloud service is a healthcare technology that aims to deliver seamless interactions between different IoT devices, sensors, and users.
Several digital behemoths have begun to build smart technologies to aid in the growth and implementation of autonomous systems in real-world applications. Furthermore, autonomous systems increase customer safety and comfort by analyzing real-time data to improve overall user experience.
Furthermore, intelligent technologies such as IoT and other autonomous systems require wide and secure network access to function. Satellite communication is increasingly being used to supply these systems with the necessary communication channel.
As a result, increased use of satellite communication systems to expand the potential of IoT and autonomous technologies is expected to drive growth of the global satellite communication market during the forecast period.
Increasing SATCOM usage in Military and Defense
To promote information sharing for important tasks, military and defence forces around the globe require secure, adaptable, and dependable communications networks. Military and defense users collaborate with private companies to create mission-specific satellite communication (SATCOM) technologies.
For example, the French defense procurement agency (DGA) selected Thales Alenia Space in February 2021 to construct the satellite communications system Syracuse IV for the French armed services. Syracuse IV will be a highly durable SATCOM system capable of operating in severely challenged areas.
Furthermore, military and defense forces all over the world are modernizing their present infrastructure in order to improve their battle and defense efficacy. For example, in February 2021, Hanwha Systems, a South Korean defense contractor, announced the formation of an on-the-move army satellite communication terminal in collaboration with Intellian Technologies. The terminal will enable ground troops on the battlefield to receive real-time control and authority.
Due to rising demand for SATCOM systems from the defense industry, commercial firms have accelerated their development of smart hardware and services. As a result, satellite communications supplement military and defense communication, which is likely to be a major driver of the satellite communication market over the forecast period.
More Insights, Lesser Cost (-50% off)
Insights on import/export production,
pricing analysis, and more – Only @ Fact.MR
What could possibly hinder Satellite Communication Deployment?
Cybersecurity Threats to Impede Market Growth
The rapid expansion of functioning in-orbit satellites raises additional issues and security hazards related with satellite communication. Satellite systems are in charge of worldwide bandwidth communication and are vulnerable to cyber attackers. Satellites are used by both government and private entities for important services and activities such as meteorological and weather monitoring, sensing, navigation, communications, and imaging.
Satellites are also used in critical systems and infrastructure such as electricity grids, mobile networks, and Global Positioning System (GPS) technology. Furthermore, satellites are controlled by ground systems, allowing cyber thieves to exploit security flaws and hack into the satellite system.
Disruptions in satellite communication services result in cost and potential losses for these critical and necessary systems. Furthermore, hackers can intercept and manipulate satellite downlink and uplink transmissions via open telecom networks. Long-distance telemetry used for satellite communications is also vulnerable to cyberattacks. The satellite communication market's expansion is hampered by security issues.
Category-wise Insights
Which Satellite Communication Component is forecast to gain the Maximum Share?
Satellite Communication Equipment to witness High Adoption
The equipment segment is predicted to earn US$ 28.5 Billion in revenue in 2022, registering a 9.2% CAGR over the forecast period. Rising demand for continuous communication in energy and utilities, oil and gas, agriculture, and defense, as well as an increasing fleet of automated, connected vehicles, are expected to propel the segment's expansion. Satellite communication systems are widely employed in a variety of purposes, including surveillance systems, navigation, weather monitoring, and telecommunications.
SATCOM technology is also utilized during combat to collect real-time data, integrate targets, discover undetected tunnels, and follow movements, among several other things. Furthermore, rising demand for high-throughput satellite services, as well as rising usage of cloud-based services for ground mobility systems, are propelling the market forward.
SATCOM Transponder, SATCOM Antenna, SATCOM Transceiver, SATCOM Modern, and SATCOM Receiver are in high demand in this market. SATCOM transceiver is predicted to rise the most during the forecast period. SATCOM transceivers are electrical devices that allow communication with satellites in Earth's orbit or area. They are used in conjunction with other equipment such as space antennas, amplifiers and transponders.
Based on Vertical, which Segment is forecast to Reign Supreme during the Forecast Period?
Government and Military Applications to be Key Growth Vertical
By vertical, the government and defense segment is predicted to obtain the most important share. It is further divided into three categories: emergency responders, government (civil usage), and defense. The defense segment is predicted to dominate the overall government & defense segment, obtaining a 42% market share in 2022.
Government and military applications are expected to boost the market throughout the forecast period. Satellite communication services are rapidly being used by the navy and military forces to establish or improve connectivity across a wide range of assets, including fighter planes. Furthermore, the expanding market for unmanned aircraft systems, as well as their growing non-military applications, have fueled the rise of satellite communication systems.
Which Application Segment Is Likely To Gain The Most Popularity During The Forecast Period?
The Broadcasting Category is expected to grow rapidly during the forecast period
In 2022, the broadcasting category is predicted to have the highest revenue share of 22.2%. Over the projection period, it is expected to increase at a CAGR of 8.9%.
The increasing need for satellite communications for radio and pay- TV applications has had an impact on the growth of the broadcasting industry.
SATCOMS can provide seamless integration in remote and remote places; however, the increasing usage of over-the-top (OTT) services may stymie market expansion over the forecast period.
Region-wise Analysis
What is the Outlook of the North American Satellite Communication Market?
In terms of market share and revenue, the North American satellite communication market is projected to grow steadily between 2022 and 2032, at a CAGR of 9%. Fact.MR analysts predict that by 2022, the satellite communications market in North America would account for 32.1% of the global market.
This is due to the increased requirement for consistent communication by the military and defense sector, which has resulted in the US defense department's increased adoption of satellite communication equipment.
The presence of many satellite communication companies, such as General Dynamics Corporation, Viasat, Inc., Telesat, and EchoStar Corporation, also contribute to market expansion. Furthermore, the regional industry is expected to grow significantly in the coming years as military communication infrastructure is upgraded.
How is the growth of Satellite Communication unfolding in the Asia Pacific?
Asia Pacific is predicted to increase steadily over the forecast period. During the projection period, 2022-2023, it is expected to grow at a CAGR of roughly 8.5%. This region's expansion can be attributed mostly to countries such as China and Japan. The rising use of satellite antennas in the communications, aerospace, IT and automotive industries is driving the regional market's growth throughout the forecast period.
Furthermore, in order to acquire a competitive advantage in the global market, numerous startups and industry players are focusing on strengthening their supply chains in several Asian countries. Such improvements will drive the demand for satellite communications in this region.
What will be the Outlook of the European Satellite Communication Market?
Due to infrastructure upgrading and increased passenger traffic in marine and coastal tourism, Europe is expected to develop at an impressive pace, registering a CAGR of 8.9%. As 5G deployments grow across the country, the demand for Low Earth Orbit (LEO) satellites to provide backhaul networks for remote or inaccessible locations has skyrocketed.
LEO spacecraft enable reduced latency in Satcom, in addition to technological advancements in Geostationary (GEO) satellites, which offer high throughput and enhanced durability. Such developments are expected to boost the market demand of satellite communication in the EU.
Start-up scenario
The top ten start-ups in this market includes: Astrocast, OneWeb, Swarm Technologies, Kacific Broadband Satellites, O3b Networks, HawkEye 360, Starlink, Myriota, Skyloom and Freefall Aerospace.
Astrocast is a provider of IoT and M2M connectivity solutions based on nanosatellites. It runs a constellation of satellites in low-Earth polar orbit, providing worldwide network coverage via a dedicated frequency band. This permits safe sensor data transmission from any location on Earth and is linked with its terminal. A distributed network of base stations collects the data and sends it to the cloud. The cloud provides REST APIs for integrating and monitoring devices, which may be controlled and managed via a web application and a data subscription plan. Geolocation services, remote monitoring, and predictive maintenance are just a few of the applications for this technology.
OneWeb offers satellite-based communication services. It develops and deploys a system of low-orbit satellites to provide broadband and high-speed communication services. It serves governments, schools, corporations, and communities.
Satellite connectivity solutions are provided by Swarm Technologies. It has built and launched Swarm satellites for a range of organizations, including maritime shipping, agribusiness, energy, and land transportation. The corporation owns and runs a seven-satellite constellation.
Freefall Aerospace, based in the United States, creates antenna technology for use on the ground, in the air, and in space. The inflatable antenna for spacecraft systems developed by the firm has a very low mass and volume. For wide fields of view and great gain, the antennas have spherical reflector and huge apertures. To transmit large amounts of data from CubeSats and small spacecraft, the approach employs electrical beam steering.
Don't Need a Global Report?
save 40%! on Country & Region specific reports
Competitive Landscape
Companies are attempting to diversify their product portfolios by filing new molecule applications or broadening the applications of existing compounds. Other tactics, such as mergers and acquisitions, industry-academia collaborations to commercialize more marketable compounds, or sequencing methodologies, will have an effect on current Satellite Communication (SATCOM) Market trends.
In January 2021, Viasat, Inc. announced a partnership arrangement with SKY Brazil, one of Brazil's largest satellite pay-TV operators. The agreement's purpose was to increase the provision of reliable and fast satellite internet across Brazil. Through this arrangement, SKY will sell, install and provide on-site technical service for Viasat's high-speed internet product. According to the partners, Viasat obtains a solid Brazilian distribution partner with demonstrated local experience. In turn, Viasat will assist SKY's enormous network of resellers, distributors, and installers in learning about its internet service options.
In 2020, Comtech Telecommunications Corp. and Gilat Satellite Networks Ltd. announced that Comtech has agreed to acquire Gilat in a cash and stock transaction for $10.25 per Gilat ordinary share, with 70% paid in cash and 30% in Comtech common stock, for a total enterprise value of approximately $532.5 million. Gilat, established in 1987 and headquartered in Israel, is a global leader in satellite network technologies, solutions, and services, with market-leading positions in the satellite ground station and in-flight connectivity solutions markets, as well as extensive experience operating large network infrastructures.
Key Segments Covered in the Satellite Communication Market Report
By Component :

Satellite Communication Equipment

SATCOM Transmitter/Transponder
SATCOM Antenna
SATCOM Transceiver
SATCOM Receiver
SATCOM Modem/Router

Satellite Communication Services

By Application :

Asset Tracking/Monitoring
Airtime
Drones Connectivity
Data Backup and Recovery
Navigation and Monitoring
Telemedicine
Broadcasting

By Vertical :

Energy & Utility
Government & Defense

Government (civil uses)
Emergency Responders
Defense

Transport & Cargo

Fleet Management
Rail Services

Maritime
Mining and Oil & Gas
Agriculture
Communication Companies
Corporates/Enterprises
Media & Broadcasting

By Region :

North America
Latin America
Europe
Asia Pacific
Middle East & Africa
- FAQs -
From 2017-2021, the satellite communication market grew at a CAGR of 7.5%.
The satellite communication market is expected to grow with a 9.4% CAGR and is projected to gain a market size of US$ 192.09 Billion by 2032.
By vertical, government and defense is expected to dominate the global market with a market share of 42% in 2022.
The broadcasting category is expected to have a market share of more than 22.2% in 2022 along with an 8.9% CAGR during 2022-2032.
The North American satellite communication market is expected to hold a 32.1% global market share.
Asia Pacific is expected to grow steadily with a CAGR of 8.5% from 2022 to 2032.