Ultrafiltration Market
Ultrafiltration Market Analysis By Type (Polymeric, Ceramic), By Module (Hollow Fiber, Plates & Frames, Tubular), By Application (Municipal, Industrial) & By Region - Global Market Insights 2023 to 2033
Analysis of Ultrafiltration Market Covering 30+ Countries Including Analysis of US, Canada, UK, Germany, France, Nordics, GCC countries, Japan, Korea and many more
Ultrafiltration Market Outlook (2023 to 2033)
The global ultrafiltration market stands at US$ 2.96 billion in 2023 and is projected to reach US$ 10.97 billion by 2033. According to Fact.MR, worldwide demand for ultrafiltration technologies is expected to increase at a high-value CAGR of 14% from 2023 to 2033.
The ultrafiltration membrane is a vital component within an ultrafiltration system, which purifies water and other constituents. Ultrafiltration involves the systematic removal of bacteria, viruses, endotoxins, and suspended solids, accomplished through a pressure-driven process that efficiently filters water. This method entails the passage of liquid through a semi-permeable membrane under hydrostatic pressure.
Ultrafiltration systems are widely employed in water purification, protein concentration, cheese manufacturing, laboratory-grade production, and dialysis. The upward growth in the adoption of ultrafiltration technologies is attributed to the escalating demand for clear water due to mounting environmental pollution. This is consequently spurring high consciousness toward wastewater treatment. Moreover, the depletion of freshwater reservoirs in densely populated regions underlines the critical significance of water conservation and the treatment of greywater.
Projections from The Water Project reveal that by 2050, India's water scarcity is predicted to reach an unprecedented pinnacle due to its rapidly growing population. Implications of this are highlighted by the current scenario in India, where alarming statistics indicate that approximately 100 million households lack access to safe drinking water, as reported by the same source.
Polymeric and ceramic are two types of ultrafiltration technologies. Ceramic ultrafiltration is gaining traction in various industries and applications. Ceramic materials exhibit exceptional chemical and thermal stability, making them well-suited for a wide range of harsh operating conditions. This stability is allowing ceramic ultrafiltration membranes to withstand aggressive chemicals, high temperatures, and extreme pH levels without degradation, which is crucial in many industrial processes.
Global sales of ceramic ultrafiltration systems are predicted to rise at a significantly high CAGR of 16.5% from 2023 to 2033.
Ultrafiltration ceramic membranes have a longer lifespan compared to traditional polymer-based membranes. They are highly durable and resistant to fouling, scaling, and other forms of membrane damage. This extended lifespan is aiding in reducing maintenance costs and downtime associated with membrane replacements.
Many ceramic materials used in ultrafiltration are naturally hydrophilic, which means they have an affinity for water. This property is majorly helping in reducing fouling and is promoting continuous operation by preventing the accumulation of contaminants on the membrane surface. Overall, the combination of durability, high filtration efficiency, chemical resistance, and adaptability to diverse operating conditions makes ceramic ultrafiltration a compelling choice for industries seeking efficient and reliable separation solutions.
Report Attributes
Details
Ultrafiltration Market Size (2023E)
US$ 2.96 Billion
Forecasted Market Value (2033F)
US$ 10.97 Billion
Global Market Growth Rate (2023 to 2033)
14% CAGR
United States Market Value (2022)
US$ 717.4 Million
Canada Market Growth Rate (2023 to 2033)
12% CAGR
Germany Market Growth Rate (2023 to 2033)
11% CAGR
Japan Market Growth Rate (2023 to 2033)
10.5% CAGR
China Market Growth Rate (2023 to 2033)
18.5% CAGR
Key Companies Profiled

Alfa Laval AB
Beijing OriginWater Technology Co., Ltd.
Dow, Inc.
DuPont de Nemours, Inc.
Evoqua Water Technologies LLC
GEA Group AG
Hydranautics
Hyflux Ltd.
Inge GmbH
Koch Membrane Systems, Inc.
M Company
Markel Corporation
Membranium
Microdyn-Nadir GmbH
Pall Corporation
Parker-Hannifin Corporation
Pentair PLC
Polymem
Scinor Water America, LLC.
SUEZ Water Technologies & Solutions
Synder Filtration
Toray Industries, Inc.
Toyobo Co., Ltd.
Veolia Water Technologies
Don't Need a Global Report?
save 40%! on Country & Region specific reports
Important Market Trends
Increasing emphasis on sustainability is driving the adoption of eco-friendly and energy-efficient ultrafiltration technologies.
Ultrafiltration manufacturers are focusing on research and development efforts to enhance membrane materials and structures, leading to improved performance, durability, and cost-effectiveness.
Integration of digital technologies, data analytics, and automation is optimizing ultrafiltration processes.
Ultrafiltration is playing a crucial role in biopharmaceutical manufacturing, protein purification, and diagnostics.
Integration of ultrafiltration with other separation technologies such as reverse osmosis (RO) and nanofiltration is enhancing overall process efficiency.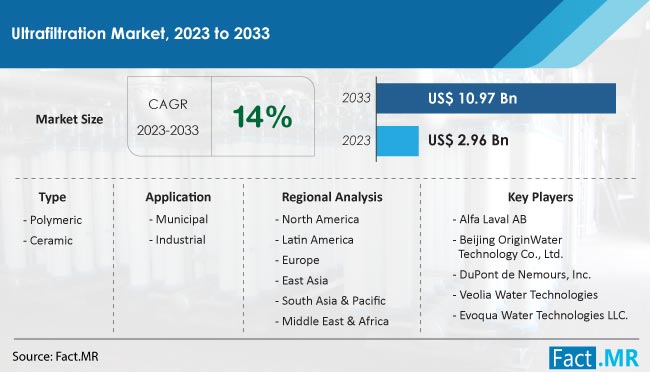 What's Benefitting Producers of Ultrafiltration Technologies?
"Increasing Focus on Sustainability Enhancing Ultrafiltration Operational Efficiency & Reducing Carbon Effects"
Rising emphasis on sustainability is igniting a transformative shift in the field of ultrafiltration technologies. Increased environmental concerns are forcing several industries to re-evaluate their practices and incorporate eco-friendly solutions. The growing awareness is significantly driving the adoption of ultrafiltration technologies that not only meet filtration requirements but also align with broader environmental goals.
Industries such as water treatment, food & beverages, pharmaceuticals, and manufacturing are taking proactive steps to reduce their carbon footprint and minimize adverse environmental impacts. Traditional filtration methods often come with drawbacks such as excessive energy consumption, chemical usage, and the generation of substantial waste. Demand for greener filtration solutions, particularly in the form of energy-efficient ultrafiltration technologies, is gaining remarkable traction.
Incorporation of sustainable materials and membrane designs is a hallmark of these eco-friendly ultrafiltration solutions. Ultrafiltration equipment manufacturers are investing in the development of membranes that have extended lifespans, reducing the frequency of replacements and thus the generation of waste. These membranes are also engineered to be more resistant to fouling and scaling, leading to longer operational cycles and enhanced sustainability.
"Digitization & Automation Advancing Capabilities of Ultrafiltration Solutions"
Integration of digital technologies such as data analytics and automation is advancing the optimization and efficiency of ultrafiltration processes. This convergence of advanced tools is revolutionizing the management, monitoring, and maintenance of ultrafiltration systems, leading to a paradigm shift in operational excellence.
The main component of this transformation is the utilization of data-driven insights. Ultrafiltration systems are now equipped with sensors that collect a wealth of real-time data, providing a comprehensive view of system performance, fluid dynamics, and membrane health. This data is helping in smart decision-making, allowing operators to make informed adjustments to filtration parameters and optimize system performance.
Remote monitoring is also emerging as a cornerstone of modern ultrafiltration management. Through the power of connectivity, operators can access real-time data and control systems from remote locations, which is particularly advantageous for large-scale industrial operations spread across multiple sites or geographies. This ensures a timely response to deviations or anomalies and aids in minimizing downtime and maximizing system efficiency.
"Hybridization Resulting in Efficient & Cost-effective Ultrafiltration Solutions"
The integration of ultrafiltration with complementary separation technologies such as reverse osmosis and nanofiltration is catalyzing a new era of process efficiency and versatility. This strategic amalgamation of distinct filtration methods is not only optimizing individual techniques but also forging hybrid systems that deliver comprehensive solutions across various applications. The popularity of nanotechnology and sustainability is further fueling the adoption of various nanomaterials, including cellulose- and graphene-based variants, in water and wastewater treatment.
Reverse osmosis, renowned for its remarkable ability to desalinate and purify water by removing even the tiniest of solutes, is taking center stage in the hybrid setup. When coupled with ultrafiltration (UF), it offers the pre-removal of larger particles, improved overall efficiency, and low energy consumption. Moreover, hybrid ultrafiltration systems are resulting in sustainable and cost-effective solutions.
More Insights, Lesser Cost (-50% off)
Insights on import/export production,
pricing analysis, and more – Only @ Fact.MR
Why Do Small-scale Businesses Avoid Using Ultrafiltration Systems?
"High Overall Cost of UF Membrane Technology"
Substantial upfront investments required for ultrafiltration systems can present a formidable barrier to their adoption, particularly by smaller businesses and governments operating under budget constraints. These initial costs encompass a range of factors that collectively contribute to the financial commitment necessary for implementing an ultrafiltration solution.
Employment of essential equipment, including ultrafiltration membranes, pumps, pressure vessels, control systems, and instrumentation, needed to establish a functional system forms a significant portion of the upfront costs. Each of these components plays a crucial role in the filtration process but their collective expense can be daunting for businesses with limited capital resources. Furthermore, the installation of ultrafiltration membranes needs skilled professionals to ensure optimal performance and longevity. Thus, these factors are hampering the growth of the ultrafiltration market.
How are Start-ups Strategizing to Enhance Their Market Presence?
"Innovations & Partnerships Generating Potential Opportunities for New Companies"
New companies entering the ultrafiltration market are employing several strategies to position themselves for success and maximize their earnings. Forming strategic partnerships with established manufacturers or distributors provides newcomers with access to resources, expertise, and distribution channels.
Focusing on innovation by investing in research and development activities leads to the creation of cutting-edge ultrafiltration solutions. Introducing novel technologies, materials, or process improvements attracts attention and generates interest among potential customers.
Know thy Competitors
Competitive landscape highlights only certain players
Complete list available upon request
Country-wise Analysis
Why is Demand for Ultrafiltration Systems High in the United States?
"Strict Water Quality Regulations in Pharma & Food Manufacturing"
The ultrafiltration market in the United States was valued at US$ 717.4 million in 2022 and is experiencing healthy growth due to increasing awareness about water purification and the need for advanced filtration technologies.
Ultrafiltration technology finds significant application in various industries, including water treatment, food and beverages, pharmaceuticals, and biotechnology. Strict water quality regulations, especially in industries such as pharmaceuticals and food processing, are driving the demand for ultrafiltration systems in the United States.
How is the Market for Ultrafiltration Technologies Evolving in Germany?
"German Ultrafiltration Technologies Highly Popular among Several End-use Industries"
Sales of ultrafiltration systems in Germany are estimated to rise at a CAGR of 11% over the next 10 years.
Germany is a leading producer of ultrafiltration solutions owing to its advanced technology infrastructure and strong emphasis on research and development activities.
Industries such as chemicals, dairy, and pharmaceuticals in Germany are adopting ultrafiltration systems for process optimization, product quality improvement, and environmental compliance. Growing environmental concerns and government initiatives for sustainable water management are leading to higher adoption of ultrafiltration systems in the country.
Why is Japan Considered a Profitable Market for Suppliers of Ultrafiltration Systems?
"Highly Advanced Medical Sector Utilizing Ultrafiltration Technology for Biopharmaceutical Production"
According to Fact.MR, a market research and competitive intelligence provider, the Japanese market is predicted to increase at a CAGR of 10.5% through 2033.
Japan is at the forefront of ultrafiltration technology innovation, focusing on creating highly efficient and durable filtration membranes.
Sales of ultrafiltration systems in Japan are influenced by its strong medical and biotechnology sectors, as they are being utilized for blood purification and biopharmaceutical production. Water scarcity issues are also pushing Japan to adopt advanced water treatment solutions to ensure a stable water supply, which is driving the market's growth.
Category-wise Analysis
What is Propelling the Sales of Hollow Fiber Ultrafiltration Membranes?
"Unique Hollow Fiber Design Offering Efficient Hydraulic Cleaning"
Hollow ultrafiltration membranes, plate & frame ultrafiltration membranes, and tubular ultrafiltration membranes are some of the module types of ultrafiltration membranes. Hollow fiber ultrafiltration membranes are gaining traction due to their dense separation layers. The unique hollow fiber design offers advantages such as lower fouling tendencies and efficient hydraulic cleaning capabilities over the typical spiral-wound structure.
These membranes have an exceptionally high packing density and enable specific filter arrangements. Moreover, hollow membranes can undergo air scouring and back-flushing from the permeate side, making them suitable for treating feed streams containing elevated levels of total suspended solids.
Competitive Landscape
Top ultrafiltration brands are developing sustainable technologies to attract wider consumers, which is enhancing their product portfolio and market share. Partnerships & collaborations with other market players are aiding them in market expansion and product innovation.
On February 25, 2021, Toray Industries, Inc. declared the development of an innovative polyvinylidene fluoride (PVDF) and ultrafiltration membrane designed for water treatment that offers remarkable virus elimination rates and high water permeability.
Key Segments of Ultrafiltration Industry Research
By Type :

By Module :

Hollow Fiber
Plates & Frames
Tubular

By Application :

By Region :

North America
Latin America
Europe
East Asia
South Asia & Oceania
MEA
- FAQs -
The global ultrafiltration market stands at US$ 2.96 billion in 2023.
Worldwide sales of ultrafiltration technologies are expected to reach US$ 10.97 billion by 2033.
Revenue from ultrafiltration technologies is forecasted to increase at a CAGR of 14% from 2023 to 2033.
Ultrafiltration technology sales in Canada are estimated to rise at a CAGR of 12% over the next 10 years.
The market in China is projected to expand at a CAGR of 18.5% through 2033.