How is the Electric Revolution Reshaping Global Automotive Industry?
Published : 24 Jun 2021 Industry: Automotive
Introduction
The contemporary global automotive landscape is undergoing major changes. These have been triggered by a range of factors such as rapidly accelerating emerging economies, rising penetration of new technologies, altering consumer preferences and sustainability drives.
An important outcome of such fast-paced developments is the rising adoption of electric motors.
Growing concerns over carbon footprints influence manufacturers to opt for environmentally friendlier alternatives.
Stricter emission standards, reducing battery costs, increasing consumer reconciliation and wider deployment of charging infrastructure are some of the key trends which are anticipated to bolster adoption of electric vehicles in the near future.
Therefore, numerous OEMs and aftermarket suppliers are augmenting production of electric motors, providing increased space for enhanced revenue generation in forthcoming years.
As the global population expands, rapid urbanization trends have majorly stimulated demand for automobiles, specifically private vehicles including cars and mopeds. Consequently, emission levels have also heightened, with the U.S Environmental Protection Agency (EPA) projecting 29% of the same emanating from the transportation sector in 2019.
Hence, key automotive manufacturers are seeking to make the paradigm shift towards electric motors, with major countries beginning to invest in massive electric vehicle infrastructure projects in forthcoming years.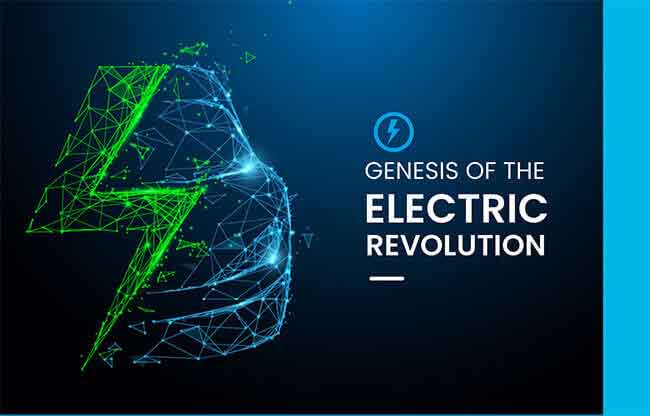 Tracing Early Developments: Genesis of the Electric Revolution
The first usable direct current (DC) electric motor was built by Moritz von Jacobi in 1834, who later constructed a boat driven by his electric motor which carried 14 people across a wide river.
This was the first documented instance of electric motor deployment across the commercial application sector. By 1887, the first motor-driven trolley came into service in Richmond, Virginia, U.S.A.
Despite this innovative discovery, electric motors were not widely deployed on a commercial level for another half-a-century.
Although, by 1892, electric elevators were present across buildings and other structures. Soon after, electric motors navigated their way into industrial applications.
They revolutionized production processes by reducing dependence on labor-intensive and lengthy operations, greatly simplifying the industrial process. Introducing this stand-alone equipment permitted units to hire more labor, as it was deemed safer as the need for distribution through belts and shafts was eliminated.
Electric motors offered greater control capability, allowing for specialty equipment to perform jobs previously unthinkable of being done in the past. Eventually, electric motors began to be deployed across mills, replacing hydraulic and animal power.
Possible industrial development was envisioned by Nikola Tesla, who invented his induction motor in 1887 and obtained a patent in May 1888.
In the same year, Tesla presented his paper A New System for Alternating Current Motors and Transformers to the American Institute of Electrical Engineers (AIEE) that described three patented two-phase four-stator-pole motor types: one with a four-pole rotor forming a non-self-starting reluctance motor, another with a wound rotor forming a self-starting induction motor, and the third a true synchronous motor with separately excited DC supply to rotor winding.
Fast-forwarding to the 21st century, electric motors have been extensively deployed across the automotive domain, with applications across cars and bikes respectively.
Furthermore, applications have broadened to include such areas as tractors, generators, trolleys, vehicle batteries and excavators respectively.
Moreover, industrial applications have also broadened, with deployments across industrial fans, blowers, pumps, machine tools, power tools and turbines among others.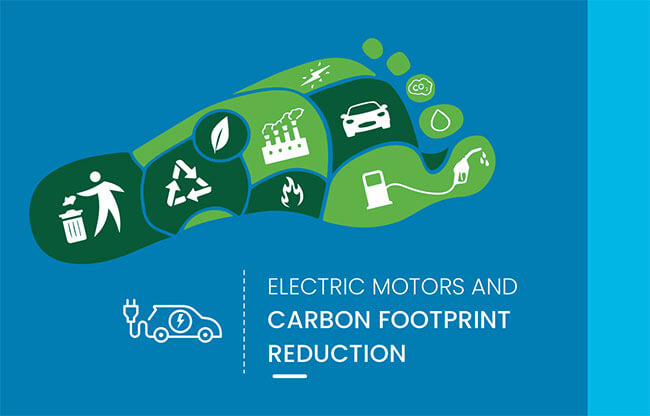 Electric Motors and Carbon Footprint Reduction?
According to the U.S Environmental Protection Agency (EPA), a typical passenger vehicle emits nearly 4.6 metric tons of CO2 annually. This number varies, depending upon a vehicle's fuel, economy and distance traveled.
Emissions from a gallon of gasoline amounts to 8,887 grams CO2 per gallon, while it is over 10,000 grams for a gallon of diesel.
Furthermore, between 1990 and 2014, total greenhouse gas emissions in the U.S totaled nearly 7 million metric tons of CO2 equivalents.
Consequently, countries are scrambling to reduce their burden of carbon footprint. This involved taking the plunge and switching over to electric vehicles, most notably across Europe and the U.S. This is inclining sales of electric motors for major applications across these regions.
The International Energy Agency (IEA) estimates that primary energy demand dropped nearly 4% in 2020, resulting in a 5.8% drop in CO2 levels, largely ascribed to the COVID-19 pandemic.
This is likely to be a watershed moment as more consumers are inclining towards alternative energy sources to power their vehicles. Hence, uptake of electric vehicles is bound to surge, providing a wider ground for the expansion of electric motor sales in the future.
The number of electric cars on the road was expected to reach nearly 10 million by 2020. In 2019, all electric vehicles combined avoided the consumption of almost 0.6 million barrels of oil products per day globally.
Also, electricity generation to supply the global electric vehicle fleet emitted about half the amount that would have been emitted from an equivalent fleet of internal combustion engine vehicles.
Trivia- Key Facts, Figures & Opportunities
Statistical estimates suggest that the global market for electric motors was valued at above US$ 100 billion in 2020, and is likely to expand at a noteworthy rate in the forthcoming decade.
Attributed to their extensive applications in attaining energy efficiency, electric motors have been experiencing a host of technological advancements. These are aimed at reducing operational costs and enhancing optimal performance.
The U.S Department of Energy projects that electric motors uptake is especially prominent across industrial applications, comprising over 60% of electricity usage.
As the country strives to enhance its energy savings program, notable developments have taken place with respect to efficiency improvements in electric motor designs.
A new motor technology penetrated the mainstream market, offering breakthrough efficiency and reliability in the previous decade.
For instance, Siemens Energy & Automation introduced induction AC motors which include die-cast copper rotors which offer increased electrical energy efficiency, lower operating temperature, reduced weight & size and extended motor life.
These designs have total energy losses which are 6 to 15% below conventional motors. This motor is an end product of extensive research by the Copper Development Association Inc. (CDA) and Siemens AG. According to the CDA, across the U.S alone, a 1% increase in motor efficiency could yield energy savings worth 20 billion kWh annually, equivalent to US$ 1.4 billion in electricity.
Likewise, the Office of Energy Efficiency & Renewable Energy's Vehicle Technologies Office (VTO) is supporting research & development to improve motors in hybrid and plug-in electric vehicles, with particular focus on reducing the use of rare earth materials currently used for permanent magnet-based motors.
Through this initiative, the VTO aims to decrease electric motors' cost, volume and weight while maintaining or augmenting performance, efficiency and reliability. The organization aims to reduce motor costs by 50%, in order to achieve their 2022 cost targets.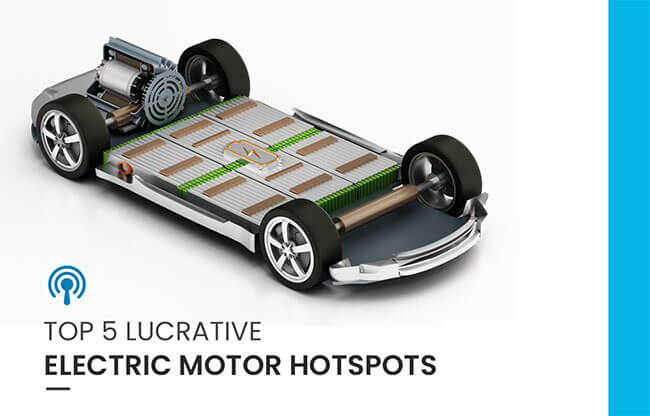 Top 5 Lucrative Electric Motor Hotspots
How is the U.S attracting Investments in Electric Motors?
Sales of electric motors across the U.S are anticipated to escalate significantly, attributed in large part to an ever expanding plug-in electric vehicles industry.
The Office of Energy Efficiency & Renewable Energy estimated that in August 2020, cumulative U.S plug-in electric vehicle sales reached 1.6 million units, out of which battery electric vehicles (BEVs) amounted to 1 million units and plug-in hybrid electric vehicles (PHEVs) were around 600,000 units. In 2019, BEVs accounted for 60% or more of all plug-in vehicle sales.
Similarly, deployment of electric motors is anticipated to remain high across the industrial domain. According to the U.S Department of Energy (DOE), electric motors consume more than 50% of all electrical energy, and over 85% of industrial production electrical energy.
Furthermore, they account for approximately, US$ 85 out of every US$ 100 of any manufacturing process's electricity bill. Consequently, manufacturers are investing in highly energy efficient motors to reduce costs and yield high energy savings.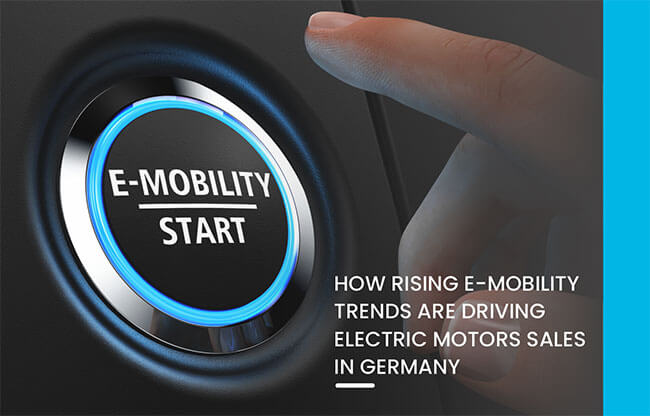 How Rising E-Mobility Trends are Driving Electric Motors Sales in Germany?
Perhaps no market is likely to be as opportunistic as Germany, which is experiencing an exponential increase in electric mobility in recent years.
With its commitment to stave off greenhouse gas emissions by 2050, the European powerhouse is making concerted efforts to go green, with the government passing its first national climate law in 2019.
In 2020, e-mobility became highly prevalent in the mainstream automotive sector of Germany, in spite of a 20% decline in registration numbers due to COVID-19.
According to the Federal Transport Authority (KBA), alternative drives, including battery-electric, hybrid, plug-in and hydrogen automobiles, took up around a fourth of all new registrations.
Newly registered electric passenger cars grew significantly, with over 200% increase compared to 2019.
In January 2021, auto-giant Volkswagen reported that the sales of its battery-only cars tripled in 2020, as its electric compact ID.3 entered the automotive market ahead of tough new EU limits on auto emissions. Such developments are laying fertile ground for future proliferation of electric motor manufacturers.
Will China emerge as the Electric Motor Powerhouse across Asia?
China's electric motor industry has been developed since the past six decades, with most manufacturers producing low power and small-size motors.
High power and large-size motors are often used in rolling mills and other large-scale industries. Prominent manufacturers in the landscape include ABB, Siemens and Wannan Motor among others.
Besides these players, a number of small-scale manufacturers operate within the Chinese landscape.
Like Germany, China is an emerging hub for electric vehicles. China is both the largest manufacturer and purchaser of EVs, accounting for over half of all electric cars made and sold in the world as of 2018. It also manufactures 99% of the world's electric buses.
New energy vehicles will dominate the Chinese market in the next ten years, suggest estimates, with the category accounting for over 10% of new car sales in March, growing to 11.4% in May 2021.
Penetration rates would surge to more than 70% by 2030. Owing to these developments, the scope for electric motor sales appear highly lucrative for the forthcoming decade.
Electric Motor Adoption in India
According to the India Brand Equity Foundation (IBEF), India emerged as the 5th largest automotive market, with approximately 3.5 million units of passenger and commercial vehicles sold in 2020.
Out of these, EV sales witnessed a growth of 20% to reach 156,000 units, spearheaded by two-wheelers. It is expected that the Indian EV market shall reach US$ 50 billion by 2030.
Owing to these trends, it is expected that sales of electric motors will incline in the forthcoming decade.
Estimates suggest that sales of electric motors in India reached nearly US$ 100 billion in the past two years.
Besides applications in the automotive industry, electric motors have been deployed across major industrial domains, including fans, pumps and compressors.
The industrial sector accounts for over half the total electricity consumption, of which 60 to 70% is utilized by electric motors. This indicates that the electric motors consume more energy than any other application. Furthermore, the Indian government intends to install 175 GW of renewable energy capacity by 2022. Naturally, demand and production of electric motors for energy generation plants is bound to increase in forthcoming years.
Japan Electric Motor Demand Hinges on Innovation
The demand for electric motors is expected to be highly robust across Japan, with major manufacturers augmenting their production capacities through various approaches.
In April 2021, Japanese electric motor giant Nidec Corp. announced it would spend nearly US$ 2 billion spanning over a decade across Serbia in Europe to augment the country's EV production capabilities.
The company also announced plans to invest across China, Poland and Mexico to effectively increase production capacities.
Domestically, the country experienced increased sales of its e-powered vehicles. Automotive giant Nissan announced in April 2021 that the cumulative sales of its vehicles with e-POWER electrified powertrain surpassed 500,000 units by March of this year.
With the company set to achieve its carbon footprint reduction goal across its operations by 2050, Nissan is expected to dole out more of its electric vehicles, an opportunity which is expected to significantly bolster sales of electric motors in upcoming years.
Impact of COVID-19 Induced Slowdown
As the COVID-19 pandemic raged through 2020, key manufacturers of electric motors experienced significant challenges.
With the imposition of a global lockdown, supply chains experienced major disruptions, attributed to cessation of key industrial activities and dependent sectors.
Fortunately, these were outweighed by new growth opportunities. In the case of electric motors, growth remained sustained to a large extent due to the swelling EV landscape.
As established by the IEA, sales of electric cars exceeded projected expectations. Attributed to existing policy support and additional stimuli measures, electric car sales exceeded 3 million units, topping a market share of above 4% in 2020.
This equals a 40% incline in global sales from 2.1 million units sold in the previous year. Currently, over 10 million electric cars run on the road globally. China and Europe emerged as key heavyweights.
Electric motor sales were further spurred on by surging demand for generators, especially in the U.S.
Recent power outages brought about by extreme weather conditions have generated some bright spots for the electric generators industry.
Prominent manufacturers such as Generac experienced strong demand through 2020. The company's revenue surged from US$ 2.2 billion in 2019 to US$ 2.5 billion in 2020, representing a 12% year-over-year increase.
Demand for electric motors was further augmented across the healthcare domain, as several watershed developments were recorded in the first-half of the pandemic crisis.
One of these include a macro-level alliance between Dublin-based Medtronic Plc. and Tesla and SpaceX, with the objective of furthering the production of its Puritan BennettTM 560 (PB560) portable ventilators. The healthcare giant augmented its ventilator manufacturing capacity by 40%.
Also, Hoyer Motors announced in October 2020 that its premium energy efficiency IE4 motors would include more stock, in line with the company's core focus area of eradicating CO2 emissions and industrial pollution.
Beginning production from 2020, the company intends to incorporate IE4 standards or higher across all electric motors between 75 and 200 kW commissioned for land-based industrial applications by 2023.
Key Challenges with Widespread Electric Motor Adoption
While electric motors are hailed as a welcome development by major industrial verticals, there exist significant challenges which the market must overcome in order to deepen its penetration across potential regions.
These typically range from overcoming key structural limitations as well as broader trends such as the gradual transition of the global automotive industry towards more environmentally friendly alternatives, typically as a result of heightened capital expenditures incurred by major manufacturers while incorporating electric technology.
Continued Reliance on Conventional Vehicles Limiting Uptake
While the previous decade is testimony to the alarming increase in greenhouse gas emissions and the consequent rise in global temperatures, government initiatives to rein in emission levels are a far call away with respect to helping attain the stated reduction norms across major regions.
Transportation remains one of the largest contributors of greenhouse gas emissions- comprising nearly 30% of overall emissions.
According to the U.S Energy Information Administration (EIA), Americans consumed about 123 billion gallons of motor gasoline through 2020.
This is equivalent to 337 million gallons per day and 166 million gallons of aviation gasoline.
Total consumption accounted for about 59% of total transportation sector energy consumption, 44% of total petroleum consumption and 16% of total U.S energy consumption.
Furthermore, the IEA acknowledges that a rising SUV market is restraining the move towards attaining fuel efficiency.
It estimates that the worldwide market share of SUVs rose 15% points between 2014 and 2019, comprising 40% of the global light duty vehicles (LDVs) market. Owing to this continuing reliance on conventional vehicles, sales of electric motors shall experience significant challenges in forthcoming years.
Overcoming Structural Difficulties Remains Primary Concern
When choosing an electric motor, it is imperative to consider load compatibility. A rotor begins from rest and must come to full speed while dragging its load around it.
Oftentimes, small and medium-scale end-users often overlook this fact and invest in inexpensive motors which are more affordable yet of inferior quality. This could lead to halting of operations as constant maintenance cycles are required.
In addition, frequent episodes of water ingress tend to burn out the electric motor. The harm done to motors and generators by flooding extends beyond rusted shafts and contaminated bearings and lubricants.
Even brief moisture intrusion can compromise the insulation system, making the windings vulnerable to ground failures. Thus, care must be taken to ensure water does not seep in.
Furthermore, under sizing electric motors tends can result in overheating, as can insufficient cooling at low speed when using variable speed drives (VSD) and in the event of load fluctuations encountered while using jammed equipment and under hot ambient conditions.
Moreover, dust ingress into the stator coils or the terminal housing leads to short-circuiting.
Concerns Regarding Battery Pack Power Consumption
A major drawback associated with electric motor uptake is the excessive amount of energy it consumes to power specialized batteries across EVs.
Existing internal combustion engines are remarkable, in the sense that they offer excellent mileage and optimal performance. For instance, a typical diesel powered engine possesses about 100 times the gravimetric energy density as a lithium ion battery.
An additional advantage of internal combustion engine (ICE) powered vehicles is that they can be refueled easily, as opposed to their battery-electric counterparts.
Also, the total amount of energy that a battery pack consumes is immense, given the heavy mass of the automobile, rendering investments in battery packs inconsequential. The issue of range is also one of the key constraining factors for enhanced EV uptake, ultimately impacting motor sales.
As several geographies are yet to invest in extensive EV infrastructure development, there is a dearth of adequate charging points for the vehicles, compelling consumers to continue relying on conventional fossil fuel driven cars and automobiles.
Furthermore, it is apprehended that EV batteries have a rapid discharge rate, making it expensive for vehicle owners to purchase EVs. In addition, battery packs need to be continuously replaced to ensure that vehicle life remains prolonged.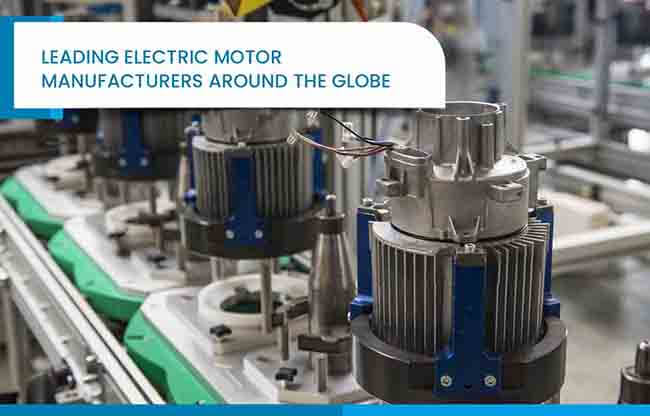 Leading Electric Motor Manufacturers Around the Globe
A plethora of manufacturers operate within the global electric motors landscape. Bulk of all manufacturers are situated across highly opportunistic markets, including North America, Europe and the Asia Pacific.
As the electric revolution gathers momentum, these players are experiencing widening revenue pools as new opportunities present themselves across these geographies.
A central aspect of all major electric motor manufacturers is their drive towards global environmental sustainability. Since electric motors are being touted as effective alternatives to conventional ones, these players are leaving no stone unturned to ensure that they assist end-users in their endeavor to reduce emission levels and contribute to a greener world economy.
ABB in the Spotlight with Key German Sewage Plant Collaboration
Swiss giant ABB has collaborated with the Bocholt Sewage Treatment Plant situated in North Rhine-Westphalia, Germany, to whom the company supplies its IE5 synchronous reluctant motor (SynRM) and drive packages to further energy conservation during the sewage treatment process. In 2020, additional investments were made at the plant to install advanced flocculation filtration systems and back sludge pumping.
In both cases, plant operators selected ABB's IE5 SynRM motors and ACS880-31 ultra-low harmonic devices.
The investment includes installing seven such devices. Amongst both, the IE5 motor is expected to be a significant development as it comprises of rotors which do not require windings or magnets.
Furthermore, absence of induction currents ensure that there are no rotor losses. Four of these packages are already deployed across the plant's reverse sludge pumping station.
SIEMENS expands IE-4 High-efficiency Electric Motor Series Availability
Recently, in May 2021, SIEMENS AG presented its Simotics SD motor series at the Digital Enterprise Virtual Experience at the Hannover Messe 2021.
Through this introduction, the company expands its range of IE-4 efficiency motor series which exceeds highly stringent ErP Directive 2019/1781 requirements, set to take effect from July 2021.
The standard version of Simotics SD is offered across the entire power spectrum (2.2 to 1,000 kW), including the number of poles (2 and 4) as well as from 75 kW for 6 poles and from 55 kW for 8 poles.
The directives mentioned above are set to be implemented in two stages, one in the current year and the other by July 2023.
Hence, key Simotics end-users have ample window period to comply with the carbon emissions reduction requirements in a gradual and phased manner.
Wolong Introduces Breakthrough Motor for Petrochemicals Industry
In May 2020, Chinese motor giant Wolong Electric Group completed shipping all 18 medium-voltage, non-sparking air-cooled motors for its Crisp Refinery Project in Singapore undertaken in partnership with ExxonMobil.
This shipment inched the company a step closer towards securing a foothold in the world's top supply chain system for the petrochemical industry.
This new motor is endowed with several impressive features. These include power generation capacity ranging from 535 kW to 2270 kW; compliance with the latest IEC60079-7: 2015 version standard; IEC Ex and ATEX international explosion-proof certificates; bearing housing RMS velocity of 1.8 mm/s and a lubrication oil inlet temperature of 500 C among others.
Future Outlook- What Lies in Store for Electric Motors
Based on prevailing trends, it is evident that the electric revolution is taking over major industrial verticals- most notably factory operations and the automotive sector.
Increasing popularity of EVs in the wake of the rising scramble to investigate alternative fuels is prompting key automotive manufacturers to invest in electric motors to power battery packs, powertrains and other related accessories.
Several automobile giants are reporting extremely lucrative future prospects across major geographies.
For instance, Volkswagen forecasts that 70% of its SUV and sedan sales will be battery electric throughout Europe by 2030. Likewise, EVAdoption forecasts BEV and PHEV sales in the U.S to account for over 29% during the same forecast period. Likewise, two-fifth of the Chinese automotive fleet is likely to be electric.
However, there are a couple of bottlenecks which potential markets need to overcome in the near future.
For instance, prices of battery electric vehicles (BEVs) must drop significantly. A typical electric car is about twice the price of its internal combustion engine (ICE) equivalent. Additionally, range constraints are acting as significant impediments to enhanced EV uptake.
Presently, a conventional EV typically covers a 3-hour motorway journey within legal speed limits, while high-end models would require a minimum of 3 stoppages for recharging before completing a journey.
Consequently, majority of automotive consumers still prefer ICE vehicles over electric ones, which is eventually restricting demand for electric motors.
Another challenge is that of grid capacity. Trading a national fleet of gasoline powered cars for electric ones would entail an increased dependence on electric grids. The Department of Energy predicts a 38 percent increase in electricity consumption by 2050, mostly due to a high penetration of electric vehicles.
A state-level assessment by the Energy Institute at the University of Texas in the U.S, concludes that state energy consumption would range from an increase of 17 percent in Wyoming to 55% in Maine.
Most states' consumption increases clustered between 20 to 30%. While some state grids have the available excess capacity to generate increased amounts of power with existing infrastructure under favorable assumptions for charging times, others do not.
The ability of grids to handle EV charging also depends on what time of day the vehicles are plugged in. EVs have a much lower chance of overloading grids if charged at off-peak hours, when fewer consumers are using electricity.
Fact.MR's Coverage on the Electric Motor Industry
Sales of Electric Motors for EVs Concentrated in Europe, US, and China
While demand for electric motors for EVs was largely robust in the past, COVID-19 has only accelerated its scope, especially across Europe and the Asia-Pacific.
The European Automotive Manufacturers' Association, the combined market share of EVs and PHEVs surged 6.8% in Q1 of 2020, faster compared to the 2.5% growth experienced in 2019.
While total sales of passenger cars plunged by 2/5th between March and May, BEV sales across the U.K surged by more than a fifth, according to the Society of Motor Manufacturers.
Similarly, in China, EV sales are expected to surge by more than half in 2021, with 1.3 million units already sold in 2020. Hence, electric motor sales in these regions are spiking significantly.
Revolutionary Agricultural Practices to Spur Electric Tractor Sales
As global agriculture embraces sustainability, farmers seek to incorporate paradigm shifts in basic farming practices. This includes electrification of essential equipment, a trend which is bolstering prospects for electric tractors across several regions. Opportunities are especially lucrative across Asian market, mostly in India and China.
In addition, surging demand for compact tractors across the U.S is likely to augment sales across North America.
In 2017, Escorts Ltd.'s agriculture machinery division launched its first electric tractor in India, providing a horse power range of 21-30 HP. Likewise, in 2021, local manufacturer Sonalika Tractors launched its Tiger Electric, powered by an IP67 compliant 25.5 kW natural cooling impact battery.
How are Electric Excavators Gaining Momentum?
As conventional hydraulic systems becoming increasingly replaced, the sales of electric excavators is only broadening in the future.
From private ranches and agricultural lands to urban neighborhoods, electric excavators are proving highly effective in digging operations by reducing energy expenditure.
The landscape is characterized by the presence of numerous small, medium and large-scale enterprises. Demand for these excavators is especially high across various construction companies.
Recently, in April 2021, German-Swiss equipment manufacturers Liebherr launched the 90t R 976-E electric crawler excavator and the 100t R 980 SME-E excavator equipped with low-voltage electric squirrel-cage drivers.
Demand for Electric Generators Continues to Grow
According to the IEA, renewable power additions resulted in an increase in global electricity demand by about 4% in 2020, reaching nearly 200 GW, with additions made by wind and hydropower.
In 2021, further additions are expected, with a 10% increase contributed by solar PV. Consequently, uptake of electric generators is also likely to surge.
It is expected that electric generator sales shall surpass US$ 11 billion by 2021-end. Extensive reliance on HVAC systems attributed to stay-at-home directives in the wake of the COVID-19 pandemic is majorly stimulating demand.
In the long-run, increasing demand from several industries such as oil & gas, mining and pharmaceuticals is also expected to drive growth.
What are the Growth Prospects for Electric Trolling Motors?
Fact.MR expects electric trolling motors market to expand 1.4x, growing at a CAGR of 3.2% until 2030. Sales of bow mount trolling motors appear most promising, accounting for approximately 60% of the revenue in 2020. Increased recreational boating frequency is majorly driving demand for such motors.
North America is poised to account for maximum sales, contributing 49% of total revenue, with Europe trailing not too far behind.
Additionally, Fact.MR expected the market to be valued at US$ 546 million by 2020-end.
While recessionary pressures from COVID-19 slowed the market considerably, long-term prospects appear significantly bright.
Emphasis on Long-Lasting EV Batteries Growing
The electric vehicle battery market expanded at a historical CAGR of over 12% from 2012 to 2016.
Through 2022, the market is anticipated to surge at a staggering 13.6% CAGR, as notable increase in zero carbon emission norms is prompting vehicle owners to switch towards electric vehicles.
Prominent manufacturers are emphasizing on introducing long-lasting batteries so as to enhance vehicle longevity. Some alternatives include vertically aligned carbon nanotube electrode batteries, cobalt-free lithium-ion batteries and silicon-anode batteries.
Increasing Scope for Hybrid Electric Vehicles in the Long-Run
As existing EV infrastructure capacities are limited, sales of hybrid electric vehicles is broadening on an increasing scale.
As per estimates by Fact.MR, the market is poised to expand at approximately 14% CAGR until 2029. The market was valued at US$ 29 billion in 2019.
Europe is expected to remain one of the frontrunners of the hybrid electric vehicles landscape.
The region is expected to account for approximately 16% market share by the end of the decade.
Many countries in Europe have affiliated themselves with a project known as ECOCHAMPS which entails the development of hybrid vehicles that have automotive powertrains.
Demand for Wireless Electric Car Battery Charger Increasing
The global market for electric car battery charger is expected to be valued at US$ 1.2 billion by 2022, with Europe likely to spearhead sales across the globe.
As ownership of electric cars rise, consumers are opting for effective charging solutions, with specific preference for wireless chargers acquiring precedence.
In May 2020, U.S start-up HEVO announced the launch of a commercially ready wireless charger.
The product includes a ground mounted pad that beams electricity up to a car-mounted receiver to wirelessly charge it. The company sealed a US$ 5.5 million Series A-1 in late April 2020. Likewise, WiTricity delivers wireless power as efficiently and fast as a conventional plug-in (90-93%).
- Request for
More Information

-
Electric Motors for Electric Vehicle Market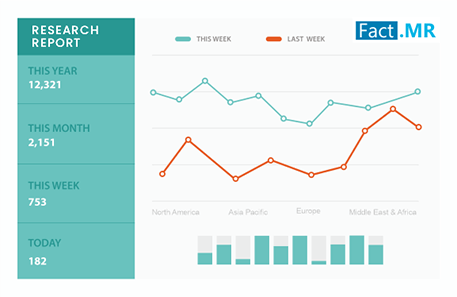 Electric Motors for Electric Vehicle Market Size, Trend Analysis, By Vehicle type (Passenger Cars, Buses), By Motor Type (AC Motor, DC Motor), By Vehicle Type (Hybrid Electric Vehicle (HEV), Plug-in Hybrid Electric Vehicle (PHEV), Pure Electric Vehicle (PEV)) - Global Market Insights 2021 to 2028