The automobile industry is focusing on finding new and innovative ways to reduce carbon footprint. As the demand for ecofriendly alternatives is increasing, companies are shifting focus on vehicles running on renewable sources rather than fossil fuels.
The global solar powered car market players are investing in new technologies such as solar powered cars, which will reduce the impact of the vehicles on the environment.
Favorable Government Initiatives Spurring Growth
Increasing level of air pollution is turning out to be life threatening. According to the World Health Organization (WHO), millions of lives are lost every year because of low air quality. To combat this grave situation, governments across the world are finding ways to encourage people to switch to renewable sources of energy.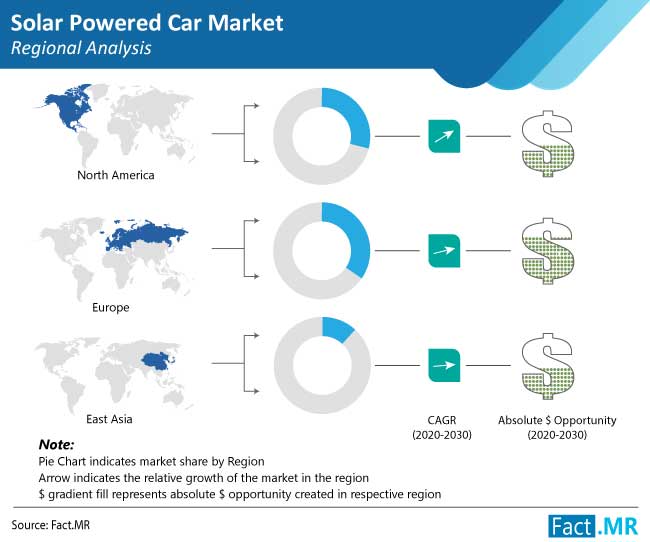 For a detailed analysis on the solar powered car market, you can request a sample
Businesses are encouraged to adopt greener alternatives as sanctions and various initiatives to create awareness about benefits of renewable energy sources are rolled out by ruling bodies.
Countries around the world are taking steps to increase awareness about the environmental hazards caused by indiscriminate use of fossil fuels and on ways to curb the negative impacts.
Focus of the automobile industry lies with introducing minimalistic and compact designed solar powered vehicles. Key players in the automobile industry as well as startups are investing in bringing solar powered cars to the market. A few prototypes and demo cars which are in making are expected in the market by 2021.
COVID-19 Impact on Solar Powered Car Market
The onset of COVID-19 pandemic has impacted many industries and businesses. The solar industry too will have its implications, with challenges such as productions coming to halt and shortage of manpower.
Social distancing rules implemented by nations to restrict the spread of the virus have caused issues such as shortage of labor to manufacturing industry. This has heavily affected solar powered cars manufacturing. Also, the decline in spending by the consumer on non-essential goods and services has left the solar powered car market dry.
Furthermore, the financial wellbeing of many small and medium enterprises has been affected due to shutting down of businesses. This will implicate any major investments by these companies in near future. However, there is a flip side to the situation which suggests that these trying circumstances are expected to give rise to technological innovations in the field which can be cost effective to suit the current economic conditions globally.
Although they are having a massive impact on the overall automobile industry, these challenges are expected to be immediate and are bound to subside as industries are resuming normal operations. The industry is set to bounce back to its normal status in the near future as lockdown restrictions are reduced by each passing day.
Solar Powered Car market: Insights by Material
Crystalline silicon solar cells are the most commonly adopted material. Commercial use of crystalline silicon solar cells is huge as they are used in most of the solar panels. They are expected to continue as the highly lucrative segment over the forecast period. These solar cells offer high stability and efficiency which can go up to 25%.
On the other hand, thin-film solar cells needs much exploration and innovation in terms of applications compared to crystalline silicon solar cells market. Thin-film solar cells are 20 times thinner than crystalline silicon solar cells, which makes them incredibly lightweight and flexible. These are used in large utility works when encased in plastic, glass or thin film panels.
Solar Powered Car Market: Insights by Car
The SUVs and sedans' segment is expected to witness expansion at a higher rate in the near future compared to hatchbacks. SUVs and sedans have larger surface area compared to hatchbacks. The reason being, larger the area for installation of solar panels, higher the absorption of sun's energy by solar panels, resulting in higher efficiency. Consumer preference for higher efficiency vehicles is anticipated to drive the solar enables UVs and sedans market.
Solar Powered Car Market: Insights by Electric Car
Battery operated electric vehicles (BEVs) is the most lucrative segment in the solar powered cars market. The segment is currently leading the market in comparison to other types such as PHEVs and HEVs. The growth in the segment is expected to continue over the forecast period.
Amidst growing concerns for climate safety, zero emission vehicles are being preferred which consume no fossil fuels. As a result of rising demand for such vehicles, BEVs are projected to be the leading electric car segment by the end of forecast period.
Solar Powered Car Market Insights by Application
Higher adoption of solar powered cars for personal usage is one of the key factors driving the market. Riding on the back of increasing demand for sustainable and environment friendly transportation solutions, solar powered cars are finding increased applications.
Although commercial usage is an important application, usage is less owing to high cost. With cost effective offerings for the consumer, personal usage contributes to the market growth.
Solar Powered Car Market Insights by Solar Component
The global solar powered cars market, when classified based on solar component is divided into ultrasonic solar arrays, batteries, power trackers and others. Among these segments, batteries segment holds major share in the market, thanks to the capacity of storing energy which can be then used to provide electric current to the car.
Regional Outlook on Solar Powered Car Market
Europe is expected to be the most lucrative market for solar powered cars during the forecast period 2020-2030. Several factors contribute to this positioning such as rising concerns in the region for changing climatic conditions. Also, increasing awareness about zero emission vehicles is another contributing factor along with cost effective solutions which is driving the Solar Powered Car Market in the region.
Furthermore, the region is home to many key manufacturers of solar powered cars, which is another major reason why the region has a huge market share.
North America and Asia Pacific are emerging as the developing markets during the forecast period showing significant growth.
Competitive landscape
Manufacturers have a lucrative opportunity as the solar powered vehicles viable for individual use are yet to hit the market. To capitalize on this new business landscape, companies are partnering with players who are from within as well as outside the automobile industry.
Furthermore, automobile giants and new entrants are focusing on innovations as key strategies to gain first mover's advantage in the market.
For instance, Japanese automobile giant Toyota has teamed up with Sharp and NEDO to bring a uniquely featured car that can run without charging. They plan to ride on the developments in solar panels with respect to curved surfaces which can enable the vehicle to charge while it is in motion.
Also, the companies are working towards attaching very thin solar cells to the car. The solar cells with thickness of around 0.03mm can be easily attached to curved areas of the vehicle such as roof, hood and hatchback.
Some of the key players operating in the global solar powered car market include -
Audi AG
Toyota Motor Corp
Ford Motor Company
Sono Motors GmbH
Mahindra & Mahindra Limited
General Motors
Volkswagen AG.
Lightyear
Cruise Car Inc.
Solar Electric Vehicle Company
Hanergy Holding Group
Venturi
Clenergy TeamArrow
The list is only indicative; full list of players is available in the report
Analyst's Viewpoint
"Rising awareness regarding climate change and its effects is driving the growth of the solar powered car market and this trend is expected to continue. Governments across the world are taking cognizance of the issue regarding carbon footprint left behind by vehicles running on fossil fuels and taking initiatives by supporting innovations and manufacturing of solar power based vehicles. This is expected to help the market in terms of growth tremendously in the near future" says analyst at Fact.MR.
Solar Powered Car Market – Scope of the Report
Fact.MR has published an exclusive forecast report on the activated solar powered car market from 2020 to 2030. The foremost objective of this report is to pitch insights on the market scenario, demand generators, and technological advancements in the solar powered car market. Also, the study addresses key dynamics expected to diversify the sales and future prominence of the market.
The report begins with an executive overview, in which, product definition has been provided. The report further proceeds with the taxonomy of the solar powered cars market, elaborating on key segments. Also, the report outlines visionary insights on the dynamics of the solar powered cars market, including the drivers, restraints, opportunities, trends, and pricing analysis, along with the key buying factors for solar powered cars.
Solar Powered Cars Market - Scope of the Report
A recent study by Fact.MR on the solar powered cars market offers a 10-year forecast from 2020 to 2030. The study analyzes crucial trends that are currently determining market growth. This report explicates on vital dynamics, such as the drivers, restraints, and opportunities for key market players along with key stakeholders and emerging players associated with the manufacturing of Solar powered cars. The study also provides the dynamics that are responsible for influencing future status of the solar powered cars market over the forecast period.
A detailed assessment of the solar powered cars value chain analysis, business execution, and supply chain analysis across regional markets has been covered in the report. A list of prominent companies operating in the solar powered cars market, along with their product portfolios, enhances the reliability of this comprehensive research study.
Solar Powered Cars Market: Report Summary
The study offers a comprehensive analysis on diverse features, including demand, product developments, revenue generation, and sales in the solar powered cars market across the globe.
A comprehensive estimate on the Solar powered cars market has been provided through an optimistic as well as a conservative scenario, taking into account the sales during the forecast period. Price point comparison by region with global average price is also considered in the study.
Solar Powered Cars Market – Segmentation
Fact.MR's research study assesses the global solar powered cars market in terms of raw material, form, application and region. This report presents extensive market dynamics and trends associated with different segments of the market and their influence on the growth prospects of the global solar powered cars market.
Material

Crystalline Silicon Solar Cells
Thin-Film Solar Cells

Car

Electric Car

Application

Solar Component

Solar Arrays
Batteries
Power Trackers
Others

Region

North America
Latin America
Europe
Asia Pacific
Middle East & Africa
Key Questions Answered in Fact.MR's Solar Powered Cars Market Report
Which regions will continue to remain the most profitable regional markets for Solar powered cars market players?
Which factors will induce a change in the demand for Solar powered cars during the assessment period?
How will changing trends impact the solar powered cars market?
How can market players capture the low-hanging opportunities in the solar powered cars market in developed regions?
Which companies are leading the solar powered cars market?
What are the winning strategies of stakeholders in the solar powered cars market to upscale their position in this landscape?
Solar Powered Cars Market: Region-wise Outlook
Key sections have been elaborated in the solar powered cars market report, which have helped deliver projections on regional markets. These chapters include regional macros (political, economic and business environment outlook), which are expected to have a momentous influence on the growth of the Solar powered cars market during the forecast period.
Country-specific valuation on demand for solar powered cars market has been offered for each regional market, along with market scope estimates and forecasts, price index, and impact analysis of the dynamics of prominence in regions and countries. For all regional markets, Y-o-Y growth estimates have also been incorporated in the report.
Detailed breakup in terms of value for emerging countries has also been included in the report.
Solar Powered Cars Market: Research Methodology
In Fact.MR's study, a unique research methodology is utilized to conduct extensive research on the growth of the solar powered cars market, and reach conclusions on the future growth parameters of the market. This research methodology is a combination of primary and secondary research, which helps analysts ensure the accuracy and reliability of the drawn conclusions.
Secondary resources referred to by analysts during the preparation of the solar powered cars market study include statistics from governmental organizations, trade journals, white papers, and internal and external proprietary databases. Analysts have interviewed senior managers, product portfolio managers, CEOs, VPs, marketing/product managers, and market intelligence managers, all of whom have contributed to the development of the Solar powered cars market report as a primary resource.
Fact.MR offers custom research services that help clients to get specific research solutions
We are committed towards customer satisfaction and quality service.
---
Our Clients

Solar Powered Car Market Forecast, Trend, Analysis & Competition Tracking - Global Market Insights 2020 to 2030